Facebook live shopping was essentially a powerful way of reaching a wider audience and selling products around the globe. Yes, you read it right. The live shopping features of Facebook will no longer be in use. In a blog posted by Meta (the parent company of Facebook, Instagram, and Whatsapp) clearly stated that it is now shutting down its Facebook live shopping features from October 1, 2022, effectively.
Businesses will still be able to use Facebook live streaming features. Even broadcasting their live events just like earlier, the only difference is that they would not be able to create a product playlist or tag the products. Additionally, businesses with shops with checkout can set up live shopping events on Instagram.
As a social networking site, Facebook is now looking forward to working in the field of making short video content due to its rising popularity. The decision to stop such features has broken so many expectations from lots of businesses and brands. Small to big brands used to use these features due to their effectiveness and credibility.
But if you are thinking that this decision will be taking live shopping to an end, then you might be wrong. There are many other platforms which do offer the same features including
Besides these top platforms, there are an array of opportunities for you to leverage live shopping for your brand by creating a customised platform like live shopping on Facebook. Let's look back at the top offerings that Facebook was giving and how the sudden demise left everyone in extreme disappointment.
Live shopping on Facebook: The Unforgettable
In 2018 Facebook rolled out live shopping for the first time for all the creators which lets them have the liberty to sell products to audiences. In the past few years if we look at shopping behaviour and the consumer pattern it has changed dramatically. Nowadays, everyone in UAE uses live shopping on Facebook and if not this, at least shopping from eCommerce.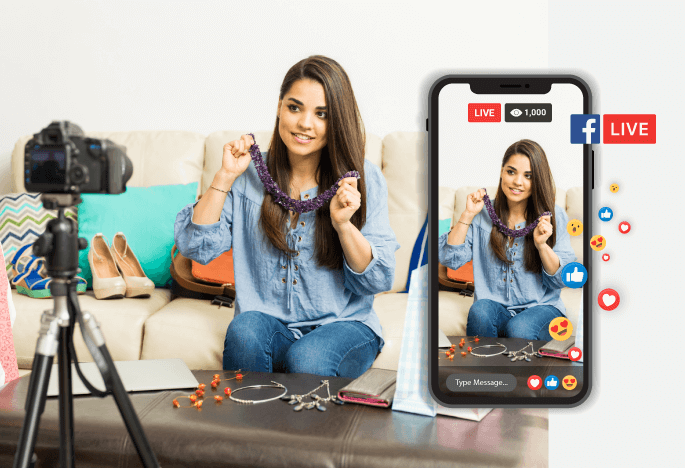 Live shopping is a combination of live videos and eCommerce, it is quite a simple procedure for all the buyers as well as for brands to promote and sell. All the marketing aspects like promotions, creating brand awareness, live demo of product, sharing product tips (usage and care), addressing un-answered customer queries and everything possible like you can do in a live secession.
Host an Engaging LIVE Stream
Connect with the Industry's Most Experienced
Live Streaming Service Providers.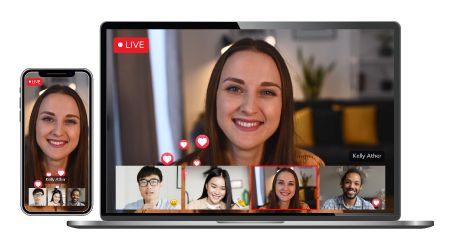 The Facebook Customer Transition
Facebook is a social networking site and has not been developed or promoted as a business listing for shopping. But with the globalization and rising popularity of social media platforms like Facebook, Instagram, Twitter and others are now utilised by all major brands to keep connected with their audience. Well, the point here is that these social sites are for common individuals and for self-branding not to be influenced by them but it is what it is. All the social sites are now using their platforms to earn revenue and not just limiting themselves to the common individuals only.
But wait, is Facebook also looking forward to those aspects? Cleverly Yes, but no. And what does that mean, simply Facebook is trying to work towards the short video that is quite popular in all global markets and wants to make it another source of revenue generated business surpassing live stream shopping. 
In 2018, Facebook first came up with live shopping features and all marketers throughout the world welcomed it with gladness. Facebook also earned well from this but after research and analysis, they found the craze of reels is more and facebook's consumer behaviour (that is we all as common) is more towards Meta's short-form video product. Although live shopping will be available on Instagram.
A Brief To Facebook Live Shopping History And Its Competitors. 
In 2020, Facebook made live-streaming shopping available on a widener scale. Here all the influencers to host from their own store or through affiliate programmes can host sessions and sell an array of products to all the communities available over facebook (if someone is interested to watch the session and make a purchase). In Asia and middle east countries, the features became popular, and computationally Tik Tok also launched its flagship live shopping features in Europe which it pulled back now.
Last year we all know that Facebook came up with a short-video feature and now its shutdown of live streaming shopping clearly shows the dedication of Facebook to short-video. Research suggests that Facebook is also devoting its effort to making an algorithm like Tik Tok as it did with Instagram already. Just like the photo-sharing app Instagram, Facebook is soon going to become another Tik Tok platform. And both companies under one parent are working in one direction which somehow shows the power of video content. This indication is also helpful for live-streaming e-commerce. Why and how? To know more continue reading.
The Supremacy Of Video Content
Just simply open any social media platform, and you will find why video content is supremely important and popular. The very fact is that it is easily consumable and engaging at the same time. It is shown that video content is liked by more active people and the addiction to it is more. This behaviour and transition are helping all the brands and businesses to create more video content for their user and make them connected.
The supremacy of video content is applicable in the live-stream shopping segment. As both have "video" in common. So, let's understand the importance of live shopping trends and how it is changing traditional eCommerce as well as the complete scenario of brick-and-mortar shops (with both positive and negative prospects). Here let's move forward and know the benefits of live-streaming eCommerce and the reasons associated with it and why eCommerce needs these changes.
Live stream shopping: A Door To Reach Millions Effectively
Okay, Okay! Let's be reasonable, maybe you won't reach millions but too few thousand is not a big deal. The live streaming eCommerce opened new horizons for most of the eCommerce industry and the cherry on the cake is customers like live shopping. There are many benefits of live shopping but the good news is that it is convenient as well and easier for brands to build their trust and create a strong relationship with their audience.
Remember the time when there were Shopping TV channels (there are still many), but their reach is limited? Whereas live streaming eCommerce has a greater reach and can be said that the whole globe is their market as there is no boundary where you can go online. With the help of a smart gadget like a phone or laptop and a stable internet connection, everyone can watch your live shopping events.
Live streaming shopping is a real-time interaction between brands and consumers, where nowadays brands used to promote it with celebrities, influencers or a dedicated host to expand the interactivity and popularity. Let's have a look at the top benefits of live streaming shopping;
Real-time value
Timing creates a sense of urgency and appeals to the consumers to buy the product. In live shopping events, there is real-time interaction and unique products are available at a reasonable price that encourages the consumers to buy. For example; if you are watching a live shopping video of a laptop which has lots of features that you wanted and at a reasonable price and at the same time your computer hangs, then it's obvious to talk that you'll buy that laptop. It is just an example, consider other things as well.
Fast, Easy and Convenient Shopping
The process of buying from Amazon is simple right, what do we have to do? Just check the product if everything is according to our liking and requirement. We add it to our cart. Checkout, fill in the delivery details and make the payment. Your order is done. By the way, the simple procedure also applies to live commerce. By sending a single message over the stream, your order will be reserved or anytime you see the product on the screen you can give confirmation. Some live stream shopping platform tools allow you to buy the product directly. A purchase can be made easily and quickly. Additionally, you are seeing the streaming and thus you can learn the benefits and how it is going to be useful for you.
Presentable Presentation of Products
As live streaming or a webinar services, video shopping gives the seller an opportunity to demonstrate the products with details. Plus, this increases the buyer's perspective of the product as well as creates a type of interaction where customers can raise their queries and get satisfied or honest answers. The interaction and the real-time creation add value to the buyers, for example, if you are a seller of clothes for men, you can or your model can simply show how they fit and how it is going to look in real life.
Improves Customers Engagement
Thanks to live streaming shopping, the customer can ask, know and interact with a touch of ease. No matter where they are they can join the live stream and shop while satisfying all their queries. This indicates a good quality of customer service and support. Many brands give customer support over call, but when a host talks face-to-face over a stream creates a sense of credibility and effectiveness.
With all these consumers the overall buying process increases significantly which can't be compensated by the traditional eCommerce sale or others. The best advantage of this era is social media where anyone can share anything (within content guidelines), and make it popular. You can also look into this factor, what is it? Just simply by asking to share your stream before it goes live with the customers' friends and family circle you will be able to make the reach wider and more popular.
It is not just about gaining popularity but also building engagement. However, you can call influencers and other popular members of the community to make the stream more popular and create trust.
Make Use of Social Media
As usual, live streams can be shared over social networking sites like Facebook and Instagram (even though Facebook has shut down its live shopping features, but still the opportunities are greater). This type of eCommerce can be effective and useful for both parties making it a win-win situation. Additionally, since they already have accounts and regularly use social media, you don't need to require customers to take any further action.
These are some of the top benefits of using live streaming shopping, let's move further and know how to create one successful campaign to enhance your ROI.
Host an Engaging LIVE Stream
Connect with the Industry's Most Experienced
Live Streaming Service Providers.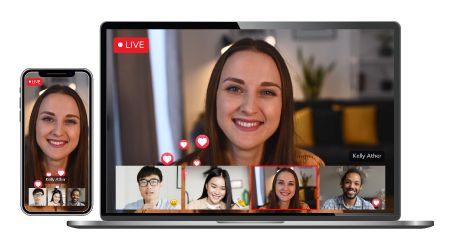 How to Build a Successful Live Streaming Shopping Campaign
It is not just a piece of cake when it comes to hosting a successful campaign, it takes time and effort and surely more than light, camera and action. Live streaming shopping requires dedication as well as taking the right step at the right time.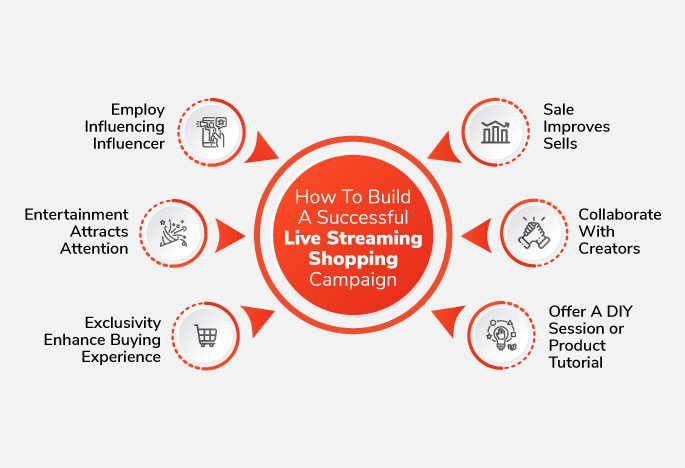 Employ Influencing Influencer
There is no harm in running with the trend if most of the audience like influencers then influences their choices. If you are a brand then it is the best idea to give your brand the face of someone who is popular, authentic and likeable by people. Customers prefer to talk or interact with people rather than with brands because when engaging with people a trustworthy bond develops and that is what matters the most.
Well, this is not a new technique as for decades popular sports people and celebrities use to endorse products and now it's time for influencers. Approach the right, appealing influencers that suit your brand's status and tone.
Entertainment Attracts Attention
Just imagine if you are watching an advertisement with so many benefits and hard-selling, will you watch that? If no. Then why did you want to create one for your audience? Overly promotional shopping streams diminish the reputation and make the event vulnerable from the audience's point of view.
Now think about a creative and entertaining video shopping event which starts with a conversation, has lots of knowledgeable tips, fun facts and other elements of fun and humour. If you know which format is more appealing and good for your audience, then only choose that.
Exclusivity Enhance Buying Experience
A classic example of exclusivity practised by major automakers is when they produce a small number of cars before branding them as status symbols. Okay, that's alright they are big brands but what about doing it at a smaller level? The point here is that you can give special treatment over a live shopping event to your audience. Coming up with exclusive deals, or launching the product line for the first time, makes your audience feel special and encourages them to buy. Make your audience feel like exclusive customers with discounts and other elements of marketing.
Sale Improves Sells
Flash sales can be interesting and adding time constraints will be more fascinating and create deterrence to the audience about the feeling of missing the deal. Occasionally flash sales make your audience fully focused on keeping eye on all the notifications with your products. All notifications will get the hit button that will lead to maximising your sales and viewership. Additionally, if you give any coupons, or discount codes in this exclusive flash shopping stream then it can give you better results.
Collaborate With Creators
There can always be two approaches or scenarios here. If you are a well-known brand and collaborate with equally known influencers or you are no one and want to collaborate with some well-known ones. In both cases collaboration is common, so incorporate with other creators or influencers with high popularity and let them endorse you in a way which will appeal to the end user to buy. If the guest host itself uses the product and gives his or her opinion on how nice the product is then of course it will make it credible.
Offer A DIY Session or Product Tutorial
Customer support is quite a necessary part of business and when there is any new innovation or something new. Then it is quite important for you as a responsible brand to offer tutorials and sessions for how to use or other necessary tips. Plus, you can also offer matching accessories like if you are a cloth brand, or tell the quality of the product to enhance the overall customer confidence in your brand and products.
Choose The Best Live Streaming Service Provider
This is true in every aspect that live shopping on Facebook is unforgettable for lots of creators and brands. Many people deeply think about what is next and how they will use such great offerings. However, it is better to think for the future and bury the past, Facebook live shopping has gone but left you with a solid alternative "Dreamcast".
We offer end-to-end customisation for you to make your unique live stream shopping. We don't just offer streaming service but the assurance to make your stream interactive with live chats, emoticon reactions, likes, and comments that boost the overall live shopping events into an interactive session. Also, with use of parallel multi-platform streaming features let you broadcast one stream to all social networking sites and can add your brand logo, frame, and others. If you are getting so many other offerings that Facebook live shopping can't give then what you are now waiting for. Contact us now and get a free demo with Dreamcast.
Host an Engaging LIVE Stream
Connect with the Industry's Most Experienced
Live Streaming Service Providers.