Sports and live broadcasting go hand-in-hand and it is not surprising that sports events consistently rank among the most-watched broadcasts of all time. 
Fortunately, in today's world, broadcasting a live sports match is not something that is only reserved for the big leagues. Sports event live webcasting and sports streaming providers have made it easy for sports events of any size to be streamed live across the world for anyone to watch from anywhere!
The mass adaptability of live streaming video has disrupted the way we communicate over the internet. It has made it possible for people to have a real-time video conversation with each other face to face even if they are physically located across the world, it has removed geographical restrictions on events and conferences, and it has also made streaming sports events possible for entities of all sizes.
What this means is that broadcasting is no longer just restricted to centralized television broadcasters but has been opened up to everyone in the world and your team's event can also be broadcasted over the internet in real-time for a fraction of price compared to the budget used in a live television broadcast.
In this blog, we're going to go over why you should live stream your sports event and then we're going to take a look at the process of sports event live webcasting.
Why Live Webcast Sports Events?
There are many benefits to streaming the matches of your team even if you might not be the biggest team in the world. Here are a few reasons why live streaming your team's sports event can be beneficial:
When you live stream your team's matches, you're allowing your fans the opportunity to support their team from anywhere in the world. This allows fans who may not be within driving distance of the match to see their team in action. Due to the live nature of the event, it creates more engagement than a video of the same match if it was available as video on demand.
By integrating the live streaming of your team's sports event into social media, you're further propelling the growth of your team's social media following. By adding social media elements into the live stream, you'll encourage more engagement from your fans.
Live webcasting solutions for sports events also provide monetization options which can be another revenue stream for your team and allows the fans to support their team in a direct manner.
Recommended: How Live Streaming Platforms Impact Your Live Stream?
How to Live Stream Sports Events?
As mentioned earlier, live streaming sports events is not a complex, expensive process anymore and almost anyone can do it as long as they take care of a few important things. Let's take a look at the process of live streaming a sports event.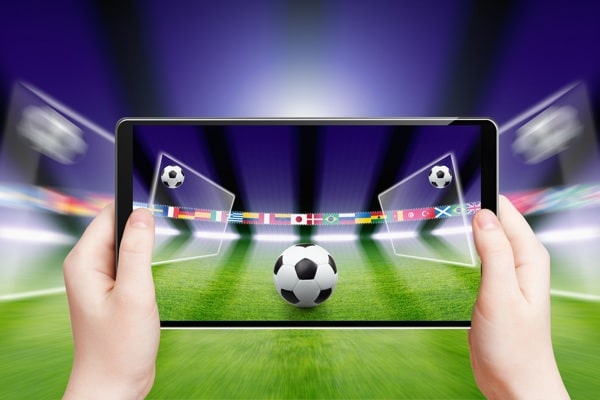 1. Planning and Set-Up
The process of live streaming sports event or matches starts with the planning and set-up. Before starting to live stream your team's matches, you need to spend a bit of time figuring out how to do it optimally.

In theory, anyone with a cellphone and an internet connection can start live video streaming a sports event but if you're offering the live-streamed match as a service, you would probably want it to look professional.

The planning and set-up of the live stream would depend on what particular sport you want to stream and the challenges involved in it. For example, the set-up to stream a football match would be very different from the set-up involved in a tennis match.
2. Use the Right Equipment
This is also part of the planning and set-up process but using the right equipment for live streaming can be crucial as it dictates the ultimate quality of your video. A live streaming sports event usually lasts for a long time and fans are expected to watch for a long duration of time which makes the quality of the stream vital in this scenario.
Other than selecting a camera that is suitable for capturing fast-action sports, there are other equipment considerations in the live streaming world such as transcoders and software that manage the entire streaming process.
3. Setting Up The Network
The experience of the viewer of a live stream is mostly determined by two things – the video quality of the stream and how often it glitches or lags. By using a robust and fast networking solution for your live stream, you can bring down the latency of even really high-quality live video.

Other than just using the right network connection for live streaming, the settings of the stream also have to be optimized to ensure the smoothest playback for the viewers of the live stream. There are a lot of software solutions available that help you in configuring your stream to work flawlessly, even when you're streaming across multiple live streaming platforms. Live webcasting solutions for sports events offered by dedicated live streaming companies can help in reducing the latency and optimizing the quality of your live video streams.
4. Promoting and Marketing the Live Stream
Lastly, once you have worked out the details of the live streaming process, you can finally focus on marketing and promoting your sports event's live stream. Most people don't understand the value of marketing a live stream but it can impact the engagement of your live stream massively.
Fortunately, promoting and marketing the live stream for your team doesn't need to be complicated. The best place to promote your live stream is on your social media platform and it is advised to start promoting the stream days in advance. If you're going to stream consecutive sports event, it is better to have a promotion and marketing plan prepared to grow your viewers and engagement with time.
Conclusion
While live streaming sports events is not particularly hard, using the services of sports streaming providers make it significantly easier to live webcast sports events. A dedicated live streaming company will offer end-to-end support for your sports events streaming needs and take care of everything from the equipment, the network, and the management of the entire process.
Host an Engaging LIVE Stream
Connect with the Industry's Most Experienced
Live Streaming Service Providers.