Moving ahead from the phase of pandemic, the world is shifting to technological advancements in all dimensions. The Covid-19 restrictions are lifting, and as a result, the ways to begin hosting events are also opening. However, the concept of organizing events in the hybrid and live streaming format has gained matchless prevalence in the process. And owing to its proficiency, it is significant to know all about it!
In this blog, we will help you understand all about the popular event format of Hybrid Live Streaming.
What is Hybrid Live Streaming?
Hybrid Live Streaming refers to enhancing the reach of your hybrid event by adding a live stream extension to it. Hosting events in a hybrid format was in itself a great way to maximize the value and global reach of an event. However, adding an extension of live streaming is further helping event organizers and businesses enjoy enhanced participation in their events.
Hybrid Event Streaming enables your global target audience to view the event from their remote locations. And, this is effectively made possible by the segment of live streaming the event over the internet. With the help of excellent planning, equipment, platform, and preparation, a user can host live streaming of all types of hybrid events. Be it a hybrid conference, a hybrid fest, a hybrid trade show, a hybrid expo, or a hybrid product launch, the arena of live streaming is not limited to any specific format.
But the important question is- Why is the concept of Hybrid Live Streaming gaining so much popularity in recent times? Well, the most apparent reason is that organizers and agencies across the world have recognized the efficacy of taking events online. Let us move ahead and gain a deeper insight into the subject.
Host an Engaging LIVE Stream
Connect with the Industry's Most Experienced
Live Streaming Service Providers.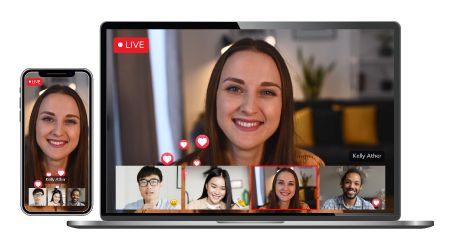 Why is Hybrid Live Streaming an Extremely Relevant Format in the Present Time
The world is slowly & steadily recovering from the Covid-19 pandemic. The restrictions applied as a consequence of the pandemic made people shift to the sphere of online events. However, as these restrictions lift, we are now open to organizing on-site events once again. 
Even so, the efficacy of virtual events and live streaming can not be overlooked. And, this is how Hybrid Events came into unmatched prevalence. Hosting a hybrid format of events does not only help the organizers but also the audience in accessing the event from their remote locations. 
However, with evolving time comes the necessity to perform better and ensure improvements in the traditional approaches. Owing to this, the blend of hybrid events & live streaming developed, which further enhanced the success prospects of the events to a great level. For instance, major events in the UAE like the Dubai Expo 2020 and Formula 1 Abu Dhabi Grand Prix were held on-site but had a virtual and live streaming extension too. It clearly conveys how even the most renowned organizers across a country like UAE have recognized the profitability of reaching a global audience through various formats.
All in all, the fact to reflect is the unmatched effectiveness of a blended format of hybrid events and live streaming if you are looking ahead to host the most memorable and successful event. Mentioned below are the top 5 Benefits of hosting a Hybrid Live Streaming:
The best of three different formats comes together
The reach of your event can be stretched to a great extent
You can be stress-free by choosing a platform that provides you with an integrated service
Maximized Return on Investment with minimized expenses
Access to complete event data-based analytics & reports, further amplifying your organization's development & network prospects
Advantages of Live Streaming Your Hybrid Event on Dreamcast
Choosing a highly experienced & skilled platform is the fundamental step to ensure efficient event execution. Through Dreamcast, we aim to render our users a complete service, ensuring the success of their events with the most inventive tools & features. Explore some of the top advantages of live-streaming your hybrid event on our platform:
#1 Enjoy Multiple Services in an All-in-One Platform
With Dreamcast, you get a comprehensive platform that provides an all-purpose solution to all your event requirements. For hosting a Hybrid Live Streaming, you need to look for two different services- one, the most suitable hybrid event platform, and two, a top live streaming service provider in the UAE. However, with us, you don't have to! Dreamcast's advanced platform provides you with both services in one place.
#2 Maximize Your Event's Overall Reach
Organizing a hybrid event live streaming efficiently maximizes your event's reach to a global level. Not just this, but the platform also provides you with countless significant features in the aspects like networking, promotion, interaction, sponsorship, and a lot more. All these features also support you in maximizing the overall reach and significance of your event. By going hybrid with your on-site event and further adding an extension of live streaming to it can help you reach a majority of your global target audience in one go.
#3 Add to the Value of Your Event
The hybrid live streaming format of an event gives you three different mediums to promote your organization, include sponsorship elements, and network with a maximum number of attendees. Adding these factors, the value of both your organization and event rises. Another amazing advantage of using a common platform is, you don't have to convey the requirements twice. Which further saves your time and effort!
#4 We are the Most Affordable Hybrid Event & Live Streaming Service Providers!
With us, you get the opportunity to choose your own set of features and tools on the basis of your defined budget. Instead of a hard-and-fast payment or charge plan, we provide a scalable plan solution where the event organizers can share their budget and select the features and elements on the same ground. Hence, we leave the choice entirely up to you, with complete flexibility.
#5 Level-Up Your Hybrid Event Live Streaming with Complete Customization
The feature of complete customization helps the user in personalizing their events, the way they like. While planning any event, the organizers have an imagination of how their event looks and appears to the audience. Well, we give you the facility to personalize each and every aspect of your event, bringing your imagination to life in an on-site event. And further, create a flawless simulation of the physical event into the virtual formats. The feature of customization helps you in the following aspects:
Include Sponsorship Features
Comprise Branding Factors
Incorporate Clickable Tools
Fit Logos and Other Content During the Live Stream
Create a Well-Designed Event Venue
Run Tickers on the Live Stream
Change the Backgrounds
Create Captivating Booths as per Requirements
#6 Provide Your Global Audience with a Seamless Experience
While attending a virtual event and viewing a live stream, your global participants & audience must have a memorable event experience. Apart from creating a seamless user interface in the virtual venue, we also ensure an easily accessible live stream. However, we make sure that the safety concerns of your event are never compromised. Easy navigation and accessibility are the two aspects that can highly determine audience engagement in your hybrid live streaming. 
#7 Get the Best Out of Your Event with the Most Advanced Features
Elements like networking and engagement are very significant for any event, be it a physical or an on-site event. Dreamcast is a leading hybrid event platform that provides users with the most innovative & advanced networking and engagement features. Networking is one thing that people look forward to while attending events. Therefore, render them the same opportunities even in a hybrid event! You can integrate various hybrid event networking ideas to add more value to your event. Mentioned below are some of the top networking and engagement tools:
Business Card Exchange
AI Matchmaking
Photo Booth
Networking Tables
Gamification
Social Wall
Multi-Format Communication
Advanced Search Filters
Signature Wall
On-Event Announcements
Live Poll, Q&A Sessions, and Trivia
Captivating Branded Booths
#8 Secure a Powerful Hybrid Event Broadcast
Another aspect that can make or break your Hybrid Event Streaming is internet connectivity. Therefore, it is significant to ensure that the technology you use supports heavy data transfer. The most efficient hybrid event live streaming platforms are well-resourced with a robust Content Delivery Network or CDN. Getting on board with our streaming platform, you can secure event streaming without any lagging or buffering video.
#9 Be Stress-Free with Our Complete Backend Support 
The world of online events is still new and fresh for many. Hence, it is important to ensure proper backend support throughout the event. So, in case of any difficulty or query, there is always somebody to support you with required help & assistance. We provide your event with a 24*7 customer support system to guarantee a smooth event execution.
#10 Get Comprehensive Event Analytics & Reports
Another profitable advantage of taking on-site events online with hybrid live streaming is, you get comprehensive event data-based analytics & reports about your event. This data includes records from every aspect of the virtual extension of your on-site event. From attendee footprint to the event hotspots, you get to analyze the efficacy of every component of your hybrid live streaming. Not just this, but you can use this data to further improve the events you host in the future. 
Although the list doesn't end here, this can be considered a peek into numerous features that can ensure the success of your event. Moving ahead, let us look over some of the requisite steps to host a productive Hybrid Live Streaming.
Host an Engaging LIVE Stream
Connect with the Industry's Most Experienced
Live Streaming Service Providers.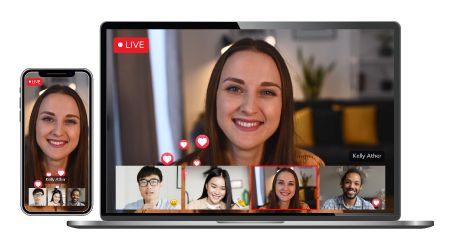 5 Simple Steps to Hosting a Systemized & Productive Hybrid Live Streaming
#1 Predefine Your Event Purpose 
Before moving ahead with the planning of your Hybrid Live Streaming, determine your overall event goal and specific purposes. A well-defined goal of your event will not only help you in hosting a smooth event but also in sidestepping any probable difficulties. 
#2 Create a Proper Hybrid Event Plan & Structure
After defining your event's specific goals, move ahead with creating a proper event plan and structure. Making a well-structured plan for your event will assist you in ensuring a seamless event flow and experience. Not just this, but it will also help you determine your event needs and requirements. 
#3 Determine the Agenda
Once you have determined your event goals and requirements, create a well-planned agenda for your event. While creating the agenda, it is vital to remember that your virtual attendees have a shorter attention span. Therefore, make sure you keep the sessions short and include proper breaks throughout the event. 
#4 Choose the Right Hybrid Live Streaming Platform
Today, the market is packed with numerous live streaming service providers. However, it is vital to choose the platform that suits your hybrid event streaming requirements the best. Therefore, be wise and practical as you opt for a hybrid event streaming platform.
#5 Test the Technology Before Taking Your Event Online
Where there is technology, it is crucial to test and try to avoid any possible errors or glitches. Therefore, test the hybrid event streaming technology properly before taking the event online. Inspect each and every tool to ensure that the event runs smoothly on the big day without any hindrances.
Go ahead and host a Hybrid Event Live Streaming to remember!
Host an Engaging LIVE Stream
Connect with the Industry's Most Experienced
Live Streaming Service Providers.