Networking plays a crucial role in any event be it an in-person, virtual, or hybrid event. It is an essence that keeps people engaged during the event and offers opportunities to foster meaningful connections. With the advent of the global pandemic, a paradigm shift in event patterns has been noted. Today, almost every event has been shifted to a virtual venue or small in-person events have a virtual component attached to them to maximise event reach i.e. hybrid events. 
Even though the virtual and hybrid event formats offer enormous benefits, the major challenge that lies with these is engagement. Keeping attendees hooked throughout, offering ample networking opportunities to connect and network seamlessly and so on, are some of the things event marketers struggle with. When it comes to hybrid events, the game becomes even dicier. It requires to keep both the set of attendees i.e. virtual and in-person ones on the same page. 
Well, in-person attendees are surrounded by other attendees thus networking is not a major issue for them. But, the majority of participants in hybrid events are partaking in an event virtually. Thus, offering excellent networking opportunities to virtual attendees is a must to ensure event success. 
A majority of virtual and hybrid events fell flat on face due to a lack of networking opportunities or missing networking experiences. Whereas, ample hybrid events performed phenomenally well and have reached the global market. What's the reason behind it? Have you ever thought about it? They offered strong and immersive networking experiences to attendees thus resulting in scaling events and achieving optimal outputs effortlessly. 
With that in mind, this blog post uncovers a few effective hybrid events networking ideas to boost networking and engagement at your hybrid events instantly. So, without wasting any further time, let's dig in!
Effective Ideas To Boost Networking At Hybrid Events 
1. Have AI-Powered Matchmaking At Your Hybrid Events
Adopt an automated approach to boost networking at your hybrid events. AI-powered matchmaking is a seamless process to connect and network with like-minded people and foster meaningful connections. It offers recommendations based on your interests and profile for networking with other participants out of thousands of people. Thus, making your work easy. You no longer need to navigate the crowd of thousands of people to find the most relevant people to connect and network with whom you share a mutual interest. Incorporating intelligent matchmaking helps businesses work in a structured virtual environment and strengthen networking at hybrid events effortlessly. 
Once an attendee registers for an event show them up with the recommendations of relevant people suiting their profile. It helps them to connect and network with them during the event by sending chat invites instantly.
2. Social Media And Third-Party App Integration
Today, social media is an effective tool to network as well as promote anything instantly. The majority of the population is available on social media channels today and spends most of the time scrolling feeds. Integrating your social media channel links with your hybrid events helps in boosting up your page followers. Additionally, it helps the potential attendees to come in direct contact with you and foster meaningful corporate relationships. 
Integrating third-party applications like Whatsapp and Zoom meetings is an effective way to boost networking at hybrid events. It allows users to have 1:1 conversations with brand representatives at their convenience even after the event gets over.
In-Person, Hybrid, Virtual
Create an Extraordinary Event Experience
Across All Event Formats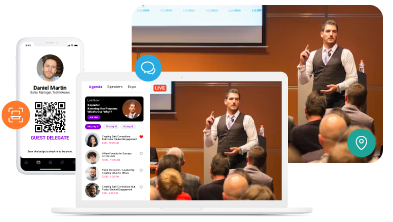 3. Embed Social Walls In Your Hybrid Event
In order to boost networking at your hybrid event, you can embed social media walls during live streams of an event. Integrating social walls is an effective way to boost networking at hybrid events. It curates the most relevant feeds across all social channels and enables attendees at the event to connect and network during breakout sessions. One sure-shot way to boost networking at hybrid events. 
4. Offer Networking Lounges & Virtual Networking Tables
Facilitate your virtual attendees with a networking space to have group discussions just like physical events. Enable your attendees to have meaningful conversations and group discussions in real-time by offering them virtual networking tables. It allows participants to grab a spot just like physical round tables and have discussions via live audio/video chat functionality.
5. Allow Attendees To Exchange Business Cards Virtually
If you want to boost networking at your hybrid event, you can allow your attendees to exchange virtual business cards. This functionality enables participants to exchange their contact details with the relevant exhibitors, sponsors, and attendees. Once the business card is exchanged attendees can network with relevant people event after the event gets over and foster meaningful connections.
6. Make 2-Way Video Conferencing Available
Enable 2-way video conferencing available at your event. It not only enables attendees to ask questions directly to the speaker in a branded environment by sharing the screen but also boosts networking at hybrid events. The conversation between the attendee and the speaker is speculated by all other participants present at the event.
7. Organise Live Polls, Quizzes, And Q&A sessions
To boost networking and attendee engagements at your hybrid event, you can simply organise Live polls and quizzes. It not only keeps attendees engaged but enables them to interact with other participants as well. Additionally, organising a Q&A session helps in boosting interactions between attendees. Thus, resulting in enhancing networking at hybrid events.
8. Virtual Event Gamification Techniques
Gamify your hybrid events in order to boost engagements and networking. Integrate AR/VR virtual games in your hybrid event to keep your virtual attendees engaged while offering them a chance to network with other participants as well. Embed leaderboard challenge in your hybrid event and offer attendees points when they interact with any other participants or booth representatives. Offer rewards to the top 5 members who earned maximum points or enable them to redeem points in form of gift cards or discount coupons. 
Wrapping It Up
In this post, we have covered the brilliant networking ideas for your hybrid events that are sure to take your event to a whole new level! Hybrid events are indeed the future of event industry.
 If you have not yet tried your hands on it, give it a shot. What are you waiting for? Leverage the power of networking tools and uplift networking at your events instantly.