Anyone involved in problem-solving knows & recognises the importance of choosing the right solution for the scenario at hand. After all, it makes no sense to use a straightening iron to curl your hair or vice-versa.
While utilising live-streaming solutions, it's easy to get confused between the various live-video streaming services. For novice users or first-timers, it might be difficult to tell the difference between the multiple applications & uses of live-streaming.
In reality, however, Live-Streaming solutions too, have their types & uses. Live streaming solutions can be categorised into two types:
Live video meeting solutions
Live video streaming solutions
Both sets of solutions are used for a different set of situations & have vastly different applications. It's no new news that live-streaming finds most of its applications & uses in the corporate world. Companies, both small & huge ones, utilise live video streaming services to :
Hold live video conferencing & facilitate communication between people sitting at different locations.
Live-stream an important event, like product launches, AGMs, award ceremonies, co-curricular activities, etc. to a dedicated audience base. This live-streaming is often done on social media platforms like Facebook, Instagram, Periscope, etc.
If you're looking for effective live streaming for your brand, business & have trouble deciding which ones to use in specific situations, we're here to help.
Below, we tell you all about both live video streaming services & live video meeting solutions, where to use each & their features. Before we go on explaining each of these live-streaming solutions, let's take a look at their essential definitions & applications.
Live Video Meeting Solutions: 2-way webcasting services & internal conferencing tools that facilitate direct communication between 2 or more participants in a closed-room, secure setting.
Live Video Streaming Services: High-quality live videos, broadcast to a broader audience base. These live streaming solutions are carried out through social media platforms like Facebook, Instagram, Periscope, etc.
1. Live Video Meetings Solutions
Live video conferencing solutions are 2-way webcasting services that help in providing person-to-person & group-to-group interactions amongst colleagues/peers of a company.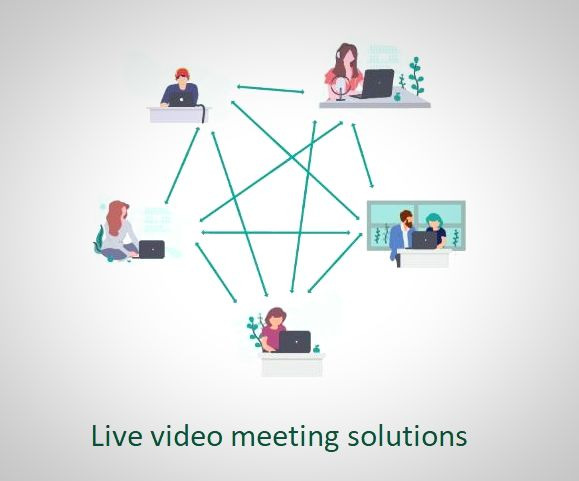 Live conferencing services can connect 2 or a group of people with webcams mounted on their laptops, in a seamless, smooth & lag-free secure live stream. These are most often used for face-to-face video conversations & meetings when employees are stationed far away in various locations.
Below are a few situations where live video meeting solutions can be used.
A). Video conferencing:
Live video conferencing solutions are ideal for holding inter-organizational video conferences. It helps companies having employees in different locations, regularly hold a productive, meaningful video conference.
Videos have a better way of communicating emotions, ideas & inter-team concerns to the entire group of people participating in the video call. Internal conferencing tools set up a live video conference by setting up a secure live webcast link to be circulated within your team.
Choose the right video conferencing service that can be supported by webcams on each team member's laptops, or by installing video systems in the conferencing room.
B). One-on-One video calls:
2-way webcasting services are an excellent choice for conducting a one-on-one personal video call. Not to say that these can't be used for professional video calls as well, live conferencing services can easily provide a perfect medium for a video conference between a small group of people. Either for personal or professional applications, live video meeting solutions can easily be used to meet your agenda.
C). Closed group interactive meetings:
Live conferencing solutions can also be used to conduct closed interactive group meetings between a select group of individuals, either within a company or a stand-alone business.
They're a perfect solution to provide a smooth-flowing & easy communication channel between a team of people sitting at different locations, to enable them to share ideas & exchange information. Live Video conferencing solutions are aplenty in the digital conferencing market.
Some of the most famous names are:
Skype For Business
GoToMeeting
WebEx
Zoom
Google Hangouts
While Live video meeting solutions are great for hosting inter-organizational conferences & meetings between few, select no. of individuals, they're not a great fit for high-quality live streams or recurring events. For those, you'll need to use other live streaming solutions, namely live video streaming services.
2. Live Video Streaming Services
Live video streaming services are streaming solutions that let you broadcast your videos to a vast audience. Most of these live streams are done over major social media platforms like Facebook, Instagram, Periscope, etc. also on websites.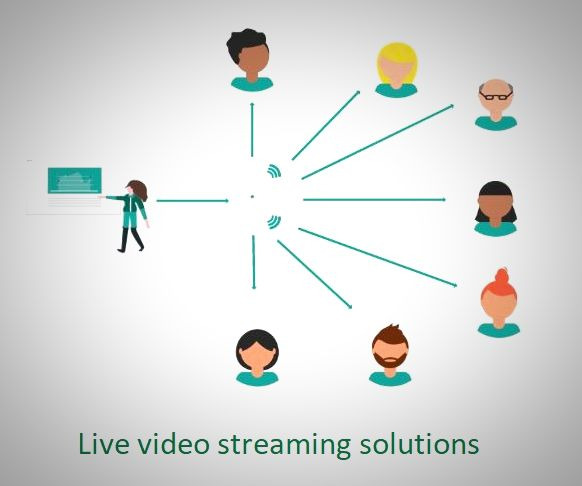 These streaming solutions support the broadcast of high-quality videos, of the kind that you might expect to see on a TV screen. The reason live video streaming services can achieve such a high picture quality is due to its heightened Internet usage & extra latency through top-notch technological solutions.
Below is a list of situations & scenarios where you can successfully use Live Video streaming solutions.
A). Streaming content from one location to many users:
If you want to live stream an event(product launch, concerts, church services, award ceremony, a global presentation, announcements, etc.), then Live Video Streaming Services are the perfect option for you.
Live Video streaming services let you live stream the video content in high picture-quality, from one location to the audience all around the world. Live streaming is known as the best way to generate audience engagement on your content, as well as increase trust, confidence & transparency for your brand. Naturally, all these traits translate directly to increased sales, so it's safe to say that a good live-stream session leads to an increase in sales, sometimes significantly.
Your efforts as a company should be towards ensuring easy accessibility of live-streams to your audience, as well as keeping its quality uncompromised.
B). You want(& need) high-quality video streams:
When the focus is on the quality of live videos, as it's in important, high-velocity events like product launches, new store openings, ceremonies, parties, etc. Live video streaming services should be your pick.
These services ensure that your events broadcast smoothly, uninterruptedly to your audience, while also maintaining its high video quality.
Some of the most well-known live video streaming services are:
YouTube Live
Facebook Live
Periscope Live
Instagram Live
LiveStream
What Live Streams can't be used for, are 2-way video conferencing & streaming videos that involve latency of less than one second?
Dreamcast is a well-known, reputed webcasting agency that is known for its competency, efficient services & customer-friendly manner. Our team of technical & digital experts helps you set up smooth, glitch-free 2-way webcasting services, live conferencing services & live video streaming services for all your personal & business needs. We have amassed an impressive portfolio of having worked for some of the biggest names in the industry, including Adidas, Intel, UNICEF & lots more.
Grow your audience base & smoothen your inter-organisational working with our services today.
Host an Engaging LIVE Stream
Connect with the Industry's Most Experienced
Live Streaming Service Providers.