A Periscope broadcast can be a great way to connect and communicate with people in real-time. It is a social media app that enables anyone with a cellphone to broadcast in real-time anything they want and to interact with their followers on the platform during the live stream.
The app can use the rear or the front camera of a cellphone to broadcast the stream and also allow users to switch back and forth between the two during a stream. Engagement with users is facilitated by enabling the viewers to comment on the stream as it happens, allowing them to communicate amongst themselves but also with the streamer.
Private Broadcasting on Periscope
There can be a number of reasons to start a Periscope live stream publicly but the app also allows users to do private live streaming which can be used to share life's intimate moments as they happen, with the people who really matter.
Periscope live video streaming is easy to figure out and in this blog post, we take a look at how to make a private streaming on Periscope so that you can start sharing moments from your life in a new way with those who are close to you.
Host an Engaging LIVE Stream
Connect with the Industry's Most Experienced
Live Streaming Service Providers.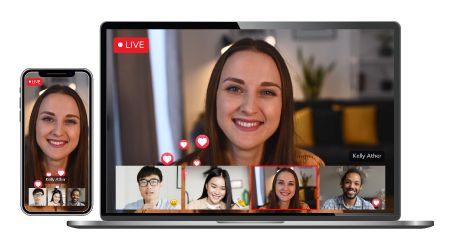 How to Start a Private Periscope Livestream
Once you've downloaded the Periscope app, you can follow these steps to start your own private livestream:
Launch the Periscope app on your phone. If this is the first time you're using the app, you can log in using your Twitter username and password. Once you're logged into the app, you can move on to the next step.

Once you're logged into the app, the next step is to ensure that your camera is activated. In order to do this, you must click on the camera icon which can be found at the bottom of the dashboard layout.

After the camera is activated, you're almost ready to go but you have to ensure a few settings are in place to ensure that the stream stays private and not open to the public. You also have the option to write up an introduction to your stream to add more context to the people watching.

To make the stream private, you must click on the padlock/lock icon that can be found on the app. Once you click on it, the app presents you with a screen that enables you to invite people to watch your live stream.

And you're good to go! Only the people you invited to your private live broadcast will have access to it.
About Dreamcast
Dreamcast is a company that facilitates and manages live streams for various types of clients. With international work experience, professional standards and years of experience, we ensure a high-quality, interruption-free live streaming experience.
Operating in the cities of Dubai, Abu Dhabi, and the rest of the UAE, Dreamcast is a great partner when it comes to live streaming. We take care of the equipment, network issues, and management of the whole process so our clients can completely focus on the quality of their stream.
Also you can see our: virtual events and webinar service.