The popularity of live streaming has greatly increased; up to 80% of customers now prefer viewing live videos compare to reading articles on the internet. The market for live-streaming video is predicted to be valued at least $184.3 billion by 2027. Live streaming is a fantastic method to get your message out there, build brand recognition, and develop connections with the audience. Every significant social media network has joined in with this well-anticipated expansion. Nowadays, you may broadcast on a variety of platforms, including Twitch, Facebook, LinkedIn, Instagram, and YouTube.
Similar to Facebook Live Video Streaming, Twitter Live Video Streaming is a tool that enables users to stream live video content to their followers in real time.  Twitter began live broadcasting in 2015 with Periscope Live. Due to low use and excessive cost, Twitter decided to end periscope live broadcasting in March 2021.
Twitter's live streaming function has become a crucial tool for people and companies looking to communicate with their audience. You will discover all the essentials of Twitter Live Streaming in this comprehensive tutorial, from setting up your broadcast to interacting with viewers. Whether you're an experienced broadcaster or are just getting started, this guide will provide you with the knowledge you need to take full advantage of this intriguing tool.
What is Twitter Live Video Streaming & How Does it Work?
Twitter's live streaming is the most interesting feature, which enables you to go live whenever you want anywhere in the globe. The user may start a live broadcast straight from the Twitter app or website, which is how it operates. As soon as the live stream starts, viewers may see the content and communicate with the presenter in real-time by leaving comments and giving reactions to the video.
People and organizations may interact with their audience and share in-the-moment updates, events, and behind-the-scenes information by using Twitter Live Video Streaming. All Twitter users have access to the functionality, which can be viewed via the Twitter app or website. The live video may be placed on other websites and is aired in real-time to followers. The user must press the "Live" button in the Twitter app to begin a live broadcast, which uses the device's camera and microphone to record and send the live video clip. Through comments and responses, viewers may communicate with the presenter in real-time. Once the live broadcast is over, the video is instantly removed from the platform.
Reasons Why You Should Consider Twitter Live Video Streaming
Here are seven reasons why you should consider using Twitter Live Video Streaming: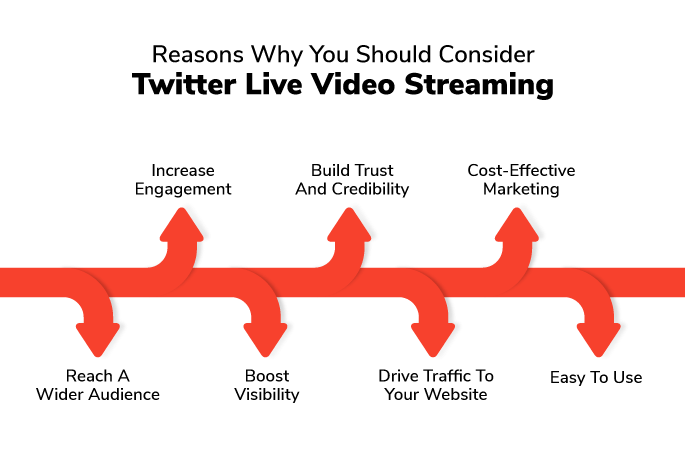 Reason1: Reach A Wider Audience
Businesses and individuals may reach a sizable and diversified audience by using Twitter Live Video Streaming. This platform has around 330 million active users per month, so Twitter live feeds have a huge potential audience. Reaching a larger audience may help increase brand recognition and attract new prospective clients.
Reason 2: Increase Engagement
The interactivity of Twitter Live Video Streaming is one of its main advantages. Through comments and replies, viewers may interact with the broadcaster in real-time, increasing engagement and audience participation. This kind of interaction may promote stronger bonds and connections with your audience.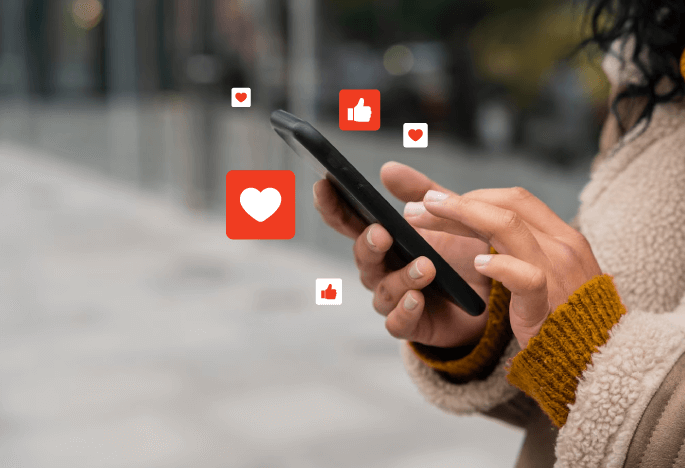 Reason 3: Boost Visibility
The use of Twitter Live Video Streaming is a fantastic approach to gaining more followers and boosting brand awareness. Your followers will see the live video in their feeds, boosting the likelihood that they will tune in and maybe learn about your company or content. Additionally, most live streaming platforms offer multistreaming services that can help you to stream on a different platform at the same time. It will help you to increase your brand visibility. 
Reason 4: Build Trust And Credibility
Businesses and individuals may demonstrate their knowledge and share in-the-moment experiences with their audience by using the live streaming service provider. By being transparent, you may gain the respect and credibility of your followers and future clients. You may promote yourself as a go-to resource in your business by providing insightful advice and showcasing your skills.
Reason 5: Drive Traffic To Your Website
You may increase website traffic and improve search engine optimization by incorporating links in your live video descriptions. This can help you reach a larger audience and improve your search engine exposure, resulting in better rankings and more prospective clients.
In-Person, Hybrid, Virtual
Create an Extraordinary Event Experience
Across All Event Formats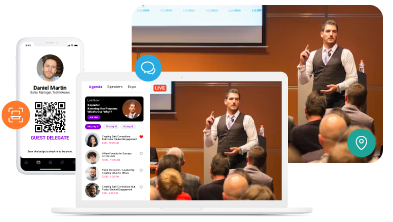 Reason 6: Cost-Effective Marketing
Comparatively speaking to conventional advertising strategies, Twitter Live Video Streaming is a more affordable marketing technique. It offers people and businesses a cost-effective option to reach a wide audience without going overboard. Most individuals or small companies consider Twitter, YouTube, and Facebook live streaming services to boost their online presence.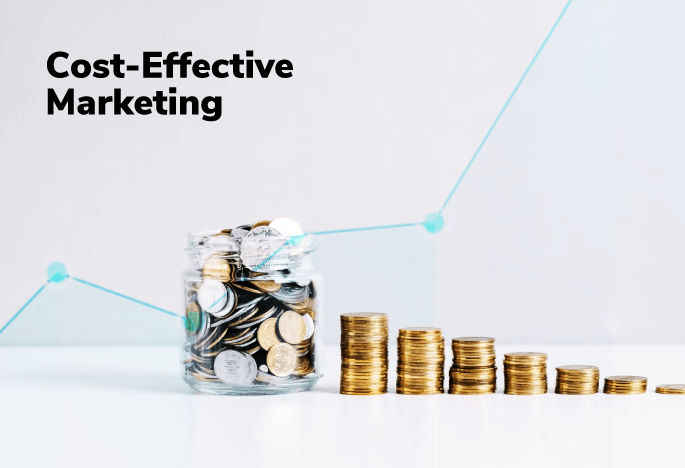 Reason 7: Easy To Use
It's simple to use and doesn't require any specialized tools or technological expertise to utilize Twitter Live Video Streaming. To start broadcasting, all you need is a smartphone and a Twitter account. The platform is simple to use, making it available to organizations and people with various levels of technological experience. Because it's so simple to use, it's a practical and easy approach to connecting with your target market and establishing your internet presence.
How to Get Started With Live Video Streaming On Twitter
Doing a stream on Twitter is a fantastic method to interact in real time with your audience and share your ideas, viewpoints, or experiences with them. We'll go over the procedures you must adhere to in order to go live on Twitter during this session.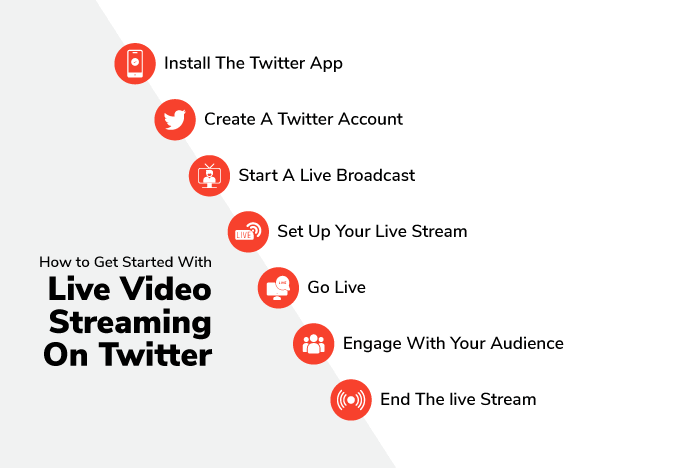 Step 1: Install The Twitter App
Install the Twitter app on your smartphone if you haven't already. To host Twitter live streaming, you must have this.
Step 2: Create A Twitter Account
Make a Twitter account if you don't already have one. The Twitter app requires you to log in using your account credentials.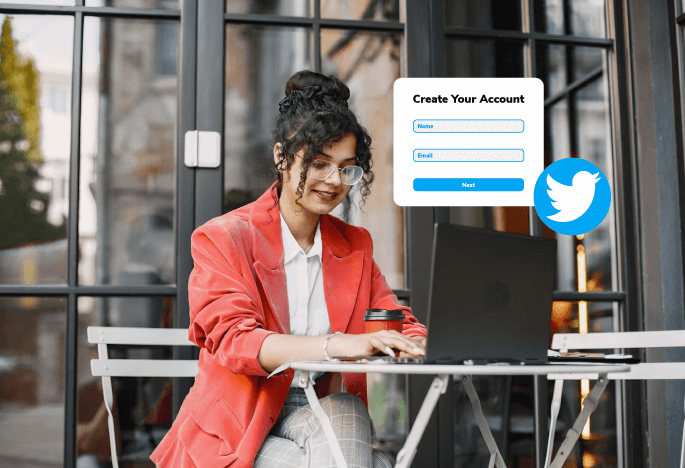 Step 3: Start A Live Broadcast
Tap the camera icon in the top left corner of the app to begin a live broadcast. Then select "Live" from the menu.
Step 4: Set Up Your Live Stream
You may change the camera settings, activate the microphone, and decide whether to permit comments before you begin your live stream.
Step 5: Go Live
Tap "Go Live" when you're prepared to go live. When you go live, your followers will be alerted and may tune in to watch your show.
Step 6: Engage With Your Audience
Respond to questions and comments from your viewers while you are live streaming. Their interest will be maintained, and your show will become more participatory. Additionally, Twitter, Instagram, and Facebook live streaming services offer different engaging tools such as live polls, chat, and more.
Step 7: End the live stream
To end your Twitter live streaming, simply hit the "End" button. A replay of the program will be available to your viewers for 24 hours.
Go Live on Twitter via Dreamcast
Mobile streaming is still a fantastic method to catch breaking news events as they happen. Additionally, Twitter live broadcasting from your laptop or PC might be a great way to interact with people. For this, you will need a third-party streaming service like Dreamcast because Twitter does not offer a native live streaming studio for web browsers.
With Dreamcast, you can stream your video on Twitter easily. It is the best live streaming provider, enabling you to share both live and recorded videos on Twitter. You can concurrently go live on many social media channels, including Twitter, using Dreamcast. Along with social media, you may even put your live broadcast on your website. In simple words, It's a go-to live streaming solution that enables you to simultaneously broadcast your content live on several platforms.
Dreamcast offers a number of fantastic features in addition to multistreaming that may enhance your Twitter live streaming, increase your audience reach, draw more viewers, and develop your live streaming presence on Twitter. Additionally, Dreamcast also offers Facebook, Instagram, and youtube Live streaming services in order to expand your audience reach. 
Best Practices To Make Your Twitter Live Streams Stand Out From The Crowd
You may make Twitter live broadcasts that are not only interesting and engaging but also expert and high-quality by incorporating the following ideas.
Host an Engaging LIVE Stream
Connect with the Industry's Most Experienced
Live Streaming Service Providers.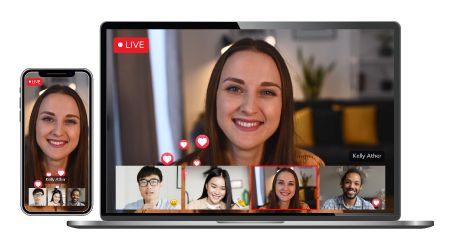 Think Ahead
Whether it is Twitter or Youtube live streaming, make a list of the topics you wish to cover during your stream. You can keep organized and make sure that your broadcast is focused and on-topic by doing this.
Get Your Audience Involved
During the Twitter live broadcast, invite your followers to interact with you by asking you questions. Continue the conversation by answering their questions and comments.
Be Genuine
Don't be hesitant to show your personality. Be sincere and genuine, and your followers will respect you for it.
Use Eye-Catching Backgrounds
In the Twitter live broadcast, you need to use an intriguing or interesting background to give your live stream a more polished appearance.
Use More Tools
Make Twitter live streaming more interactive by adding extra features like polls, questions, or quizzes to keep your viewers interested.
Publicize Your Live Stream
Inform your fans in advance that you'll be going live and invite them to watch.
Assessment and Improvement
Examine what went well and what may be improved after each live session. Make use of this tip to improve your upcoming live streams.
Purchase High-Quality Tools
To make your live streaming on Twitter more professional, think about making an investment in a high-quality camera and microphone. Your broadcasts will appear and sound more professional as a result.
Use Animations and Graphics
Make your live streams more visually appealing and engaging by using visuals and animations.
Work Along with Others
Think about working together with other Twitter users to create original live streams and reach new audiences.
Offer Special Content
To get your fans to watch your Twitter live streaming, offer exclusive stuff. This can include exclusive gifts or behind-the-scenes videos.
Make it Brief and Sweet
Make sure your live broadcasts are short. Try to limit your broadcasts to 15 and 20 minutes long because most people have short attention spans.
When it comes to connecting with your audience and communicating with them, Twitter Live Video Streaming is a game-changer. This Live streaming platform has the power to completely change how companies, famous people, influencers, and regular people communicate with their audiences. It offers an excellent opportunity for people to tell their tales, advertise their goods and services, and interact in real-time with their audience because of its broad reach and accessibility. You can link your Twitter account to Dreamcast instead of downloading any streaming software. You can broadcast live from your browser directly using our live streaming service. Host engaging and interesting Live streams on Twitter by using the many tools and features included with Dreamcast. So why are you still waiting? For further information and details, get in touch with us.
FAQ
Is Twitter Live Streaming Available For All Users?
Twitter Live Video streaming is available to all users, but some features may be limited based on account settings and regional availability.
Can I Share My Twitter Live Streaming To Other Platforms?
Yes, you can share your Twitter live stream to other platforms, such as Facebook, YouTube, and Twitch, by using Dreamcast's multistreaming service. You can also embed the live stream on your website.
Can I Interact With My Audience During A Twitter Live Streaming?
Yes, during a Twitter live stream, you can interact with your audience in real-time through comments, retweets, and likes. live streaming service providers such as Dreamcast offer a wide range of engaging tools like live chat, polls, Q&A, and more. You can also see real-time engagement metrics, such as the number of viewers and how long they watched the stream.
Can I Save My Twitter Live Stream For Later Viewing?
Yes, your Twitter live stream is automatically saved to your profile after the broadcast ends. You can also choose to delete the live stream if you don't want it to be available for later viewing.
Host an Engaging LIVE Stream
Connect with the Industry's Most Experienced
Live Streaming Service Providers.