Organizing the conference can be a daunting task, there are a lot of tasks that need your attention and without proper planning, you may not be able to get the results that you might be expecting. With so many things happening at the same time as an event organizer you might feel overwhelmed, and lose sight of important tasks so to avoid that from happening it is important to have a conference planning checklist. A checklist for organizing a conference will keep you on track throughout the planning process and you will be able to host an effective and successful conference. 
Further in this blog, we will be sharing a robust conference planning checklist and some of the do's and don'ts of conference planning. If you are planning to organize a conference in near future then this blog can be a perfect guide for you, so continue reading below. 
Step-by-step Conference Planning Checklist 
If you are new and wondering how to host a successful conference here is a checklist for organizing a conference: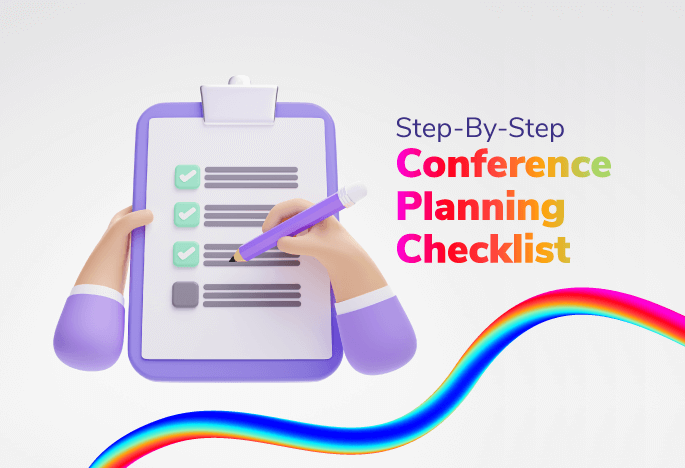 1. Decide Your Conference Objective 
Deciding the objective of the conference is the first step of the conference event planning checklist. You can't create a conference planning checklist without having a clear agenda or objective for the conference. 
For the first step of the conference planning checklist, you have to make essential decisions that include: 
Before taking any major deductions regarding the conference the first thing that you should decide is your goal or objective, why are you hosting this conference? Is it to generate leads? Do you want to share some knowledge? Asking all these questions will offer you clarity. 
Now that you are aware of your main objective of the conference, the next question that you need to ask is who is your target audience and how you are going to reach them.
2. Choose the Conference Date And Time 
Deciding the right date and time is crucial for the conference preparation checklist. Once you have a clear date and time the process of conference event management becomes easy. As an event organizer, you will know how much time you have in hand for making all the necessary preparations. Because the date and time of your conference will impact the number of individuals participating at your conference, make sure you are researching and deciding the time that can be best suitable for your audience. Check all the upcoming events from your industry before deciding your dates so that your event doesn't overlap with your competitors.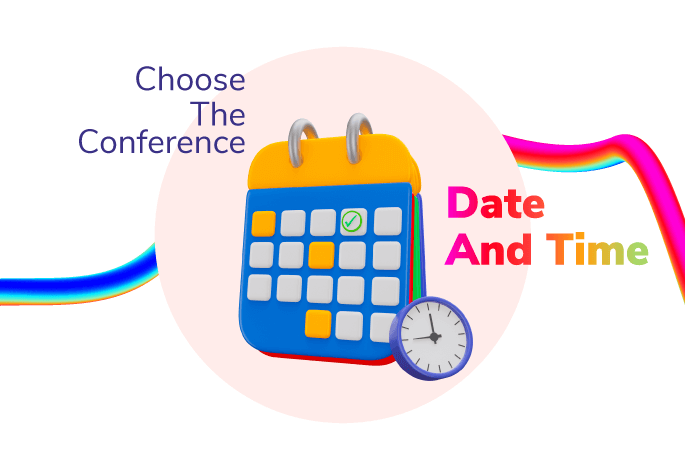 3. Set Your Conference Budget 
The next step for our conference planning checklist is selecting the budget for the conference. Setting a budget will help conference event planners in making decisions like which conference platform they can opt for, or what event registration system can be suitable according to the budget, it will also help in making decisions regarding vendors and venue for the event. 
Deciding the budget will also help in making other decisions of conference event planning checklists like promotions and marketing strategies and their funds etc. 
4. Select the Conference Platform 
The next major step of the conference preparation checklist is deciding the conference platform. If you are hosting a virtual or hybrid conference you will have to decide on the platform for it. A hybrid conference platform or a virtual conference platform that is reliable and offers various robust features will help host a successful virtual and hybrid conference.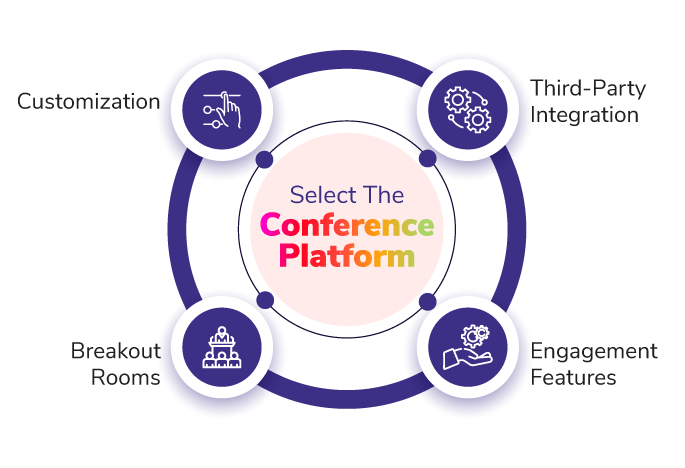 Here are some of the features that you should look for in your conference platform. 
Customization: It is an essential feature as every conference is different and has a different objective so it becomes crucial to choose a platform that allows you to represent your brand through customization features.
Third-Party Integration: Third-party integration is also a crucial feature as an event organizer might want to integrate social media platforms for promotions or event ticketing or registration platform. 
Breakout Rooms: Breakout rooms are a must-have for conference platforms as it allows them to split attendees into smaller groups for discussions. 
Engagement Features: Engagement features like chat, video calls, reactions, etc will help conference organizers keep attendees engaged during the conference.
These must-have features of the event platform should be part of your conference planning checklist. 
5. Invite Speaker And Panelist To Conference 
When we are making a conference event planning checklist how can we miss the most essential step and that is inviting speakers and panelists to the conference? You can search for industry experts, speakers, and panelists that have the required knowledge on the topic. 
Inviting speakers and industry experts should be on priority for your conference planning checklist. Your speakers will play a major role in making your conference successful, so make sure you are choosing speakers that have the expertise and provide your attendees with valuable information. Use high-quality images and videos for speaker presentations. 
6. Create Promotions And Marketing Strategies
While making a conference preparation checklist you will have to create promotions and marketing strategies. Your promotions and marketing strategies are an important part of the conference planning checklist. There are different platforms available that you can use for marketing and promoting your conference and some of the ways to market and promote are below: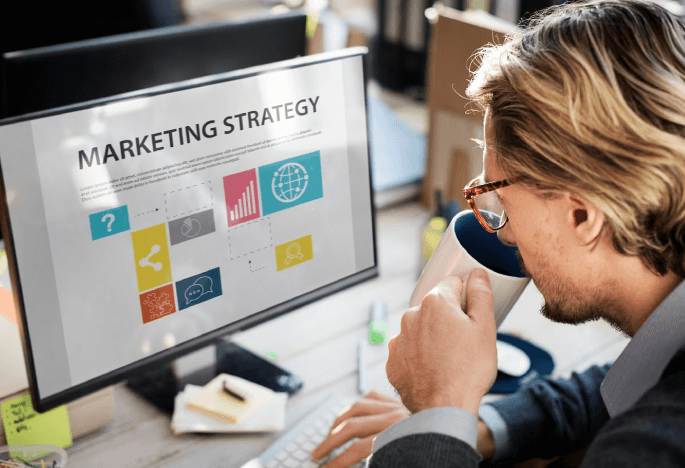 Social Media Platforms: Social media is the best channel that you can use not just for the promotions of your conference but also for marketing it. You can use social media ads and take advantage of social media stories, posts, hashtags, etc. 
Landing Pages: Landing pages are great to promote your conference. You can offer all the necessary information regarding your conference on the landing page and use it for the promotions of the conference. 
Email Marketing: A successful email marketing campaign can help you reach a larger audience and make your conference successful. You should take advantage of your already existing email database for creating an email campaign.
7. Prepare For On-Sight Management 
The conference planning checklist helps in managing all the aspects of the on-site conference. If you are hosting an on-ground conference you will need to take care of various processes like conference registration process, ticketing, conference event management, etc. You should have a team that will take care of all the management on-ground. The conference event planning checklist for the on-ground event will help organizers ensure that everything during the conference goes according to the checklist. 
8. Find Sponsors And Vendors 
Finding sponsors and vendors are also a huge part of the conference preparation checklist. Reaching out to the vendors for the conference event management will reduce your workload and management tasks of the events.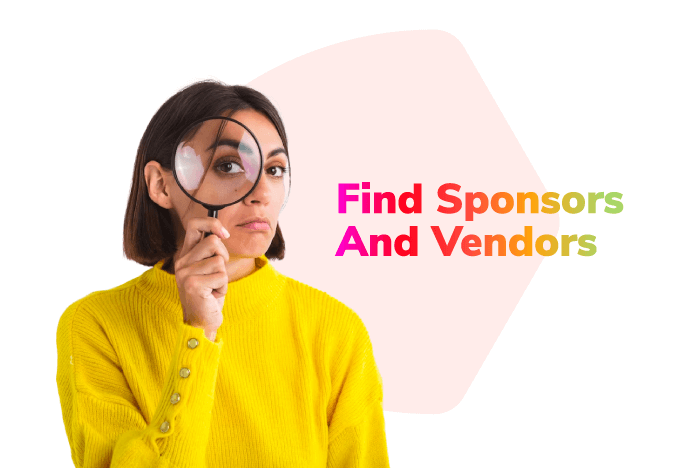 For the revenue generation of your conference you will need sponsors and to attract sponsors for your event you should market your events. You can pitch different sponsors as to why they should be investing in your conference etc. 
Your conference planning checklist can include the following vendors for the event. 
Marketing Agency: If you can't market your conference on your own you can look for a reliable marketing agency that can help you market your conference to your target audience. 
Setup: For the on-ground setup you can look for vendors who can help in creating the conference setup according to your requirements. 
9. Evaluate Insights 
Your conference planning checklist must have an insight evaluation. It is important to evaluate your event insights so that you have a complete idea about your conference. The insights will help in creating the conference event planning checklist. The insights of the conference will give you an overview of your conference performance. You can use the insights for further improvement and conference event management. 
10. Follow Up 
The last part of the conference planning checklist is asking for follow-ups. For conference event management it is important to have feedback from the individuals who have attended the conference. You can use email marketing for collecting feedback from individuals. The feedback of participants will help you gain information about the attendee's experience. You can know where you were lacking during the conference and where you can improve, so make sure to ask for follow-up as part of your conference preparation checklist.
The Bottom Line 
Hosting a conference can be a task only if you don't have a proper checklist for organizing a conference. Once you decide what output you are looking for and you have a conference planning checklist, it becomes easy to host and manage a successful conference. You can either plan and host your conference just on your own or you can opt for a platform like Dreamcast that helps you in hosting a successful on-ground, virtual or hybrid conference. If you are looking for a conference platform, look no further as Dreamcast can be a perfect fit for all your conference requirements.
Frequently Asked Questions
What is the first step for the conference planning checklist?
The first step for planning a successful conference is deciding the goals and objectives of the conference. Once you know what outcome you are looking for it becomes easy to plan the conference further.
What are the do's and don'ts of the conference planning checklist?
Prepare in advance
Set specific goals and objectives
Do stick to your budget
Do ask for the follow-up
Don't go over budget
Don't forget to run the dry test for the conference platform.
Why is creating a conference planning checklist important?
It is important to have a conference planning checklist because it will make the whole process of hosting and managing the conference easy. Additionally, it will keep you organized and reduce the risk of omitting important details.
What should I include in the conference planning checklist?
Here are a few must-have steps for your conference planning checklist: Objectives of the conference, conference date and times, marketing and promotional strategy, setting the budget, choosing speakers, and asking for feedback.