Conferences are regarded as one of the most important event types for business and industry professionals. To stay on track, be well-informed, and reach a global audience, every business and corporation should engage in a learning conference registration process. In recent years, the number of conferences in the UAE has significantly increased, but still, the number of guests is witnessing less due to the disrupted conference registration system, our research says.
The event tech industry with its continuous effort and development is trying to introduce an improvised model with an enhanced conference registration process. As this is the most important factor of the conference, if you don't utilize the right approach you might end up with event attendees disappointed and fewer registrations.
So, here in this blog, we are here to discuss all the quintessential tips and tricks you can practice to boost conference registration management. But before getting deep down into such pointers let's understand why we need to start doing such practice and a bit of basic.
What is the Conference Registration Process?
A conference registration process involves a series of steps to follow. These steps include finding the conference, filling out the registration form, payment and confirmation as well as on-site check-in. Also, this process varies depending on the nature of the conference and the registration system used.
"In simple terms, a conference registration process refers to signing up for the conference, providing personal information in the registration form and online payment. All this process is done via the web portal of the conference or through a mobile app."
Why There is a Need To Improve The Conference Registration Process?
To host a conference for any industry or business, there are many things that are required to be arranged. Finding a suitable venue, lining up speakers, organizing the team, tent, food, accommodations, and a variety of other things are all dependent on the type of conference. Once all these things have reached the finalization stage, think about the conference registration tools. Registration and ticketing are the initial stages where the audience invests in the event, and making it seamless is important. Because this will create a long-lasting impression while leading to more registrations.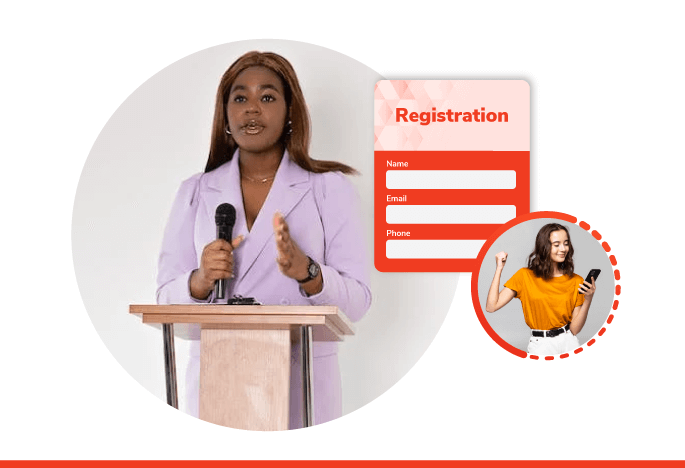 However, many businesses and event organizers still undervalue how the registration process can influence the attendees. To make them aware of the power of improving conference registration management, here we have concluded some of the useful strategies. So, let's get started.
Top 6 Tips To Improve Your Conference Registration Process
Here are the top 6 tips which focus on improving your conference registration process and will create an immersive experience. Keep reading till the end and ensure you don't miss any tips.
1. Make An Seamless Conference Registration Microsite
Having an engaging event registration page is crucial and your first initiative to establish an authoritative way for your audience to get all the whereabouts of the event. Plus, to spread event awareness a mode of communication is important to bring more users.
There are many options for building an event registration page and enhancing the conference registration process. You can build a separate website for the conference from your existing company website or simply a microsite. In general, every conference is hosted on a particular theme and set of topics. By creating a microsite or registration page you can build it on that theme and put all the necessary information like the date, day and time, venue, and others. This site can be customized as per your needs and requirements and can be worthwhile for both in-person and hybrid events. There are some of the key aspects you always keep in mind while creating the registration page. They are;
The microsite must be user-friendly
Right color tone, font family, infographics and picture should be used (which can attract an audience and appeals to register)
It should be conference focused and have all the information things covered (including venue, timings, speakers, guests, and activities list).
An easy-short and relevant question to be asked for registration.
With the proper event website, it is easier for the host too to easily promote it over the web, and is widely accessible to all internet users. Additionally, a microsite is easier to update and keep track of the analytics to check whether the marketing is going well or not in real time.
In-Person, Hybrid, Virtual
Create an Extraordinary Event Experience
Across All Event Formats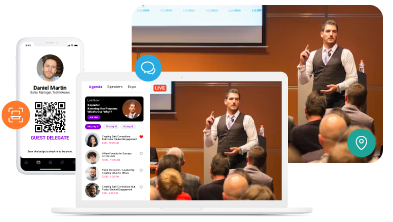 2. Create a Mobile Event App
Most internet users use smartphones and this fact is essential to make an online presence or better to say an integrated mobile conference registration app. Building a mobile event does not take much time but the effect that it creates is appreciable. But make sure your mobile event app is customized with a seamless experience and is responsible for different screen and device systems. Additionally, it should be user-friendly, have fast page speed, and be convenient to use and download.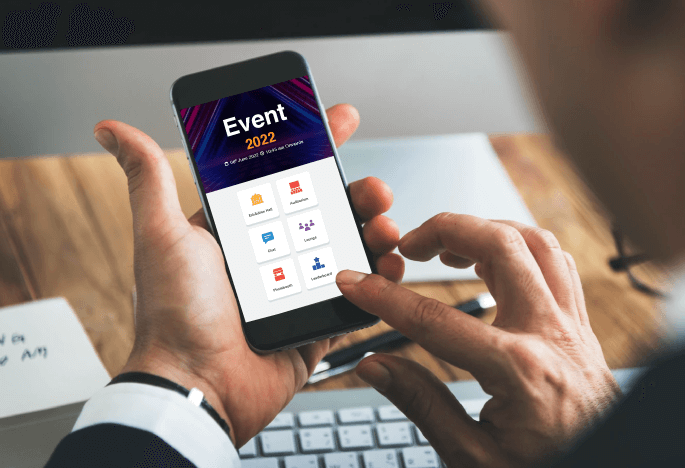 There are many benefits of a conference mobile event app: you can send updates, notifications, and every other information that is useful to your users. Furthermore, this app for event registration can be widely helpful for hybrid events. Here the conference participant can log in through credentials and can be able to join the conference virtually through the mobile app. However, this app can be integrated with a hybrid meeting platform for optimal use.
3. Simplify the Whole Process and Reduce the Timing
Time plays the most significant role in all our lives and in our events as well. This point is not a practice to perform but a reminder to keep prioritizing while building or creating an event app for registration or a microsite respectively. Your registration process should be short, simple and explicit to the point focusing on the information you literally wanted. Furthermore, keep in mind that in the need they should not find any hidden fees and charges as transparency is the best approach for event ticketing.
Make sure they don't stick in between filling repeatedly captchas or proving their authenticity via mail or OTPs. All these combined can diminish the reputation of your site and mobile app leading to a drop in conference registration process and conversions.
4. Multiple Payment Options
This is the final stage of your conference registration process procedure but the crucial one as without payment confirmation no one can enter the conference. If you are organizing a national event integrating a nationwide wide third-party payment application app is preferable while for the international conference it is required to set up a worldwide recognised and presence application. But there can be an issue in integrating one specific payment application. So, it is best if you allow multiple payment options making it possible for anyone from anywhere to register themselves hassle-free. However, allowing both credit and debit card options can play a significant role. While supporting international cards can make your international conference truly international in many terms and give a positive impression.
5. Promote the Conference Registration Portal
Marketing and promotions are challenging parts and when it comes to marketing the event registration site or portal the challenges go beyond. But to make any event or conference increase the attendee's headcount is vital. So for this, there are some measures you should take with regard to promotions. There are many channels where you can promote your event like on social media, utilizing email marketing and paid promotions. Create a buzz about your event by posting the past year's photos or by creating videos, infographics and initiating a hashtag campaign. Additionally, by inbound marketing, you can perform the best SEO practice to rank your conference registration website.
In-Person, Hybrid, Virtual
Create an Extraordinary Event Experience
Across All Event Formats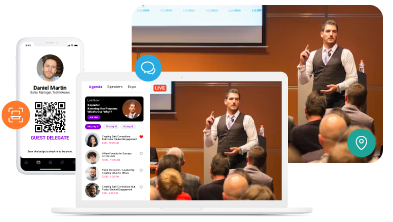 6. Improve Your Conference Onsite Registration Experience
A conference registration can't be bound to online mode only as there are a lot of attendees that prefer onsite registration. Also, there are last-moment participants who are also important in the success of the event. No matter how efficiently and seamlessly you made your online conference registration process, the check-in process can also potentially break your event.
By setting up an onsite conference registration desk you can ensure that they registered themselves without any hassle. Additionally, introducing the e-tickets or m-badge that you already did by introducing online registration needs to be verified with zapping machines. As this will eliminate long queues. Technology always plays a significant role in the overall success of the event while set-registration desks in these digital times are great and expand the nature of automation. But real-person to help them out are appreciative and give a personalized touch.
Enhancing the conference registration management is not easier to crack but with event tech solutions it can be made possible to make it seamless. There are many tools, smart registration solutions, and professionals who can help in such events regardless of the conference size and type. With the right team of professionals, equipment, and effort you can possibly boost your conference registration process. As discussed above utilizes all the tips and tricks to enhance the event attendees' experience.
Choose the Online Conference Registration Services! Choose Dreamcast!!
The effective tips are meant to make your conference registration process seamless and helpful in enhancing attendees' conference journeys. If you are the one who is looking for such an event tech solution that can help you in developing a customized mobile event app and a microsite. Additionally wanted to implement a smart event tech solution Dreamcast is there to help you with their trained certified professionals and years of experience. We offer numerous functionality in conferences, some of them are;
Advanced White Label Mobile Event Application
Event Microsite Builder
Online & On-Spot Registration
Whatsapp Driven Communication & CRM
QR Code Enabled On-Spot & Online Functionalities
Third-Party Integrations
Hybrid Interactivity & Networking
Multiple Exhibitor-Oriented Solutions
Complete Event Data Analytics & Reports
This above-mentioned functionality is not limited as we offer '100% Customized Event Platform' and customized conference registration solutions. Wanted to know more, book your free demo now.
In-Person, Hybrid, Virtual
Create an Extraordinary Event Experience
Across All Event Formats