We are still standing amid the pandemic where uncertainty is still looming worldwide. Many districts are again going under lockdowns and restrictions are imposed on public gatherings. What the future holds and when things will be back to normal is still unknown. Amid the chaos, the event pedestal is continually peddling, all thanks to advanced virtual event technology.
The graduation season is around the corner. Students are done with their final semesters and are all set to go on breaks. The time calls for a graduation ceremony! The most awaited event of a student's life. Schools and colleges have prepped up for a graduation ceremony months before, thinking things would be normalized by 2021. But, due to the outbreak of the 2nd wave of the deadly coronavirus, all plans went to hail. Either the ceremony got postponed or cancelled like last year. Many schools and universities are looking up for a solution or waiting for a situation to ease. But, the hard reality is, until the pandemic eases completely, large gatherings are nearly impossible. To overcome this situation and celebrate the most important event for any student's life- A virtual Graduation Ceremony is a solution.
Despite the ongoing challenging situations, a Virtual graduation ceremony is the best alternative to celebrate the success pillar in a student's life. Virtual events have become a new norm in 2020 and by now everyone has become familiar with them. Universities around the world are getting creative and leveraging virtual event platforms to host virtual graduation ceremony to celebrate student's success.
It's time to organise brilliant experiences for students by hosting innovative and engaging virtual graduation ceremony. But, how? Don't worry we will share a detailed insight into how to organise a successful virtual commencement ceremony.
What is a Virtual Graduation or Virtual Commencement Ceremony?
A virtual graduation ceremony is an online event that is organised over a digital medium. It is organised to celebrate the milestone in a student's life. The ceremony is organised to celebrate one successful pillar in a student's life. When a student finishes his/her student life and steps towards a new beginning, a graduation ceremony is celebrated to honor them. As restrictions are placed on certain districts, live physical graduation ceremonies have been shifted to a virtual space.
A virtual commencement ceremony is organised with the help of a virtual event platform. It enables students to partake in the event right from the comfort of their home with utmost safety. Don't let your university pupils miss out on the most important event of their student life amid the chaos. Go virtual and host the most innovative and engaging virtual graduation ceremony that your students will reminisce about.
In-Person, Hybrid, Virtual
Create an Extraordinary Event Experience
Across All Event Formats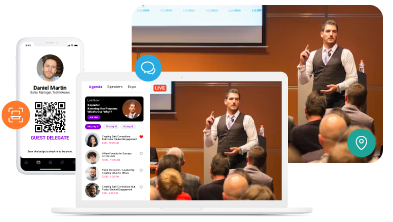 Steps to Organize Most Innovative Virtual Graduation or Commencement Ceremony
1. Go with the Right Virtual Event Platform
Selecting the right virtual event tech is a must to host a successful virtual graduation ceremony. Go with a platform that offers customisable virtual event solutions along with interactive and engaging features that keep students engaged throughout. A platform that offers live video chat functionality along with gamification features and a digital certificate option is the best bet. You can look for a platform that offers games like spin the wheel, shooting games, tic-tac-toe, photo booths, and more to evoke an element of fun in the ceremony.
2. Choose the Right Date and Time
Once you have finalised a virtual event platform for the upcoming virtual graduation ceremony, selecting the date and time, comes next. Select a date and time for the event that is feasible for the maximum number of attendees. You definitely want your event to be a hit and it won't be possible with less no. of participants. Before finalising the date do research on your part to see any national holiday does not clash with the chosen date. It would adversely affect the attendance at your event.
3. Create Innovative Virtual Backgrounds
Set up an innovative virtual background during your virtual graduation ceremony to celebrate the milestone in a student's life. You can select from the given templates offered by the platform or can create your own custom background. Highlight the images of students in the virtual background who achieved great success in academics.
4. Organise Live polls, Quizzes and Offer Giveaways
To make the virtual ceremony exciting, you can organise live polls and quizzes to engage students. Host fun quizzes and live polls with questions like, who is the best dancer? Best Painter? Most mischievous student during academics? And so on to keep students interested in the event. Offer giveaways to students to boost their morale and as a token to start a new chapter in their life.
5. Enable Students to Share Their Thoughts
Boost interactions between students during the virtual graduation ceremony. Allow them to share their thoughts freely via audio/video chats as it is the last event of their student's life.
6. Gamify Virtual Graduation Ceremony
Gamify the event by organising games like spin the wheel, tic-tac-toe, shooting game, and more to boost the excitement. You can even opt to set up a selfie photo booth to add more glam to the virtual commencement ceremony.
7. Set-up Signature Wall
Setting up a signature wall is a brilliant way to make your virtual graduation ceremony look more like a live physical graduation ceremony. It will allow students to sign the digital board and leave comments about their entire academic journey and what they will miss.
In-Person, Hybrid, Virtual
Create an Extraordinary Event Experience
Across All Event Formats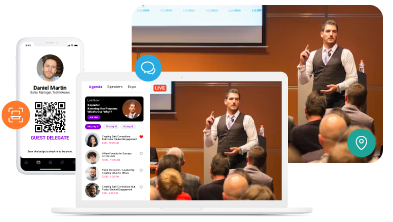 8. Offer Digital Certificates
Offer digital virtual graduation certificates to the students who participated in the event. Everyone loves digital certificates as they are easy to save and keep. Offering digital certificates with a personalised note is an innovative idea one can integrate into a virtual graduation ceremony. 
Final Word
Pivoting to virtual graduation ceremonies is not as tricky as it seems. By leveraging the right virtual event platform or software you can host the most innovative and creative virtual graduation ceremony with ease. Looking to host a virtual graduation or commencement ceremony for your university this year? Reach out to us for more info,
In-Person, Hybrid, Virtual
Create an Extraordinary Event Experience
Across All Event Formats