The season of holidays and happiness is forthcoming, and we can feel the anticipation building up already. Quite obviously, none of us can wait anymore to begin celebrating and hosting parties. So, why not start with the planning right away? And be extra prepared when the celebration time finally comes! Well, if you agree, then you have landed at the perfect place as here it's all about fun, bliss, and virtual holiday parties!
Welcome to the merry zone of virtual Christmas celebration! In this article, we have got you covered with a complete guide to treat your friends, family, and teammates with a memorable virtual Christmas party.
Read on & plan out the experience of your Virtual Christmas Celebration in advance to ensure a more enjoyable party this holiday season.
Plan your virtual Christmas event with the best ideas
The holiday season is upon us and while in-person meetings are always not possible. You can still spread love and joy and celebrate the Christmas spirit through a virtual event. A normal and simple video call can be boring with low energy. It can not offer the engagement and interactions people are looking for. Organizing regular virtual calls with screen sharing and exchanging notes with your employees, family and friends, or any other known. It can feel like an internal meeting or a group discussion where people can not have fun.
Hosting virtual Christmas events should be more than that with as much as festivities of the holiday season. To further help you, here are some great ideas for your virtual Christmas planning.
Send Invitation to Your Guests
Planning your Christmas event includes creating a guest list of who are going to attend. Determining that is necessary and making sure you don't leave anyone out. Create invitations with some flare and opt for a digital approach. Going paperless can still create excitement for your virtual party. Send out customized email invitations to your guests including GIFs, banners, and images. You can even tell them the agenda and schedule of your party to create a sense of excitement.
If you are hosting a virtual party for a large organization or business, then you need to create a registration page for the event where the guests can RSVP and register for the event. This will help you determine the attendees, and then you can cater the activities and schedule accordingly.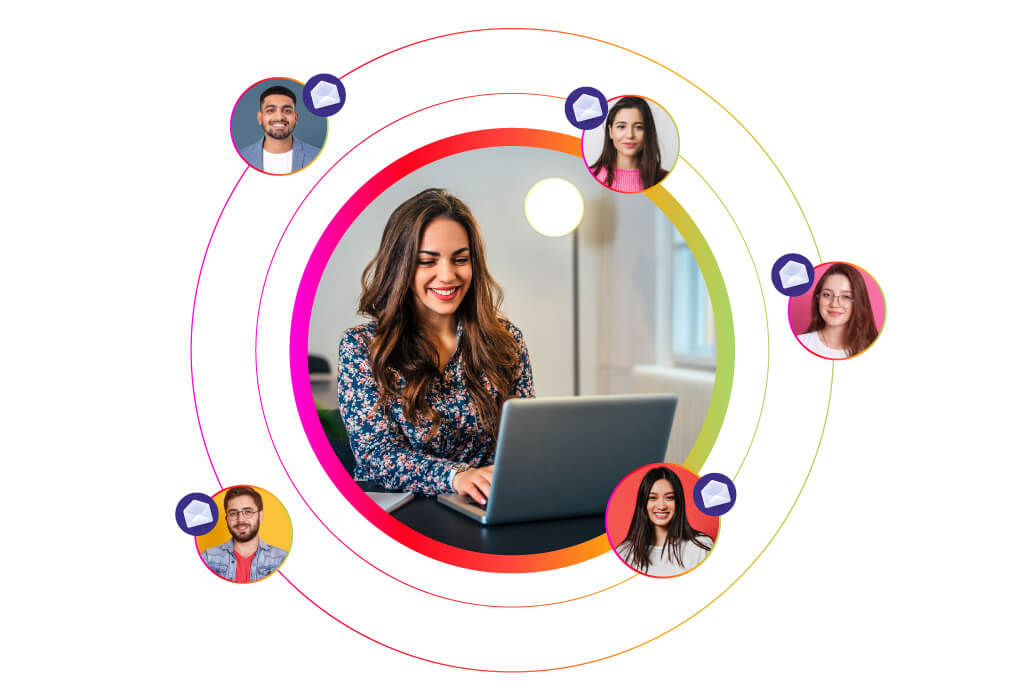 Don't forget to remind your guest about the event a couple of days prior and highlight the date, time, and link of the event. You can even set a dress code for your virtual event to make it more engaging, exciting, and special.
Choose a Suitable Platform
A crucial part of your virtual Christmas party is selecting the right virtual event platform that can help you host seamlessly. Look for the platform's features before choosing because there are multiple options available. Features like customization, integrations, robust audio and video support, user-friendly, breakout rooms, chats, polls, gamification, and more suitable ones should be available. Event tech suites like Dreamcast can help you get all the features and functionalities tailored specifically for your virtual event.
Decorate your Virtual Space and Capture Memories
While hosting in-person events, creating an immersive experience with decorations, the event's theme, and much more keeps the excitement alive. Similarly, when you are organizing a virtual Christmas party, you need to customize and decorate the virtual space in contrast to the holiday spirit. Decorating it with mesmerizing themes, colours, Christmas lights, ornaments, etc. will encourage the guests to create a festive atmosphere.
Prepare for backup
Hosting a virtual event requires specific tools and robust and uninterrupted internet connectivity. While planning your virtual Christmas party, make sure that you are prepared for backup. Your internet connection and the device you will be using should be in good working order. Furthermore, to be aware of any uncertainties, keep a backup device and mobile hotspot for any connectivity issues. Make sure you provide the same details to your guests so that they can also be prepared and have a most engaging virtual party experience.
In-Person, Hybrid, Virtual
Create an Extraordinary Event Experience
Across All Event Formats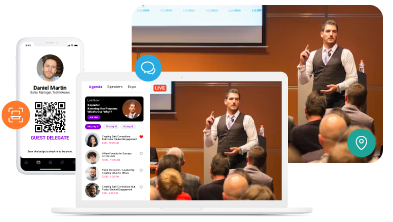 The Best Virtual Christmas Party Ideas to Level Up the Fun this Holiday Season
After planning your event and its schedule, you will need to level up the event experience. This can be done by opting for some great, fun, interactive, and engaging virtual party ideas. Explore the most popular and pleasing ideas, games, and activities below to host an enthralling virtual Christmas party for office, friends, and family.
Top Team-Engaging Virtual Christmas Activity Ideas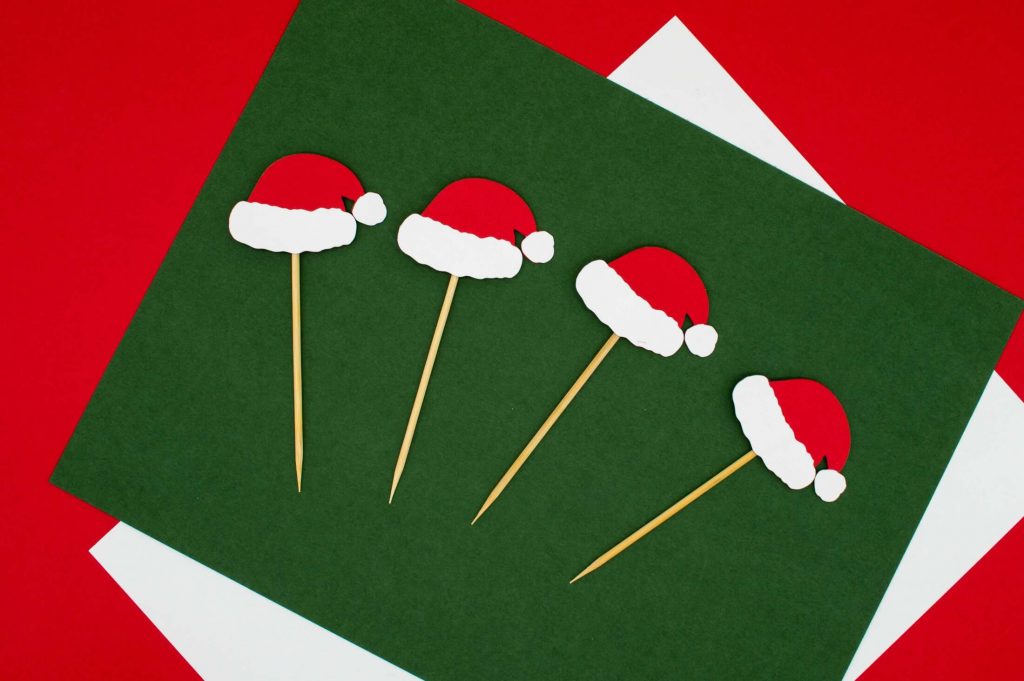 #1 Virtual Gala Night
While hosting a virtual party, we try to ensure that the event is as exact a replica of an on-site event as possible. And to do that, organizing a virtual gala night is a must. To add more value to this session, you can get special meals for all your teammates delivered before the gala party begins. If that gets difficult, you can also gift them with discount coupons and vouchers so everyone can enjoy the gala night together. Elevate the fun by including more aspects like an entertainment show followed by an appreciation award show.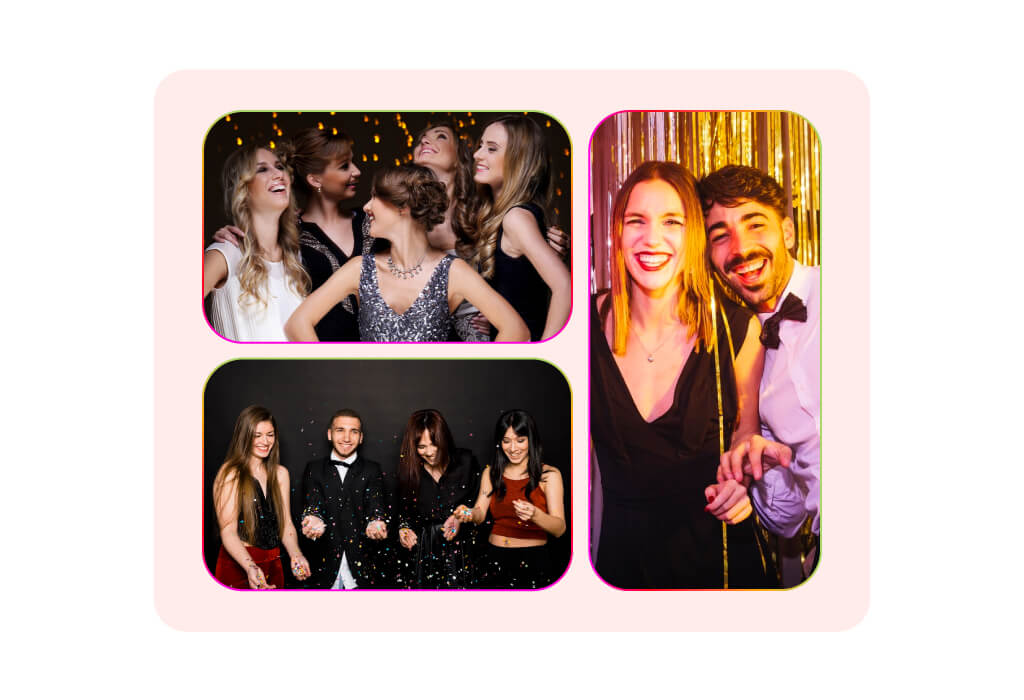 #2 Employee Appreciation with a Virtual Awards Show
You can efficiently take the encouragement and happiness during your office Christmas party up a notch by organizing an award show. Appreciate your employees or teammates for their performance throughout the year, even for the mini-achievements. This activity will motivate your attendees for their future work endeavors too.
#3 Host A Virtual Town Hall Meeting
The virtual holiday party can be a suitable time to organize a town hall meeting for your organization. The best advantage of hosting a virtual event is, you can successfully gather all your teammates present in any global location across the world, without any hassle. So, make use of the occasion and get in touch with your teammates. You can also include various tools provided by a virtual event platform like multi-format interactivity and gamification to enhance the session.
#4 Virtual Christmas Costume Dress-Up
Give all your participants a chance to be amazed! Ask your teammates to dress up for the party in a Christmas-themed costume. The idea is to have a light-hearted laughing session as the party begins. You can also host a virtual Christmas Costume Contest and decide the categories and prizes. For example, the best dressed, the funniest, the most Christmas-sy, etc.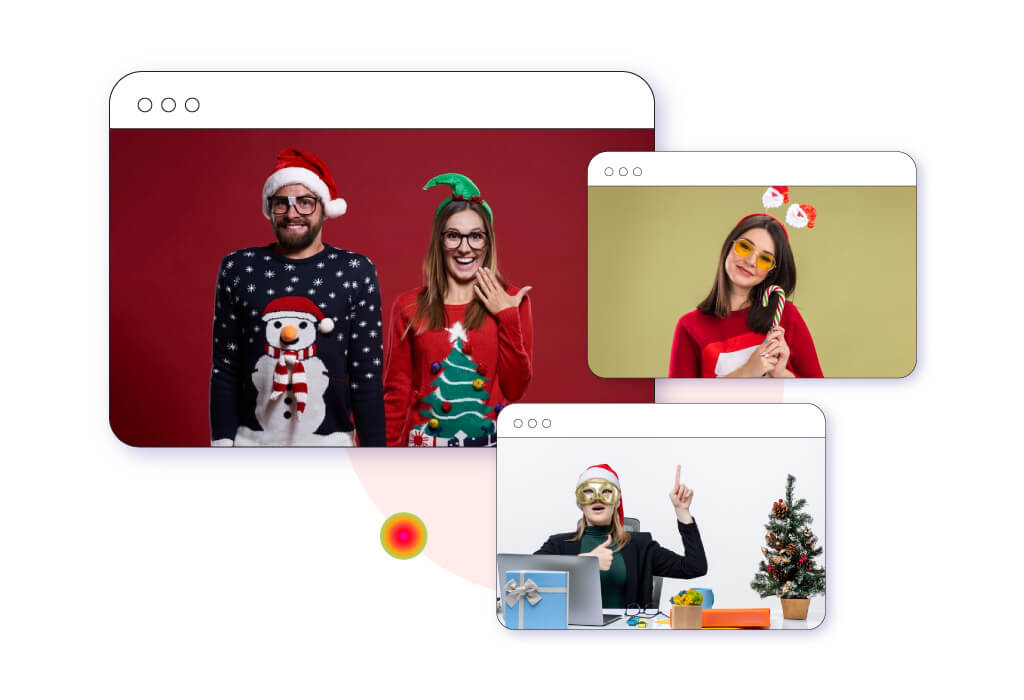 #5 Virtual Photo Booth
Just like a party is incomplete if you don't capture pictures, a virtual party is incomplete if there is no virtual photo booth on the event platform. Therefore, provide your remote guests with the opportunity to capture moments and memories of the quality time spent during the virtual holiday celebration.
#6 Virtual Talent Show
Another excellent session to enhance the cheerfulness of your online party is to organize a talent show at your event. All your teammates can come up with their own special talent and showcase it during the session. It can also be a great ice-breaking and team-building activity not just for the event but also in the longer term. Go on and unravel the secret talent of your teammates!
In-Person, Hybrid, Virtual
Create an Extraordinary Event Experience
Across All Event Formats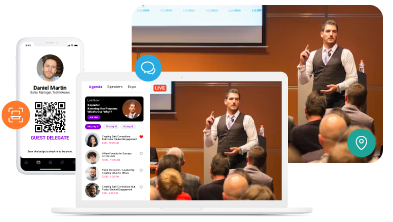 #7 Virtual Secret Santa
The ritual of Secret Santa is like a major essence of the Christmas celebration. Every year, we look forward to sharing the happiness of surprising each other with exciting presents. So, take this activity online and keep up the excitement in your virtual office Christmas party too. The classic game of Secret Santa doesn't have to be confined to in-office Christmas parties. Ask all your teammates to share their wishlist in advance, and you can send out these gifts before the event day. So, you can dedicate a session to opening those gifts together.
#8 Name that Christmas Tune
Name the tune is an enjoyable virtual Christmas party activity we must not miss out on! You can ask your attendees to hum the song or sing it while muting themselves so others can guess the song or tune. Also, don't forget that the activity has to have a holiday or Christmas theme.
#9 Virtual Christmas Memory Slide-Show
The holiday season means countless memories. We are sure you and your teammates have years' worth of images and videos from holiday celebrations. So, dedicate a session in your virtual Christmas office party to a memory slideshow wherein you all get to see each other's Christmas memories. Before the event day, ask your staff to share their holiday images and videos with you, so you can make a memory slideshow and present it during the party.
#10 Send Holiday Swag Bags
Sending exciting swag bags to your office mates prior to the party is another great idea for a virtual Christmas party. You can also send this swag bag to your attendees right when you send them the creative invites. Gifts and presents add incomparable charm and excitement to the holiday season. Also, sending presents to your employees can bring the happiness of an on-site party to life virtually. Following are some of the best ideas for Christmas themed swag bags to send your teammates:
Holiday Accessories
Party Activities' details
Candies
Office Accessories
Candles
Cozy blankets and cute socks
#11 Virtual Christmas Movie Night
Isn't the holiday season incomplete without holiday-themed movies? Undoubtedly, we all enjoy spending some chill time watching holiday movies and Christmas episodes of our all-time favorite shows. Ask your virtual event platform provider to stream a film chosen by the majority. Also, for people who love commentary while watching movies, you can make use of interactive tools like live polls and emoticon reactions.
#12 Christmas Carol Karaoke Time
Singing Christmas Carols is a well-known holiday tradition. Even the tune of these songs gets us moving in cheerfulness. So, kick off a fun Carol karaoke session during your virtual holiday party to encourage the holiday spirits. You can begin the session with famous Carols like Jingle bells, Frosty the snowmen, Rudolph the red-nosed reindeer.
#13 Virtual Gratitude Ceremony
One of the most prevalent Christmas time traditions is the gratitude ceremony, wherein we share what we are grateful for. So, organize a virtual gratitude ceremony where you can divide your teammates into groups of not more than eight to ten people each and assign each group a well-designed breakout room. In these allotted rooms, your attendees can easily share their gratitude points with each other. Also, it can be a fruitful ceremony to get the conversations going between your teammates during the office Christmas party.
#14 Dance the Night Away
Any party or celebration is not complete until you dance and not stop till your feet start hurting. So, organize a session dedicated to dancing with your teammates. All you have to do is ask the virtual event platform service you have chosen for your party to play the virtual holiday party playlist. You can also ask your attendees to connect their devices to a loudspeaker for an enhanced vibe.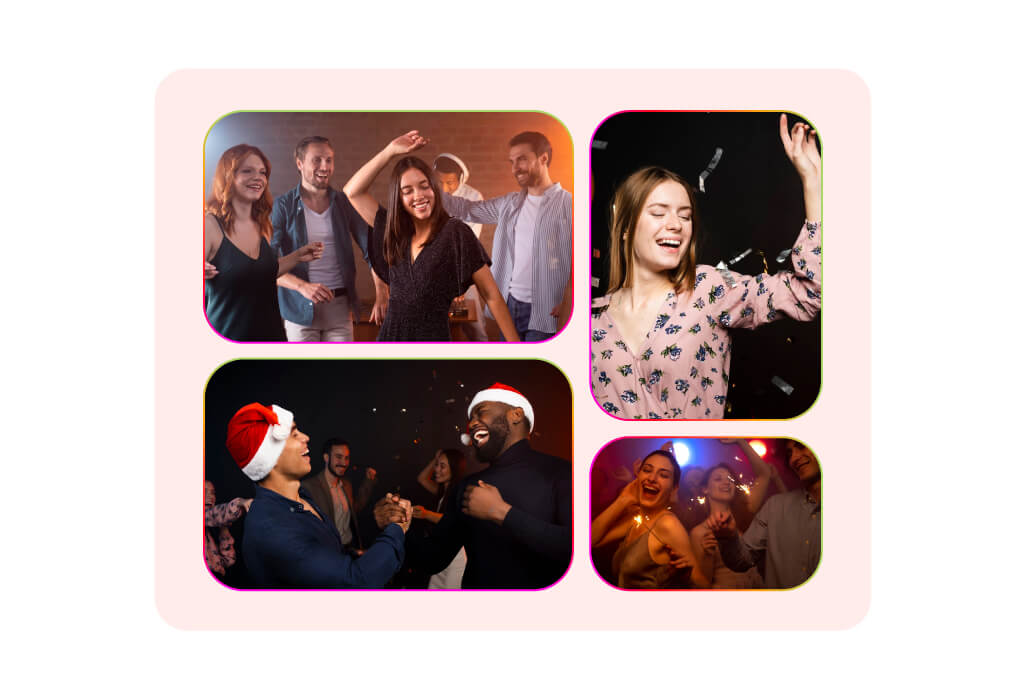 #15 Virtual Tambola Night
Any celebration is incomplete without playing the exciting game of Housie. So, why miss out on the fun during a virtual party? Organize an evening full of entertainment by setting up the virtual tambola housie game. Decide who is going to be the tambola caller and designate a prize for the one who wins.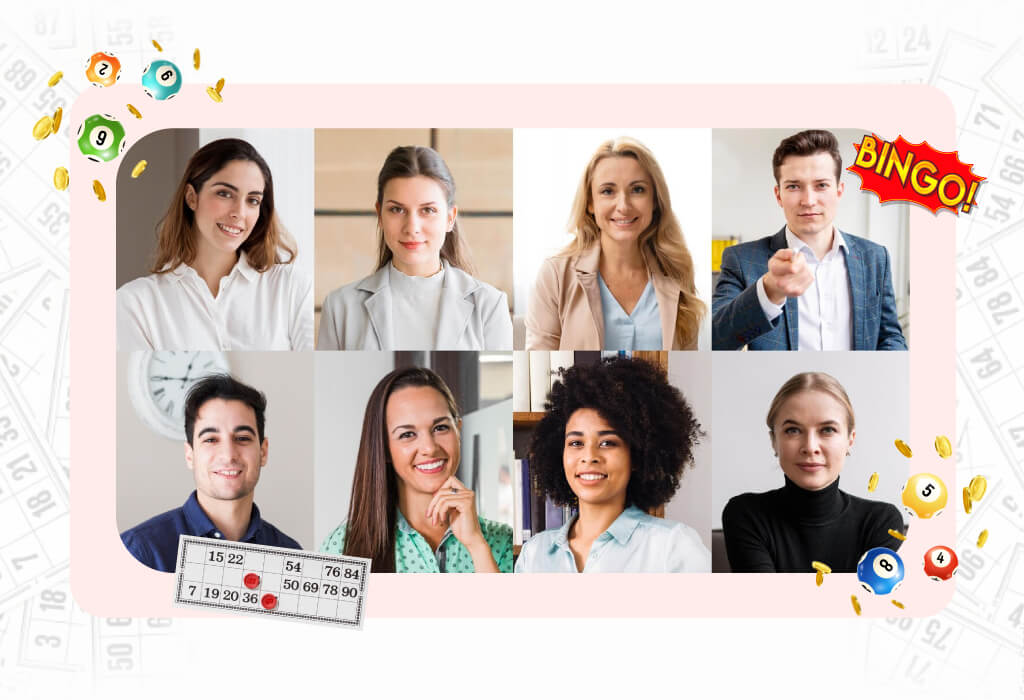 #16 Online Christmas Bingo
Bingo is a mandatory party game when hosting an informal gathering with your colleagues and teammates. There are various ways you can play virtual bingo at your party. While one way is to let your attendees chat and solve the game, the other is to provide them a breakout room by creating separate teams. You can also play the game throughout the party and come to the results by the end of the online Christmas celebration. Virtual bingo is a prevalent game for office Christmas parties as it also renders your attendees an opportunity to interact.
#17 Virtual Christmas Scavenger Hunt
Virtual Scavenger Hunt is an entertaining, active, and interactive game to keep your remote attendees engaged and enthralled. However, while we talk about it in the context of a Christmas party, we can hike up the fun by adding a holiday or Christmas theme to the game. Following is a list of things you can add to your virtual party Scavenger hunt game:
A Winter Coat
Christmas Bells
Gift Cards
Pom-pom Hats
Winter Boots
Tree Toppers
Nativity Set
Candies
#18 Virtual Christmas Trivia
Virtual Holiday Trivia is one of the best games for an online Christmas party. Your teammates can actively interact with the help of various interactive features provided by the virtual event platform like live chat and live poll. Also, you can utilize emoticon reactions as a buzzer. Don't forget to add a Christmassy hint to the trivia questions.
#19 Virtual Holiday Movie Pictionary
Pictionary is a game wherein a player makes a picture from a given word, and the rest of the players have to guess the image before the drawing finishes. Pictionary is an extremely engaging game that can not only add more fun to your online party but also keep your attendees enticed. However, like every other virtual office party game, you can add a Christmas theme to the game of Pictionary. The idea is to create a picture or object from a Christmas movie or episode from a famous show. Let's see how well you understand each other or how much you love the film!
#20 Virtual Christmas Charades
We are sure that most of us know and love playing Charades. It not only spurs up the interaction between your teammates but also incites merriment at your virtual Christmas celebration. Challenge your team to guess the Christmas characters, scenarios, plots, traditions, and activities as their colleagues act them out. Remember, communication is not allowed during the game, and you can only decode the depiction through body language.
In-Person, Hybrid, Virtual
Create an Extraordinary Event Experience
Across All Event Formats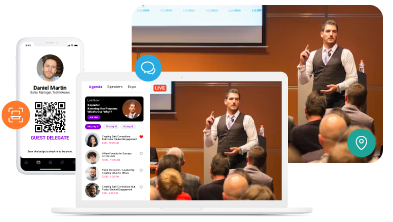 #21 Virtual Christmas Escape Room
Virtual Escape Room is yet another excellent game to play at a virtual holiday party. Ask your virtual event platform provider if they can integrate a virtual escape room with the virtual party venue itself. It can also be a productive ice-breaking activity as your teammates get to interact while solving puzzles and quizzes while trying to escape from the Christmas-themed game.
#22 Virtual Christmas-themed Murder Mystery Game
The murder mystery is yet another engaging team-building game for a virtual party. Designate an experienced host to lead the game team and solve the Christmas or holiday-themed virtual Murder Mystery. Your remote attendees can be divided into teams to solve the crime and find the culprit by collectively solving case files, clues, logic, and hints given by the party host.
#23 Virtual Heads Up Game
Heads Up is an interesting word-guessing game where each player has to guess the place, thing, or person by taking help from other participants. The fun in this game comes from the witty and weird hints you share to guess the right answer. The aim of players is to guess as many words as possible to win the game.
#24 Virtual Never Have I Ever
Never have I ever is another game full of fun and humor that helps you to get to know your teammates better and enhance the excitement at your virtual holiday party. Also, you can ask your attendees to bring up their cocktail cups and take a sip every time the situation applies to them. Don't forget to theme up the game!
#25 Virtual Christmas Party Themes
There are various ways to give your virtual Christmas party an exciting theme and intensify the fun. Following are some of the best and most exciting Virtual Christmas Party Themes:
Christmas Art and Craft
Mini Tree Decoration
Letter Writing
Candle Making Session
Wreath Making Party
Holiday Talent Show
No Work Talk
Pajama Party
DIY Christmas Ornaments
Pet Party
Christmas Cocktails
Movie Marathon
Virtual Tour
Wrapping Up
Virtual Christmas Party is a great opportunity to host an unofficial office party and have a fun time with your teammates. Bring together the online holiday party ideas mentioned above and we assure you of a splendid Virtual Christmas Celebration.
Virtual Christmas FAQs
What are virtual Christmas parties?
Virtual Christmas Parties are fun holiday celebrations you hold with your colleagues, teammates, friends, and family over a virtual event platform. A Virtual Holiday Party is the best way to gather with all your remote colleagues to celebrate and enhance your bond. 
What are the best Virtual Christmas Party Ideas?
The best ideas to host an engaging and entertaining virtual holiday party are: incorporating fun activities, team-building icebreakers, organizing exciting games.
How to Host a Fun and Engaging Virtual Christmas Party?
You can host a memorable virtual Christmas party by collaborating with an advanced and inventive virtual fest platform. The most suitable virtual venue for your party is the one that renders you with the best interactive and engaging features and ensures the success of your virtual party. 
We hope you have a great Virtual Christmas Celebration!
In-Person, Hybrid, Virtual
Create an Extraordinary Event Experience
Across All Event Formats