Today, in the current era where "Go Virtual" has become a new norm, virtual event companies are rising enormously. A massive competition is going on between virtual event platforms to offer the best engaging features. Marketers and organizers around the world are tapping into the powerful virtual event technology to keep the business running. With its phenomenal delivery, it has become the first choice of digital marketers and has become an integral part of every sector.
In challenging times like today where the nations have been hit by a global pandemic, virtual events come to the aid. Face-to-face interactions hold their own worth, but virtual events have closely replicated the same along with generating better leads. There is no doubt to say that hybrid virtual events have overpowered physical events in the past few months completely.
Hybrid Virtual Events
With its exuberance results, organizations that have never thought about moving their physical events in a digital space, are now hosting virtual conferences, meetings, and virtual summits. Virtual events enable organizations to connect and network with attendees residing in any corner of the world in real-time. Organizing virtual booths and sessions to connect with the attendees from remote locations have become the talk of the town.
Every organization is following the recent trend of go virtual, but the major question lies what difference lies between in-person and virtual events? And who wins the battle Physical events vs Virtual events is yet to be witnessed.
With each passing day, physical events are being replaced by virtual ones. In this article, we have shared the difference between physical and virtual events and why hybrid virtual events are leveraging. Also, checkout these #5 hybrid event ideas for your next event.
To get a better understanding and an elaborative brief, scroll down to know:
In-Person, Hybrid, Virtual
Create an Extraordinary Event Experience
Across All Event Formats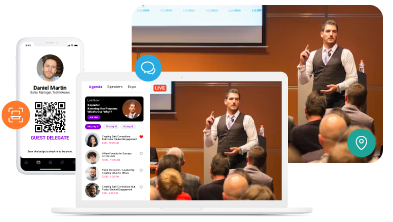 Virtual Events vs Physical Events
Let's understand the biggest difference between virtual and physical events under each pointer. Read on:
#1. Cost Effective Measure
When it comes to looking out for which event format is cost-effective, definitely its virtual events.
In-person events require people from varied remote locations to gather together at one physical venue, which involves traveling. However, traveling to another city or location sounds exciting, but is heavy on your pocket and is extremely expensive. Apart from the travel cost borne by the attendees and sometimes by the organizer, physical events involve certain other costs for organizers. Below is a list of expenses that is mandatory in physical events.
List of Mandatory Expenses at Physical Events
Cost of renting a venue
Hiring technical staff
Expense spent on food & beverages
Travel expenses in some cases
Cost of accommodation
Speakers, organizers, and decorators in some cases
Yes, physical events do help in delivering immersive event experiences to attendees that they remember in the long run, but costs way too much.
Whereas, virtual events come up as an alternative that is a cost-effective measure to host any type of event.
You may host a virtual event on a 2d or 3d virtual event platform. It enables attendees from around the world to tune in from their remote locations and have access to it without having to travel. The virtual venue does not comprise any geographical constraint or space capacity limitations that are mostly an issue in physical events. Virtual event companies that offer no audience capping feature on their platform can accommodate all the employees and guests.
It gets even better, as the cost involved in traveling, accommodation, food & drinks, renting a physical venue, etc. all get reduced considerably. All you have to do is pay to speakers and the virtual event service provider. It can even prove beneficial, as sometimes speakers may even agree to speak at a reduced price due to convenience and comfort. However, virtual events result in having lower costs and more potential leads.
Hence, virtual events are undoubtedly more cost-effective than traditional ways of hosting events.
#2. In Terms of Flexibility
Many big companies hold their presence worldwide with employees scattered in different corners of the globe. Many of the organizations today are working remotely and connecting with employees from remote locations.
Virtual event solutions have been prevalent for long, but it has grown enormously well recently accommodating all the workforce under one roof virtually. Virtual events allow remote employees of different time zones and schedules to connect and network seamlessly over the internet. Organizing virtual summits, conferences, meetings, etc. works on a more flexible approach when compared to physical events. It can be organised seamlessly from the comfort of their own space. Virtual events record the ongoing sessions & enable attendees to have access to important insights if they missed it due to busy schedules. Apart from connecting members from different time zones and locations, attendance, and participation in virtual events is relatively more.
Whereas Physical meetings and conferences may sometimes record sessions, but mostly if it's once over, it is over you can not access it again. It lacks the flexibility of time zones and geographical constraints always remain in the list with physical events. When compared to virtual format, the percentage of attendees and active participation is relatively less. Virtual attendees can have access to the event again and again on their own. However, resulting in lead generation, which is not possible with conventional ways of hosting events.
In terms of flexibility, virtual events again top the charts.
#3. Data Collection & Trackability
Well, data is collected in both in-person as well as virtual events to measure and analyse the success of an event. But, both work in a different format.
At physical internal and external event data is collected in terms of registration and people who checked-in. Whereas virtual events keep a track of every move made by the attendee at the event. Right from the registration, sign-in, what they viewed, shared, clicked, downloaded, commented, to whom they interacted, etc. everything is tracked. Virtual events keep a complete track of data. A complete track of mass data collection makes it easy to measure the success of the event and nurture leads and work upon the areas for the next event which don't hold any audience interest.
To have a complete track of data collection, hosting virtual events is the right move.
In-Person, Hybrid, Virtual
Create an Extraordinary Event Experience
Across All Event Formats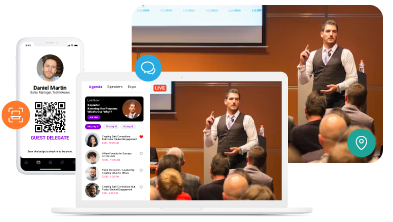 #4. Networking Options
The real battle between physical and virtual comes around face-to-face interactions and interface interactions.
In-person meetings hold its own worth as it adds value in building relationships when one meets someone and says hello. But today in the busy world, a majority of the population spend hours in front of mobile or laptop screens. Interface networking helps in saving time and money while connecting you with other attendees in a virtual space.
As technology advances, virtual event companies have started offering interactive and engaging features in virtual event platforms. Live audio & video one-on-one and group chat functionality offered by the platform closely replicates face-to-face interactions. Apart from it, engaging features such as live polls, surveys, quizzes, spin the wheel, Q & A sessions keep the audience engaged while enabling them to network and put across their opinions.
Well, networking options are accessible in both physical and virtual events. But virtual events allow attendees to participate freely in polls who hesitate to voice out their opinions during in-person events.
#5. Offering Merchandise
Offering freebies is one of the most fun, exciting and engaging parts of any on-ground event loved by attendees.
Yes, physical events do offer customized merchandise as free gifts to take home, but that does not mean virtual events can't replicate the same.
Virtual events can even offer freebies and customized gifts suiting the event. Virtual events allow organizers to introduce games such as spin the wheel, quizzes, and so on and offer free giveaways. The customised merchandise can be a virtual gift such as a coupon code to buy a product or a physical freebie that's delivered to the postal code.
The conclusion is whether it's a physical event or a virtual one, customised merchandise can be offered in both the cases, but in a different way.
#6. Impact on ROI
Measuring the impact of ROI in the long term is difficult to measure in the beginning. Both physical and virtual event formats leave a lasting impression on attendees.
Virtual events can run for a number of days, generate better leads while reaching maximum attendees at a single click. Whereas in-person events give a personal touch. The mass data acquired during virtual events results in generating better leads and revenue. The possibilities of long term impact on ROI is better with virtual, but we say it entirely depends upon the company goals.
Conclusion
Virtual as well as physical events both will remain in prevalence serving many sectors. Many of the organizations today are opting for a mix of physical & virtual events. It is known as hybrid virtual events that combine the two formats. It brings the physical attendees and virtual audience in the same frame, thus delivering the original values to the attendees.
In conclusion, there are varied virtual event platforms that offer the same. If you have not yet moved your event online or planned to host hybrid events on a virtual platform, now is the time to get started and grow your business to new heights.