A Virtual 360 Show is driven by a powerful 3D environment, similar to a physical show. It is enriched with tools and features that allow you to create unique event experiences. Virtual Shows have noticed an uptick in recognition and popularity since 2020. 
With engaging tools and excellent virtual booths, people have realized that online shows maximize your global reach to obtain more qualified leads.
Features of a Virtual Trade Show
To host a successful virtual show, let us take you through some amazing features of the same;
Attractive 3D Designs
Leaving an impactful impression right at the beginning of the virtual show can help create unique and fascinating event experiences. Therefore, it is vital to select an all-in-one online show platform to build a phenomenal virtual environment.
You can start with the landing page of your virtual event, then the virtual lobby, 360-degree tour, and a complete 3D environment to recreate the experiences of a physical show. Several virtual event platforms can create a 100% customizable interface based on your business needs and budget. It helps the exhibitors add their brand logo, colors, and content to offer a personalized touch to trade shows.
Customized Branding
The motive behind customization is to create unique brand experiences. While searching for a virtual show platform, pick the one that can seamlessly customizable the platform based on your business needs. Besides setting different virtual booths, it is necessary to make them highly attractive to lure more attendees.
We all know that virtual exhibitor booths play a vital role in any virtual show. It could be a virtual 360 show, property show, food show, car show, and many more. Hence, this is why it becomes essential to choose customized designs and templates that will resonate with the business and event goals.
On-event Announcements
It appears either in the form of text or video notifications. Like on-site events, it is important to keep the attendees updated regarding the live and upcoming sessions to promote their involvement. You can use push notifications and pop-up features to remind the audience about them notified throughout the event.
In-Person, Hybrid, Virtual
Create an Extraordinary Event Experience
Across All Event Formats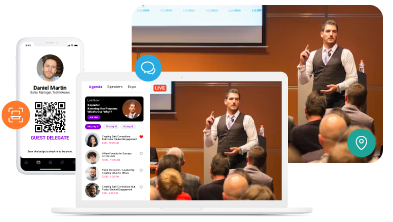 Excellent Networking Opportunities
Remember to include excellent opportunities at any virtual show for attendees to connect and interact. You can make the most of virtual networking tables that include live chat, audio, and video features to foster 1:1 and group discussions. The live chat feature promotes 2-way interactions between the exhibitor, attendee, and speaker in real-time. 
Networking is one strong reason why most people attend online events. So, make sure to insert novel features to let attendees build new connections. Look for features like business card exchange and B2B meetings scheduler to meet and connect with new people.
Gamification
Gamification at trade shows is an excellent method to increase the dwell time of the attendees on the platform. It enhances the user experience. Adding a fun element to your events makes them more amiable. Consider including games like spin the wheel, scavenger hunt, word games, tic-tac-toe, etc to boost engagement at your online show.
Besides this, you can also include a leaderboard challenge to promote active participation. This challenge confers specific points to the attendees for the listed tasks or for winning the games. You can choose to provide exciting prizes or giveaways to the top 5 scorers.
Attendee Engagement Features
The worth of engagement features is another crucial factor that you should consider while deciding on the online trade show platform. Diversions are just a click away, so be very productive while preparing the content or including the engaging tools. 
You can choose to keep an incredible speaker who can keep the audience engaged with their art of delivering the content remarkably. An experienced speaker can also conduct surveys, live polls, and Q&A sessions to gauge the engagement level of the attendees. Also, you can include AI matchmaking tools to let attendees connect with like-minded people during the event. 
Keep the Exhibit Halls Active Even After the Event Ends
You can choose the keep these virtual exhibit halls active for 2-3 weeks post the event. It is an effective strategy to draw more people towards the event's content and concept who missed the live event. They can probably turn out to be your prospect leads.
Detailed Analytics
Getting meaningful analytics regarding the aspects of a virtual event helps you gauge its success level. You should always choose a virtual event software that can provide you with comprehensive data and insights. It includes attendee footprint, count of registrations, messages sent to the exhibitors, the hotspots of the event, and more. These insights will help you measure the success of your event and check if you were able to meet your event goals.
Live-streaming on Social Media
Live-streaming is an excellent method to spread awareness about your virtual show. You can practice multi-channel live-streaming on platforms like Instagram, Facebook, Twitter, YouTube, or LinkedIn. Besides boosting the brand value and social presence, it will also help you promote your event to a wide range of people across the globe.
Wrapping Up
Virtual shows are an excellent way to boost brand value and maximize your global reach. They offer several opportunities to obtain qualified leads and increase your revenues. Therefore, select a one-stop solution that can elevate the level of your event and deliver immersive and impactful experiences.
In-Person, Hybrid, Virtual
Create an Extraordinary Event Experience
Across All Event Formats