Want to know what exactly your event's attendee is looking for? What are their thoughts, aspirations, and ambitions? If you are looking for answers to these questions, then look no further. We have answers to all your questions.
We often focus on mapping our attendee's journey. But we miss the opportunity to understand them. What does the attendee want? What motivated them to join your event? or What they are expecting from the event? Keep in mind that not everyone attends the event for learning. Some people look out for networking while others for knowledge about their industry. This can be very helpful in hosting a virtual or hybrid event. So, how to understand your attendee? The answer is creating an "Attendee Persona". But before moving ahead, let's first understand what it is?
What is Attendee Persona?
Attendee Persona is a process of characterizing the attendees of your event. This characterization is usually based on their likes and dislikes, goals and aspirations. In other words, it is a virtual profile of an individual based upon their behaviour, needs and wants.
Creating an Attendee Persona helps you understand their needs and wants. Also, you can understand different type of people, which helps in diversifying your message. It means you can tailor your messages to suit the needs of individuals. Hence, making your messages more efficient and effective. Along with that, you will be able to identify your target audience.
Also, an attendee persona can help you to get relevant speakers, sponsors, and exhibitors in your virtual event or Hybrid event.
How to create an Attendee Persona
Now that you understand what the attendee persona is, your next question would be how to create one. For this, you need some information about your attendee. This information can be as simple as Gender, Age and hobbies. Or can be information about their professions like job title and industry. This information can be easily accessed by asking these questions in the registration form. You can also ask questions like their reasons or motivations for joining the event. Or their expectations from the event.
You can group the attendee by age group, location, same industry or job title. Or you can club them based on their responses like similar interests, reasons, and expectations for joining the event. It is easy to collect this information, if you are organising a virtual event or an hybrid event.
In-Person, Hybrid, Virtual
Create an Extraordinary Event Experience
Across All Event Formats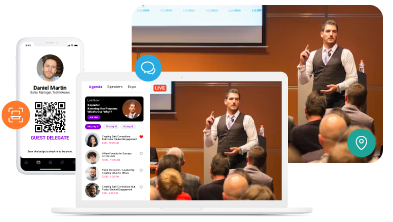 Getting more information
You may stumble across the challenge of how to collect more information. As the information is the key to building the attendee persona. And more information means a more accurate and effective persona. For this, you can use these practices –
1. The Registration Forms
The primary method to collect information about your visitor is using the registration form. It provides you with regular details like gender, age, location, and more. But also provides details like motivations and expectations with the virtual event, virtual conference, virtual trade show, and virtual fair.
2. Polling
The polls help us to understand what the visitor thinks about the particular topic. It also helps in determining their thought process. Along with you can have an idea of how to group the visitors. This is quite helpful especially for virtual conferences and virtual career/job fairs.
3. Surveys
For more information, you can conduct surveys. You can design surveys, especially for your event. A more customized survey means more rich information. For example, you can ask about their past experiences. What they liked or disliked about it? What are they expecting from your event? It will help you to make the required improvements.
4. Reviewing Your Competition
One of the most highly recommended practices is to review your competition. It makes you conscious of your surroundings. It answers questions like What your competition is offering? How is it different from your event? Who is attracting more visitors? And so on. Also, you can see what techniques your competitors are using in their virtual or Hybrid event.
5. Previous Types of Research
Apart from your own research, you may find research done by others. Along with your own research data, you can refer to these research data and analyze them. This might help you to enhance your research. And might give you a new perspective on a particular topic. For example, what are the trending features of a virtual event platform/hybrid event platform.
6. Introspect
Along with researching and analyzing, you need to introspect about your event. Ask yourself questions like How is your event beneficial to your visitor? How is your event better than that of your competitors? It will help you understand your visitor's thinking process.  And you will be able to answer all their queries.
Example of an Attendee Persona
Here is an example of a list of your attendee's characteristics. It will make it easy for you to prepare an Attendee Persona.
1. Age
2. Gender
3. Location
4. Job title
5. Industry
6. Reasons for joining the event
7. Expectations from the event
8. Social media they use
9. What they want to learn at your event
so on.
In-Person, Hybrid, Virtual
Create an Extraordinary Event Experience
Across All Event Formats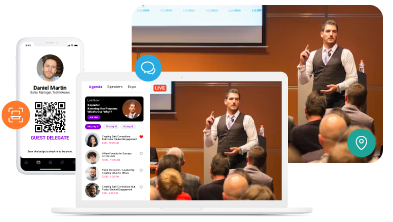 Importance of creating Attendee Persona
1. Personalize the Experience
If you customize your event for an individual, the attendee will get a more personalized experience. It will make them feel comfortable in the event. Also, they will get a positive message that you care about them. And will build confidence in them that they will get what they are seeking. Hence, it will keep them engaged. For this, you can take help of virtual/Hybrid event platforms or virtual event software. Also, you can reach a virtual event company or agency which is quite experienced and trusted in providing such solutions or services.
2. Continue Engagement
If the attendee is getting the desired information, chances are high that they will return. In other words, the continuity of engagement directly depends upon the visitor's satisfaction. To achieve this, you need to identify what they are looking for.
This could be Networking or learning opportunity. 
You can use various tools and techniques to engage your attendees. These are gamification, networking, live chats, AR photobooth, One-on-one or group meetings and so on. The goal here is to provide attendees with an immersive experience.
3. Effective Marketing
If you are well aware of the visitor's needs and wants, you can target them effectively. You will be able to tailor the message that will grab your visitor's attention. Hence making your message efficient.
4. Improved Experience
To make your visitor feel valued, they must relate to the event. To make this possible, you need to curate the interface according to their personal needs.  This is beneficial especially if you are hosting a virtual conference, virtual trade shows, virtual fest, virtual career or job fairs or even corporate events like virtual AGM (Annual General meeting) and virtual Town Hall, etc.
5. Varied Messages
Now categorizing your visitors helps you to create a message catering to different individuals. It means various messages for various people. Also, you will be able to identify your target audience. It makes your message more relatable.
6. What your Attendee Thinks
Your attendee's reason to visit your event plays a crucial role in understanding their thought process. And what they are expecting from the event and helps you to deliver the solutions to them.
Using Attendee Persona
Now that you have created an attendee persona, it's time to deploy this information at work. Let's look at how to use it effectively so that next time you get more visitors.
1. Giving Suggestions
Since you can characterize your visitor based on a matching persona, you can provide them with suggestions. These suggestions can be about the sessions in your event, which might be your visitor's interest. Or can about meeting with people from the industry your visitor works in. For example, you have a session on 'how to start investing your money', then you can suggest it to those who want to learn about investment.
2. Email Marketing
You can use your attendee persona for email marketing also. You can send emails to your visitor, which are in-line with their interest. Not only can you get your visitor from past events to the next event but also new visitors. Now taking the above example, you can email the details of that session to people with similar interests. Also, it can be an effective strategy for virtual product launches, virtual tours, virtual job/career fairs.
3. Personalizing your Event
If lots of your visitors have similar interests or they fall in the same attendee persona, then you can customize your event accordingly. For example, many of your visitors are interested in Stock Trading so you can have a session about this subject.
Attendee Persona has lots of advantages. And today you have seen some of them. It gives you a boost that will significantly impact your events and visitors. I hope that you are ready to create your own attendee persona.
If you are looking for comprehensive solutions for your virtual hybrid events, Dreamcast offers endless possibilities. Enquire now!