The technological advancements around the world have exceptionally modified the way organizations from different industries function. As presented by Marshall McLuhan in 1964, the world is becoming a global village when the world is connected through digital communication. It is a concept that says that communication has become instantaneous due to technological evolution. The same notion has now come into existence as learning and education have also shifted to the digital arena. It has all been made possible with the concept of organizing webinars, all thanks to the evolving event technology. The world is organizing immersive webinars to reach its target audience, considering it one of the best marketing techniques. In this blog, we will take you closer to the understanding of webinars in the sphere of the education industry.
What is an Educational Webinar?
An educational webinar is an online real-time lesson that the students can access from any remote location over the web. The teachers or lecturers can conduct a webinar class with the help of an immersive webinar platform. A webinar is also known as a webcast, an online seminar, an online class, or a web seminar. However, what makes an educational webinar different from an online class is the availability of virtual functionalities that come with it. A fully-managed webinar platform provides the organizers with numerous sets of interactive features that not only make learning easy for students but also networking. Another characteristic that makes webinars an exceptional choice for the education industry is that they can reach a wider audience without any limitations.
Let's move ahead and explore some of the most eminent advantages of Webinars for Education.
Benefits of Using Webinar Platforms for Education
Simpler Way to Gather Wider Audience
The traditional format of education or learning brings the limitation of capacity & use of extra resources. However, the best webinar services come with the advantage of no such capacity limitation. All you have to do is collaborate with an excellent webinar platform, and you can invite as many audiences as you prefer. Doing this will also help you set your brand in an authoritative position with valuable content for the users.
Easy Availability of High-Profile Guests
Inviting renowned speakers or guests can be much of a task in the case of a traditional learning format. However, inviting special guests or experts in an online event format is extremely easy and convenient. Collaborating with an industry or subject expert can also attract more attendees to your webinar. It is so because they would like to learn about the topic directly from somebody who has an authentic experience. Hence, more attendees would register for the webinar event.
Improves Overall Learning Experience
The best webinar platforms let the organizers record all the sessions and make the webinar content available on-demand. This aspect of a webinar results is extremely beneficial for the students as they get to access essential virtual functionalities. A webinar platform also improves the students' learning experience by providing features like live chat, reactions, screen sharing functionality, document sharing, etc. Due to the availability of these features, attendees feel more engaged while learning. And this further leads them to perform better in academics.
Cost-Effective Learning Method
Webinars are a very cost-effective format of education for every participant involved. Students don't have to spend time, cost, and effort on traveling and accommodation. Similarly, the organizers or educational institute does not have to spend large sums trying to accommodate students and arrange the resources. In the case of a webinar, all you need to do is find a fully managed webinar platform that provides you with a complete solution. Choosing the right webinar platform will help you with the best functionalities at appropriate costs.
Encourages Interaction
We have all known people who would shy away from the teachers or speakers due to the lack of anonymity. Either known or we were one of those people. However, this is how webinars or online education benefits the users. Attendees can seamlessly interact with the speakers as well as each other, using the interactive functionalities provided by the webinar platform. During a webinar, users don't have to feel shy, and even introverts get the opportunity to interact freely.
Great Flexibility & Convenience for All
From the availability of excellent interactive features to the ability to record the webinar sessions, the best webinar services provide you with great convenience. In the case of a webinar, the students or other attendees don't have to travel to attend the class or a special workshop. Everything is available over the web, and users can seamlessly access all the virtual features and experience a whole new way of learning.
Excellent Way to Grow Network
Networking is one of the key characteristics of webinars. An excellent webinar platform helps you enrich your webinar with top-notch networking features like 1:1 multi-format communication and business card exchange. As mentioned earlier, a webinar platform enables the organizers to reach a wider audience and also the industry experts. Using these networking functionalities, students and other attendees from around the globe can interact seamlessly.
Engaging Learning Experience
The best webinar platform will provide you with numberless engagement solutions to ensure that your attendees feel engrossed throughout the webinar. The most experienced webinar platform delivers the organizers with a 100% customized 3D venue to improve the attendee experience. Audience engagement plays a vital role in ensuring a great learning experience for the users as they don't feel distracted.
However, a successful webinar can only be possible with the help of some excellent webinar platform functionalities. So, let us explore some of the leading features that a webinar platform for education must have.
Best Webinar Platform Features for Online Education
Branding & Customization
The opportunity to add branding elements to your webinar can be a great way to meet your brand identity goals. An experienced webinar platform provides the organizers with a 100% customizable webinar hosting platform. Using this facility, you can personalize the entire webinar as per your event requirements and needs.
Interactive Functionalities
Interactivity is one of the most significant elements that gives webinars the importance that it holds today. Students prefer accessing online classes or webinars more than physical classes owing to the seamless interactive benefits. A robust webinar platform is power-packed with excellent interactive features like 1:1 & group chat, real-time emoticon reactions, raise a hand, multi-format communication tools, etc. Not just one way, but the attendees can also enjoy two-way interaction with the speakers during the sessions.
In addition, users are also provided with some of the leading networking tools like AI Matchmaking, Advanced Search Filters, Networking Tables, Meeting Schedulers, etc.
Document Sharing
Document sharing is another functionality that makes webinar hosting a very convenient tool for teachers and attendees. The speakers or lecturers can easily share documents during the ongoing sessions, so the learning becomes super easy. In addition, the organizers can also make various documents or pdfs available for the attendees to access and download. This webinar platform functionality further simplifies the learning process for the students.
Scalability
The webinar platform you choose to organize the online class or lecture on should provide you with a scalable solution. This characteristic of a webinar platform simply means that the organizer can scale their event as per their preference at any given time. It is better to come on board with a platform that provides you with the best functionalities based completely on your budget instead of a platform that bounds you with a specified plan.
Engagement Possibilities
Any form of the digital or online event comes with the essential requirement of audience-engagement features. However, if you customize the webinar platform and create an immersive 3D venue for the webinar, attendees would automatically feel engrossed throughout the event. In addition, an excellent webinar platform provides various engaging aspects that keep your users engaged at all times. Some of the leading functionalities are gamification, leaderboard, live polls, Q&A sessions, GIF graphics, etc.
Monetization
While it is up to you if you want to monetize the webinar or not, it is good to pick a platform that provides excellent integrations. The monetizing possibility will enable you to charge a minimal fee from the attendees to access the essential webinar documents and resources. The functionality will help the lecturers receive payments without the need for any other platform.
Breakout Rooms
A virtual breakout room helps a small group of attendees to discuss topics, work together in a team, interact, and network with each other. Therefore, it is essential to choose a webinar platform with breakout rooms to enable seamless interaction and simplify the connection building.
With the right planning & strategy, you can organize a super-engaging webinar without going through the hassle of arrangements & resources. Pick a managed webinar platform with the mentioned functionalities, and you are good to host a success-driven webinar event.
In-Person, Hybrid, Virtual
Create an Extraordinary Event Experience
Across All Event Formats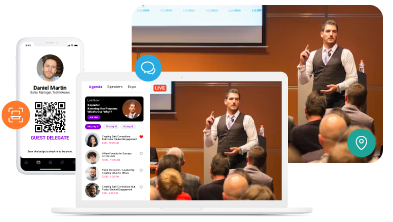 FAQs- Webinar For Education
What is a webinar, and how is it good for education?
A webinar is simply a seminar or lecture hosted over the web using a webinar platform. A webinar is good for education as it enables the users to conduct & attend classes from the comfort of their remote locations. It is not only convenient for all but also a better option for seamless interactivity, networking, and learning.
What is the importance of webinars for teachers?
Webinars help the teachers educate and interact with their students in a more efficient way using digital technology and functionalities.
Are Webinar Certificates useful?
Yes! Webinar certificates are very useful as they can improve your resume.
What is the purpose of webinars?
The purpose of webinars is to inform, educate, and engage the target audience.