Leveraging cutting-edge technology, automated webinar platforms enable seamless and interactive presentations that transcend the limitations of time and geography. At least 83% of marketers believe that webinars are highly effective or the most effective tool in their possession. So, choosing the best automated webinar software becomes crucial to ensure the best solutions and end up with a platform that fits all the needs.
In this article, we will be exploring the key features, benefits, and considerations that define the leading solutions in the market. Whether you're a seasoned marketer, a dedicated educator, or a business leader, understanding the capabilities of these platforms can empower you. This will help you make informed decisions and harness the power of automated webinars to achieve your goals.
Delving into the Best Automated Webinar Solutions
Here is a sneak peek of the 8 best automated webinar platforms compared based on the features and functionalities they offer:
DC Webinar Plus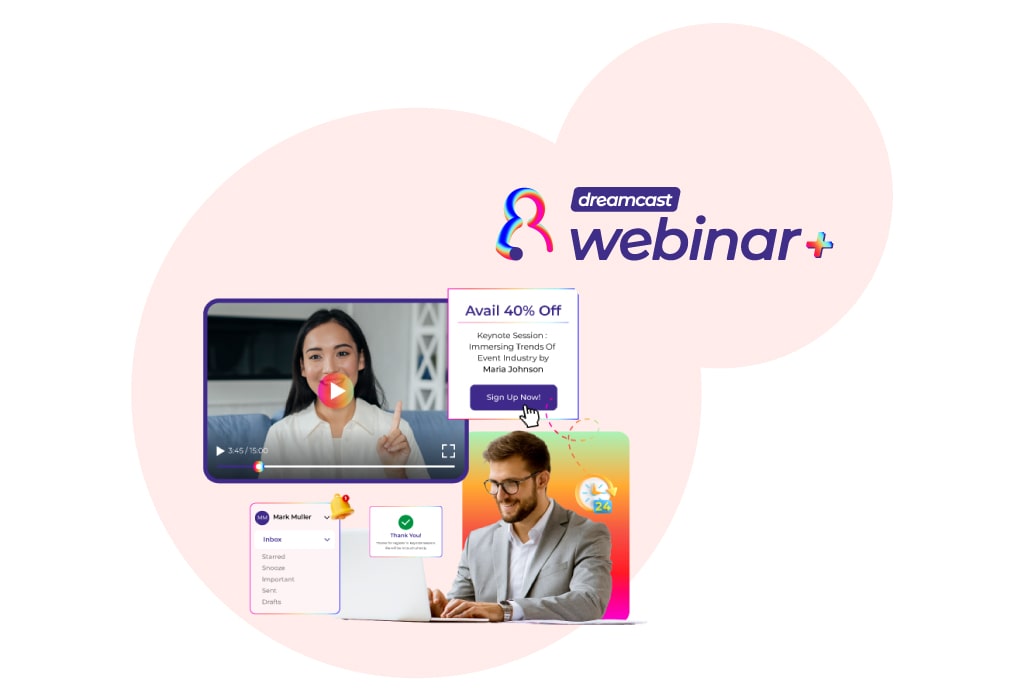 DC Webinar Plus is one of the most easy to use webinar platforms which took scalability and interactivity to a whole new level. If you are seeking unmatched functionalizes and features that you couldn't find in other automated webinar platforms, WebinarPlus has you covered.
It is a one fits all automated webinar platform which automates most complicated functions with its wide array of automation features to ensure a best quality experience for both attendees and hosts.
You can leverage easy and flexible scheduling options featuring time zone-friendly, pre-recorded convenience, and real-time updates. This allows you to easily set up and manage webinars at your convenience.
To maximize boost sales, it offers you personalized branded interface, HD video & audio sessions, and powerful analytics for you to analyze real time data. Speaking of engagement as the most crucial aspect of automated webinars, it allows you to integrate chat, polls, and email follow ups.
Key features of DC Webinar Plus for your best automated webinar platform:
With DC Webinar Plus, you can access a variety of professional functions, including:
Audio, video, and screen sharing encryption
Integrations with popular marketing & CRM software and apps
Ability to customize registration forms, webinar emails, and moderate attendees;
Comprehensive reports on webinar registrations, attendees, engagement, polls, and Q&As;
Various options for interactions with your audience through polls, Q&As, and in-app features like raise a hand, live chat etc.
Make a live webinar recording and utilize the video to create an automated webinar
Demio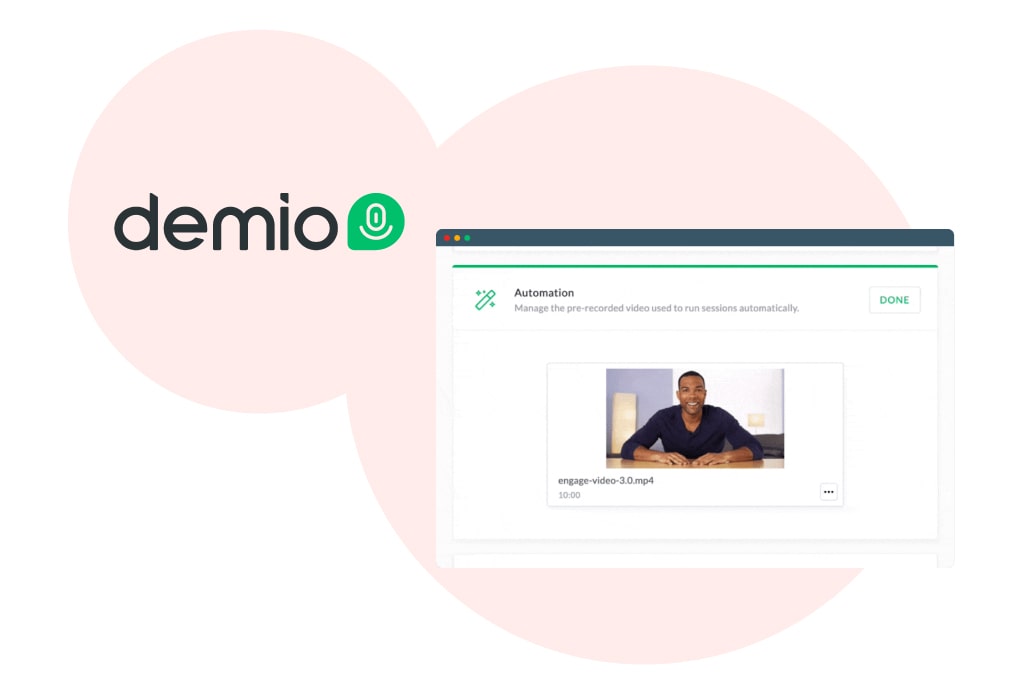 Demio is a live-first webinar platform that comes with a range of webinar automation features. It is a widely used tool and better suited to small enterprises that don't require many features and want to launch their digital products rapidly. If you don't want to pay for two different solutions, it works for both live and automated webinars.
Demio's automated platform offers both recurring and on-demand scheduling, although you cannot use both for the same webinar.
You can communicate live with scheduled webinar registrants by joining their sessions, but not with on-demand webinar attendees. After on-demand webinars, you may send email responses to attendees, but not after scheduled webinars.
Demio features three interactions that you can schedule to appear at precise points in any webinar: polls, handouts, and CTAs. A clean, modern style and simple setup are also noteworthy.
Key features of Demio as automated webinar software
Demio offers several key automated webinar features such as:
The landing page design you get would be more minimalistic and available with only one template.
Automated scheduling polls, handouts, and messages
Either schedule sessions for your webinar or make it available on demand instead
Analytics including registrations, show-up rate, and focus tracking
eWebinar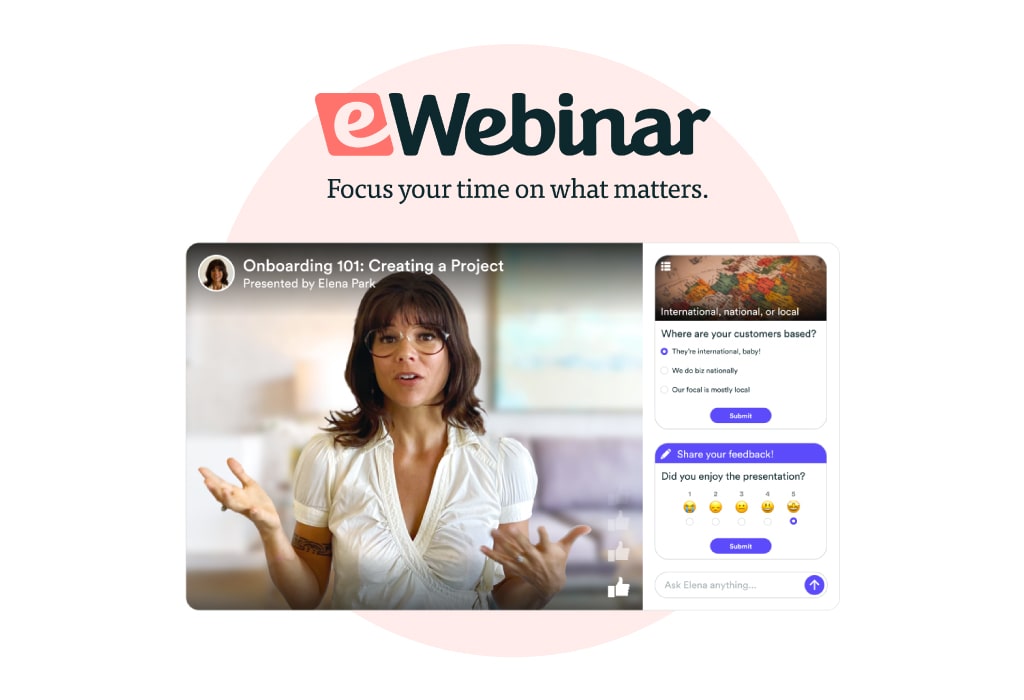 eWebinar is a platform that focuses solely on automated webinars and provides useful choices for varying levels of automation. For example, you can receive notifications when someone writes in the chat and respond to them live or by email after the event.
You only need to paste your video or a link to it, create a time, and send reminder emails to set up a webinar. All templates are available on the platform; simply edit the information and fine-tune the automated responses, and you're ready to start.
Key features of eWebinar automated webinar software
By using eWebinar for automated webinars, you get access to the following:
Easy-to-use registration page and pop-up builders
Automated welcome messages and responses to certain questions
Scheduling and recurring webinars that are easy to set up
Automated polls, feedback sessions, and auto-reply messages
Analytics with a great focus on feedback and poll responses
The platform can be integrated with Slack, CRM, and more
Ever Webinar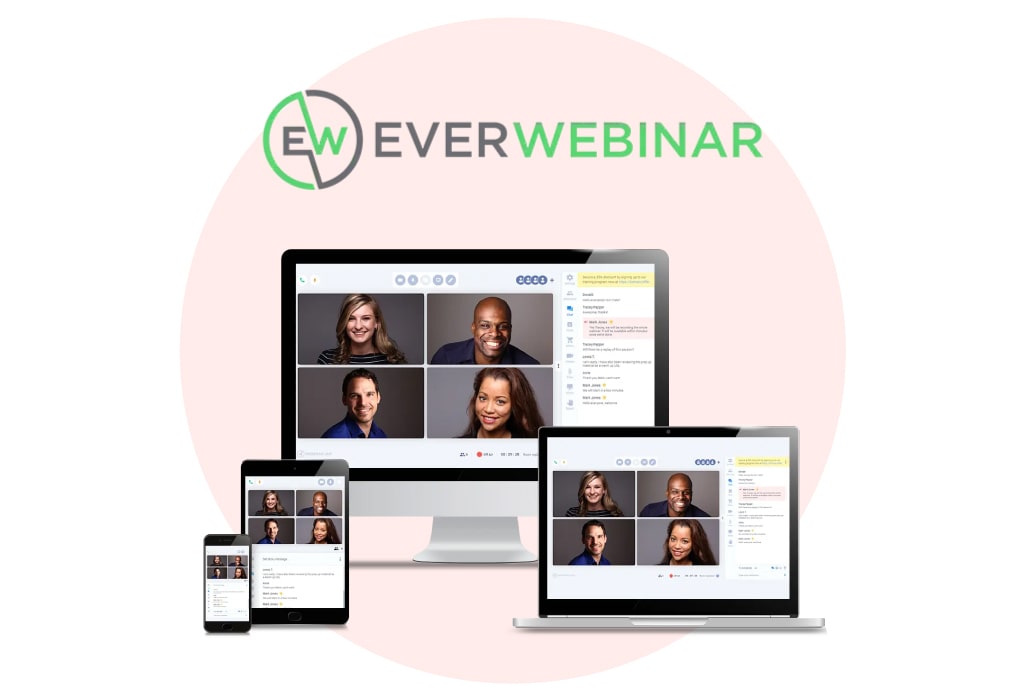 EverWebinar is an automated webinar version of Webinar Jam – a live webinar software.
EverWebinar has solid scheduling features, including a recurring calendar that can show sessions in attendees' local time zones, just-in-time webinars, and the ability to view playback on-demand.
Although EverWebinar doesn't offer live chat, you can enable the question box in the replay if you want to receive questions from attendees via email.
They offer five interactive and engagement tools including polls, surveys, special offers, handouts, stickers, and announcement banners — that you can preset to appear at pre-scheduled times in the meeting discussion on your web.
It also offers powerful sales and marketing features, making it easy to promote your products on one platform.
Key automated webinar features of Ever Webinar
Simulated chat, simulated attendees, and simulated sales announcements.
Access multiple templates to quickly create webinar landing pages
Run A/B tests for landing pages
Set up automatic learning schedules and continuous admission
Track analytics including subscribers, attendance, live and replay attendees, stats for different options, session length, and more
Use surveys, documents, offers, and automated messages that are triggered by a specific time or action
Turn your live webinar into an automated event with just one click
Big Marker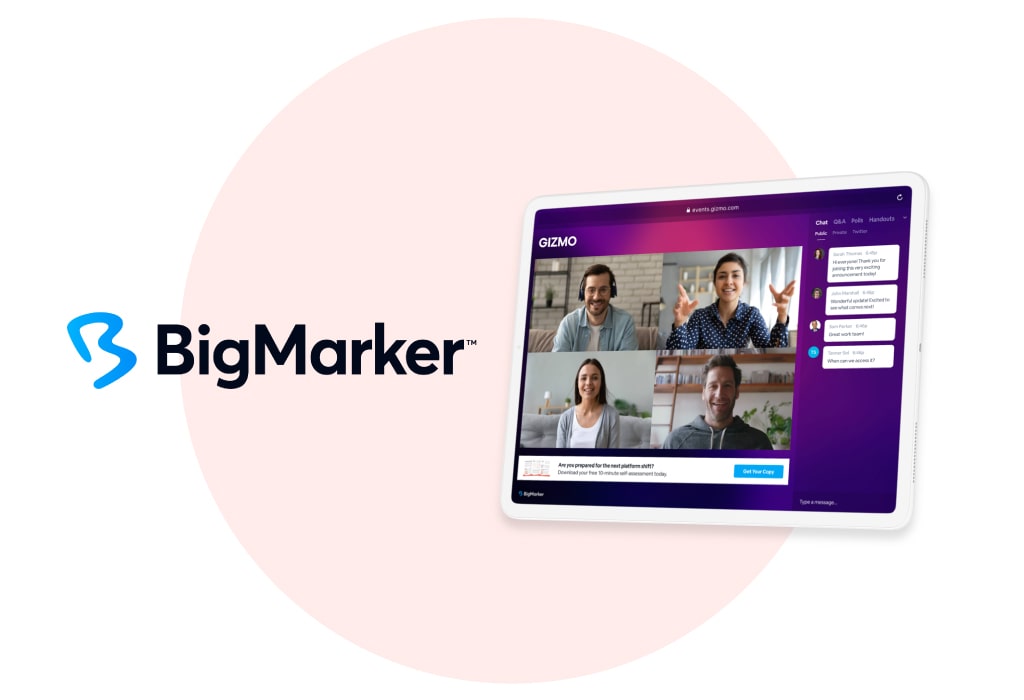 BigMarker is an all-in-one video platform that offers, among other things, live and permanent webinars – and basic pricing plans for enterprise pricing plans.
They support recurring schedules, just-in-time webinars, and sessions in participants' local time zones. They offer replays on demand, although they must be created as separate webinars.
BigMarker allows you to publicly chat with live attendees by joining a session, although they don't support email post-webinar replies. You can use their SMS and Slack integration to publicly reply to live chat messages. They support several interactions: a poll, reviews, quizzes, documents, offers, sticky notes, attendance screens, and post-webinar surveys.
For those looking for a feature-rich platform for automated webinars, BigMarker might be the right platform. It allows you to create automated, live, permanent and on-demand webinars. In addition to rich functionality, it is quite easy to set up and use, which is extremely important for beginners.
Key features of Big Marker automated webinar software systems
The main benefits you get with Big Marker automated webinar platform are:
A large collection of different landing page templates;
Ability to edit and customize the webinar landing page;
Ability to schedule all your webinar interactions to run automatically;
Two display options for automatic offers — fullscreen and sliding;
Comprehensive overview of traffic sources and conversion channels;
Ability to generate webinar reports for further data analysis
Attendance monitoring and post-webinar surveys
Click Meeting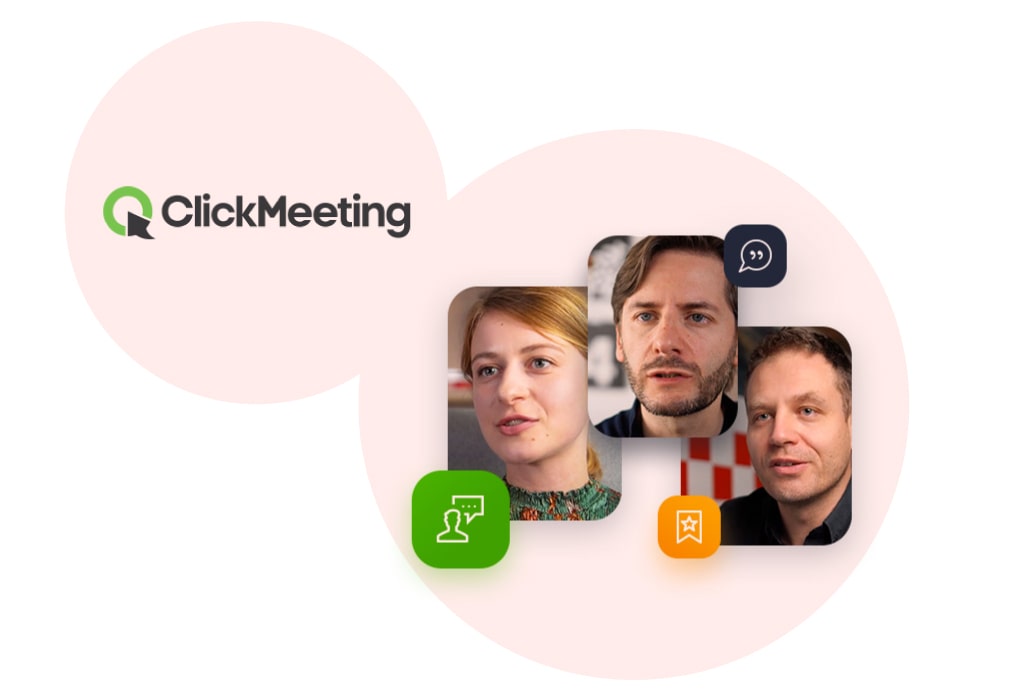 ClickMeeting is another one of the best webinar platform that offers automated webinar solutions with its easy and straightforward setup and drag and drop builder. Additionally, the interactive timeline builder allows you to schedule your webinar on a second-by-second basis, creating an engaging user experience for your audience and a seamless webinar flow for the organizers.
Click Meeting comes with automation features with a simple recurring schedule for up to 30 recurrences. Automated webinar lets you replay, though it must be created as a separate webinar. You get only two interactions, a CTA and survey. You can either join sessions to chat live with attendees or send post webinar email replies, but you don't get both for the same webinar.
Key features of Click Meeting
Click Meeting offers you access to large functionalities and features, such as:
Automated interaction timeline builder
Hybrid webinar with the ability to chat with your attendees
Informative webinar attendance statistics
ClickMeeting has six interaction features including polls, surveys, Q&As, info boxes, offers, and file sharing
Simulated attendees to give the impression that the webinar is live
Customizable registration and follow up pages.
Live Storm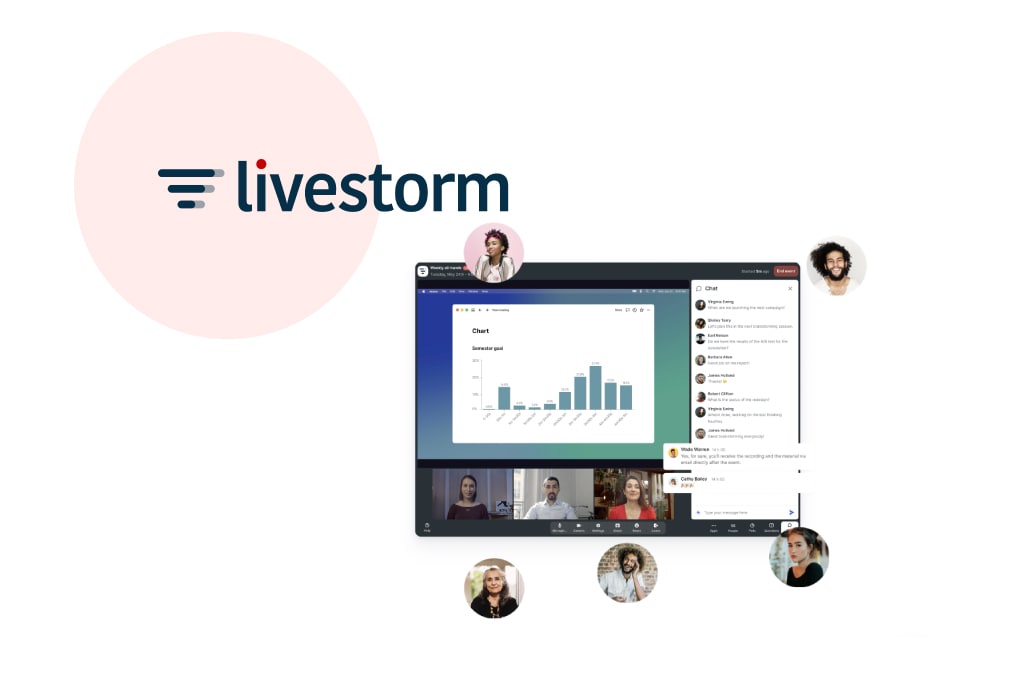 LiveStorm is a webinar platform that allows you to use automation features in live webinars, sometimes called hybrid webinars. They don't have a recurring scheduling option but you can add as many individual sessions as you'd like.
You can chat directly with the participants by joining their sessions. For better chat capabilities, they offer integration with chat software. Moreover, you can design a customized landing page which allows you to add background color, logo and added media.
They support two types of interactions, questions and polls, which can only be manually triggered by the presenter rather than being set to appear at specific times.
Key Features of Live Storm
Marketing tools integration to automate event's marketing and reporting
Customize your room with Livestorm Plugins like file sharing, custom room design, and more.
Schedule emails, and launch videos with an automated webinar system.
Schedule automated webinars every day and reach your goals
Automate polls, chats, and offers
Webinar Geek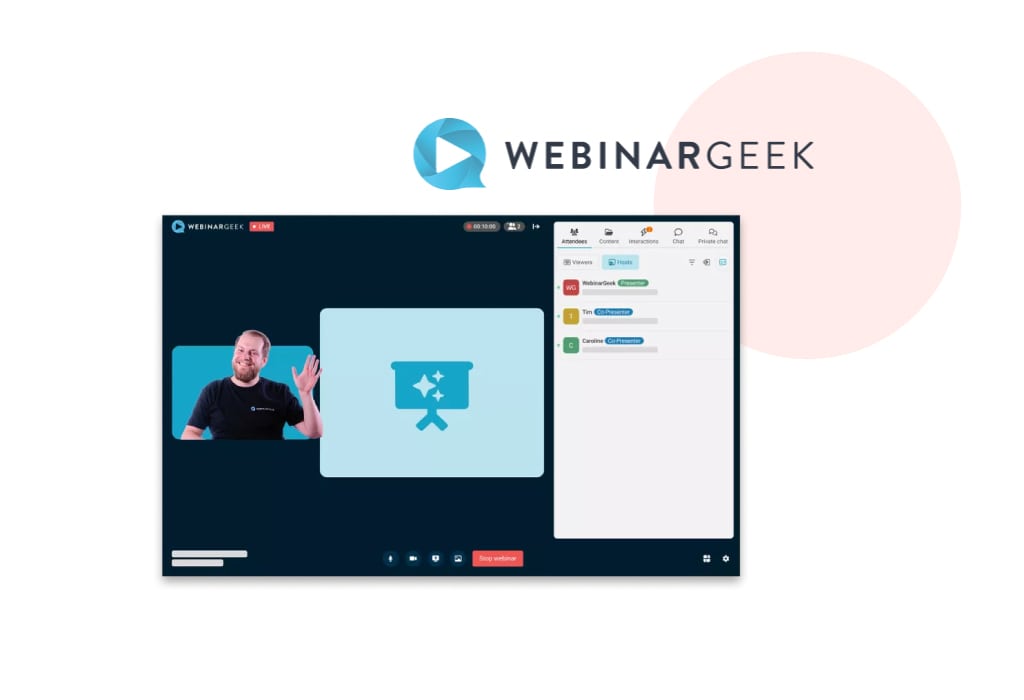 WebinarGeek is a hybrid live-automated webinar solution. They support both recurring and on-demand webinar replays. However, you cannot use both for the same webinar.
They support live chat (with email notifications of new messages) and post-webinar email answers, but not both for the same webinar.
It comes with four different types of interactions including CTAs, polls, quizzes, and info boxes, all of which may be programmed to appear at certain times.
Other prominent features include a well-designed live chat admin interface – post-webinar email answers, however, are handled outside of the platform — and a uniform editing experience for landing pages and notifications. WebinarGeek offers you two different options to schedule your webinars that are mutually exclusive. The first is a recurring schedule in the time zones of attendees and the other one is on-demand sessions only.
Key Webinar Geek to create an automated webinar
Make a live webinar recording and then utilize the video to build an automated webinar.
Editing experience that is consistent across email notifications and registration pages
Simulated chat to create the illusion that attendees are watching a live webinar.
During an automated webinar, you can use the same interaction options as during a live event.
FAQs
Q1. What are the benefits of using an automated webinar platform?
Automated webinar platforms offer numerous benefits, including flexibility in scheduling, the ability to reach a global audience without time zone constraints, reduced time commitment for presenters, consistent content delivery, and the opportunity to capture leads and analytics from participant interactions.
Q2. How does automated webinar software work?
Automated webinar platforms allow presenters to pre-record their webinars and then schedule them for playback at specific times. When attendees join the webinar session, they experience the presentation as if it were live, including the ability to interact through Q&A, polls, and chat features.
Q3. How do automated webinars differ from live webinars?
The main difference between automated and live webinars is the timing of the presentation. Live webinars are conducted in real-time, while automated webinars are pre-recorded and played back at scheduled times. Automated webinars offer more flexibility in scheduling and reduced time commitments for presenters.