Want to launch your newly developed product worldwide? If yes, A product launch Events are your solution.
However, with the rise of remote work and digital events, traditional in-person launch events are no longer the go-to option for many companies. That's where Webinar Plus comes in – a powerful online product launch platform designed to help businesses host successful product launch events in a virtual environment.
A variety of features and tools are available through Webinar Plus to assist businesses in expanding their reach, interacting with their audience, and collecting insightful data and analytics. Webinar Plus offers everything you need to make your event successful, whether you're launching a new product or service.
In this post, we'll examine the online product launch platform in more detail and discuss how your company may use it to conduct online product launch events. We'll go over everything you need to know to start utilizing Webinar Plus, from its advantages to how the platform functions.
So if you're looking to take your product launches to the next level, read on to learn more about the product launch platform.
Why Host Product Launch Events?
According to the research, more than 25% of overall income and profit comes from new product launches. Online product launches are digital events that companies hold to showcase a new product, service, or feature to their target market. The audience connection for these events takes place totally online through an online product launch platform. In fact, businesses can reach a larger audience, reduce expenses, and get around logistical challenges associated with in-person events by holding an online launch event.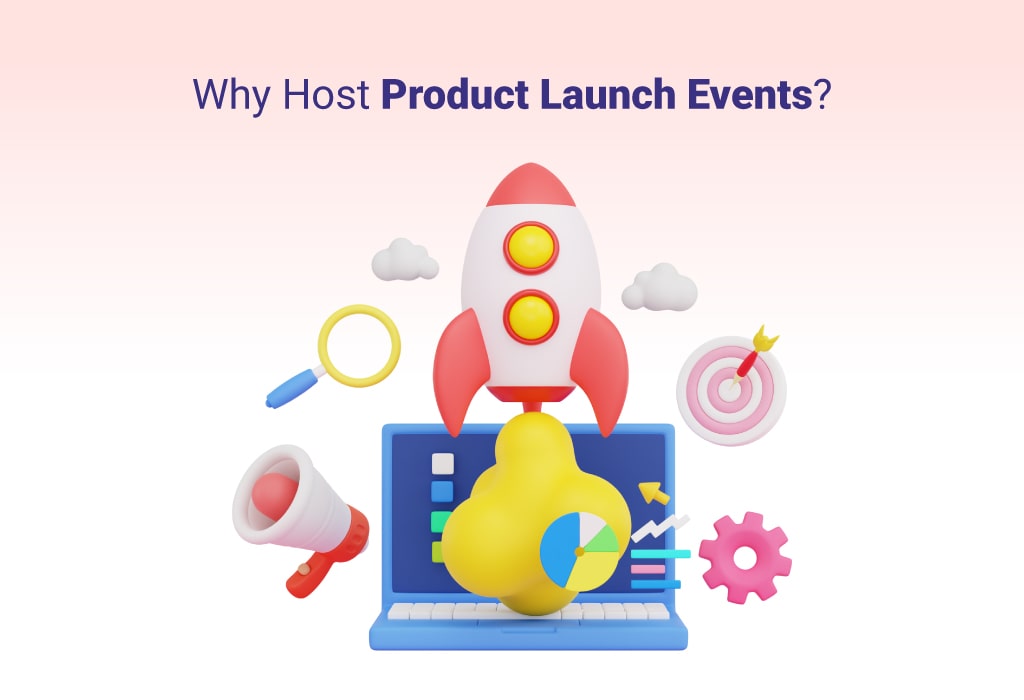 "In simple words, these events allow companies to engage with their audience in a more personal and interactive way. By leveraging technology, businesses can create an immersive experience that truly showcases the value of their new product."
A presentation by corporate representatives, product demos, interactive sessions, and audience Q&A sessions are frequently included in online product launch events. These events may also feature guest speakers, influencers, or industry experts who can provide additional insights and perspectives on the new product.
Reasons to Host Online Product Launch Events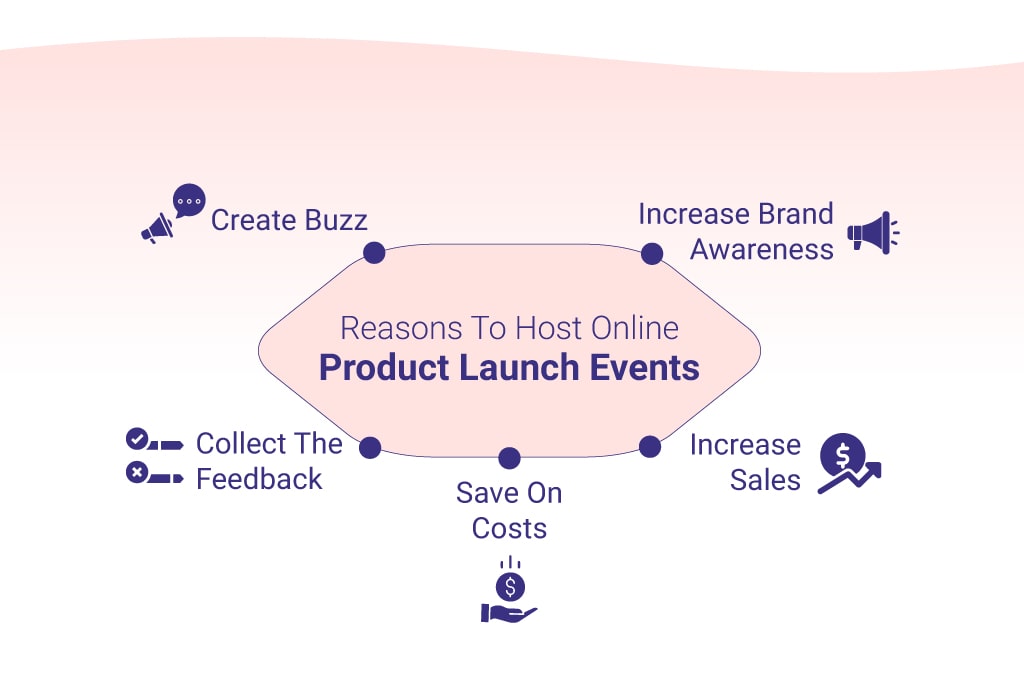 Product launch events are an essential component of any company's marketing plan. Here are some reasons why hosting a product launch event is important:
Reason 1: Create Buzz
A well-thought-out product launch event may excite and anticipate your target market. Potential buyers, influencers, and media sources will pay attention to your new product if you generate buzz about it.
Reason 2: Increase Brand Awareness
A product launch event gives you the chance to highlight the brand's values, offerings, and story of your company. Additionally, you may raise brand recognition and position your business as a thought leader in your industry by holding an event that aligns with your brand image.
Reason 3: Collect the feedback
Launch events provide you with the chance to get insightful feedback from your audience. This feedback can be used to improve your marketing approach, find potential problems, and improve your product or service.
Reason 4: Save on costs
Doing an online product launch event is frequently less expensive than holding a conventional physical event. Companies can save costs by cutting back on things like catering and travel expenses.
Reason 5: Increase Sales
In fact, a successful product launch might result in a rise in sales and income. By generating buzz and excitement around your new product, you can create a sense of urgency among your target audience and increase the likelihood of them
How Webinar Plus can help for product launches
Hosting online product launch events offer an opportunity to establish a powerful impression of your product. There is now more pressure than ever to deliver an engaging and customized experience because so many events have moved online. The same attention to detail and care that would be put into planning a live event should be used for your online event. With the help of an online product launch platform, there is now reliable technology that aids you in giving your guests a memorable experience. You can design a seamless, branded experience that welcomes your viewers and includes them fully in the launch event with the right product launch platform such as Webinar Plus.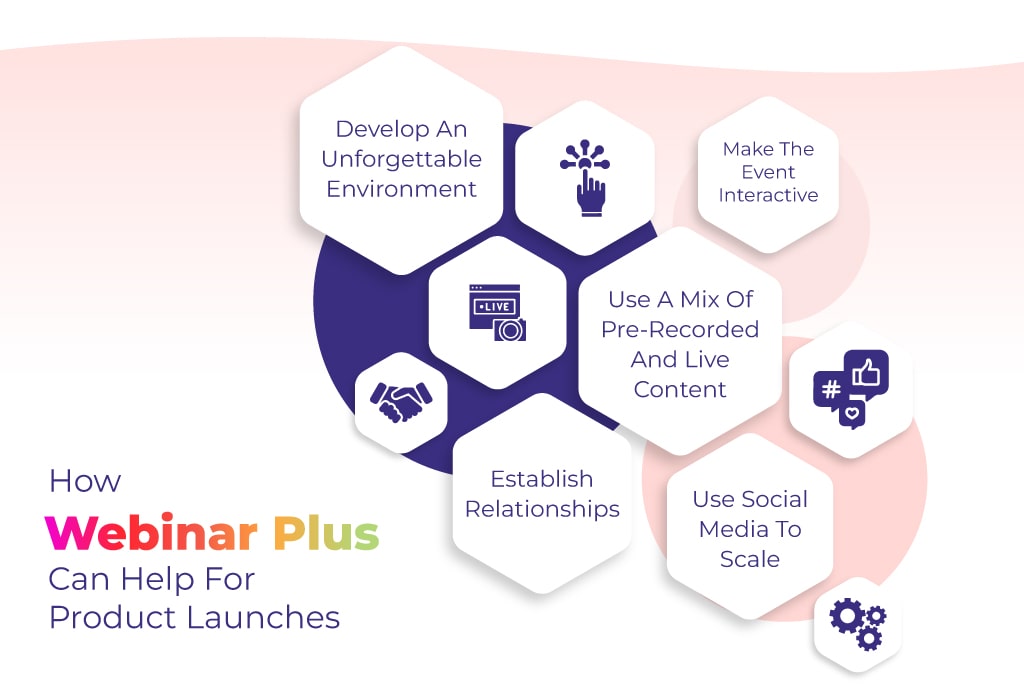 Webinar Plus is an online platform designed specifically to help businesses and individuals host successful online product launch events. The platform provides all the necessary tools and features to create an engaging and interactive experience for attendees, while also providing a seamless and user-friendly interface for hosts. Here are different ways in which Webinar Plus can assist with hosting successful online product launch events.
1. Develop an Unforgettable Environment
Even though your product launch will take place digitally, you can still make it memorable by setting the right environment beforehand. You may create a seamless brand experience by selecting an online event platform with white labeling options, like Webinar Plus.
Yet branding alone won't help you create the ideal atmosphere. While planning your online product launch, think about how you want your visitors to feel. What can you do to improve their experience?
2.Make the Event Interactive
Because live events are interactive by nature, they are enjoyable and memorable. However, it's now simpler than ever to recreate similar connections in the digital area thanks to Webinar Plus. To encourage participation and a sense of ownership among your participants during your product launch, you can use our online product launch platform to conduct polls and quizzes.
Whatever effort you make to engage your audience personally will boost engagement and enhance the experience.
3.Establish Relationships
Our online product launch platform gives different opportunities for you to create relationships with your audience members. For example, Breakout rooms and networking tables are popular features that enable you to create personal moments for audience members who want to get to know your company or product better.
Webinar Plus encourages stronger interactions and gives viewers more face time with brand or product representatives. Additionally, it allows you to get to know your audience better and assists you to understand their specific demands.
4.Use a Mix of Pre-Recorded and Live Content
Using Webinar Plus offers the advantage of combining recorded and live content. This helps hosts to deliver a professional and interesting presentation while also assuring a smooth and error-free experience for guests. By intelligently integrating pre-recorded videos with live Q&A sessions and other interactive features, hosts may present a dynamic and interesting product launch event.
5.Use social media to scale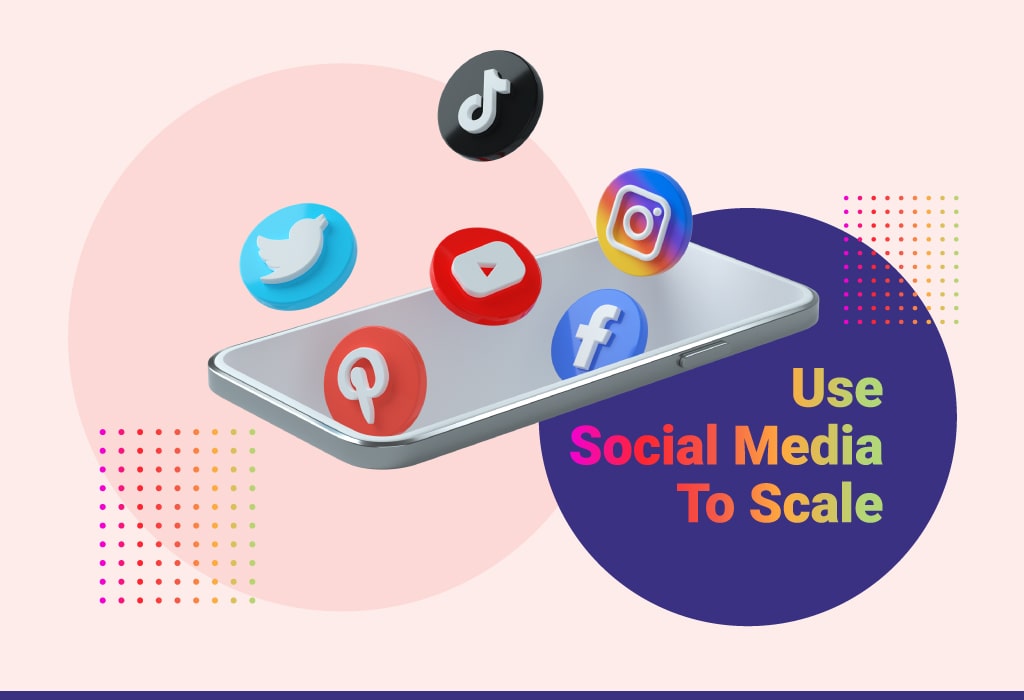 Our online product launch platform allows hosts to harness social media channels to advertise their events and attract a bigger audience. Hosts may create buzz and excitement around the product launch and reach potential consumers who would not have otherwise known about the event by posting information and updates about it on social media.
Top Features of Webinar Plus for Online Product Launch
These are some of Webinar Plus's best features that make it a great option for your online product launch event: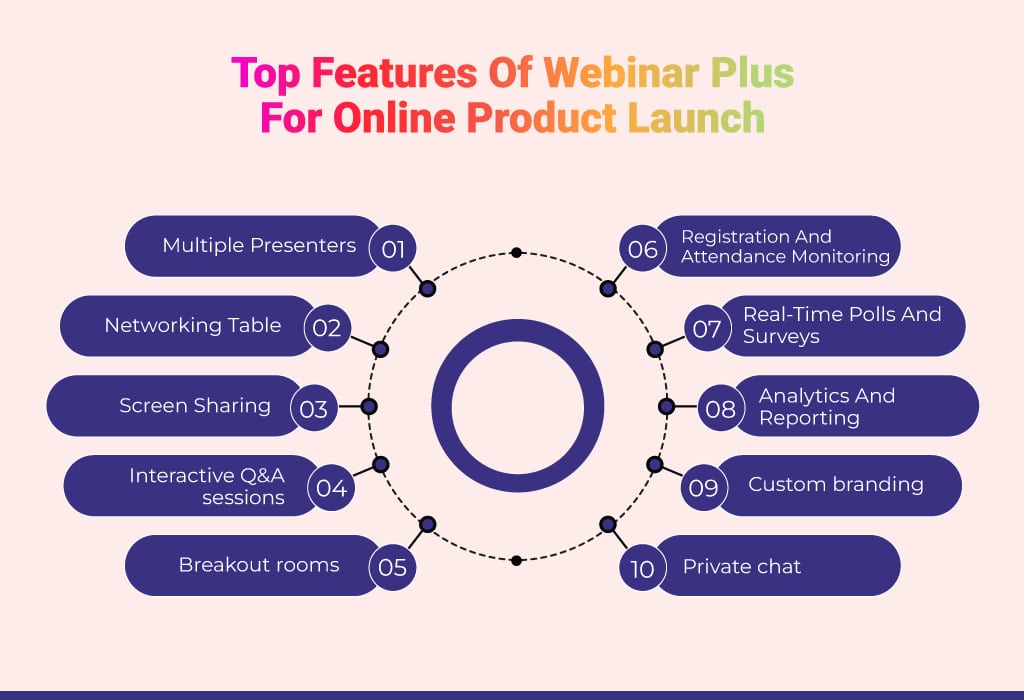 Multiple Presenters:
Webinar Plus enables you to have multiple presenters for your product launch. This is an effective way to spice up your presentation and display different perspectives on your product.
Networking table:
The online product launch platform enables you to set up a networking table where participants can interact and exchange contact details. Additionally, this is a fantastic way to encourage audience networking and cooperation.
Screen sharing:
With Webinar Plus, you may share your screen when launching your product. This is a powerful technique to highlight your product's attributes.
Interactive Q&A sessions:
Webinar Plus makes it possible to have interactive Q&A sessions during the introduction of your product. This is a great way to respond to the queries of your audience and establish a rapport with them.
Breakout rooms:
With Webinar Plus, you can establish breakout rooms where guests may engage in small group conversations. This is a powerful technique to stimulate collaboration and engagement among your audience and promote deeper learning.
Registration and attendance monitoring:
It's now possible to create registration pages for the launch of your product and monitor attendance. With Webinar Plus, you can keep track of how many people are interested in the launch of your product and then follow up with them.
Real-time polls and surveys:
Real-time polls and surveys are something you may carry out using Webinar Plus during the launch of your product. Additionally, this is a fantastic approach to getting audience feedback and making informed decisions.
Analytics and reporting:
Webinar Plus provides complete analytics and reporting. This enables you to monitor how your audience is responding to the introduction of your product and make data-driven decisions.
Custom branding:
Webinar Plus gives you the option of creating your own branding for the launch of your product. Giving your consumers a consistent brand experience with this strategy is a fantastic option.
Private chat:
Webinar Plus gives you the option to host private chat rooms for your product launch. Surprisingly, this is an excellent way to interact more personally with your audience and address any queries they may have.
Benefits of Hosting Online Product Launch Events With Us
There are several benefits of hosting online product launch events with Webinar Plus. And, some of most notable advantages are:
User-Friendly Platform:
Are you looking for a platform in order to host an awesome product launch? If yes, Webinar Plus can be an ideal solution for you. Additionally, our user-friendly platform is easy to use and enables you to customize the event to meet your specific needs
Enhanced Engagement:
Our virtual product launch platform includes a wide range of engagement features, including live chat, polling, and Q&A sessions. Additionally, these features allow you to hold and engage your attendees in your online event.
Multi-Language Support:
Webinar Plus includes multi-language support, allowing you to access a global audience in their native language. Additionally, this can improve your event's diversity and accessibility.
Product Booths:
Using Webinar Plus, you can design product booths that highlight your products and give participants additional in-depth details. As a result, this might be a really effective way to get people excited and involved in your product.
Enhanced Branding:
Our product launch platform enables you to customize the branding and visuals of your event, including the landing page, registration page, and other elements. Furthermore, this might help to strengthen your brand identity and establish a consistent brand experience.
Cost-Effective: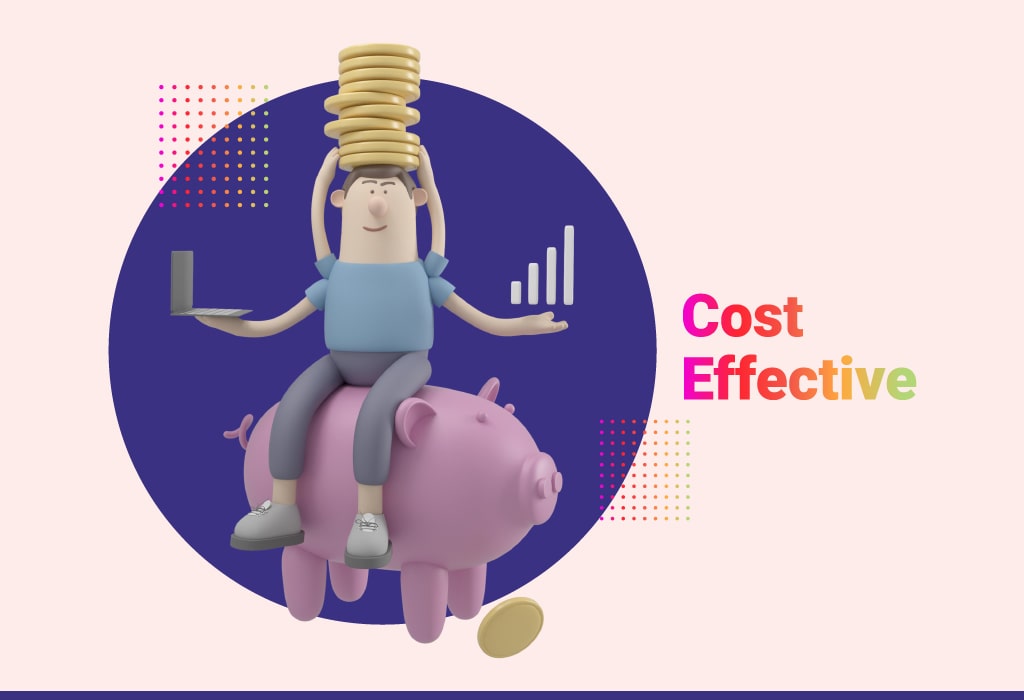 One of the best reasons to use Webinar Plus is that it offers cost-effective solutions to host product launch events. You can visit our pricing page in order to know about plans.
More Flexibility:
With a virtual product launch platform, you may arrange your event at a time that is convenient for both you and your audience. This may be especially useful if your audience is international and located in various time zones.
Increased Attendance:
The best advantage of using Webinar Plus is that it allows your attendees to join your product launch event without any geographical restrictions. furthermore, this can result in increased attendance and greater exposure to your product.
Measurable Results:
Webinar Plus offers thorough analytics and reporting for your event, enabling you to gauge the success of your launch and plan future events based on data.
Easy Follow-Up:
Using Webinar Plus, you can quickly contact guests with tailored emails, surveys, and other engagement tools after the event. As a result, this promotes lead nurturing and conversions.
Check out how Dreamcast Webinar Plus can help you host an interactive and engaging product launch event.
Get The World To Know About Your Product With Webinar Plus!
If you're looking to host a product launch event, consider taking it online with Webinar Plus. With its many features and advantages, Our virtual product launch platform can assist you in giving your guests a customized and engaging experience. Webinar Plus provides a range of features, such as multi-language support and product booths, that can help you reach a larger audience, create buzz and excitement around your product, and increase ROI. Hosting an online product launch event with Webinar Plus also offers a range of practical benefits, such as reduced logistics, Improved engagement, and improved accessibility, making it an attractive option for businesses of all sizes.
So if you're ready to take your product launch event to the next level, contact us today and Book a demo. Our team of experts is here to support you every step of the way. Let's make your next product launch event a success with Webinar Plus!