As a financial advisor, harnessing the power of webinars can be a game-changing strategy. Hosting finance webinars help connect with your clients, deliver insightful information, and establish yourself as a trusted expert in the field.
All stages of the sales funnel can benefit from webinars, but the content needs to be customized for each stage. In fact, according to 47% of marketers, webinars are helpful in the early (awareness and interest) and middle (decision) stages of the sales funnel, respectively. In this comprehensive guide, we will dive into the essential best practices that will enable you to create, host, and deliver impactful finance webinars tailored to the needs of your audience. 
7 Best Practices for Hosting Finance Webinars that Resonates With Your Audience
Over 70% of marketers say webinars are very effective, but what distinguishes a great webinar from a good webinar? Host a great webinar that helps your financial brand build a strong connection with your target audience and provide valuable content. While hosting a financial webinar can be a daunting task, it can also reap great rewards with an average webinar conversion rate of 55%. The secret to hosting finance webinars is the following best practices given below:
Determine your webinar topic 
The topic of the webinar you choose must provide value to the attendees by addressing their pain points and challenges. Your webinar should have content that answers their most significant questions in mind. While hosting a webinar is an effective way to build credibility and authority, your reason for hosting shouldn't be limited to it. Your goal must be to provide actionable insights to the attendees that they can use.
Don't host a webinar that everyone else is hosting, instead, choose something unique or that which you are more specialized in. Remember, it's not solely about generating leads rather your audience would only care about the value you provide in your webinar.
A high-converting webinar can't simply be interesting. It must meet a very specific need in order to get people to show up, and turn registrants into attendees.
Ensure an Easy Registration Process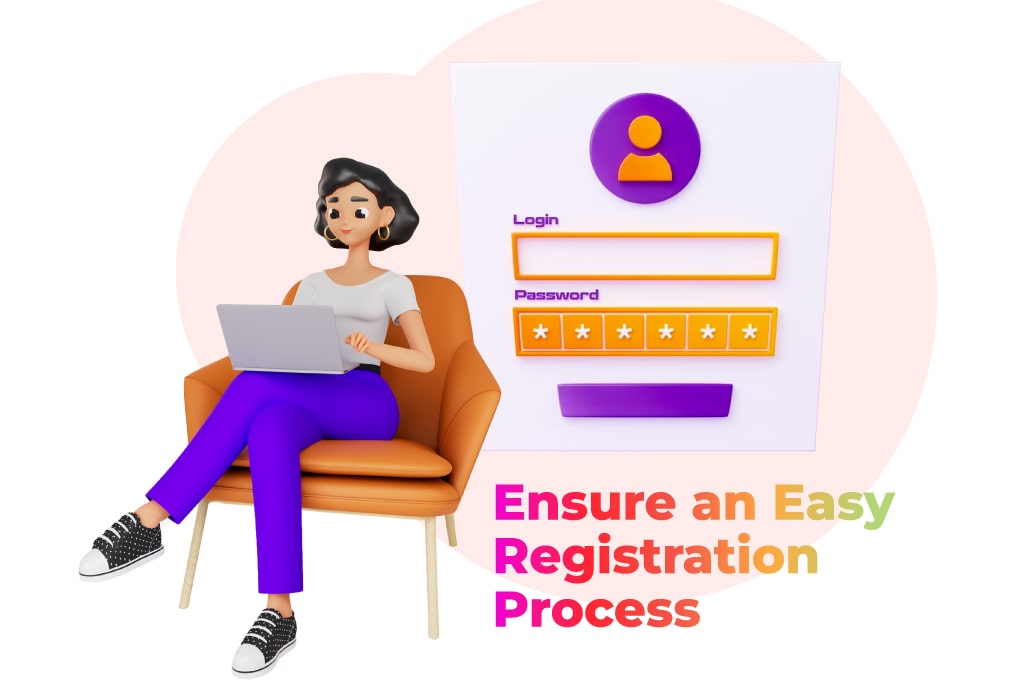 Your prospective attendees shouldn't feel complications while registering for your webinar. Make sure the registration process is seamless and encourage attendees to sign up for the event. Keep the form short and simple. Having a long form that is required to fill out many lines of personal information would turn registrants away out of frustration.
Attendees are often busy individuals. With a fast and easy registration process, you'll help them save time and effort, making it more likely for them to register and attend the webinar.
Moreover, a streamlined registration enhances the user experience. A better user experience tends to gain more sign-ups and higher registrations.
Planning and Promoting your webinar for finance industry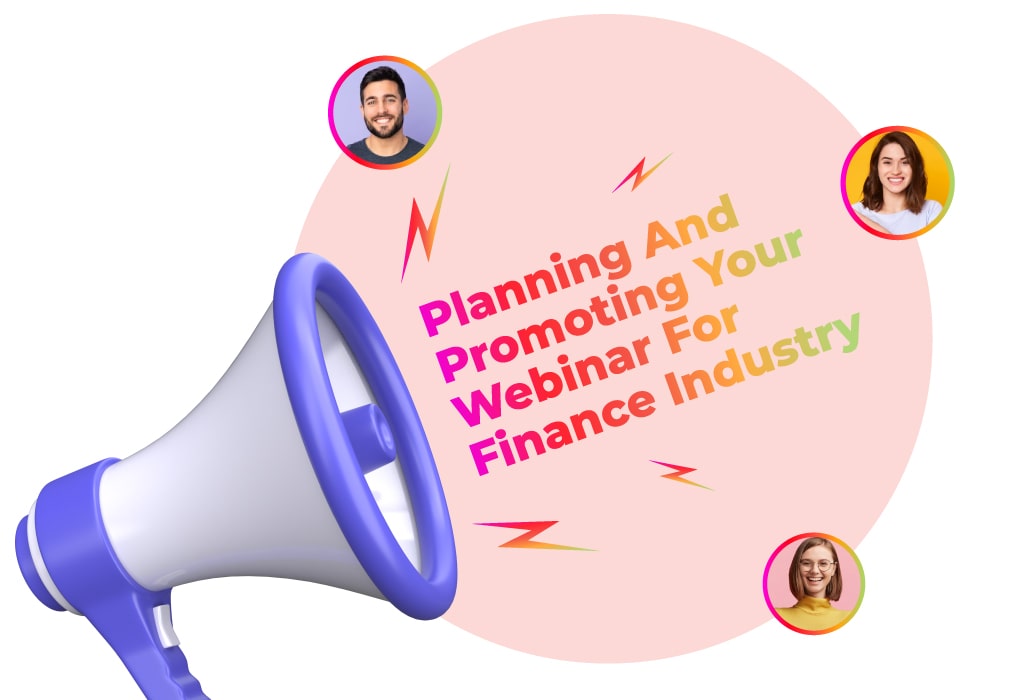 Effective planning and promotion are the keys to a successful webinar. Once the topic is selected, Financial Advisors should define their target audience and choose the webinar format accordingly. The sooner you'll decide on your webinar format, the sooner you can plan for the content and invite guest speakers.
They then need to create a compelling presentation, set up an advertising plan, and use social media and email marketing to promote the event.
Once you have your plan in place, it's time to start promoting your webinar. Social media, email marketing, and targeted advertising are all effective ways to reach your audience. Therefore, it's important to add clear and relevant CTAs in your promotional materials, such as a link to sign up for the event.
Pick the Guest Speakers 
Adding guest speakers to your finance webinar can create excitement among the attendees and their followers. This will also promote your webinar to their followers, expanding your reach even more.
You can leverage on the authority of your finance speakers since they are well-known faces in the market. A lot of people have been following them which you can turn into your webinar attendees and target audience.
Moreover, guest speakers bring specialized knowledge and expertise to the webinar, which can provide valuable insights and perspectives that you might not possess.
Remember, you need to select guest speakers who better align with the theme, and purpose of your webinar. Their expertise should complement the content you're offering.
Choose the best webinar platform
When it comes to hosting webinars, choosing the right platform is crucial. The platform must provide an interactive and user-friendly interface, high-quality video and audio, and engagement features like polls, live chat or raise hands to enhance interaction with participants. There are many different webinar platforms out there, so it's important that you do your research and choose the one that best suits your needs.
Dreamcast Webinar Plus is designed to offer a range of features, customization options, and engagement tools to create a satisfying webinar experience for attendees. It has been serving all sizes of businesses no matter how large or small they want their event to be. It can also be used as the automated webinar platform to automate webinars and provide content on demand for those who missed the live session.  

Create engaging and interactive content
The webinar content is the single most important factor in determining audience engagement and satisfaction. Finance advisors should focus on creating informative and engaging content, using a combination of visual and interactive elements to capture attendee interest and engagement. Don't rely on only text. Make your presentation more interesting and engaging with compliance-approved visuals. Consider the design as your attendees probably won't feel inspired by the same beige background with lots of text on every slide.
Keep things interesting by choosing a consistent color or pattern for your slides, even better if it matches your company's brand colors.
To make your content interactive, consider using visuals like images and videos to break up the presentation. Include interactive elements such as polls, quizzes and Q&A sessions. Interactive elements increase the engagement of the attendees during the webinar and don't let them feel bored.
Moreover, you can incorporate real-world examples and case studies into your webinar. This can greatly enhance the effectiveness and impact of your content. They bridge the gap between theory and practice, making the content more digestible. Case studies can address common concerns or objections that participants might have. Participants are often interested in learning how the knowledge they acquire can be applied in real-life situations.
Follow up with attendees 
Following up with attendees after a webinar plays a crucial role in solidifying the impact of the event and nurturing ongoing engagement. It allows you to maintain a connection with participants and further capitalize on the knowledge and engagement fostered during the event.
It offers an opportunity to reinforce key takeaways, answer questions, and provide additional resources or insights related to the webinar topic. By sending personalized thank-you emails, sharing webinar recordings, and interacting through surveys, you can foster a sense of community among attendees. Moreover, follow-up communications can be used to promote upcoming events, workshops, or products.
This ongoing engagement nurtures relationships, boosts brand loyalty, and positions you as a valuable source of expertise, ultimately leading to increased trust and a higher likelihood of attendees becoming long-term advocates or customers.
Benefits of Host Finance Industry Webinar
Webinars have become increasingly popular in recent years as a way for financial advisors to connect with clients and prospects. In addition to being a cost-effective marketing tool, webinars offer a range of benefits that can help advisors enhance their credibility, increase client retention, and improve their skills and knowledge.
Cost-effective marketing and client engagement
The affordability of webinars is one of its main advantages. Webinars can be planned and hosted from the convenience of an advisor's own office and have lower overhead costs than in-person events. They are, therefore, a great choice for finance advisers who want to reach more people without having to spend a lot of money. The ability of webinars to continue to add value for customers and prospects is another perk. The ability to record webinars and make them available on-demand allows advisors to keep in touch with their audience long after the live event has ended. In the long run, this can help to maintain their interest in the advisor's brand by fostering deeper relationships with clients and prospects.
Enhanced Credibility and Thought Leadership 
When it comes to credibility and building thought leadership, webinars become a powerful way for financial advisors. Advisors can establish themselves as authorities in their industry by regularly hosting webinars on subjects that are interesting to and useful to their audience. Clients and prospects may become more trusted of the advisor, as a result, increasing their likelihood to use the advisor's services in the future.
Increased Client Retention and Loyalty
The capacity of webinars to boost customer loyalty and retention is another advantage. Advisors can show their dedication to their clients' monetary success by giving them useful and pertinent content. Client connections may become stronger as a result, and clients may be more willing to recommend the adviser to friends and family.
Time-Efficient Learning and Development
Financial advisers may find that attending webinars is a handy and time-saving approach to advance their knowledge and skills. Advisors can take part in and conduct webinars from the convenience of their own offices, on their own schedules, rather than taking hours or days out of their hectic schedules to attend in-person seminars or conferences. This can enhance advisers' overall efficacy as financial professionals and help them stay current on market changes and best practices. In conclusion, webinars provide financial advisers with a variety of advantages, including cost-effective marketing, client engagement, increased credibility, and thought leadership. Advisors can strengthen relationships with clients and prospects and establish themselves as authorities in their industry by incorporating webinars into their overall marketing and client engagement efforts.

FAQs
Q1. How can I keep my financial advisory webinar engaging and interactive?
Incorporate engaging visuals, real-world examples, case studies, and data-driven insights. Use interactive features like polls, surveys, and live Q&A sessions to involve participants and encourage active participation.
Q2. What's the ideal length for a financial advisory webinar?
Webinars should typically last around 45 to 60 minutes. This allows enough time to cover the topic comprehensively while keeping participants engaged. Avoid going too long, as it might lead to participant fatigue.
Q3. How can I measure the success of my financial advisory webinar?
Measure success through various metrics, such as attendee engagement (questions asked, polls answered), conversion rates of your call-to-action, attendee feedback, the number of registrants, and post-webinar surveys.