"Productivity is not defined by doing more, it's all about creating more impact with less work"
An Online meeting platform is a typical software application that enables individuals or small groups of people to conduct virtual meetings, conferences and presentations using the internet. With wide coverage of audiences across the world, webinars are one of the best hubs for sharing information such as real-time experiences, documents & visuals and much more. Over the years, online meetings have become immensely popular as more people are working remotely and seeking ways to connect with their fellow employees, clients, and partners.
What Are Online Meetings?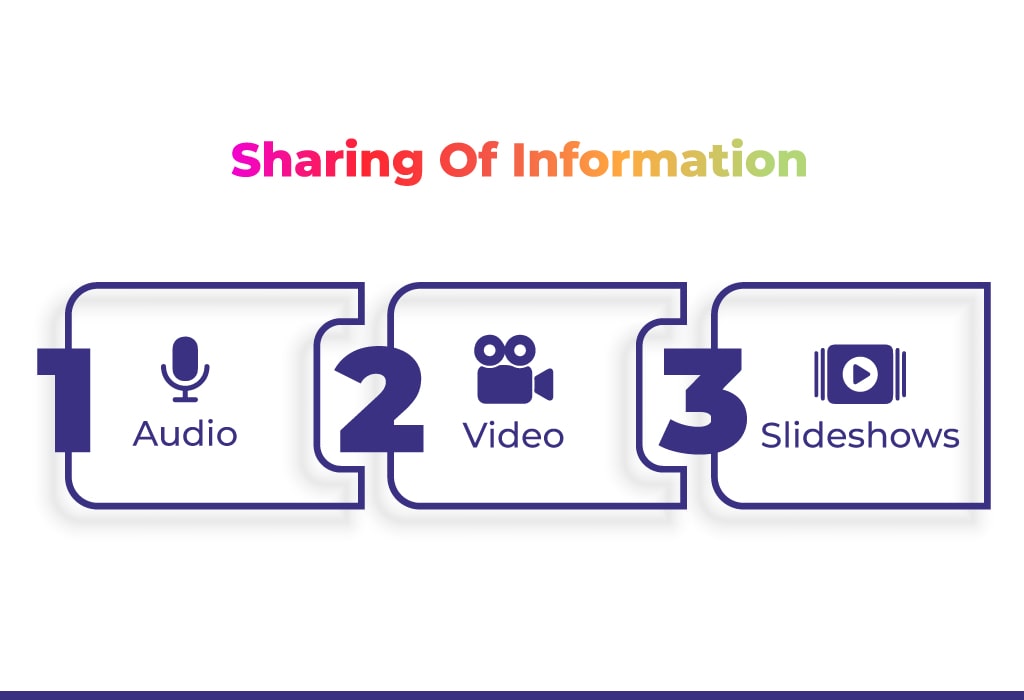 As their name suggests, online meetings take place over the internet. With the use of internet enabled devices such as laptops, desktop computers etc., participants from different geographic locations connect and communicate with each other. Online meetings can be easily conducted through a variety of platforms such as Google Meet or Webinar Plus. With the help of these tools, attendees can easily share their information in multiple formats, such as audio, video, slideshows, and others.
A) Reasons to Conduct Webinar Meetings?
Well, there are many reasons for hosting these meetings for business professionals. Right from training internal teams to generating new leads and revenue, webinars are everywhere. Additionally, it has become a prime choice for most of the industry influencers, marketers and teachers as well.
Some common reasons to use webinar meetings are given below:
Broader reach
Webinars remove geographical constraints, allowing you to engage with a bigger audience. Participants can participate from anywhere in the world, allowing you to broaden your reach and interact with those who would not have been able to attend an in-person event.
Enhance User Experience
The key benefit of attending a webinar is to have a clear understanding of new products and improvements. Additionally, they can also be used for making important announcements and increasing audience engagement.
Training & Education Purpose
With the help of these tools, conducting internal training sessions and influencing session audiences have become very easy. Additionally, by reaching a wider target audience, you can build your own rapport and have smoother communications with greater efficiency.
Cost-Effectiveness
There are a lot of things that have to be kept in mind while hosting an in-person event session. With the cost of accommodations, travel expenses, time constraints, and other hidden costs, hosting events is a bit heavy on the pocketbook. Webinar meetings on the other hand can be hosted on online meeting platform with almost less than half of the original cost.
Expert knowledge-sharing
Webinars allow subject matter experts to share their knowledge with a broad audience. Educational webinars, training sessions, product demos, and thought leadership speeches are all examples of this. Webinars enable you to tap into the expertise and insights of industry leaders while delivering important content directly to your audience.
Facts Corner :
According to a recent study, more than 61% of the overall sessions include B2B seminars. This way, businesses are targeting their competitors.
Since 2010, webinars have been on the rise. With merely 1000 events in a year to more than 5000 events on a single platform, webinar meetings are the near future.
B) Our Cutting-Edge Platform Features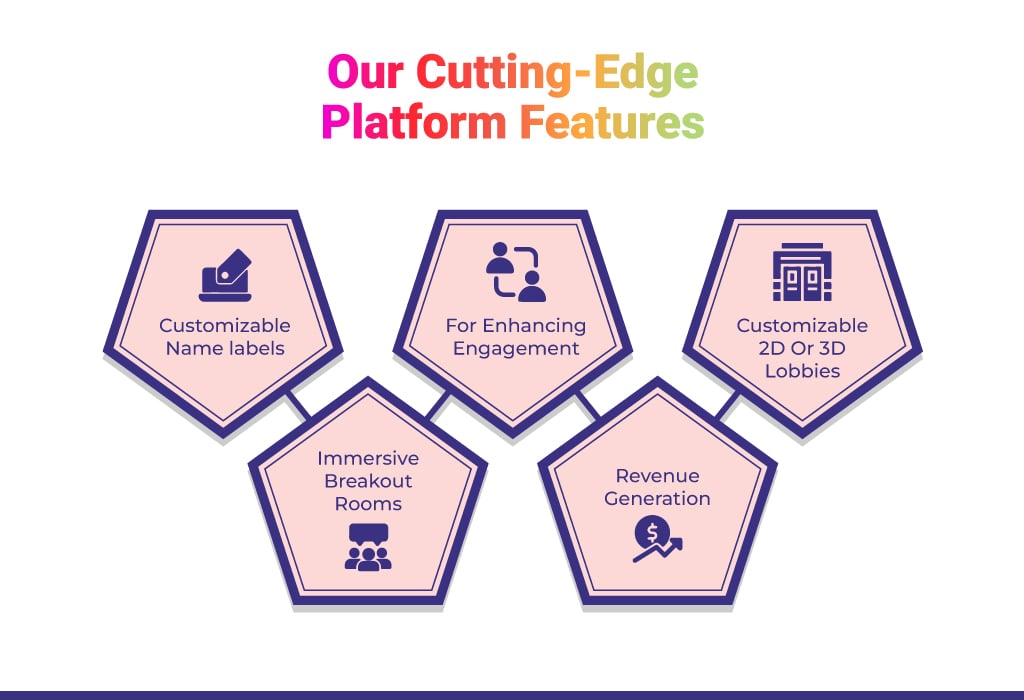 Customizable name labels
It allows attendees to display their names in a more personalized and professional way during the live event. Additionally, they can also create a custom name label that includes their name along with any relevant titles or affiliations.
For Enhancing Engagement
With our live polling with upvoting, attendees can easily share their opinions regarding any topic and show their support by upvoting.
With Q&A sessions, attendees can raise their doubts or queries and get them answered by the session experts.
For making communications smoother, we've also added screen sharing features on our online meeting platform. Presenters can easily share their computer screen with their attendees to facilitate healthy communication. Additionally, this feature is particularly useful when presenting slides, demonstrating software, or sharing other visual content.
Customizable 2D or 3D Lobbies
Webinar Plus has specially designed virtual waiting rooms or entrance areas that attendees see before entering the webinar event. These lobbies can be customized with different types of design elements like banners, branding, company logos and even 3D objects. Additionally, the use of 3D objects or animation in the lobby area can also make the experience more interactive and engaging than ever.
Immersive Breakout Rooms
For splitting the attendees of the session into smaller groups for a particular discussion, breakout rooms come into play. These rooms are customizable, which allows the host to set up different rooms for different topics of discussion and assign attendees to them as needed. An online meeting platform with  breakout rooms are very different from the traditional ones. You can include whiteboards, live polling to enhance collaboration and communication among attendees.
Analytics and Reporting
Analytics and reporting provide valuable insights into the webinar's performance and attendee engagement. Hosts can track attendance rates, participant behavior, poll responses, and other key metrics. These analytics help hosts measure the success of their webinars, identify areas for improvement, and make data-informed decisions for future events. Having access to detailed reports and data empowers hosts to optimize their webinar strategies, understand their audience better, and refine their marketing and content efforts.
Revenue Generation
There are many ways to generate revenue from the session. Webinar Plus offers some of the most popular ones, which are:
With the help of paid webinar sessions, you can directly generate revenue from your attendee count. There are a wide variety of topics that are relevant to your audience.
With advertising or sponsorships, you can easily collaborate with brands that might be interested in your audience. Lobbies are the perfect examples of branding and earning money from it.
Over the years, affiliate marketing has evolved a lot. With the promotion of other people's products or services to your audience, and earning a commission on any resulting sales.
Facts Corner
When it comes to the marketing part, more than 73% of the webinar attendees come from the email solicitations.
The most popular day for scheduling a webinar meeting is "Thursday"
C) Innovative Online Meeting Ideas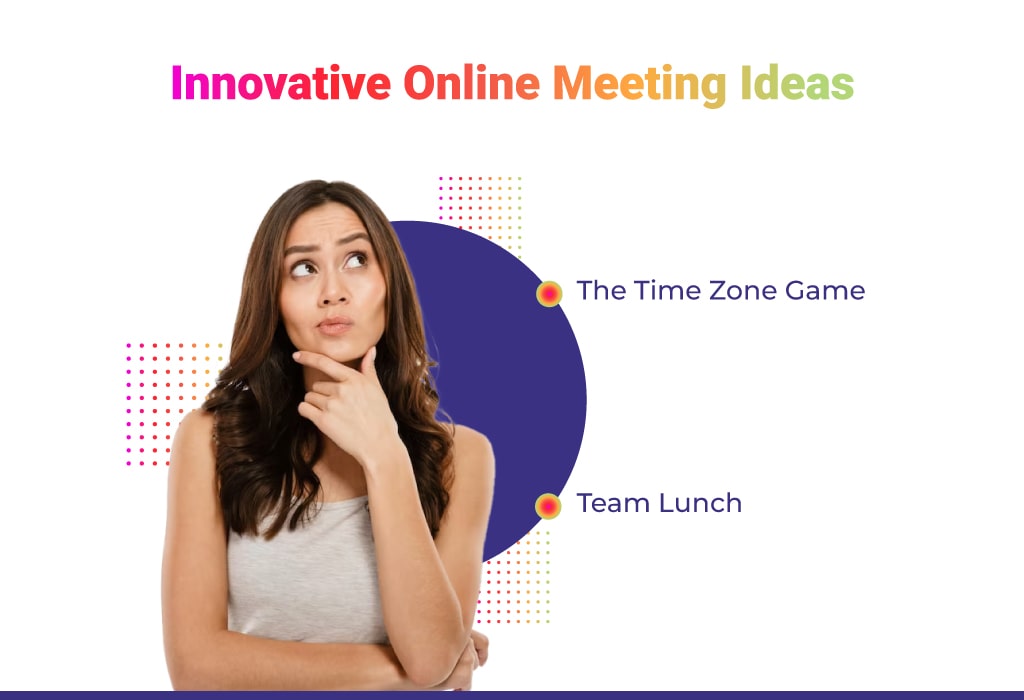 In this section, we'll explore more about unique ways to get your attendees attention. Additionally, by the end of the section, we'll be able to understand the importance of unique methods for the success of your webinar meeting.
Interactive Q&A Sessions
Instead of a standard Q&A style, you may stimulate audience engagement by using interactive tools such as live polls, quizzes, or gamification. This adds a playful aspect and allows participants to put their knowledge to the test while interacting with the subject.
The Time Zone Game
There might be chances that members of your team are working in different time zones. With webinar meetings, you can ask a team member the time in their time zone. Other participants should guess the city. If you have all members from the same time zone, you can have fun guessing time zones by naming any city and asking players to type the current time in chat within 15 seconds.
Team Lunch
This idea is perfect for sharing a meal with the entire team while catching up on the day's activities. For this activity, you can give your participants discount coupons or vouchers for a food delivery service. For your diverse team members, it's the best way to know their cultures , hometowns, and traditions.
Virtual Breakout Rooms
Breakout rooms inside the webinar platform can be created to support smaller group discussions or activities. Participants might be split into smaller groups to work on a certain activity or topic. Following the breakout session, groups can return to the main webinar for a collective discussion or idea exchange.
Multimedia Integration
To make the webinar aesthetically appealing and exciting, use multimedia components such as films, animations, infographics, or slideshows. These enhancements can assist in breaking up the information, reinforcing important points, and keeping participants interested throughout the event.
D) Tips For Hosting Successful Webinar Meetings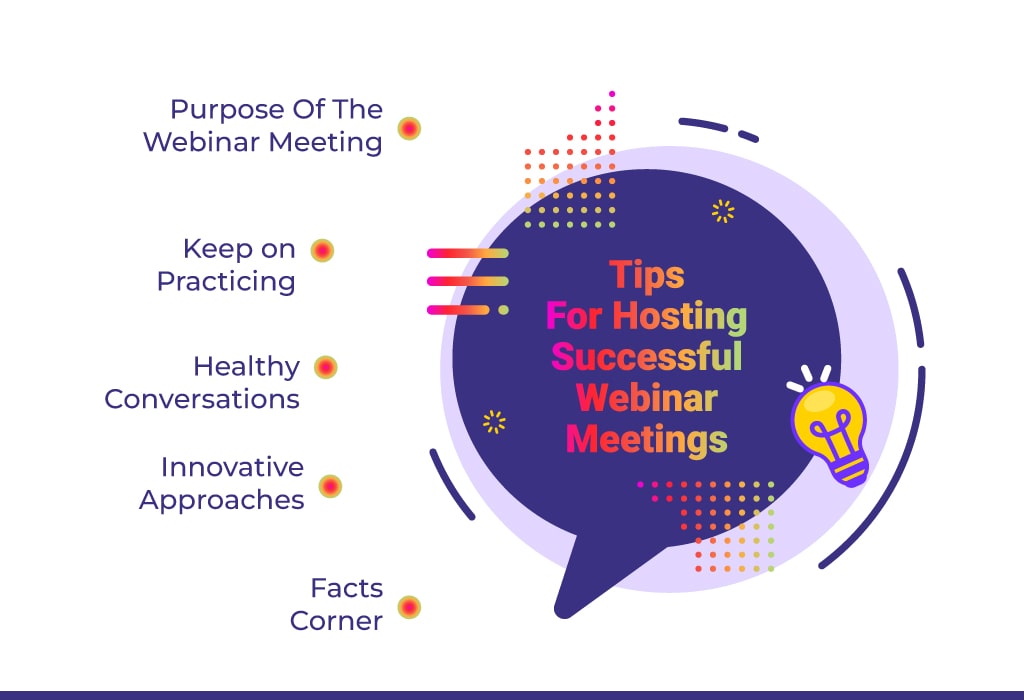 The section comprises some general tips that can easily make your session effective and engaging for your target audience. Let's explore them:
Purpose Of The Webinar Meeting
The purpose of an effective webinar meeting is to make your audience aware of the event. Some businesses prefer to host lead generation sessions while some might go for informative sessions to widen their audience base. Additionally, Webinar Plus offers versatility in choosing features according to your meeting requirements. You can also set up a meeting agenda to ensure that all points are cover during the session.
Keep on Practicing
Practising is one of the most effective methods for delivering a successful session. Webinar Plus offers rehearsal time just before the start of the session to boost effective communication. To feel more confident, be prepared for everything during the session.
Healthy Conversations
Establishing strong connections during the webinar meeting results in generation of potential leads. Additionally, during the meeting targeting the pain points of attendees and solving their queries also helps you in attaching with your audience more effectively.
Innovative Approaches
It starts with pre webinar promotion tactics and ends with post webinar follow-ups. With the help of Webinar Plus, you can draft customizable emails that mention your brand color, logo, and other add-ons before sending them to your event attendees. Furthermore, with post event follow up activities like feedback forms, thank-you mails, and others, you can make your attendees your permanent customers.
Facts Corner
The most well-known webinars are those that use proprietary software from well-known businesses. Adobe Connect, Cisco WebEx, Fuze Meeting, IBM Sametime, TrueConf, Zoom, etc. are some examples.

How to use Webinar Plus
It's very simple to use Webinar Plus. You can either book a demo or sign up for a free trial on the online meeting platform and start conducting webinar meetings right away. Here's the best way to start:
Sign up for a free trial on the website using your credentials (email, name, password).
You can create a webinar meeting by selecting the date, time, and duration of the meeting.
The online meeting platform is fully customizable. Right from the event lobbies to the exhibition booths to the organizer interface, everything is customizable. This is very helpful for the businesses to match their brand colors and logos with the event theme.
Select the event size and number of speakers, start your event and track your results with the platform's powerful analytics tools.
Following up with your attendees, collecting real-time feedback from them, and sending them post-event thank-you mails are some add-ons that you get on Webinar Plus.
Additionally, you get the whole section recorded in the quality you want for improving your future sessions and closing formatting loopholes.
Connect with Confidence: Experience Webinar Plus for Your Next Online Event
Unlike most of the conventional webinar platforms, webinar plus has shown up with some astonishing features that can elevate your session to new levels. With YouTube live streaming, automated recording, HD streaming and pin speaker functionality, you can easily capture their attention. Additionally, with private backstage communication speakers and organizers can easily decide which feature to use for the session and easily navigate different booths with a single click. Whether it's the matter of creating a buzz on social media, making new connections with strong networking or generating revenue from the event, Webinar Plus is there for you every time.
" So, why wait for something to happen? Choose Webinar Plus and gets all your queries resolved !!
FAQ
Q1. What are virtual activities ?
Virtual activities are those conducted online to maintain international cooperation, such as electronic study journals, websites, and online conferences.
Q2. What is the meaning of a webinar meeting?
Describe the session. A webinar is a virtual gathering that is transmitted to a particular group of people online. Webinars enable you to successfully communicate from any location by transforming your online presentations into live conversations.
Q3. What is the purpose of a webinar meeting?
Presenters can share a variety of documents with viewers during webinars, including but not limited to audio notes, videos, presentations, and other documents.