With the top webinar platforms, you may simply arrange lengthy, short events and interactive webinars. But which platform ought you pick? Everything depends. 
Is speedy setup a top priority for you? Is price the decisive aspect? Alternatively, do you place a higher priority on improving the attendance experience? We can assist, whatever your chosen criteria may be. We provide a final verdict for each product in our list of the top webinar platforms to aid in your decision-making. Also, we assist you in deciding which solutions best meet your needs in our section on the top webinar platforms.
What is Webinar Hosting Software?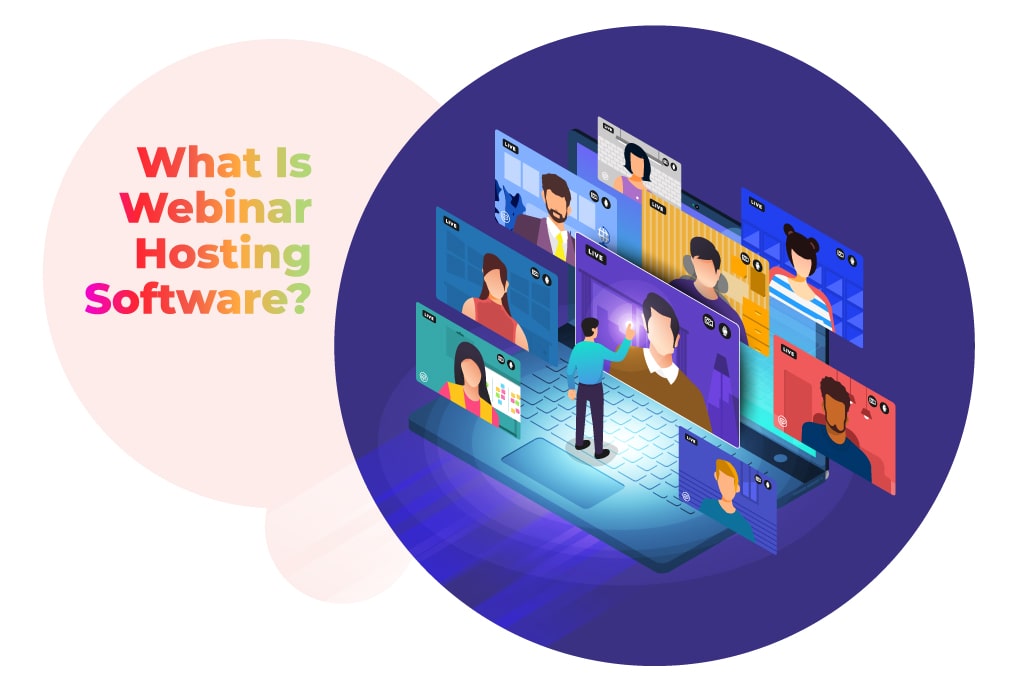 A webinar hosting software or platform is an online tool that enables the hosting and broadcasting of webinars. A webinar, also known as a web seminar, is an online presentation, workshop, or lecture that is streamed live or recorded and offers attendees the chance to communicate with the host or speaker. 
A variety of features and functions are offered by top webinar platforms to make hosting and taking part in webinars easier. These webinar online tools frequently provide facilities for screen sharing, slide presentations, chat, audience participation elements (including polls, surveys, and Q&A sessions), recording capabilities, and video and audio streaming. The best webinar software is made to simulate an actual event, enabling speakers to connect and interact with a sizable audience from various places. Best webinar platforms are frequently utilized for business meetings, expert training sessions, product demos, and sales presentations.
What to Consider When Choosing the Best Webinar Platform for 2023
Each company will have unique needs for the best webinar tools they use. But here's how to pick a webinar platform in 2023. While selecting the best webinar hosting software, keep in mind these essential elements.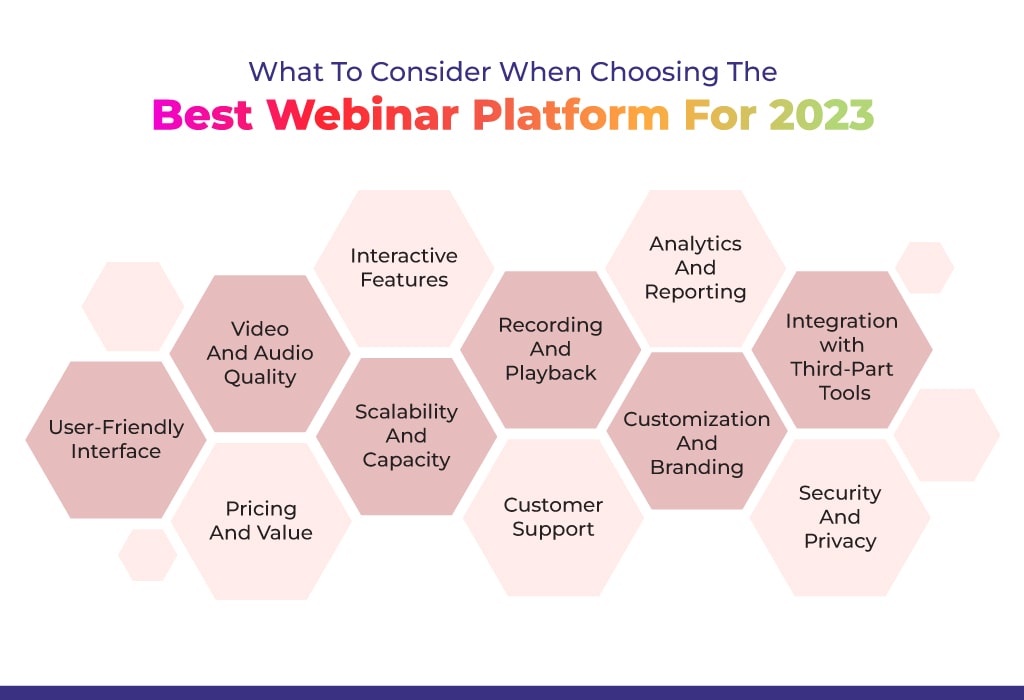 User-Friendly Interface
Choose the best webinar software platform that has an easy-to-use user interface for hosts and participants. To create a seamless user experience, the platform's controls and navigation should be clear and simple.
Video and Audio Quality
For an enjoyable webinar experience, high-quality video, and audio are essential. Choose the best webinar software platform that enables HD video streaming and offers uninterrupted, clear audio.
Interactive Features
The audience's participation may be increased with interactive elements like screen sharing, live chat, polling, and Q&A sessions. To promote participant connection and cooperation, take into account the best webinar software platform that offers various interactive options. 
Scalability and Capacity
To handle the amount of your webinar's audience, evaluate the platform's capacity to scale. Ensure sure a big number of users may access it without the stream's performance or quality suffering.
Accessibility and Device Compatibility
The platform should be accessible on various devices like desktops, laptops, tablets, and smartphones. It should support different operating systems and browsers.
Recording and Playback
If you wish to provide on-demand access or produce material for the future, you must be able to record your webinars. Seek the best webinar software platform that provides simple playback and recording choices.
Customization and Branding
Building a professional reputation requires careful branding. Top webinar platforms enable you to add your company's logo, colors, and branding components to the webinar interface.
Analytics and Reporting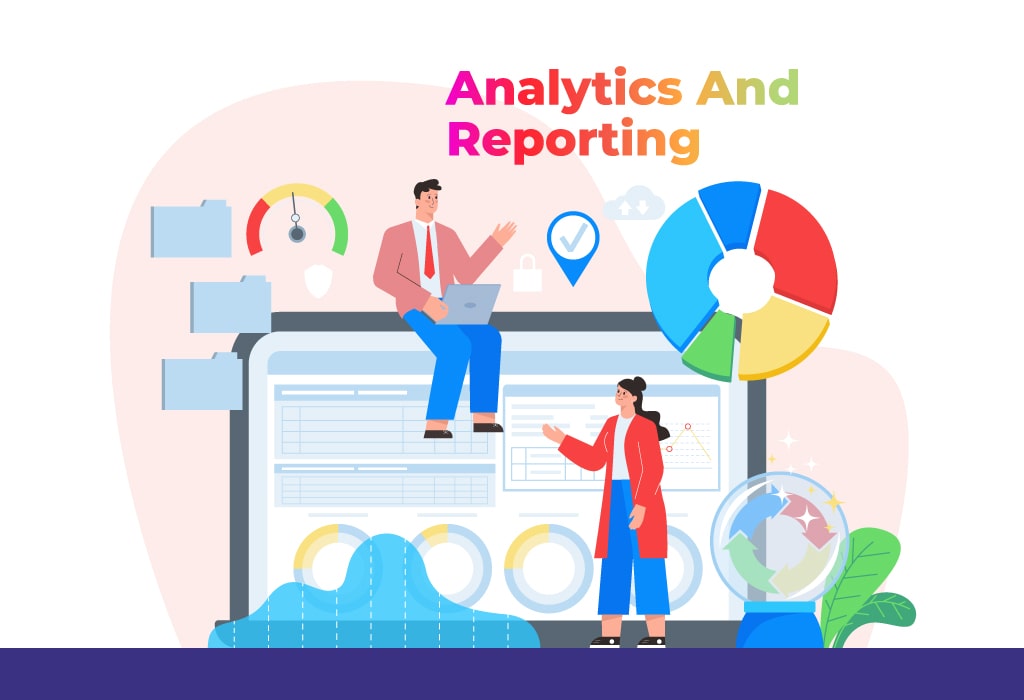 Features for analytics and reporting offer insightful data on variables like attendance rates and guest engagement. By using these capabilities, you may evaluate the effectiveness of your webinars and enhance subsequent presentations.
Integration with Third-Party Tools
Think about the platform's compatibility with other tools like CRM systems, email marketing platforms, or customer care platforms. You may handle webinar registrations, follow-ups, and data more effectively by integrating to optimize your process. Top webinar platforms allow you to integrate third-party tools.  
Security and Privacy
Be sure the best webinar software platform places a high priority on security and provides elements like password protection, encrypted communication, and choices for limited access. This is especially crucial when handling private or sensitive information during webinars.
Customer Support
Choose the best webinar software platform that offers top-notch customer care and helpful tools to assist you in setting up and managing your webinars efficiently. Top webinar platforms such as Webinar Plus offer top-notch customer support. When you run into problems or require information, prompt support, documentation, and training resources may really help.
Pricing and Value
Think about the online meeting platform's price and the value it provides with respect to your particular demands. To choose a solution that fits your needs and budget, compare price options, features, and restrictions.
What are the Best Webinar Platforms? 
There are a number of best webinar platforms on the market, each with a unique set of capabilities. Your unique needs and preference will determine which webinar platform is perfect for you. These are a few of the top webinar platforms that are well-known for their quality and functionality:
1. Webinar Plus
A browser-based webinar technology called Webinar Plus was created to help event planners run interactive webinars. Webinar Plus is one of the top webinar platforms that offer a seamless and complete solution for hosting effective online events and webinars with its variety of features and capabilities. Webinar Plus is the best webinar software for small businesses and large corporations.  
Key features of Webinar Plus include:
A Platform that Runs Totally Within a Web Browser
Participants don't need to download any additional software or plugins in order to use Webinar Plus. Its accessibility makes it simple and straightforward to participate without facing any technological difficulties.
Tools for interactive engagement
As one of the top webinar platforms, this platform provides a range of tools for interactive interaction to improve participant engagement. These resources could include interactive polls, Q&A sessions, chat functions, and audience participation options. This kind of interaction encourages active participation and guarantees a lively webinar experience.
Screen sharing and multimedia support
Best webinar platforms such as Webinar Plus give presenters the option to share their screens, making it simple to show off presentations, demos, or multimedia during the webinar. This functionality facilitates smooth content sharing and improves visual collaboration.
Custom branding and customization options
The webinar experience may be changed by the organizers to fit their brand image. This entails integrating logos, colors, and other branding components into the webinar interface to provide a unified and polished appearance.
Registration and analytics
Best webinar platforms such as Webinar Plus offer capabilities for managing webinar registrations, enabling hosts to manage attendance data and gather pertinent information. In addition, Webinar Plus provides analytics and reporting tools to assist event planners in evaluating the efficacy and effect of their webinars.
Multi-session support
With online webinar platform, event planners can host online conferences with numerous tracks and breakout sessions. Its adaptability enables organizers to address a variety of subjects, target various groups, and provide attendees with a more individualized experience.
Real-time analytics and insights
Top webinar platforms include real-time analytic features. And Webinar Plus is one of them. The webinar marketing software provides organizers with useful insights into the effectiveness of webinars through its real-time analytics and reporting features. They may monitor audience engagement, participation length, audience demographics, and other important indicators. These learnings aid in future webinar optimization and raise overall event efficacy.
Security and Privacy feature
Participants' privacy and security are given top priority by Webinar Plus. To safeguard sensitive data and interactions, it may have features like password protection, encrypted communication, and secure data storage.
Overall, Webinar Plus includes a wide range of features that you can't avoid.  It will help you to streamline and improve your webinar. Webinar Plus seeks to provide event planners with a complete, approachable, and interactive platform to hold interesting webinars. With its features and capabilities, organizers can build powerful online events, interact with their audience, and efficiently and effectively provide appealing content.
Pros
A powerful, reliable platform for live events
Interactive engagement tools like live polls and Q&A sessions
Registration management and attendee data collection
Screen sharing and multimedia support for dynamic presentations
Cost-effective plans 
Real-time analytics and reporting for actionable insights
Security and privacy features to protect sensitive information
Custom branding options for a professional look and feel
Recording capability for on-demand access to webinars
Cons 
Occasional video/sound delay
Only six presenters are allowed at one time
Due to the host's internet connection, a browser-based platform may cause the video quality to be degraded.
2. LiveWebinar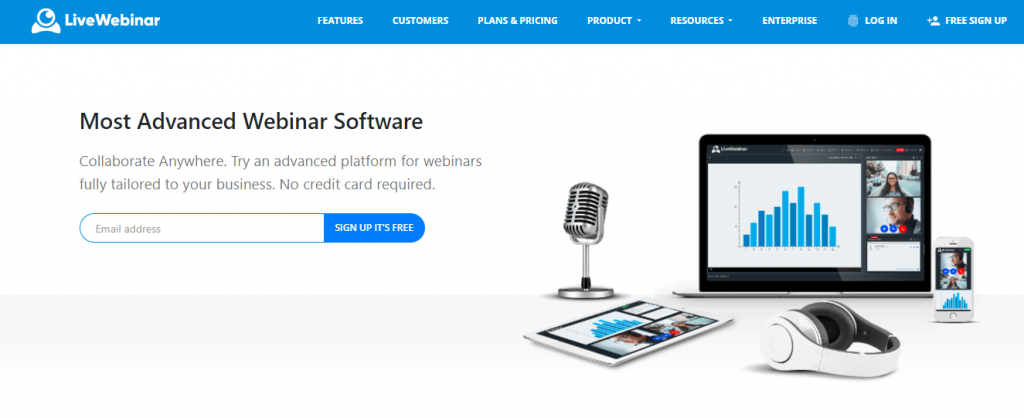 You have the option to create a special live webinar experience with LiveWebinar. With the help of this online webinar platform, it is simple to organize and hold webinars, draws sizable audiences, and incorporate webinars into websites and social media posts. With LiveWebinar is an all-in-one webinar solution that can help you hold virtual events, host webinars, and develop your own real-time communication system. The platform is simple to use, doesn't require any downloads or plug-ins, runs on all popular browsers, and is compatible with the majority of smart devices. A few clicks are required for event planning, and just one is required for registration. Another option is to develop evergreen and on-demand material or record events to be kept for future use.
Pros
The ability to transmit live webinars to several social media channels at once. 
Several connections to well-known marketing automation and CRM solutions. 
No downloads or installs are needed 
Cons
Users are unable to send follow-up email marketing since there are no choices for replaying the webinar. 
Users only have access to exportable analysis reports rather than a specific analytics dashboard. 
People often report issues when trying to upgrade services
3. Cvent 

Leading event management and marketing platform Cvent is renowned for its extensive feature set and powerful features. It is the reliable and best webinar hosting software. Users may easily host webinars and virtual events using Cvent's best webinar services. The platform provides streaming of high-definition audio and video as well as statistics, interactive engagement features, and registration management. The whole event planning process is simplified with Cvent's event management platform, from participant management and registration through on-site operations. With the use of its registration management system, organizers may manage attendee data, personalize registration pages, and enable safe payment processing.
In order to increase event registration, this easy-to-use webinar platform additionally offers marketing and promotion options including email marketing campaigns, social media integration, and tailored communication. The engagement of attendees at webinars and online events is increased through interactive elements like live chat, polls, surveys, and Q&A sessions offered by Cvent. Smooth data flow and scalability of Cvent's integrations with other well-known platforms and technologies allow it to accommodate events of all sizes. The goal of Cvent is to provide a complete event management solution for both online and offline events. 
Pros 
This virtual webinar platform has event marketing and promotion options such as email marketing, social media integration, and built-in statistics. 
Cvent makes event registration and ticketing easier for both organizers and attendees. 
Users may design customized event websites with branding components, personalized information, and interactive features using Cvent. 
Cons 
While Cvent provides certain customization choices, there may be restrictions in terms of event website and registration form design and layout customization.
It may take some time and effort to properly comprehend and apply all of the offered functions.
Cvent is an all-in-one webinar solution with high cost, particularly for smaller businesses or organizations with restricted finances. 
4. Demio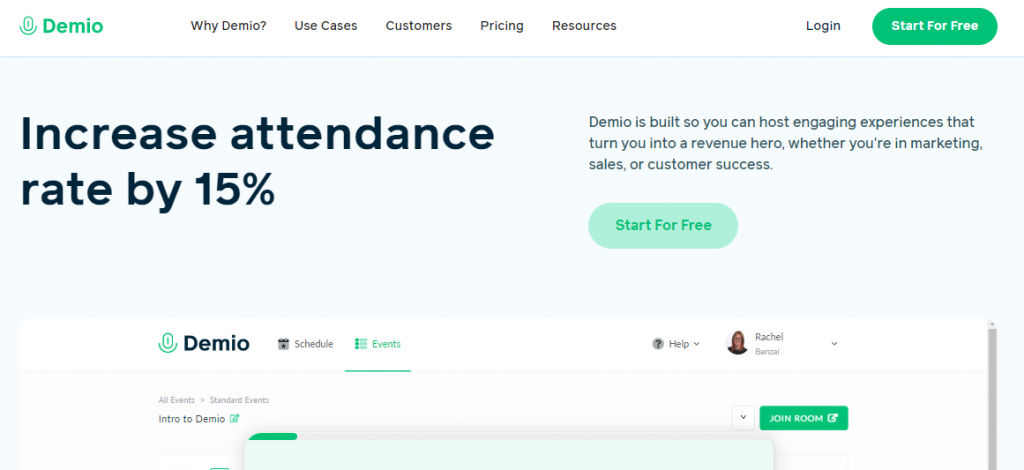 Demio is one of the best webinar hosting platforms that give your audience a simple, no-download webinar experience. Additionally,  this virtual webinar platform gives you all the marketing resources you need to increase sales. You may pick from five different HD webinar options offered by Demio: Live, Series, Hybrid, Automatic, and On-Demand. Your branding and logo may be used on all of your event materials, regardless of the type of event you choose. This online webinar software allows you to share videos and upload presentation slides, eliminating the need for awkward pauses throughout your speech.
The user-friendly and aesthetically beautiful browser-based platform keeps viewers interested. Moreover, you can conduct interactive surveys and Q&As, utilize highlighted CTAs to introduce offers, and provide digital handouts, gifts, and prizes throughout your webinars. Also, you have all the resources you need, such as personalized registration and thank-you pages, email notifications, and contact management, to successfully sell and promote your webinar events. You can also track and evaluate every aspect of your campaign, including registrations, attendance, and levels of participation and interaction.
Pros 
Simple email automation and event reminders for registered attendees.
Capabilities for seamless connection with marketing, advertising, and customer relationship management (CRM) systems.
Attendee interactions (engagement with live chat, polls, and offers) are subjected to in-depth analysis and statistics reporting.
Cons 
There are few customization possibilities overall and none for attendee registration pages.
Platform controls and interfaces are not as intuitive or user-friendly as those found in other solutions on this list.
There are no conversion metrics for registration pages to measure how many people opt to attend or not attend an online event. 
5. Zoho Meetings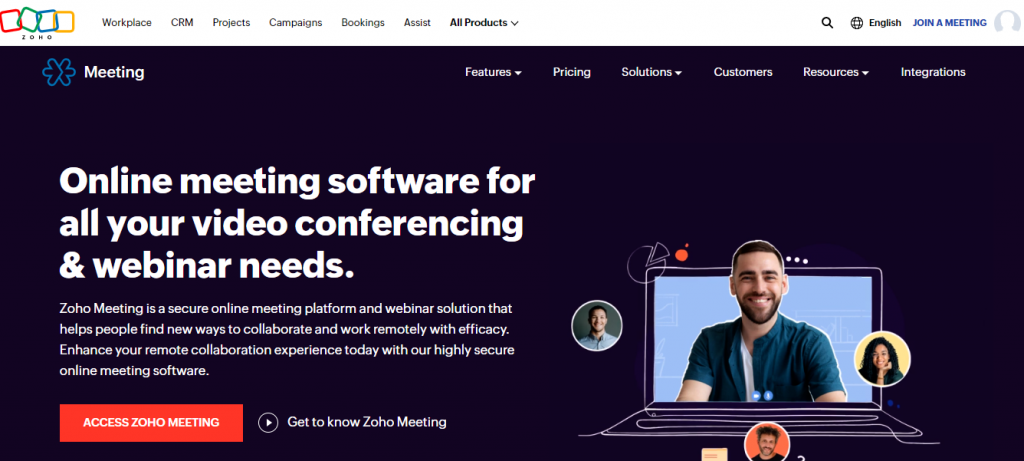 Consider Zoho Meeting if you're seeking another browser-based platform for simple and economical webinar hosting. It is one of the best webinar service providers. Users get access to live chat, surveys, email notifications, screen sharing, and much more on the straightforward and user-friendly platform. In contrast to other webinar platforms, Zoho Meetings allows participants to converse, making it excellent for collaboration. If you are looking for webinar platforms for startups, you can consider Zoho Meetings. It is a cost-effective and reliable option.  
The platform has a straightforward user interface that works the same way on all platforms and that you can access immediately from your web browser. There is no need to download programs that will occupy disc space on your computer. Branding is made easy with Zoho Meeting since you can add your company name and logo to registration forms and email invitations.
Pros 
There is no need to download anything because it operates directly.
It include different online webinar tools such as screen sharing, moderator controls, live chat and more.
Attendees can 'raise a hand' and respond in response to Q&A, polling, and broadcast messaging.
Online recordings can be shared and downloaded.
Include a registration form on your website so that people may join the meeting with a single click.
Cons 
Reporting is not in-depth
Features are simple and basic
6. WebinarNinja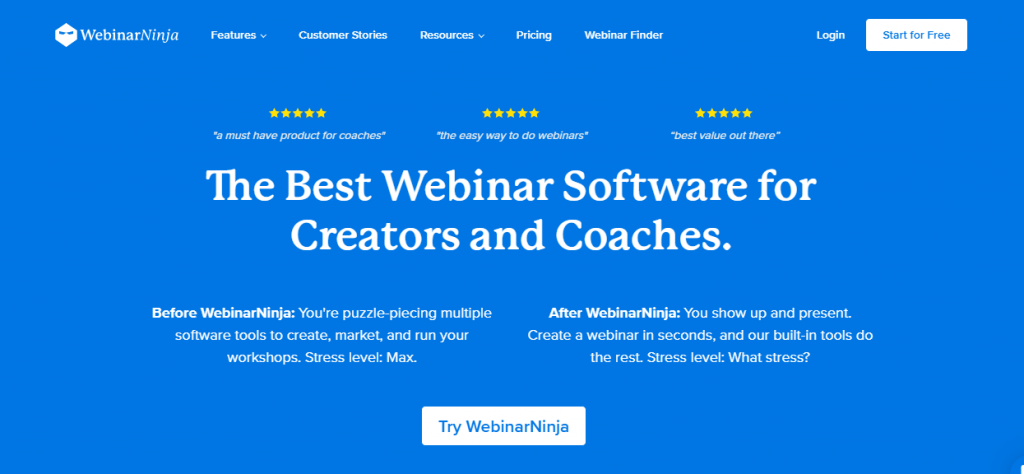 You can perform Live, Automatic, Hybrid, and Series webinars using the all-in-one web-based webinar platform known as WebinarNinja. With this online tool, Slides can be uploaded and shared, your screen can be shared, live conversations can be held, Q&As can be used, polls can be done, and deals may be displayed. 
To guarantee that your high-definition webinar broadcast and audience interactions are always in real-time without latency, the platform leverages the most recent live video technology called WebRTC. The webinar software also enables you to automatically send follow-up emails to participants and non-attendees as well as confirmation and reminder emails to your registrants. With the help of the Page Builder, you can personalize the high-converting registration and thank you page templates that come with WebinarNinja. You can also include your company's logo, pictures, and videos.
Pros 
Superfast live chat
Email automation plus drip campaigns
High-conversion and custom-registration landing page
Instant screen sharing
Multiple polls running before, during, and after the webinar
Analytics dashboard that allows export of data
Cons 
The back-end is challenging to navigate
Slow customer service
Occasional glitches with audio
Longer upload of extended presentations 
7. BigMarker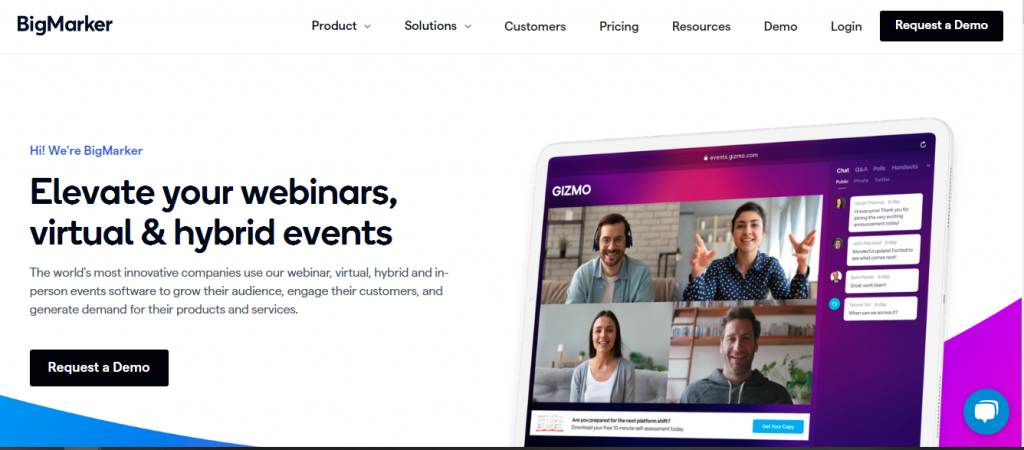 With the use of BigMarker, you can build, advertise, deliver, automate, monetize, and expand your business. it is a comprehensive online event hosting and marketing solution. You can build an endless number of live, repeating, automated, and on-demand HD webinars using the end-to-end platform, and they will both look and sound great on desktop and mobile. 
You may develop your webinar registration pages using a landing page builder, which offers over 15 layouts. Also, create and distribute automatic email invitations and reminders. You may mark your "presentation room" with your theme colors and logo using BigMarker as well. Using the whiteboarding tool, you may show slides, play pre-recorded movies, share your screen or an application, and mark important points.
Pros 
Custom live video experience for online events
White-labeled seminar rooms and landing pages
Unique live streaming features
Extensive integrations with apps like Salesforce, Hubspot, and Zapier, among others
HD video and screen sharing
Cons 
Expensive than other alternatives
The trial period is too short and only allows for 10 attendees
The mobile experience is clunky
Online customer support is limited to chatbot
Which of the Top Webinar Platforms is Right for Me?
What webinar services would be most beneficial for your company? Depending on your goals, target audience, budget, and other factors, there may be a different perfect webinar platform. For instance, if you're just starting with webinars and simply anticipate a few people, a conferencing service like Zoho Meeting could work. What would happen, though, if you regularly expect dozens, hundreds, or even thousands of attendees? (And you want to reuse the content to continue producing additional leads). In this case, using an all-in-one webinar solution  like Webinar Plus is the best choice.
You may reach your audience with numerous accessible webinar platforms. The best webinar hosting software for your requirements ultimately depends only on your objectives, plans, and financial constraints, therefore we really hope that this guide was able to point you in the right direction.
FAQs
Q1. What features should I look for in a webinar platform?
Depending on your needs for your webinar, you should consider the different features. A few typical features are the ability to hold both live and recorded webinars, interactive chat, screen sharing, slide presentations, audience polling, Q&A sessions, analytics and reporting, and interaction with other technologies.
Q2. How many participants can join a webinar?
The number of attendees per webinar platform varies. Although some top webinar platforms could provide packages that can accommodate 100, 500, or 1000 users, others can have scalable alternatives to support greater audiences.
Q3. Can I customize the branding of my webinar?
To retain a unified visual identity, you may change the branding of your webinar on the best webinar platforms. This may entail branding the registration pages, emails, and webinar interfaces with your logo addition, unique color scheme, and brand-specific layouts.
Q4. How secure is the webinar platform?
The best webinar service providers are aware of the value of security. Look for systems that offer features like password-protected webinars, secured data transfer, access restrictions, and safe recording and storing of meetings. To make sure your data is protected, it's also a good idea to check the terms of service and privacy policy of the site.
Q5. Can I integrate the webinar platform with other tools?
The ability to integrate varies amongst webinar platforms. A few platforms include connections to well-liked products including CRM systems, marketing automation systems, email marketing services, and video hosting systems. Integrations can improve the efficiency of your operations and the quality of your webinars.
Attain a Matchless ROI for Your Business.
Pick the Best Webinar Services of the Industry