Webinar for lead generation are a crucial component of any successful marketing strategy. In order to nurture and turn potential clients into paying customers, it entails collecting their contact information as well as their interests. The majority of businesses and organizations in today's digital world use this platform to produce high-quality leads.
Businesses may take use of the interactive aspect of webinars to generate leads, distribute pertinent material, and collect participant data for their marketing campaigns. We will discuss the advantages of using webinars to generate leads in this post, along with practical tips and strategies for increasing webinar leads and conversion rates.
But, What is Lead Generation?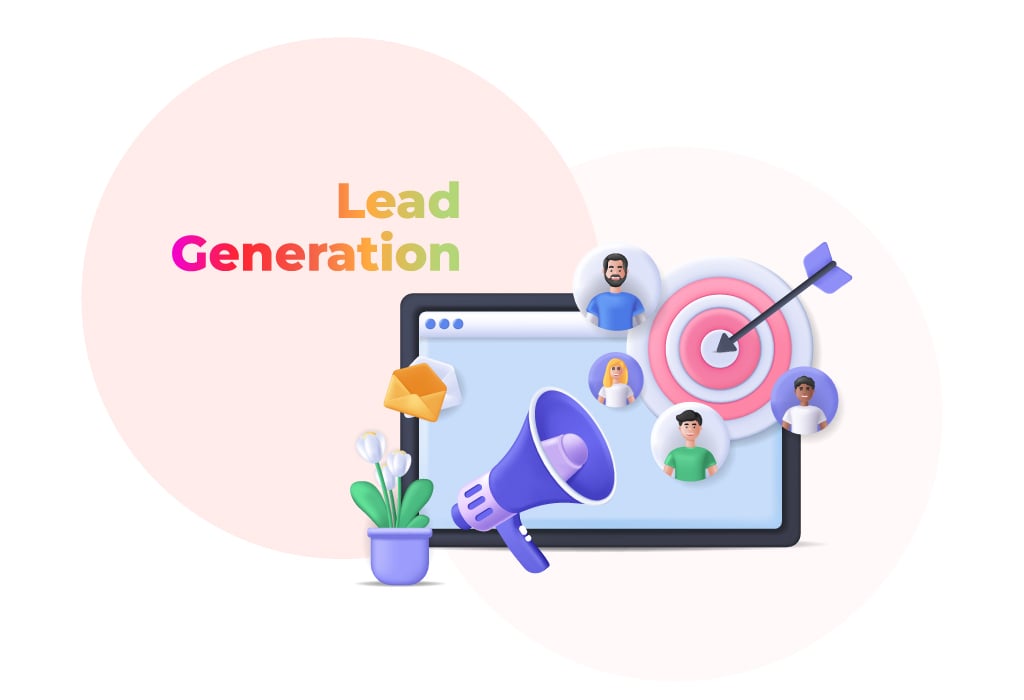 In today's marketing environment, lead generation is a crucial procedure that includes using webinars to generate leads. It revolves around attracting and identifying potential customers who have shown interest in a product or service, with the ultimate goal of collecting their contact information, such as email addresses or phone numbers. When used wisely, webinars can be a powerful tool for lead generation, assisting companies in both collecting crucial contact information and building deep relationships with their target market.

"In simple words, Lead generation refers to the process of attracting and identifying potential clients who have expressed interest in your product, service, or brand. Marketing campaigns must include lead generation since it helps companies to concentrate their efforts on customers who are more likely to convert."
When it comes to using webinars to generate leads, businesses have a unique opportunity to provide high-quality content and engage directly with their audience. Webinar leads are those who have voluntarily chosen to watch a webinar, demonstrating some level of interest in and engagement with the subject matter. Businesses may attract quality leads who are truly interested in the topic by offering an engaging and educational webinar.
A webinar for lead generation is one that has been created with the goal of capturing and nurturing leads. The webinar's material should be educational, helpful, and specifically targeted to the needs and interests of the intended audience. Businesses may establish themselves as industry experts and gain the confidence and credibility of webinar participants by providing useful information, knowledgeable advice, and workable solutions.
Using Webinars to Generate Leads: Reasons Why They Are an Ideal Platform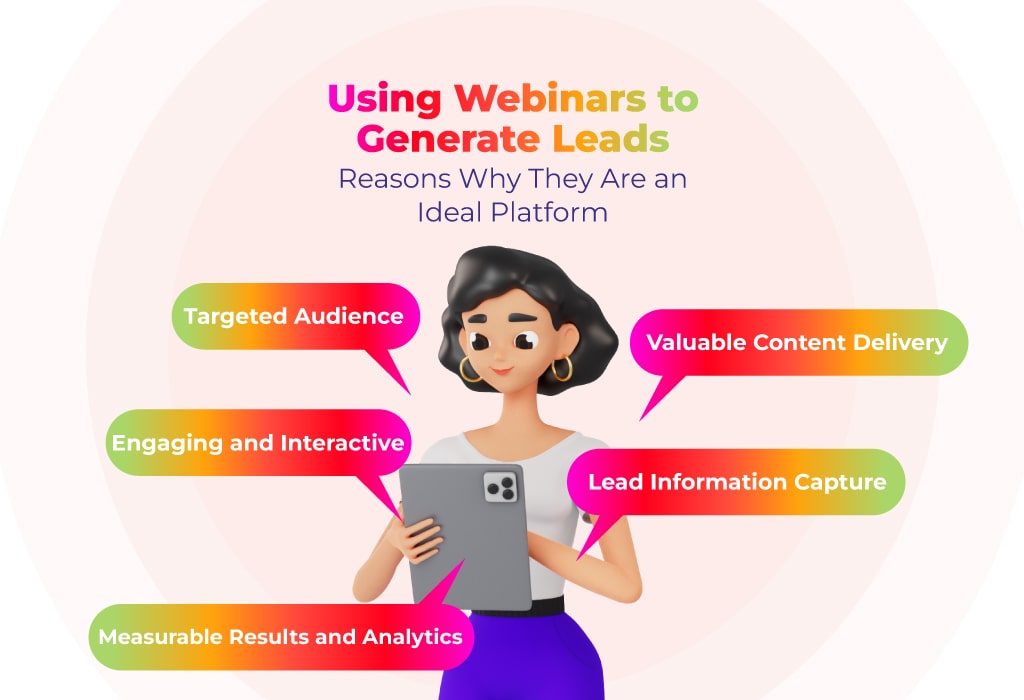 Webinars for lead generation are becoming famous due to their success in enticing audiences and dispensing insightful knowledge, Here are five reasons that make webinars the perfect platform for generating leads:
Reason 1: Targeted Audience
Webinars are successful at drawing a specialized audience with certain interests. When companies host webinars on pertinent subjects, participants freely sign up based on their own requirements and interests. The webinar leads are of higher quality and are more likely to have a genuine interest in the products or services provided thanks to this focused approach. Businesses may maximize webinar lead generation efforts and raise conversion rates by engaging a focused audience.
Reason 2: Engaging and Interactive
Webinar for lead generation is intended to generate leads and provide participants with a fun and interactive experience. Businesses may support the real-time connection between hosts and participants during webinars for lead generation, encourage active participation, and build connections with the audience. Due to their participatory format, webinars have a higher possibility of attracting quality leads and turning them into paying clients. Due to the engaging and interactive capabilities, most businesses and organizations are using webinars to generate leads.
Reason 3: Valuable Content Delivery
Quality leads with a webinar can be obtained by delivering valuable content, engaging with the audience, and fostering meaningful interactions during the session. Businesses may give extremely important and specialized material through webinars while also generating leads. Businesses may demonstrate their knowledge, give insightful commentary, and provide useful answers to participants' problems through a webinar for lead generation. With this strategy, the hosting company establishes itself as a thought leader and attracts qualified leads who actually value the knowledge being shared. With the use of webinars, you may produce high-quality leads by offering useful material.
Reason 4: Lead Information Capture
Lead-generating webinar platforms provide organizations with a fantastic chance to get crucial lead information. Attendees often enter their contact information, such as email addresses, during the webinar registration process. Businesses may use this to increase the number of contacts in their database and start follow-up conversations after the webinar. Furthermore, interactive elements in the webinar for lead generation include polls, surveys, Q&A sessions, and more. This may collect more information about participants and help organizations better understand their requirements and preferences for efficient lead nurturing.
Reason 5: Measurable Results and Analytics
Webinars provide insightful information and quantifiable outcomes for webinar lead generation strategies. Using analytics and metrics, businesses may monitor attendee engagement, participation rates, and conversion rates. These data-driven insights enable organizations to assess the effectiveness of their webinars, make wise choices for future webinar optimization, and enhance lead generation tactics. Businesses may improve their strategy to get even greater outcomes and higher-quality leads by utilizing the analytics offered by webinars.
Reason 6: Positioning Authority and Expertise
A successful webinar elevates the hosting company as a thought leader in its industry. Businesses may demonstrate their knowledge and establish trust with the participants by giving actionable suggestions, discussing insightful industry trends, and presenting relevant insights. As a result of the host's standing as an authoritative source, attendees are more likely to trust the host's products or services and convert them into leads.
Reason 7: Multi-Format Appeal
Including lectures, Q&A sessions, panel discussions, and live demos are all part of a well-organized webinar. This multi-format strategy takes into account different learning styles and preferences to maximize audience engagement and comprehension. An engaging webinar for lead generation keeps viewers interested and increases their likelihood of becoming leads.
Reason 8: Networking and Community Building
Webinars frequently bring together people with similar interests or problems. Businesses may promote a feeling of community by enabling networking opportunities within the webinar. This feature of community development not only improves the webinar experience but also offers a venue for participants to network with one another and the hosting company, cultivating new prospects. Most event organizers use this webinar strategy for lead generation.
Reason 9: Effective Nurturing and Follow-Up
Just as important as the webinar itself is the post-webinar period. Webinar leads are those who have expressed interest in the topic and are already familiar with the hosting industry. The follow-up procedure is more natural and productive as a result of this friendly introduction. Businesses may create tailored follow-up emails that precisely address the requirements of the participants by offering more information, making offers, or offering solutions. The likelihood of turning webinar participants into repeat clients is greatly increased by this focused strategy.
Want to boost the revenue with webinars?  If yes, read our blog "7 Webinar Revenue Generation Strategies"
Webinar Lead Generation Strategies and Tips: Generate Quality Leads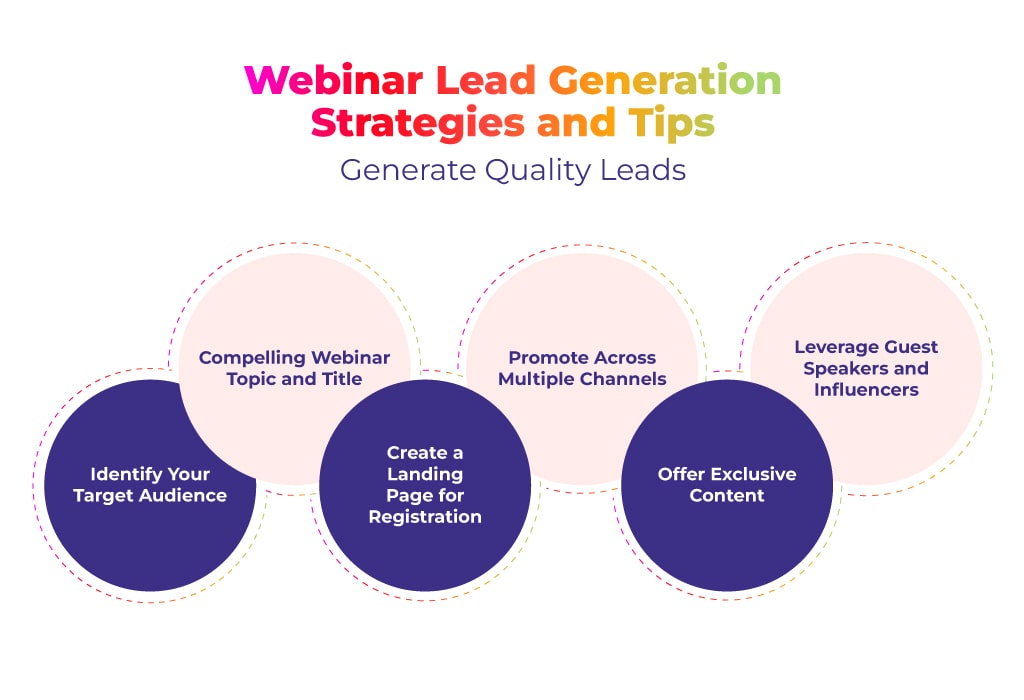 You may engage with a specific audience with a webinar, demonstrate your subject-matter knowledge, and build trust in your field. Delivering insightful information alone won't suffice to make a webinar a success; you also need a solid lead acquisition approach. The following are some key strategies and tips that can help you to generate leads from webinars are given below:
Identify Your Target Audience
Before diving into webinar lead generation strategies, it's critical to define your target market precisely. Recognize their interests, problems, and requirements. Your ability to customize your webinar's content and marketing strategies will enable you to reach the proper audience and produce qualified leads. By understanding your target market's interests, problems, and requirements, you can tailor your webinar content to address their specific needs. Additionally, conducting thorough market research and gathering feedback from previous webinars can further refine your webinar strategies for lead generation and ensure maximum impact.
Compelling Webinar Topic and Title
If you want to generate leads from webinars, you need to choose a webinar topic that provides your target audience with useful information or solves a pressing issue. Create an attention-grabbing title that piques interest. To improve search engine exposure, organically incorporate your goal keywords into the title and description.
Create a Webinar Sales Funnel
Webinar sales funnel keeps you informed of every decision and steps your target audience makes throughout the process. Since it's not just about generating leads by getting people to sign up, but rather making them interested in your offer to buy from you eventually.
Therefore, consider creating a sales funnel for a webinar that takes your target audience through the pipeline.
A webinar funnel involves a series of steps designed to attract, educate, and convert participants through a webinar. The first step you need to implement is to make sure that there is a dedicated thank you page for registration. The registration page is the first place where your attendees would land, generating leads for your webinar.
Showcase the benefits of the webinar and what the audience can expect to learn from it to build anticipation and excitement about the event. Make sure to add a clear CTA in your content that encourages the audience to take action immediately.
Create a Landing Page for Registration
Create a captivating landing page for your webinar for lead generation. The registration form and major advantages of attending the webinar should be highlighted on the landing page. To promote sign-ups, optimize the page with pertinent keywords and a distinct call-to-action (CTA). In addition, consider adding compelling visuals and testimonials from previous attendees to further entice potential participants. Furthermore, ensure that the landing page is mobile-friendly and easily shareable on social media platforms to maximize its reach and increase the chances of generating leads.
Have a Clear Value Proposition
Make it easy for customers to understand why your organization is trustworthy and why it's worth getting to know. Likewise, promote your guest speakers and what they have to offer. Let people know about their past work and achievements. You can clarify this information with biographies of guest speakers and testimonials from attendees of past events.
Promote Across Multiple Channels
Webinar marketing for lead acquisition is an essential element. Use several marketing methods to spread the word about your webinar and increase lead production. To get the word out, use social media, your website, blog postings, email marketing, and online communities. Create convincing messaging that highlights the benefits attendees will receive from participating in the webinar.
Offer Exclusive Content
Provide exclusive information, such as downloadable tools, industry studies, or access to a gated community, to encourage registrants. This enhances the value of your webinar and works as a lead magnet to gather contact details.
Leverage Guest Speakers and Influencers
Collaboration with industry leaders, opinion leaders, or guest speakers may significantly increase the credibility of your webinar and draw in a larger audience. Their presence enhances the event's value and raises the possibility that their networks will produce high-quality leads. Working with professional speakers and influencers can be one of the best webinar lead generation strategies.
Interactive Quizzes and Polls for Engagement
Infuse your webinar with interactive quizzes and polls that engage attendees while collecting valuable information. Create thought-provoking questions related to your industry or product, and encourage attendees to participate. Platforms such as Webinar Plus offer a wide range of interactive features. These engagements not only enhance the experience of a webinar for lead generation but also provide insights into attendees' preferences, enabling a lead nurturing approach more effectively.
Implement Lead Capture Mechanisms
Make efficient use of lead acquisition tools during the webinar. Use interactive Q&A sessions, polls, surveys, and registration forms to integrate feedback from participants. You may use this information to better understand their requirements and adjust your follow-up communications. This strategy can help you to generate quality leads with a webinar.
Follow-Up and Nurture Leads
Contact the attendees as soon as possible after the webinar. Write a thank-you note, offer the webinar recording, and distribute further resources or pertinent information. Adapt your follow-up communications based on the webinar participants' level of participation. Develop relationships with leads by implementing lead nurturing initiatives that move them farther down the sales funnel.
Track and Analyze Results
Track important indicators, including registration rates, attendee engagement, and conversion rates, to determine the effectiveness of your webinar lead generation strategies and activities. Evaluate the information to pinpoint areas that need improvement and hone your upcoming webinar tactics.


Final words:-
Webinars provide a powerful platform for establishing thought leadership in your area and generating quality leads. You may draw in a pertinent audience and maximize your lead-generating efforts by putting into practice efficient webinar lead generation strategies including figuring out your target audience, producing captivating content, and utilizing several promotional channels. Remember to capture and nurture leads through personalized follow-ups and continuously analyze your results to refine your strategies. You'll be prepared to produce high-quality leads through webinars and promote business expansion if you keep these suggestions in mind.
FAQ:
Q1. How do webinars generate leads?
Webinars produce leads by drawing viewers who are enthusiastic about the subject or sector being covered. In order to participate in the webinar, participants normally register by giving their name and email address. The host or organizer may then follow up with attendees, nurture leads, and possibly turn them into clients using this information.
Q2. Why are webinars effective for lead generation?
Webinars work well for generating leads because they provide companies with a platform to interact with a specific audience. Businesses may position themselves as subject-matter experts in their area and gain the trust of participants by providing informative information and knowledge throughout the webinar.
Q3. How can I measure the success of lead generation from webinars?
You may monitor a number of KPIs to gauge the effectiveness of lead generation via webinars, including:

1.The number of registrations: The entire number of registrations should be tracked in order to determine initial interest.
2.Attendance rate:  Determine the proportion of registered webinar participants who actually attended by using the attendance rate.
3.Engagement indicators: Examine how engaged the audience was during the webinar by noting the number of questions raised, votes cast, or chat activity.
4.Conversion rate: Calculate the proportion of webinar leads that ultimately become paying clients.
5.Follow-up interaction: Examine the leads' involvement with post-webinar follow-up messages, including email open and click-through rates.
Q4. What are some common challenges in generating leads from webinars?
The following are typical issues in generating leads from webinars:
Making sure the proper target audience is attracted and that they sign up for the webinar.
Keeping participants' attention throughout the whole webinar.
Addressing any technical problems or hiccups that may arise during the webinar and affect the experience of the participants.