Social media in the current global scenario is an indispensable tool for many industries, brands, and businesses. Due to the many benefits associated with it, the influence and popularity of such platforms can't be ignored. Whether you want to connect, collaborate, or simply promote your next event, social media is the right place. For event marketers leveraging all the functionality and features is effective in boosting their event promotion efforts. It is always preferable to promote events on social media to expand your audience reach, announce your event, drive registration, and boost ticket sales. 
Here in this blog, we are going to explore many added advantages of social media event promotion and will touch upon the key aspects. So, let's get started;
Understanding the Power of Social Media Event Promotion
The digitalization of the world and the rising popularity of social media have changed the way events used to be announced and promoted. Nowadays, there are many social networking sites like LinkedIn, Instagram, Facebook, YouTube, TikTok, Twitter, Spotify, Snapchat, and others. Besides this, community-based platforms like Reddit, Discord, Quora, and many others. All these sites and platforms have one thing in common which is networking and sharing of knowledge, posts, memes, and different types of values as well as entertainment content.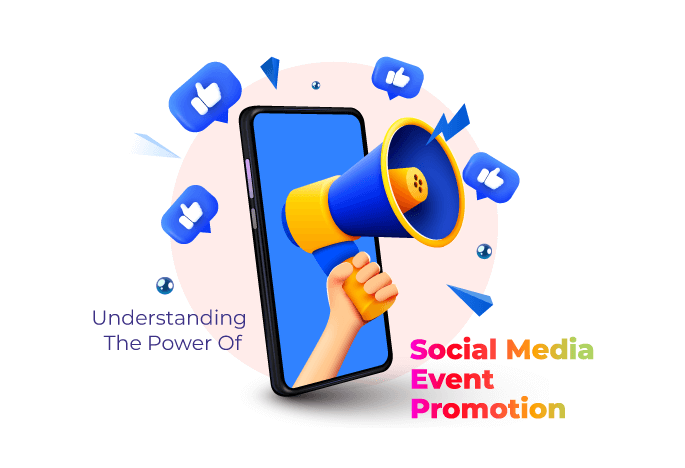 Moreover, these sites have billions of active users and accommodate different segments of society and people. Leveraging such huge popularity sites is helpful in promoting, as with the right post you can announce your next event to millions of people. Event marketers can share their event updates, important details and engage with the audience in real-time to foster communication. Also, sharing exciting news, posts, or other forms of content in creative ways to promote an event can create a buzz and maximize your promotion efforts. 
The Importance of Social Media Event Promotion
In the current digital landscape, social media platforms are relatively useful for promoting events and reaching wider audiences. Also, there are many benefits associated with using a platform having millions of active users.
Harnessing the Reach and Engagement Potential of Social Media
The one definite advantage to promote the event on social media is its ability to reach a vast audience and enhance engagement. With the right kind of post strategy and planning the event promotion campaigns can increase the visibility of the event and encourage people to participate. Additionally, reaching your targeted audience and streamlining the real-time conversation can help you a lot. Furthermore, with creative social media event promotion ideas, you can also attract more audiences. 
Benefits of Promoting Events on Social Media Platforms
There are boundless possibilities for utilizing social media event promotion some of the top benefits are mentioned below; 
Increased Engagement: Make direct contact with the audience.
Create excitement with personalized promotion.
Understand audience preferences and demographics with analytics.
Customized Messaging: Send out personalized event announcements.
Leverage Advertising: Target particular demographics.
Optimization based on data: Refine strategies based on findings.
Increased Reach: Increase event visibility to a larger audience.
Cost-effective Promotion: Reach a huge number of potential attendees without spending a lot of money.
Use the power of social sharing to improve event awareness and attract more people.
Top 5 Creative Ways to Promote an Event on Social Media
Millions of people watch billions of shared posts by individuals to brands or influencers. What should your post have that can attract the audience? Let's explore this thing.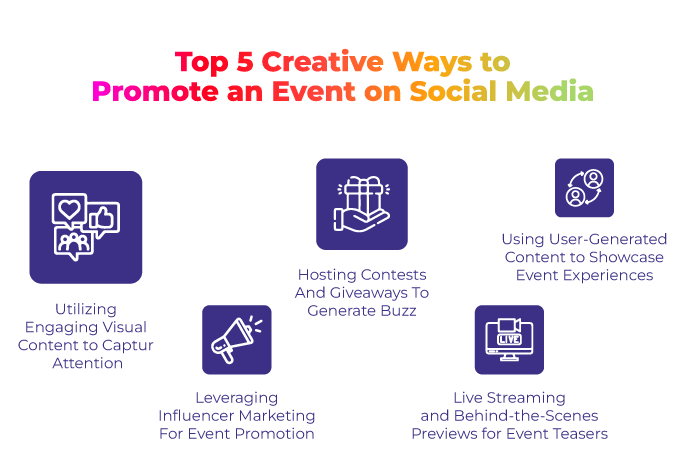 1- Utilizing Engaging Visual Content to Capture Attention
No matter what kind of content you are using to promote events on social media, making it visually appealing is crucial. As visually appealing images, videos, and infographics, with captivating taglines, music, and tonne can capture the audience's attention.  Additionally, to make the post more realistic and to develop anticipation, create event teasers, showcase behind-the-scenes, guests, and other user-generated content. Also, to build a strong emotional relationship with viewers leverage the visual storytelling and make them feel astonished.
2- Leveraging Influencer Marketing for Event Promotion
Collaboration with social media celebrities or influencers can help improve your account and post visibility. Also, influencers have a set of audience and many followers which is beneficial to expand the reach of their event promotion posts. Influencer marketing or celebrity endorsements is a traditional way of marketing yet effective in the modern day. Influencers can endorse the event, share the excitement, and engage followers through sponsored posts, live videos, or stories. Their recommendations can drive registrations and overall boost ticket sales making your marketing campaign a success. 
3- Hosting Contests and Giveaways to Generate Buzz
Everyone likes playing games and when the reward is associated with it can potentially create interest among the audience. Conducting contests and giveaways can be a proven yet effective marketing tactic. In general social media contests basically revolve around photography challenges, caption competitions, or quizzes. However, take it to another level by challenging physical games and ask the participants to share that by mentioning your brand or event page and dedicated #hashtags. The price can be heavy discounts on the tickets, goodies, VIP passes, or anything that is easily given to the audience in order to make the social media event promotion a success. This boosts the event's reach and creates a buzz. 
4- Live Streaming and Behind-the-Scenes Previews for Event Teasers
Many social media sites like Instagram, Facebook, and others offer live streaming services. These services can be utilized in order to promote your event and in strengthening real-time connections. Hosting Q&A sessions, with the host, and speakers and addressing the audience's FAQs can be helpful. Also, streaming the behind-the-scenes footage, or interviews with speakers or performers allows potential attendees to experience what they can expect by attending the event. As the live streaming is quite a popular feature of social media due to its capability for immediacy and excitement while encouraging them to register. 
5- Using User-Generated Content to Showcase Event Experiences
As discussed, the conducting of contests and encouraging the audience to produce user-generated content is a powerful way to enhance the enthusiasm of promotional campaigns. As more of the audience say nice words about your event and post similar content can increase the promotion efforts without any effort to say. With the event-specific hashtags or tagging the event's official account creates a sense of community and social proof. All these combined acts as a social testimonial which is vital in nature as mouth of words promotions are the strongest. 
Social Media Event Promotion Strategies for Popular Platforms
There are many social media platforms and promoting events on each is not possible. But what is possible is to identify your target audience and which one are they using much. For example; there is research that shows few statistics. Instagram has younger audiences, Twitter has more intellectual ones, LinkedIn is meant for corporate employees and professional audiences as well as Facebook has older audiences.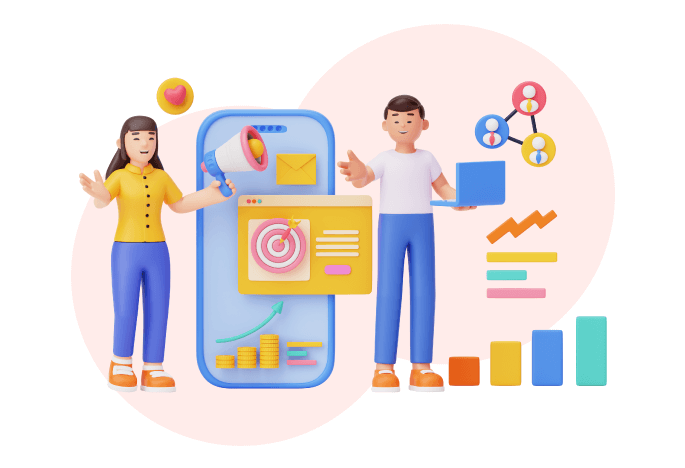 This states that identifying your targeted audience and which platform they are using the most is the first step towards promoting an event on social media. Talking about all social media platforms and promotion strategies is not possible, so we have chosen the three most popular sites. 
Promoting Events on Facebook
Facebook is considerably the oldest yet most popular social site with 2.85 billion monthly active users which is one-third of the total world population. With a diverse sure base and interactive features like stories, short videos, long-form videos, posts, live streaming, community page, and others. There are many functionalities that can be utilized in order to promote an event on Facebook. 
There are many ways to promote events on Facebook with posts or stories. But here is a strategy you can take into account to actually drive event registrations.  
1. Creating an Event Page with Compelling Visuals and Detailed Information
Promote this page on different profiles and share all sorts of information about your event like; event dates, location, schedule, speakers, and ticketing details. Furthermore, make sure your all posts are visually appealing and are of high-quality audio and video use. Make sure to add the link to the event ticketing and registration page.
2. Utilizing Facebook Ads to Expand Event Reach and Target Specific Audiences
By running paid advertisements by selecting a specific region, and targeting audiences the reach of your event promotion can be expanded easily. Make sure all your ads are creative and appealing to the audience including a clear CTA and encourage the audience to participate. 
3. Encouraging Attendees to RSVP and Share Event Updates on their Timelines
For robust event management send RSVP reminders or emails to every registrant and encourage them to update it on their timeline. This approach can be helpful in creating a social buzz and uncovering your event to a wider network. 
Promoting Events on Instagram
Instagram is a social site whose parent company is Facebook but has a different algorithm. It is basically a visually-centric platform that needs an effective strategy. To promote the event on Instagram your post needs to be visually appealing and of high quality. There are other options like creating 24-hour stories, Reels, big-format video content on IGTV, posts, with or without songs, and others. Let's explore a few more important strategies to promote an event on Instagram. 
1. Crafting Eye-Catching Event Posts with High-Quality Visuals
A visually poor post does not work on Instagram as per the marketers. So, in order to grab the audience's attention create high-quality images or videos that evoke emotions. In your every post include your events branding, a proper CTA, and appealing captions. Instagram is the other name of hit and trial so keep experimenting with different styles, tonne, and posts like; such as carousel posts, collages, or quote graphics. 
2. Utilizing Instagram Stories for Behind-the-Scenes Event Previews
With Instagram live streaming services possibilities to showcase your event's behind-the-scenes glimpses and teasers. Also, leverage live streaming functionality to host pre-sessions with guests, and collaborators, and generate excitement in the audience. During the streaming event use polls, and Q&As to address the audience's issues, and concerns or to take feedback. 
3. Engaging with Attendees and Potential Guests through Event-Specific Hashtags
A community is necessary to support and maximize event participation. Any event type cannot be necessarily for every kind of audience so curating specialized #hashtags build a sense of community. Also, encourage the participants to use your hashtags to expand the community and monitor the hashtag and engage with attendees by liking, commenting, and sharing their posts. This approach makes it possible to expand the overall reach. 
Promoting Events on LinkedIn
LinkedIn is a professional networking site specially designed for corporates, businesses, and other kinds of professional people. In general, industry conferences, professional gatherings, and other sorts of events are preferred to be promoted here. But it's up to you how you use it. Here are mentioned four strategies to promote events on LinkedIn with ease. 
Create compelling posts that include; a short, crisp, and informative title, description, and important details about the event that are a value proposition for attendees.
Create a new page for the event or simply via the brand page share the event details by creating a well-written post, relevant hashtags, captivating visuals, and direct registration links.
Collaborate and join relevant industry groups and foster active participation to promote events on LinkedIn. And update the community about your next event and its benefit of attending. 
Collaborate with other brands or partners and industry experts to promote your event and leverage its authenticity and credibility. 
Top 8 Unique Social Media Event Promotion Ideas
There are many social media event promotion ideas that can be used to maximize your event registrations. Like hashtags, following trending posts, and creating reels or shorts. Here are a few more ideas to help you; 
Collaborate with other partners with similar interests or with influencers to use their credibility and followers. 
Host live stream sessions of polls for exclusive pre-event Q&A sessions on social media.
Create appealing event teasers and post past event highlights on YouTube or on other social sites. 
Run paid advertisements to boost your marketing and promotional efforts. 
Associate with local businesses for cross-promotion and co-branding prospects.
Invite guests to share exclusive insights and behind-the-scenes content.
Build and continuously interact with the community and offer valuable content. 
Utilize the power of short-form videos and showcase unique aspects of your event.
Conclusion
Undoubtedly, social networking sites for event marketers and organizers are bliss in the modern-day scenario. The rising popularity and continuous growth of the user base open many opportunities like; connecting with the target audience, generating excitement, and driving more registrations and ticket sales. No matter whether you promote the event on Instagram, Facebook, LinkedIn or any other platform the benefits and networking opportunities are the same. 
Remember each of the platforms is meant and is useful to target a specific segment of people. So, keep promoting your event on social media and make your event a success. If you are also looking for some other options to boost your event ROI then there are some other ways to create a mobile event app, or microsite, by deploying an interactive element like; a 360-degree camera, photo booth, social media wall, and others. Book a free demo with Dreamcast and learn more about all your event tech needs to cater for your specific requirements.