Are you seeking for innovative approaches to promote your brand and establish connections with a large global audience? If so, take into account the effectiveness of the online exhibition platform!  Businesses are increasingly using online platforms to market their brands, products, and services in the current digital era.

The size of the global virtual events market is anticipated to increase by USD 273.82 million between 2022 and 2027, according to Technavio. Market expansion is anticipated to occur at a CAGR of 21.34% over the forecast period.

In simple words, digital exhibition platforms have become crucial tools that provide a wealth of advantages for marketers. In this blog, we'll explore the top six reasons why you should seriously consider showcasing your brand at an online exhibition.
Reasons to Consider Online Exhibition Platforms to Increase Brand Visibility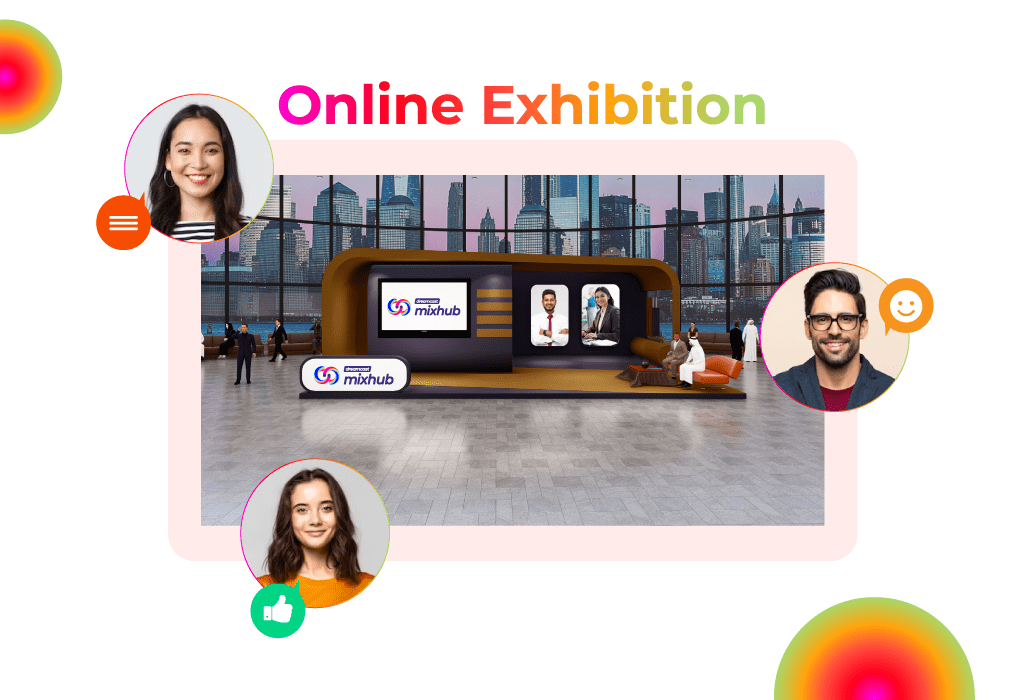 Reason 1. Global Reach, Zero Boundaries
In a world that has become increasingly interconnected through technology, reaching a global audience is crucial for businesses looking to expand their horizons. The key to overcoming geographic barriers and communicating with potential clients and industry colleagues globally is through online exhibition platforms. Online exhibition platforms have an unlimited reach, in contrast to conventional physical events, which are constrained by venue capacity and location. So it is important to choose a reliable online exhibition platform in order to showcase your brand to a large audience. Your brand can cross boundaries and be available to people in different parts of the world with only a few clicks.
If you want business growth, it is important to consider the opportunities of showcasing your products or services to a global, multi-cultural audience. This increased brand presence around the world also creates opportunities for prospective partnerships and international collaborations. With the cross-cultural connections made possible by virtual exhibits, your company may better understand international markets and adjust its offerings to satisfy the demands of various client segments.
Reason 2. Cost-Effectiveness and Time Savings
Physical exhibition participation is often costly. The expenditures may add up quickly, from obtaining a great booth space to designing and building an eye-catching exhibit. Also, there are costs for the team traveling to the event, as well as for lodging, shipping, and logistics. If you choose an online event platform in order to host online exhibitions, all of these cost responsibilities can be considerably minimized or even removed.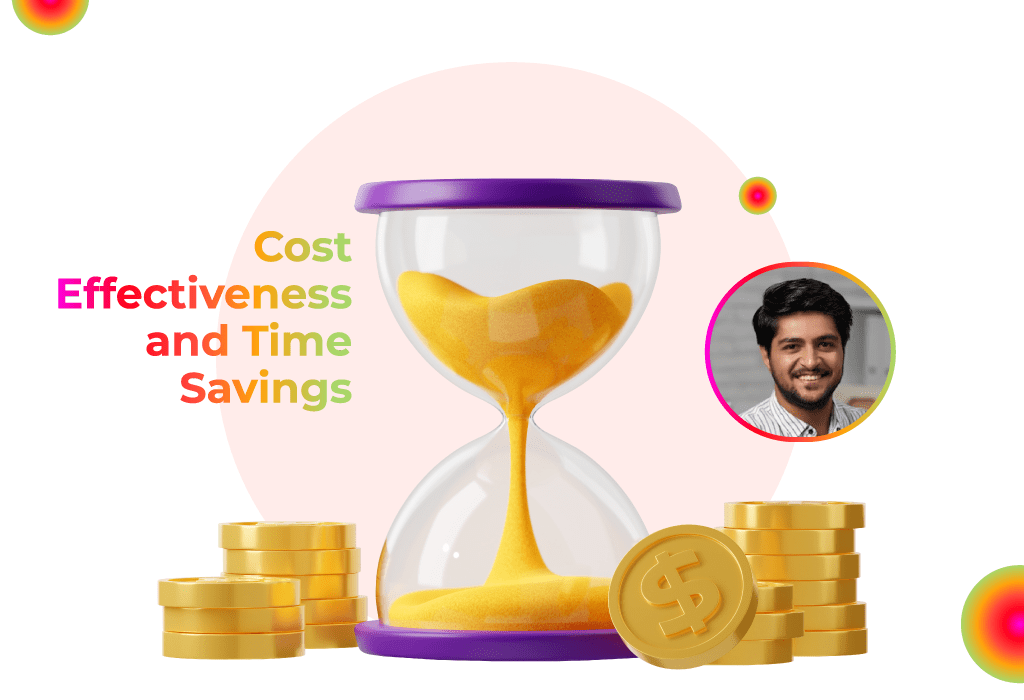 Best online exhibition platforms such as Mixhub provide a cost-effective alternative, making it accessible to businesses of all sizes, including startups and SMEs. As no actual products or people need to be present, setting up a virtual booth is less expensive. The time savings are equally remarkable.  Your staff can concentrate on honing the presentation of your business and interacting with guests as there is no need to travel or spend time making logistical arrangements. This streamlined approach boosts efficiency and ensures that your brand receives the attention it deserves without any unnecessary distractions.

Reason 3. Enhanced Interactivity and Engagement
The wide range of interactive tools available to you is one of the most notable aspects of the best online exhibition platforms. These tools give a degree of involvement that is more than what can be offered by conventional physical events. You may develop a compelling immersive experience that enthralls visitors and maintains their attention with live chat features, virtual product demos, and multimedia presentations.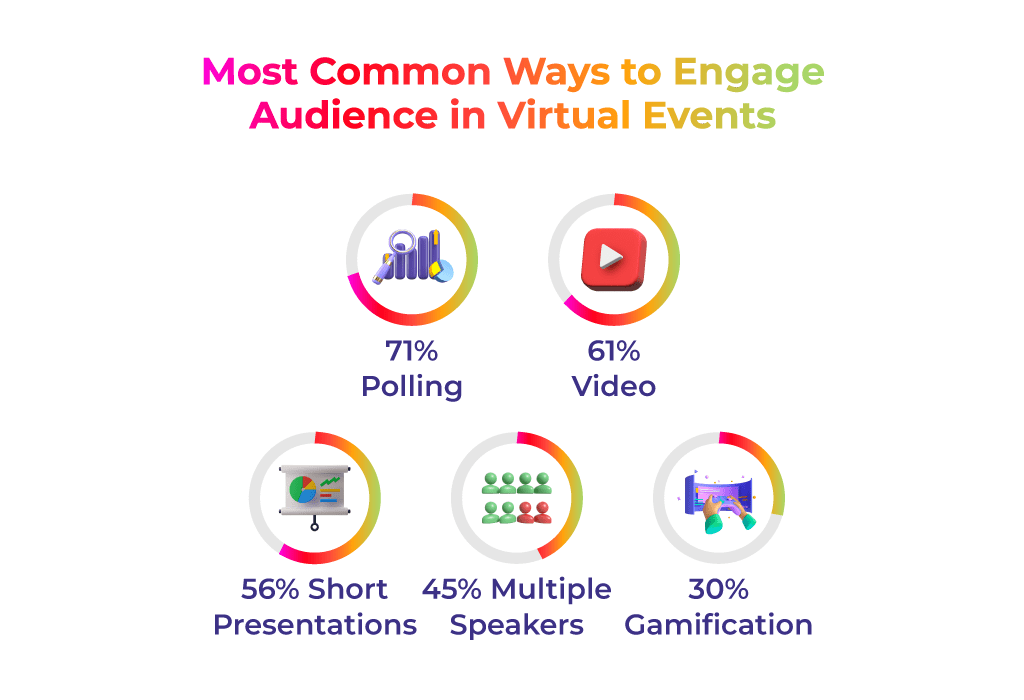 Are you interested in learning how to create and host an interactive and engaging online event? If so, feel free to read our blog.
You may quickly respond to potential consumers' questions and concerns by interacting with them in real time. This immediate feedback loop builds brand confidence and trust, which may lead to conversions. You may demonstrate your services in a dynamic and aesthetically appealing way through interactive features and booths, making a lasting impact on participants. Building long-lasting client connections is more likely when visitors feel appreciated and connected to your business thanks to personalized experiences catered to specific preferences.
Reason 4. Valuable Data Insights offered by Digital exhibition platforms
Traditional exhibitions often leave businesses in the dark when it comes to measuring their success. Accurately measuring attendee behavior, engagement levels, and event performance can be difficult. Online exhibition platforms such as Mixhub, however, provide useful data insights that enable marketers to make wise decisions.
Digital exhibition platforms offer in-depth measurements and analytics that monitor many elements of visitor engagement. You may keep track of leads produced throughout the event as well as booth visits, session attendance, and content engagement. With this information at your disposal, you can analyze the success of your brand and the efficiency of your virtual booth in great detail. You may find your strengths, limitations, and potential improvement areas by analyzing this data. You may adjust your marketing tactics and maximize the exposure of your business in upcoming online exhibits.
Reason 5. Sustainability and Eco-Friendly Approach
Businesses are forced to implement eco-friendly operations as the globe places more emphasis on sustainability and environmental protection. Conventional physical exhibitions have a high carbon footprint because of the travel, energy, and garbage production. Your company may move toward sustainability and demonstrate its dedication to environmental responsibility by using the best online exhibition platform.
Online exhibits have a substantially lower environmental effect because they are digital. There are no physical materials, venue structures, or energy-intensive logistics needed. Participants may access the event without leaving their homes or workplaces, which minimizes travel and lowers greenhouse gas emissions. Using an online platform shows your brand's commitment to environmental stewardship. It appeals to eco-aware customers who favor companies with sustainable business practices.
Reason 6. Extended Exhibition Lifespan 
Just a few days are often allotted for a traditional physical show, which reduces the window of opportunity for interactions and lead generation. On the other side, online exhibits extend the lifespan of your brand's presence. Attendees may continue to view your content through your digital booth even after the live event has ended.
Visitors can return at any time to your virtual booth thanks to the extended display duration. Consumers may check product details at their convenience, watch webinars again, and interact with your brand's content. The likelihood of producing post-event leads and conversions improves due to the longer exposure. Furthermore, online exhibition platforms frequently preserve event content. It helps interested parties who were unable to attend the live event

Final Words:- 
It is quite clear what benefits there are to exhibiting your brand online. Online exhibits provide a wealth of advantages that traditional physical events just cannot match, including unmatched global reach, cost-effectiveness, greater participation, and priceless data insights. Your company may transcend geographic limits, make a lasting impact on guests, show environmental responsibility, and forge deep connections with potential buyers all over the world by utilizing the best online exhibition platforms. Therefore take advantage of the chance to enhance your brand's visibility by having an online expo right away!
FAQs
Q1. What is an online exhibition platform?
An online exhibition platform is an online software or service that allows businesses and organizations to host online trade shows, conferences, exhibitions, and events in a digital environment.
Q2. How does an online exhibition platform work?
Exhibitors can typically create and customize their virtual booths using a web-based interface provided by online exhibition platforms. Through their web browsers, attendees can access the platform, where they can navigate the online event, engage with exhibitors, watch live or recorded sessions, and connect with other attendees.
Q3. What features should I look for in an online exhibition platform?
When selecting an online exhibition platform, consider the following features:

Customizable Virtual Booths: Look for platforms that offer exhibitors the ability to create personalized and branded virtual booths to showcase their offerings effectively.
Interactive Tools: Ensure the platform provides interactive features like live chat, video conferencing, webinars, and Q&A sessions to encourage engagement.
Networking Opportunities: Look for networking functionalities that allow attendees and exhibitors to connect and communicate with each other easily.
Analytics and Reporting: Access to detailed analytics and reporting tools is essential to measure the event's success and make data-driven decisions for future events.

Q4. Can Mixhub host large-scale events?
It's true that Mixhub is built to manage sizable events with a sizable number of exhibitors and attendees. Even with high traffic and user engagement, this platform uses scalable infrastructure and cloud-based solutions to ensure a seamless user experience.
Q5. How secure is Mixhub?
Mixhub places a high priority on security. To protect confidential information and stop illegal access, this platform uses industry-standard encryption technologies. Attendees and exhibitors alike can feel secure knowing that all of their communications and interactions will be kept private.