Successful event planning is a big hustle as it takes a lot of time and effort. When it comes to hosting a successful hybrid event which is a combination of both in-person and virtual events, the hustle gets bigger. However, a little assistance from an especially designed hybrid mobile event app can be helpful to eliminate many hustles and improve many event planning processes. Event apps work as a one-stop solution to maximising attendees' engagement and overall experience.
The advantages of using a mobile event app are seamless ranging from enhanced communication, gathering of important attendee data, and access to other event information. However, choosing the right event app that aligns with your requirements is crucial. So, here in this blog, we are going to discuss all the major advantages, how to choose an event app for hybrid or in-person events, what are the important factors to look for, and other necessary aspects of it.
What is a Hybrid Mobile Event App?
The whole world has witnessed technological advancements and how technological development has revolutionised the planning and execution of event industry operations. The mobile event app is a specially designed application that helps the host or event organiser to put all the necessary information about the event on it. Information such as speaker bios, itinerary, event timings, sessions, and events can be utilised as an event registration and ticketing platform too. Whereas an attendee can check out all the information by just clicking & opening the application and getting registered. Moreover, a hybrid event app also capable of running polls has live chat rooms, breakout rooms, and 1:1 networking opportunities to stay connected with virtual and on-ground attendees.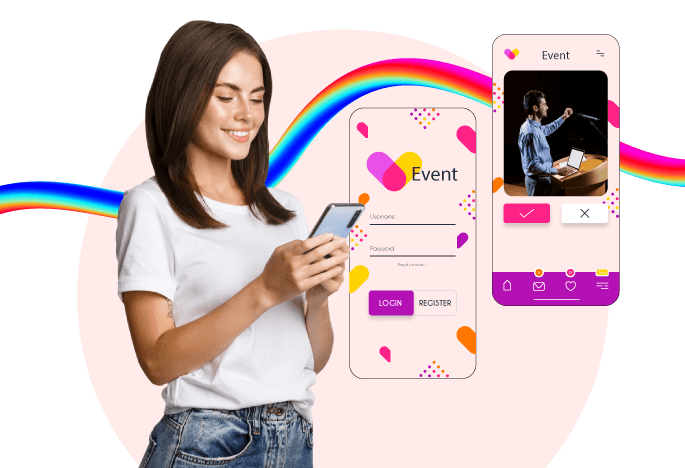 "In simple terms, a hybrid mobile event app is an especially curated application just like any other mobile app compatible with ios and android. It is meant to increase real-time communication between event attendees and hosts. Furthermore, an event app can be customised with a wide range of features to increase participation and engagement in any conference, trade show, export, or any other event while helping in multi-diverse ways".
One of the primary objectives of the event app prior to the event is to provide effortless access to all the event-related information for your target audience. Let's explore some of the other important aspects of mobile apps for a conference, expo, or trade show and other hybrid event types. But before that let's answer an obvious question: why is there a need for a mobile event app to host a hybrid event?
Why Are Mobile Event Apps Essential When Hosting Hybrid Events?
In a couple of years, the combination of virtual and in-person events is quite acceptable by commoners. With the rising demand for such, a small issue of interactivity and engagement is somehow missing for the virtual audience. Not just that but also the hybrid event is believed to have fewer networking opportunities which are not true. And to fill the gap between that missing element hybrid event mobile application works in that context. So, to answer this question why do you need a mobile app while hosting a hybrid or even any sort of event is hidden in the below features it offers. So, have a look;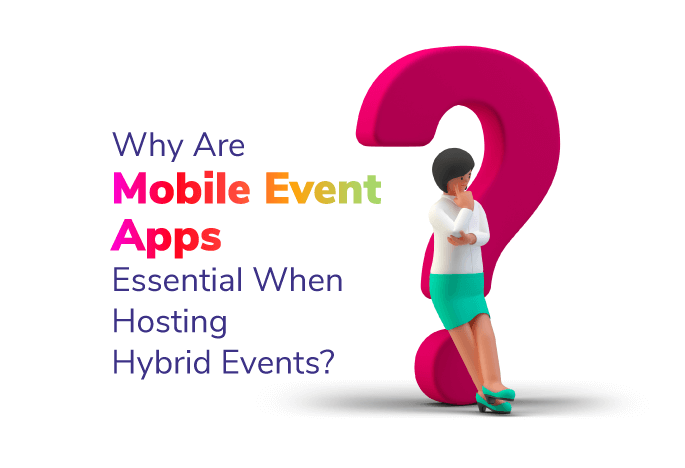 Mobile apps are a crucial aspect of virtual and hybrid events, offering attendees a convenient and easy-to-use platform to navigate event information.
Organisers can use mobile apps to personalise attendee experiences with personalised content, recommendations, and offers.
Mobile apps enable networking opportunities among attendees, regardless of their location, and promote engagement through live polls, Q&A sessions, and networking features.
For sponsors and exhibitors, mobile apps facilitate lead generation and engagement with attendees.
Mobile apps provide valuable analytics to organisers and functionality to track attendee behaviour and engagement making them an effective marketing tool.
Moreover, they offer offline access to event information in case of a poor internet connection.
Ensure Your Hybrid Event Success With Mobile Event App
A mobile event app engagement feature can be helpful and can play a big role in ensuring the success of the event. Extensive planning is a must but without any engagement in the event can diminish while your planning. Give your attendees a powerful tool that can increase audience engagement. Utilising the conference, trade show, or expo mobile app is all similar with a few different functionalities. However, all give almost similar functionality like; live sessions, polls, Q&A, and notifications to connect with the event. Some other benefits of a hybrid mobile event app are;
Audience Engagement WIth Social Media Integration & Branding
An event app can be easily integrated with social media where both virtual and on-ground audiences can share memorable moments on social media that can be seen on social media display walls. Additionally, games like scavenger hunts, live chat, interactive polls, and Q&A features can boost interactivity.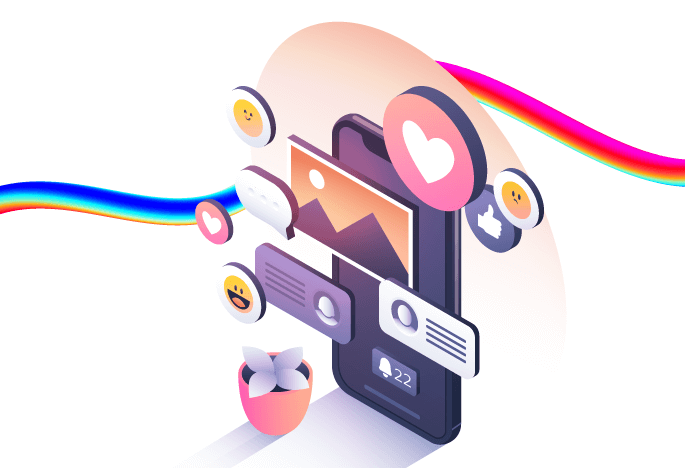 With the use of AR/VR hosts can maximise their branding presence for the virtual and on-ground audience. Furthermore, in the application, they can add brand logos, colour tonne, and sponsor pop-ups for promotion and marketing.
Analytics and Feedback Collection
To measure any event's success whether it's a conference, trade show, expo, fair, or any other, analytics and metrics are quite necessary. A trade show hybrid mobile event app can help you track all the metrics by collecting feedback from the audience after the event. However, by integrating with WhatsApp automation sending custom push notifications and feedback forums to all the attendees can be easier. This approach will bring value as it will analyse the event feedback and will give you smart insights for you to improve your next event and in understanding your audience in a much better way.
Simply Event Check-in Process
For both the in-person and virtual audience check-in process is easier with the mobile conference app, how? As in-person attendees can access QR codes on their smartphones for quick and easy check-in at the entry point. Whereas the virtual attendees can access the event virtually by just logging in to the app. This is a healthy approach and the most significant approach to boost event management.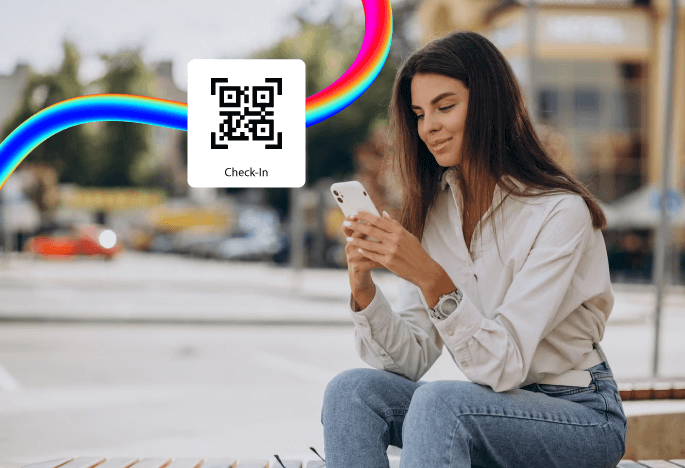 Establish Effective Communication Channels
An effective communication channel is an important consideration in an event. A hybrid mobile event app is the best way to establish that, as here you can make any announcements in real-time to make your attendees stay updated. Also, push notifications, reminders, and session updates can create a sense of urgency. Additionally, it can also save a lot of time and effort with automation as well as the opportunity to link all the sponsors, exhibitors, guests, and speakers is an added advantage. 
Now moving to our next section, to understand what features are required in a hybrid mobile event app.
17 Essential Features To Look Into An Hybrid Mobile Event App
A mobile event app can be needed as per the requirement and needs of the host. However, we have concluded the 17 essential features of a hybrid mobile event app are given below.
Event Schedule
Push notifications & Event Reminders
Social media integration
Event messaging
Event surveys and polls
Registration and event ticketing
No Internet Connectivity (Offline mode)
Location-Based Services
Personal Calendar
Event Gamification
Analytics and Smart Insights
Customizable branding and design
3rd Party Integration
Multi-language support
Real-time audience polling, Q&A, Live chat, and Networking opportunities.
virtual networking lounge with video conferencing and private chat.
Option to create user profiles with bios and contact information.
Okay! You learned about the features of the event app, but do you know what the special feature requirement is to host different kinds of events? Well, no need to worry we have concluded that too. Keep Reading!
Mobile Event App For Different Event Types; Features and Key Requirements
Requirements are always based on the goal and objective an event organiser has in mind for any event. So, in order to satisfy that a hybrid mobile event app is designed. However, having a basic idea on what are the key features you need to look for is essential.
Mobile Conference App
In a conference, the key feature that you are required from a mobile conference app is that the attendees can navigate through the schedules of different meetings and sessions. The mobile conference app must be capable of providing real-time updates on every change in terms of venue and schedule. In simple terms, it should carry all the information attendees should need like speaker bios and the latest information with networking opportunities.
Expo Mobile App
In general, expos are hosted and organised in a large venue where hundreds of exhibitors showcase their products. In a large venue, attendees can find it hard to find their favourite exhibitors' stalls and booth information. So, integrating a floor plan or navigation (3D wayfinder API) in the expo mobile app is useful. Also, provide real-time updates of any changes and a list of exhibitors' participation. This type of app is also known as an event-planning app.
Trade Show Mobile Apps
Trade shows the mobile app is essential for attendees for a wide range of reasons. First and foremost for the navigation of the different exhibitors and stalls, second for the viewing of the product information and latest innovation and range of innovators' products and services. Additionally, from the event host's perspective, a trade show mobile app is also necessary as they can showcase the sponsor's deals which can be helpful to maximise revenue. Additionally, real-time notification and networking opportunities elements make it more suitable.
Hybrid Event App
Above mentioned three kinds of different event apps for the different needs of the host and requirements. However, to cater to the simple needs of an event, a hybrid mobile event app is a must with simple features like improved communication, enhanced engagement, and streamlined logistics. By using a hybrid mobile event app, event organisers can take advantage of the best of both native and web-based apps to deliver a truly immersive and engaging event experience.
If you are also looking forward to giving your attendees enhanced engagement and networking opportunities in the simplest way. A hybrid event is for you. Book a free demo now! With Dreamcast learn more about it.
FAQs
What's a hybrid mobile event app?
A hybrid mobile event app is an especially designed software or an application that is compatible with both web-based and smartphones and developed to enhance the attendee experience at events. It provides event information, networking, and engagement activities.
What is an example of a hybrid mobile app?
A hybrid mobile app is a simple custom application that combines features of both native and web-based apps. Examples of popular hybrid mobile apps include Uber, Instagram, and Twitter.
Why Are Event Apps Getting So Much Attention?
Event apps are getting a lot of attention because they offer an easy way to enhance the overall attendee experience. It provides a digital platform that contains event information, networking, and engagement activities, and event apps can help attendees make the most of their time at events.
Can I customise the event app?
Simply yes, most event apps can be customised based on the requirements of the event host. You can typically customise the app with your event branding, add your own content, and choose which features to include.
Why are hybrid event apps the future?
Hybrid event apps are the future because they offer performance and functionality combined with flexibility and cost-effectiveness. With hybrid event apps, event organisers can deliver a seamless and engaging digital experience to attendees, regardless of their device or platform.