One of the most popular channels for fast communication nowadays is WhatsApp. The business version of the software has revolutionized how companies interact with their clients. Customers can now easily contact their favorite companies and get answers to their issues without having to stand in line for hours or make many phone calls thanks to WhatsApp for events. The long-standing communication barriers between businesses and customers have been eliminated by WhatsApp. Businesses of all sizes may now make use of WhatsApp Business API's several useful features, including the shared team inbox, bulk notifications, WhatsApp template messages, and—most importantly—WhatsApp automation.
Customer satisfaction may build or break a customer's engagement with your firm in the event sector. Customers who contact your company anticipate prompt replies. Failure to do so might be very costly to your company. Poor customer service is regarded as one of the main causes of customers' annoyance and frustration.
What Does WhatsApp Automation Mean?
The term "WhatsApp Automation" describes the use of APIs or AI-driven technology to fully automate every interaction, message, and conversation on the WhatsApp App. The system can send and receive messages, add new contacts, answer consumer questions, and broadcast messages to many contacts all without human help. Event planners may now use the WhatsApp Business API to automate the full conversion process, including message flows. To automate interactions and the entire organization, the WhatsApp Business app may be integrated with an event management system or automation software.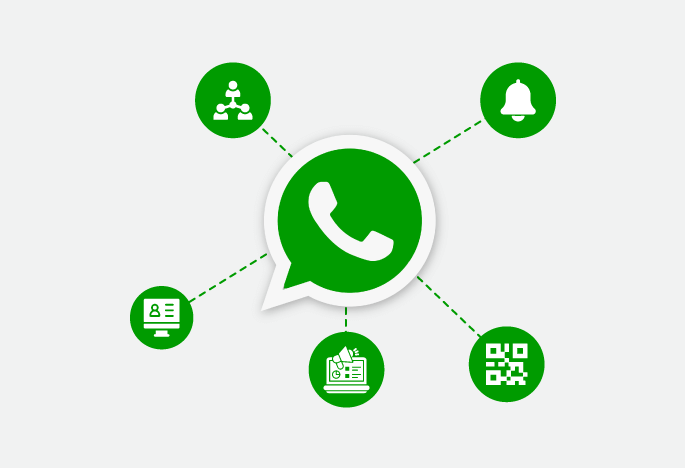 Event planners may increase their audience, advertise events in advance, sell tickets, and even reply to client messages after hours by incorporating WhatsApp business automation into the event management system. With the help of WhatsApp for events, Customers' experiences with your brand will be improved and made better by how quickly and effectively your company responds to their inquiries. You may set up auto-replies for your company in one of two ways: by utilizing WhatsApp's business APIs and WhatsApp business
Using WhatsApp's business APIs
You may automate your discussions and deliver timely notifications using the WhatsApp Business API for events. You may automate FAQ replies with the use of a WhatsApp Chatbot. Additionally, you may contact consumers around the clock.
In-Person, Hybrid, Virtual
Create an Extraordinary Event Experience
Across All Event Formats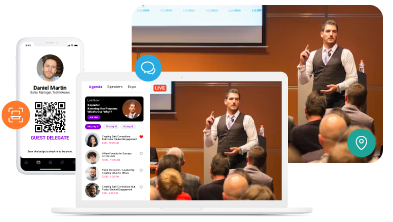 Using WhatsApp Business
You can reach more consumers through WhatsApp Business automation. Important notifications may be sent out, and you can also get feedback from them. It even has a live chat feature. It may also be used to create "away" messages. In this method, you may let them know that you're not accessible right now but will be right back.
Boost Your Event With WhatsApp Automation
Most event planners and companies use WhatsApp's automation and communication tools to remain ahead of the competition in this competitive market. They are able to converse and engage with the audience directly. It is also the best instrument for ensuring the effectiveness of any company's marketing and promotion efforts. Consider WhatsApp automation for events for a variety of reasons, some of which are listed below.
Send Event Invitation Message with WhatsApp for the event
With this event marketing solution, companies and event planners can now send event invitation messages to a large number of recipients. You may include interactive components, such as a CTA, to your automated invitation message with the aid of WhatsApp automation for events. This is a fantastic way to tell those who are considering using your service or buying your product about your company and its specifics.
In-Person, Hybrid, Virtual
Create an Extraordinary Event Experience
Across All Event Formats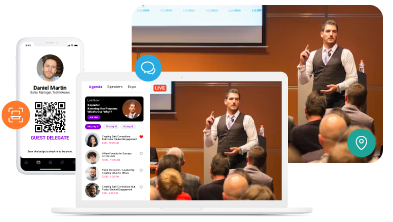 Lower Cost of Marketing
The majority of event planners utilize WhatsApp for events as a marketing strategy since it enables them to communicate with their target market and effectively advertise their events. WhatsApp is the ideal tool for both small and large businesses that want to concentrate on their services and goods. WhatsApp marketing is a low-cost marketing alternative in terms of marketing expenses. You can use it to connect with your target market, increase sales, and build strong bonds with potential customers.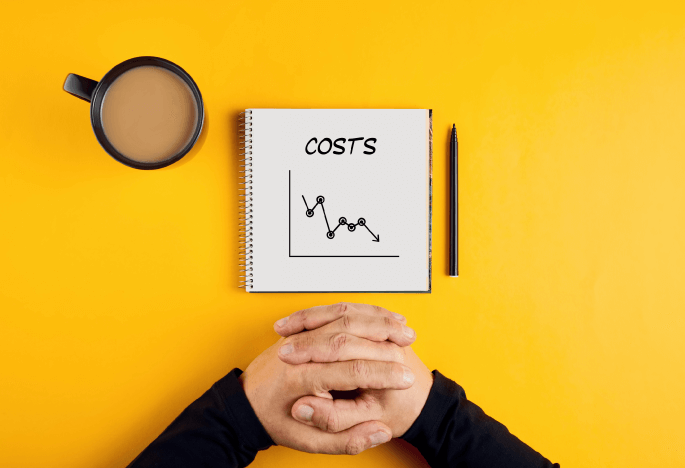 Boost Audience Engagement
One of the most important components of an offline or online event is audience involvement. A lack of audience participation might ruin the entire presentation. That's why even organizers include different elements in their events to maximize audience participation and engagement such as WhatsApp for user engagement. Using WhatsApp-based features, event planners may boost audience participation at their events. Attendees may interact and engage with hosts, sponsors, etc. in real-time thanks to intelligent WhatsApp-driven communication. Event planners can use this technology to provide the agenda of the event to guests via WhatsApp for events. Additionally, it benefits marketers to get audience feedback after each session. So you can also maximize audience engagement and interaction at your On ground events or virtual events by using this tool. 
RSVP Management
Digital invitations with QR codes are available through WhatsApp for events. You may offer a pleasant experience to your guests using event RSVP Management. WhatsApp may be used to send direct invitations to everyone you want to come to your event. Additionally, you may utilize WhatsApp chats to ask attendees to confirm their attendance. You may add your whole invitation list to your Whatsapp using your mobile device. On your mobile WhatsApp, you may manage all of the adding, erasing, and other features. With the help of this tool, you can manage the +1 for the visitor during the event with ease. Using WhatsApp's event solution makes management simple for the hosts and event organizers.
In-Person, Hybrid, Virtual
Create an Extraordinary Event Experience
Across All Event Formats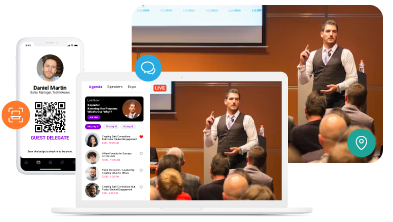 Event Ticketing Management
The majority of event planners in this digital age utilize WhatsApp for event tickets in order to shorten lines. Attendees may purchase their tickets for an event via WhatsApp without spending hours in a huge wait. Additionally, the right WhatsApp Business API supplier may assist you in creating digital event tickets. Participants can get the booking confirmations through email, text message, or WhatsApp. Tickets printed on paper won't be required. Therefore, you may use QR codes on the attendees' digital tickets to let them inside the event. You can affect the outcome using the real-time statistics WhatsApp shares with you.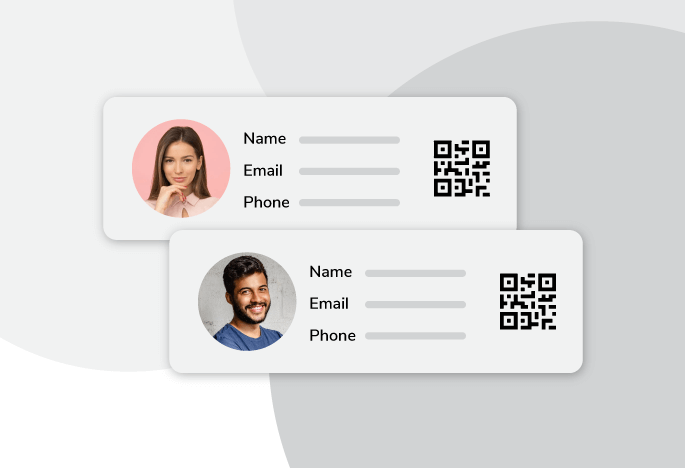 Collect the Feedback from the Audience via Whatsapp for events
A very important part of any event is getting pertinent feedback from the attendees. It not only makes your audience feel important but also aids in the analysis of the effectiveness of your event. WhatsApp for events can help you to collect feedback from the audience and understand them. Making your audience provide feedback, however, may be a tiresome process because most people choose rapid fixes over laborious ones. Bring the element to WhatsApp to quickly and easily collect feedback from the general public.
Send Push Notifications and Reminders
Another typical application of WhatsApp for events is to send notifications and reminders. These may also be pre-programmed to be sent out at particular times, whether it's a reminder for a free service that's about to expire or a discount coupon that is. For instance, you might inform your target audience about your next event via an automated WhatsApp message. This will help you effectively raise brand recognition and improve viewing.
It's simple to think of WhatsApp as just another messaging app, but it has a variety of features—including automation—that may make it a powerful sales tool. To get the most results from your WhatsApp marketing campaigns, be smart, pay attention to your audience, integrate with a CRM, and automate as much as you can.
In-Person, Hybrid, Virtual
Create an Extraordinary Event Experience
Across All Event Formats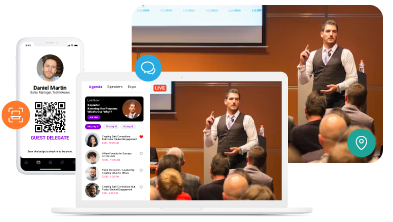 Send Promotional Messages
You can easily communicate sales and promotions with clients using WhatsApp automation. Promotional communications are those that give discounts and incentives because they increase sales. Inform clients of the discounts and offers that are available to them via automated WhatsApp messaging. WhatsApp messages are opened often. Active app users would prefer WhatsApp to any other channel for promotional messages to be delivered.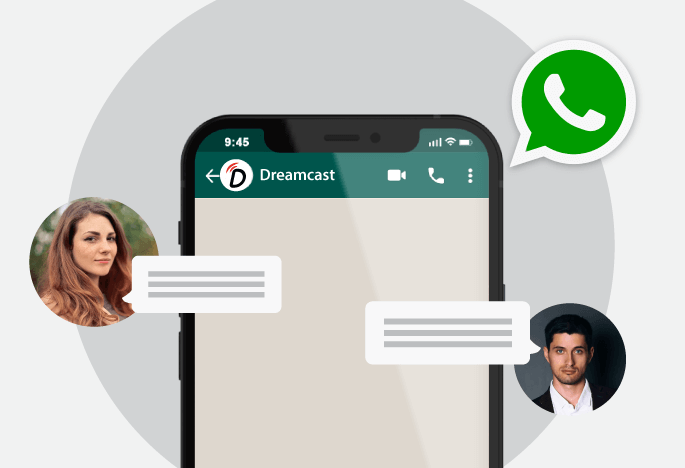 Database Marketing
Before the event, increase your sales with effective database marketing powered by WhatsApp. Create campaigns that are enhanced with components of multi-format media that effectively increase engagement. Additionally, campaigns or communications may include CTAs and fast response buttons to make them more engaging. And as you are aware, interactive elements are the best at capturing consumers' attention. This feature, like previous WhatsApp solutions for events, can be tracked because the entire campaign can be kept track of from the backend.
Customer Support
Automating customer service on WhatsApp can boost the brand's net promoter score since satisfied consumers like to spread the word about the businesses they adore. Businesses can provide 24/7 customer care before, during, and after the transaction thanks to WhatsApp automation.
In-Person, Hybrid, Virtual
Create an Extraordinary Event Experience
Across All Event Formats