Do you remember how we used to plan and strategize effective promotion tactics to amplify our event attendance? And the ways we adopt to boost engagement and networking at our in-person events? The adoption of virtual event technology, looked like a far-fetched idea, a year or two ago. 
But, with the advent of the global pandemic, a drastic shift in ways of hosting events has taken place. Today, almost every business has taken their offline events in a digital landscape or attached a virtual component to their small in-person events. It not only resulted in keeping the business running in challenging times but proved quite beneficial too. Virtual and hybrid event formats offered enormous benefits. Right from extended event reach to maximised attendance and substantial ROI, the digital event formats have much more to offer.
The resilience of virtual event formats ensured maximum attendance at the event. These formats enable attendees to partake in virtual sessions right from the comfort of their own homes via any device supported by an internet connection without having to visit the event location. Whereas hybrid events offer the flexibility to attend the event virtually or either by visiting event venues. 
Additionally, virtual and hybrid event formats enable attendees to access the content on-demand at their convenience, if they missed it out. A missed attendee might be a potential prospect who asked for your content on-demand, keep that in mind! 
The event format has broadened the gateway to reach more and more attendees globally effortlessly. Today, connecting and networking with global delegates is just at your fingertips. You no more require to pack your travel bags and book tickets to attend an event or have a meeting with global business partners. Virtual and hybrid events cater to all. 
But, in order to achieve maximum out of the event formats, you need to promote the event right way. Create effective strategies for promoting and marketing your virtual and hybrid events and boost attendance, participation and engagements at your event effortlessly.
We have uncovered some effective strategies for marketing virtual and hybrid events. 
In-Person, Hybrid, Virtual
Create an Extraordinary Event Experience
Across All Event Formats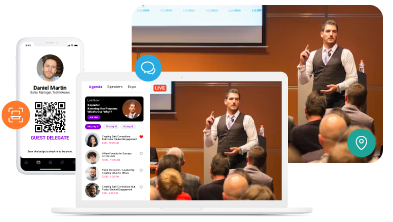 Effective Marketing Strategies For Promoting Your Upcoming Virtual & Hybrid Events
#1. Leverage Social Media Platforms
Sharing posts, stories, video clips about your upcoming virtual and hybrid events on multiple social media platforms is an effective promotion tactic that always works. Social media channels have an end number of active users around the world. Promoting anything on social media reaches a wide array of audiences instantly. Promote your upcoming events on the most popular social media channels like Facebook, Instagram, Twitter, Snapchat, YouTube, and so on. You can even try your hands on LinkedIn if you are promoting a corporate conference or webinar.
Launch a teaser of your upcoming event and share it across social channels. It helps in making your attendees excited about your event while giving them a glimpse of what the event holds. Share it as much as possible to extend your reach and market your event. 
You can even opt to build a community on online channels months prior to your event date. It helps in engaging the attendees with meaningful discussions even before the event starts. Thus resulting in amplified attendance at the event. 
#2. Extend your event reach by utilising the right event hashtags
Create eye-catchy hashtags for your event and utilise them on each post you share. Ask your potential attendees to use the relevant hashtag of an event whenever they talk or share anything related to the event. It helps in maximising event reach effortlessly. One of the effective promotion techniques to market your virtual and hybrid event effortlessly. 
#3. Influencer marketing for hybrid events and virtual events
Reach out to the most promising and influential influencers on social media. Today, influencers have a lot of following and people love them for their content. Approaching an influencer in your budget to market your virtual and hybrid event is a sure-shot way to boost event attendance. But, before finalising the one, do thorough research and look for an influencer that is most relevant to your niche to reach the right attendee segment. 
#4. Word-of-mouth marketing by sponsors, exhibitors, and speakers
Even your sponsors, exhibitors, and speakers have a massive following of people who love their content and products. You can ask your speakers, sponsors, and exhibitors to talk about upcoming virtual and hybrid events on their personal or corporate profiles. It helps in motivating their followers to be a part of the event. Thus resulting in maximising event attendance. 
#5. Promote your virtual and hybrid events on event websites
Marketing your virtual and hybrid events on event websites is one effective promotion tactic. Attendees always look up the event website in order to get the relevant information about the event such as date, time, speakers, registration process, and so on. Direct your social media attendees to event websites in order to promote your event more effectively. 
#6. Email marketing never goes out of style
Another effective marketing strategy to promote your upcoming virtual and hybrid event is email marketing. If your registered attendees have enabled you to receive notifications from your end, they are likely to attend an event. Push emails to them regarding the information about your upcoming event and offer them a chance to grab a free gift or coupon on an early bid. It will help in making them excited about the event and tune in as soon as the event starts. Make your emailer's eye-catchy and attractive to grab audience attention instantly out of many emails in the inbox.  Creating visually appealing and effective announcement emails about new launches or any other kind of marketing email that should attract the recipient's attention is essential.
#7. Give out sponsored merchandise gift bags
One of the very effective promotion techniques is to give branded merchandise gift bags to attendees. Branded gift bags by sponsors always attracts attendees and as a free marketing tool. Distributing gift bags is one such marketing technique to ensure successful virtual and hybrid events.
#8. Talk about the upcoming events during Live virtual and hybrid event
If you have the next virtual or a hybrid event lined up in a few weeks or months, you can talk about it in your current event. It is an effective way to promote your upcoming event in front of ample audiences. Thus leaving them excited for what next.
#9. Partner with another brand 
Co-branding in virtual and hybrid events is an effective marketing technique to reach two segments of the attendees instantly. Investing in event promotion is one of the success mantras to upscale the virtual event experience.
Over To You
In the above-mentioned article, we have mentioned a few effective marketing strategies to promote your virtual and hybrid events. Keeping all the promotion tips in mind, you are now ready to promote your upcoming event and reap maximum benefits out of it. What are you waiting for? Go ahead and start planning your marketing strategy for virtual and hybrid events with us!
If you are looking for comprehensive solutions for your virtual hybrid event launch, Dreamcast offers endless possibilities. Enquire now!