Video conferencing and virtual event solutions are a significant part of the corporate world today. The working environment in today's world is moving towards a model where multiple offices and remote workers are becoming a prominent part of most corporates which creates the requirement of a fast, reliable, and flexible mode of communication like video conferencing.
However, it is also important for all of us to identify the efforts and development of the technology and event tech industry by prominent companies. It has always been an integral part of corporate to set up a system where every employee and team can be connected irrespective of their locations. From a border perspective, video conferencing is the technology which offers a seamless interaction opportunity as the teams can conduct their meetings and share ideas, thoughts and other important discussions. Moreover, it will help in overall productivity.
In this article, we're going to take a look at what exactly video conferencing is and how live video conferencing services are being used in the corporate world and the various advantages and disadvantages of the technology in today's world.
Definition 
Video conferencing solutions provide a live, visual connection between two or more people who are usually located in separate locations. The purpose of live video conferencing services is essential to emulate face-to-face conversations over the internet. 
Depending on the live video conferencing vendors, the solution can range from very simple solutions to really complex and powerful solutions. The most basic solutions usually provide transmission of basic static images and audio over the internet. At its best, live video conferencing solutions are sophisticated systems that provide real-time communication using live HD video, high-quality audio, and tons of collaborative features.
Host an Engaging LIVE Stream
Connect with the Industry's Most Experienced
Live Streaming Service Providers.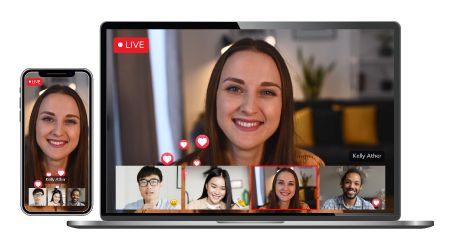 Live Conferencing vs Live Video Streaming
It is common for people to get confused between live conferencing vs live video streaming. While both of them involve live video, they're actually two different use-cases of the live video technology.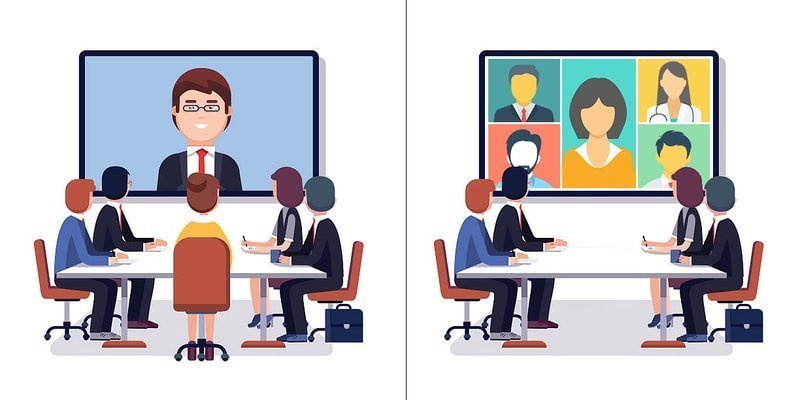 While social media live streaming is used to communicate with online audiences by brands all over the world, they use completely different systems for their internal video conferencing tools. The reason for this is that live video conferencing service providers focus on not just the live streaming video part but also the collaborative features which are essential for communication. The bitrate in live video streaming solutions is usually better than the bitrate of live video on the live video conferencing tools.
Advantages 
As you can image, there are a lot of advantages for corporates when they use the services of live video conferencing companies. Let's take a look at some of the significant and prominent benefits of using video conferencing tools for communication and collaboration.
1. Saves time and resources –
For any businesses to run properly, it is important for efficient and effective communication to exists in the organization. In the earlier days, the only way different offices could communicate effectively was by having meetings together, which required the employees to travel a lot.
While conference calls were a possibility even in those days, it is not as effective as live video conferencing services these days. By providing a cheaper and more effective way of communication, video conferencing tools save a lot of time and resources for the company.
2. Increases productivity of the employees –
Live video conferencing companies and video conferencing service providers have made internal communication easier, faster, and more convenient than ever. Due to video conferencing tools, anyone or any team in the entire organization can communicate with any other team or employee. This instantaneous and effortless communication has effects that carry over into the productivity and performance of the employee.
By using the services of video conferencing companies, most businesses are not only improving their overall internal communication but are also increasing the productivity of each employee in the organization.
3. It has a lot of intangible benefits too –
Along with increasing the productivity of the organization in general, live conferencing tools also have a lot of intangible benefits for any organization such as a strong sense of community due to the personal face-to-face conversation instead of only hearing the voice of the person they're communicating with.
Host an Engaging LIVE Stream
Connect with the Industry's Most Experienced
Live Streaming Service Providers.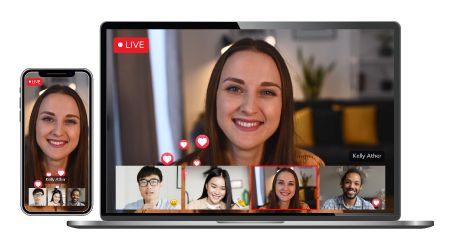 4. Video Conferencing Improves Communication
No matter what the size of the organization is. Clear concise and effective communication is what the requirement of every project is so that it can be completed properly and delivered timely. A Study suggests that visual memories are the strongest memories, and samely visuals are faster to process compared to any audio or text, as it takes a little sense of personalisation in it. Video conferencing effectively initiates quality communication and enhances the degree of understanding. 
5. Helps build relationships  
Just like in-person meetings, video conferencing also gives you the chance to build and foster relationships. As emails, chats, and audio calls can't make it possible to build that trust and level of connection live video conferencing did. The technology of video communication has replaced the need to travel from one to another city for meetings with your clients or to coordinate with your employees and teams. As it helps bridge the gap, there are many times you may need to travel for holidays or for some important purposes, still from any city you can attend your important meetings. When you are always available for someone to help and that too in this effective way, it is easier for you to build relationships with people and that brings harmony to the world. 
6. Bring Collaborations
Video conferencing comes up with lots of features that increase the overall interactivity of connected people. How? As said the features are so many like you can be able to share your screen, can edit the document in real-time and whatnot. Additionally, you can video conference with your other partners or bring them into the team discussion like an expert panel and can examine or share any type of document. Nowadays, everyone is not working from the office only as there are new types like hybrid, part-time, online, freelance and other modes have been developed. Making it possible for a collaborative meeting and discussion from their respective locations. 
7. Improves Productivity
Video conferencing is more effective. As it saves everyone's time because of the clearer communication provided by vocal and nonverbal cues, screen sharing, real-time collaboration, and the ability to join from any geographical location. Video conferencing can be scheduled at a fixed time and being on time increases productivity while saving lots of time and also the ability to work flexibly with this increases willingness. Additionally, it is now easy to clear any query of your client and a reduced doubt client can be the best one to potentially purchase making it possible to increase your business ROI.
Host an Engaging LIVE Stream
Connect with the Industry's Most Experienced
Live Streaming Service Providers.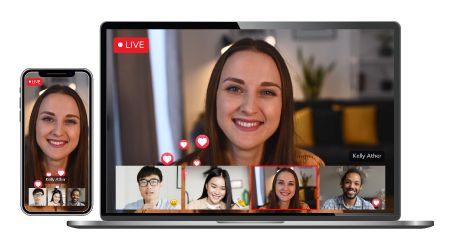 8. Makes Meeting Easier 
Scheduling meetings can be challenging if there is a lot of travel involved within your team. But the very own nature of video communication makes it possible to connect with the team and join the meeting practically from anywhere. Regardless of the location they just need a system or gadgets like a laptop or a smartphone with an internet connection. These two configurations are enough to make them connected from the airport, hotel room, taxi or other places. Nowadays, there are features like integrated calendars and workflow sheets for the team. 
9. Manageable Records
Face-to-face meetings can be sometimes hard as well as making notes with an audio call is quite difficult. While with live conferencing you can record it and share it with your team, so they can refer to that video for any doubts or queries effectively. Additionally, if there is someone who was absent from the meeting can get the insights and help you avoid multiple scheduling of meetings leading to saving time and effort. 
10. One-Stop Solution

Video conferencing is quite an effective one-stop solution for those who want more than just having meetings with the platform. Simply referring to the effectiveness and the feature-loaded video communication technology. How? As the tools of this technology make it possible to enable live events like webinar panel discussions or even product launch events too. The ability to share video messages and thoughts virtually leads to a greater capability of targeting the audience of the world as well as your team and employees.
Disadvantages
As it the case with any technology, video conferencing also doesn't come without a few caveats and disadvantages. Even though most people would correctly argue that when it comes to video conferencing solutions, the advantages weigh out the disadvantages but in order to have a well-developed outlook on anything, it is important to see both sides of the argument. 
Every technology has pros and cons, so why are we here with the disadvantage of video conferencing? Make you aware of the very fact whether this video communication technology will be helpful for you or not.
Here are a few disadvantages that are typically faced by corporates when it comes to using the services of live video meeting service providers.
1. It still lacks the personal touch of face-to-face communication –
While most conferencing solutions by live video conferencing vendors come really close to emulating the experience of personal face-to-face communication online, there's still a small gap between the effectiveness of video conferencing and a face-to-face meeting.
Most corporates understand this and usually also have face-to-face meetings between teams on important issues. However, whereas these meetings used to be the primary method of inter-organization communication, video conferencing service providers have definitely reduced the frequency of these meetings in general.
Host an Engaging LIVE Stream
Connect with the Industry's Most Experienced
Live Streaming Service Providers.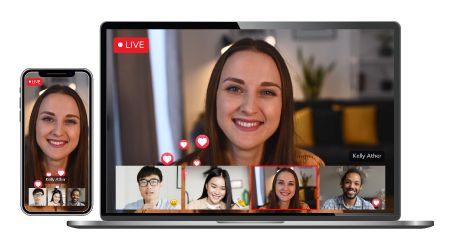 2. Even the best systems can suffer from technical problems –
No technology is impenetrable to glitches and problems. While most live video conferencing vendors provide 24×7 support for any corporate system they install, glitches can still happen, which wastes a lot of time and resources for the company.
3. It has a high initial cost –
Setting up an enterprise-grade live conferencing solution is often an expensive task as most solutions require specialized hardware that also needs to be set up, often at multiple locations. Considering the quality of gear and the expertise needed to set up the entire system, it is natural that the process has a high initial cost. However, most corporates are more than willing to pay the costs as it is recovered within a pretty short time of operating.
The disadvantages and advantages of video conferencing are both parts of technology but how effectively we utilize it in making a significant impact in all our lives is a crucial task. If you are a big enterprise that is looking for a solution which can improve the productivity of your team and make it possible to connect in a seamless way, then this is a great chance for you to adopt the best live conferencing technology.
Conclusion
Video conferencing is one of the best ways of communication for large organizations as they provide an instant and reliable method through which the entire organization can connect, communicate, and collaborate. Not only do live conferencing tools make communication efficient, more comfortable, and cheaper for the organization but they also provide a lot of intangible benefits such as increasing the productivity of the employees in the organization in general.
We hope this blog was informative for you. Keep following us for everything related to live streaming, video conferencing, social media live streaming and other updates!
Host an Engaging LIVE Stream
Connect with the Industry's Most Experienced
Live Streaming Service Providers.