For small businesses, there's no shortage of great Video conferencing solutions that enable them to communicate and collaborate better as an organization.
Video conferencing companies these days create solutions that are scalable and can be used by a wide range of users from small businesses to global corporations. Most of them offer different tiers of services that are meant to appeal to different customer bases.
In this blog, we're going to take a look at the 9 best live video conferencing services for small businesses.
Video Conferencing Solutions
Video conferencing solutions allow businesses to hold various types of online meetings regardless of where the participants of the meeting might be located. Video conferencing service providers solve a key problem for most growing businesses by helping them reduce costs and improve productivity by providing an easier way to stay connected.
It is ideal for businesses that have offices in different geographical areas as live video conferencing solutions provide an easy way for the executives to stay connected and make better decisions together.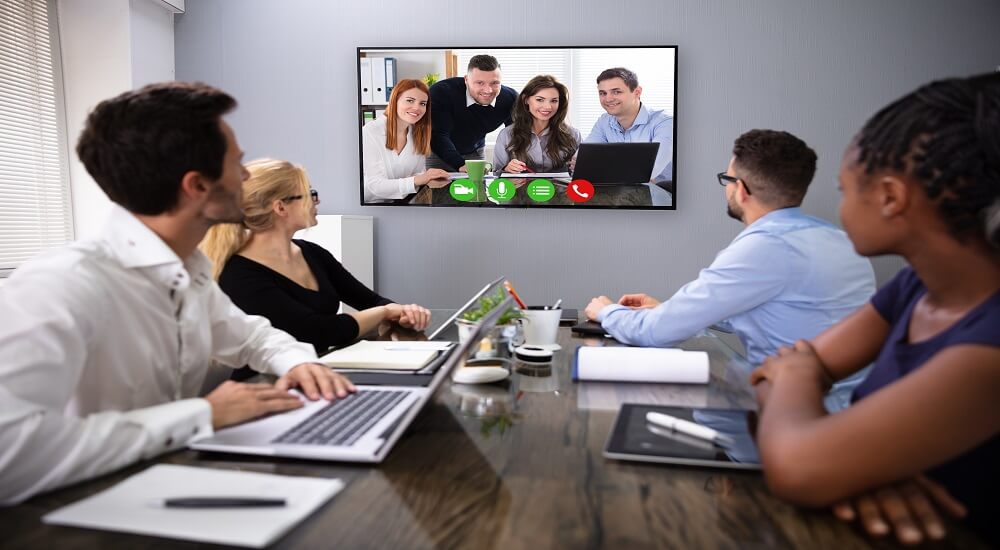 Let's take a look at some of the best web conferencing solutions by live video conferencing vendors.
1. Skype for Business
Created by Microsoft, Skype is one of the oldest video conferencing tools out there. However, due to things like social media live streaming video being very popular these days, the novelty of Skype has definitely dimmed. 
Skype for Business is a product created by Microsoft that allows you to run web conferences over Skype. It can accommodate upto 250 people and the tool can be used to collaborate online in real-time. If you're a small business, Skype for Business is definitely one of the better video conferencing solutions for you.
2. Meet by Google Hangouts
Google Hangouts is one of the most classic video conferencing tools. Meet by Google Hangouts is directed towards businesses instead of personal communication. The tool allows you to hold live video conferences and depending on your plan, the number of people you can accommodate increases. Even though it might not be as streamlined as some other solutions, it is still pretty much perfect for a small business that has just started growing.
3. Cisco WebEx
With features like screen sharing, personal meeting rooms, cloud recording, and more, Cisco WebEx is a full-fledged web conferencing solution from one of the best video conferencing service providers.
There are different levels of usage with capacity ranging from 50 participants to up to 1000! With high bitrate in live video streaming, it also provides one of the best viewing experiences.
4. Zoom
Zoom is one of the best video conferencing companies in the world and its product speaks for itself. Armed with sophisticated features and smart mechanics, it is easy to understand why this particular video conferencing solution is known for its ease of use.
Like most live video conferencing services, Zoom also provides a tiered membership option with different features and capacity limits so that their product can be used by a wide range of customers including small businesses.
5. Join.me
Join.me is not one of the major live video conferencing vendors and is a relatively new solution. It has a free version for individual users where you can host up to 3 people in a meeting but the service also has a business plan that can host up to 250 members in a single meeting room.
6. ClickMeeting
ClickMeeting is not only a great web conferencing tool but a good live video tool in general for your business. It allows you to host web conferences and host webinars both using the same platform. It provides a host of other features like screen sharing and recording of the entire session.
7. Adobe Connect
While Adobe may excel in creating tools for the creative industry, the software giant also has a web conferencing tool in their portfolio. Adobe Connect allows you to host meetings over an online meeting room. You can also record your meetings and re-publish them if needed. There are also a lot of add-ons for the software that can increase functionality and performance.
8. Amazon Chime
Another huge company with a relatively unknown video conferencing tool is Amazon with Chime, a web conferencing tool that helps people to work together in a fast and simple manner. It comes with most of the standard web conferencing features such as screen sharing, video recording of the meetings, etc. It has a pay-as-you-go pricing which can make it choose the right video conferencing service for small businesses that use web conferencing on a rudimentary level.
9. AnyMeeting
AnyMeeting is another great live streaming app that comes with pretty great features such as screen sharing, chat, email invitations and reminders and others. It provides two plans for users – one of them allows you to host up to 10 people in a single meeting while the other allows you to host up to 30. Overall, it is a pretty decent web conferencing tool and particularly useful for small businesses.
Live Conferencing vs Live Video Streaming
A lot of people often think there's very little difference when it comes to live conferencing vs live video streaming. While both of them use the same underlying technology, live conferencing is different from live streaming.
Live streaming video, for example, social media live streaming video is usually a process where one person is communicating to an audience that can engage with them but not truly interact with them.
With live conferencing, the goal is to provide an equal opportunity for everyone in the online conference to contribute and collaborate. This is why the bitrate in live video streaming solutions is usually better than live conferencing solutions. However, live conferencing solutions have better collaboration and communication tools.
Conclusion
There are a lot of web conferencing tools in the market today and a lot of them are particularly made for small businesses. We hope this blog was helpful towards your search for the perfect web conferencing tool for your small business. Keep reading this blog for more details on everything live streaming!
Host an Engaging LIVE Stream
Connect with the Industry's Most Experienced
Live Streaming Service Providers.