The dawn of the era of digital trends like live streaming, virtual and augmented reality, chat boxes, etc., came about in 2017. By the time we reached, the live streaming social network had expanded so much that it was the top digital trend. There is no slowing down of people hosting and streaming live videos for various purposes in everyday life. Be it live stream events on social to live chat sessions with social media influencers, the uses of live webcasting are plenty.
With so many people participating in live streams, one way or another, marketers across the globe have also recognized its potential and put it to use. Marketing strategies these days don't miss out on the digital media marketing trends, especially, live streaming social network. Not only is it an exciting trend, but it is also a sure shot way to reach more audience and drive engagement along with raising brand awareness. Aside from the marketers, the most popular social media platforms also have started providing their live streaming services in the past couple of years. Instagram live streaming solutions, live broadcast on Periscope, live stream on Facebook live and live webcast on Youtube, all are a common part of an average person's digital media experience these days. Live videos are not just more interesting and engaging, they are also faster and easier than reading any text. 
Why Should You Use Live Streaming?
While live streaming has been alive since the 90s, the significance and uses of it have drastically evolved over the years. After the mobile revolution and reaching 2019, the live streaming social network has got the reigns over the creation of this type of democratized content. Now every individual having a smart digital device and an internet connection can easily broadcast live videos to the world. 
Advantages of Live Streaming On Social Media Platforms
Admittedly, social media plays a large part in the popularity of live videos. So let us see the advantages of live streaming on social media platforms to understand the reasons for using it:
Host an Engaging LIVE Stream
Connect with the Industry's Most Experienced
Live Streaming Service Providers.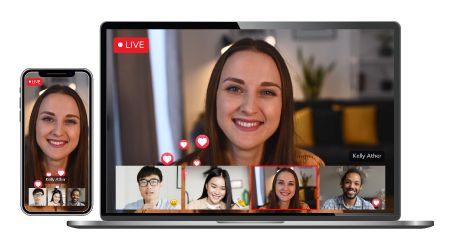 1. Live streaming is cost-effective
In any other visual marketing strategies, businesses have to invest a lot in production and editing to stand out among the competition. The same is not the case for social media live webcasting. By virtue of being broadcast in real-time, a stream live on Instagram or a live broadcast on Youtube does not have much editing anyway. Since the audience is aware of the urgency of a live stream, they don't give any importance to the production value of it.
2. Live videos create a connection with the audience
More often than not, live videos are used as a way to show the audience a glimpse of what takes place behind the scenes. When they feel that they are being let in on a secret, be it through a live stream on Periscope live or broadcast live to Facebook, it builds a relationship of trust. Your credibility increases and you are humanised in the viewer's eyes.  
3. Your analytics will improve with live webcasting
From a marketing approach, live stream events on social give better outputs as per your analytics, compared to other digital media trends. In the bigger scheme of things, live videos are also a product that social media sites are trying to sell. Live broadcast services for Instagram, for example, is a product that is working very well for the company. The great perk for a stream broadcaster here is that the social media website itself is promoting live streams too, so their own content gets an extra push towards more audience reach and engagement. 
4. Live streams get a lot of word-of-mouth publicity
While not a lot of people actually talk about live streams in daily conversations, what we mean here is a kind of digital word-of-mouth publicity. Even if you are not watching a stream live on Instagram or a live stream on Facebook live, there are a lot of live videos that appear on your timeline or feed through other people's posts. Often, live videos also trend and you get to see them despite not following the specific accounts of broadcasters.
Recommended: Go Live On Social Media To Engage With Your Target Audience
What type of content is popular in a live streaming social network?
Like any other service or product that is offered to the masses, we can only determine what type of content is popular by recognising the tastes and needs of our audience. This can be understood simply with the help of the following examples:
Any journalism and news media company will focus on reporting important events live through their stream.
On the other hand, a cosmetics brand might and unboxing of products or tutorials or even a sneak peek into the making of it.
If the broadcaster is an influencer, it is expected that their audience would much prefer Q&A sessions with them in the live stream. 
What live streaming social media platform to choose?
One of the simplest ways to determine what social media platform to choose for your stream is to know which one has your most significant audience base. If the results are too similar and you don't know any other method to decide, get to know more about these sites. Here's the breakdown of the top social media sites that provide such services, to help you:
1. Facebook Live Streaming Services
Facebook is one of the oldest and pioneering social media websites that is still growing and innovating. The algorithm here is designed in a way that is meant to promote any streams that broadcast live video to Facebook. You might notice that live videos appear at the top of your feeds and it is on autoplay because the company wants as many viewers as possible. Facebook webcasting vendors have realized the many benefits of streaming on this platform, like:
It has one of the largest audience available online.
Live stream on Facebook live reaches and engages more organically.
It is a platform that keeps pushing forward and growing more.
2. Periscope Live Streaming Services
Now owned by Twitter, live stream on Periscope live has a lot of unique features that make it popular among users across the globe. Any good Periscope live streaming service provider also uses the Periscope Producer satellite app to stream using external sources, hard encoders, and streaming software. It can also support 360 degree live streams. Here are some other benefits of a live broadcast on Periscope:
If your audience base is on Twitter, then you are in luck because you can easily stream on there through Periscope. You don't even have to worry about Twitter integration.
The live broadcast auto-plays in the tweet in the feed and hooks the audience on your content.
Host an Engaging LIVE Stream
Connect with the Industry's Most Experienced
Live Streaming Service Providers.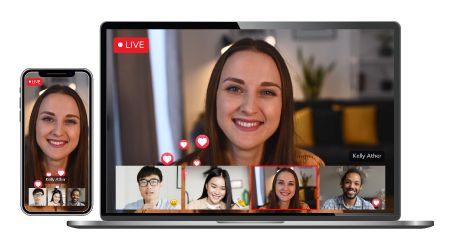 3. Instagram Live Streaming Solutions
Instagram live streaming solutions are beneficial as they present themselves as part of the stories feature of the app. With an ever-growing user base and increasing feature for the streaming service, it is exciting and rewarding to stream live on Instagram. Here are some of the benefits of using live broadcast services for Instagram:
Instagram notifies your followers when you are going live and the live video is pushed to the front out of all the other stories.
It is very easy to start and end a live video from a smartphone.
Instagram is continuously improving the feature of this service, giving you something new to keep your audience interested.
4. Youtube Live Streaming Solutions
One of the largest video streaming platforms, Youtube, is already famous for people who want to push video content. Therefore, it comes as no surprise that live webcast on Youtube is also equally, if not more popular. Any Youtube live streaming service provider today recognizes the following benefits of it:
Since Youtube is only for video viewers, your stream is already catering a more filtered audience than any other social media website.
You can easily edit the video of your live broadcast on Youtube and post it on other social media.
Youtube archives your streams for later viewing.
While there are new digital trends in 2019, it is undeniable that live stream events on social have stolen the show in terms of mass popularity and engagement. It is high time for marketers to jump on this wagon if they haven't already.