The corporate sector has dramatically changed toward remote work arrangements during the past 2 years. In order to maintain operations digitally, many businesses and organizations were compelled to reimagine their daily operations by moving their operations online. For remote hiring, several recruiters have been employing techniques like virtual career fairs. 2020 saw a rise in the popularity of these events, and hiring managers are now aiming to include them in their long-term recruiting strategy. There are different benefits of conducting virtual job fairs for talent acquisition. In this article, you will find what is a virtual job fair and the benefits of considering this format of the job fair.
What is Virtual Job Fair?
It takes time and perseverance to seek out competent people who are a great match for your skill gaps, corporate culture, diversity goals, and business strategy. Finding the greatest prospects is more difficult than just publishing a job posting or holding a real recruiting event since recruiters are constantly on the go to locate their businesses' best talent (which would be pretty nice though). These issues can be resolved with a virtual career fair or virtual job fair! Companies may successfully staff without sacrificing the quality of the people, the recruiting budget, or the hiring goals thanks in large part to virtual job fairs.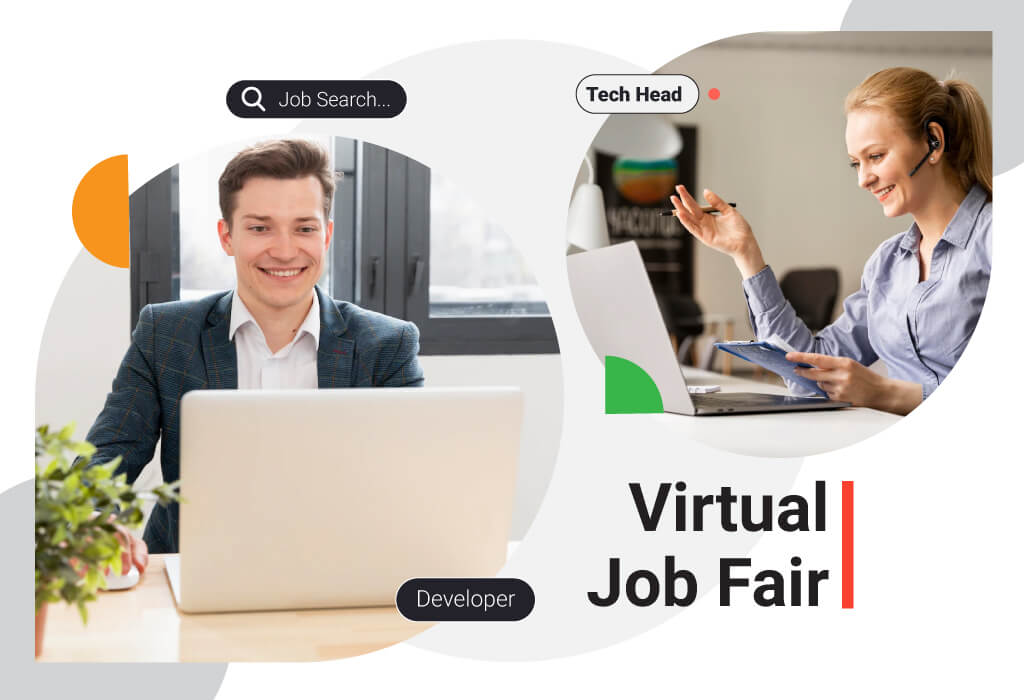 Traditional fairs are recognized to be a hub for recurring problems, and some common problems experienced by companies are as follows:
Promoting and luring eligible candidates to the employment expo is difficult.
Limited platforms for the dissemination of informational content result in boring visitor experiences.
Low attendance volume as a result of visitors' and exhibitors' unwillingness to travel great distances to attend events
Due to recruiting managers' manual resume screening and shortlisting, the hiring process is inefficient.
There are no quantifiable outcomes and current insights to calculate the event ROI and overall efficacy.
Bringing appealing to companies and job seekers under one physical roof.
Expensive site leasing, preparation in terms of logistics and administration, and event management.
Additionally, the typical format of job fairs can limit the pool of possible applicants and be expensive and time-consuming for businesses to attend. Virtual career fairs can help with that. The main distinction is that they are held on an online virtual job fair platform that can be tailored to replicate a real fair for a fraction of the price, while still matching businesses with students and recent grads. Jobseekers from anywhere in the world only need to register, establish a profile, and upload their CV in order to take part.
"Employers may get an advantage in the graduate hiring race by connecting with top talent through virtual careers fairs".
These virtual career fairs are the perfect tool for modern recruiting since they lower obstacles for both companies and job seekers. They also provide employers with a variety of unique advantages. The following list includes a few typical advantages of the online job fair:
Benefits Of The Virtual Job Fair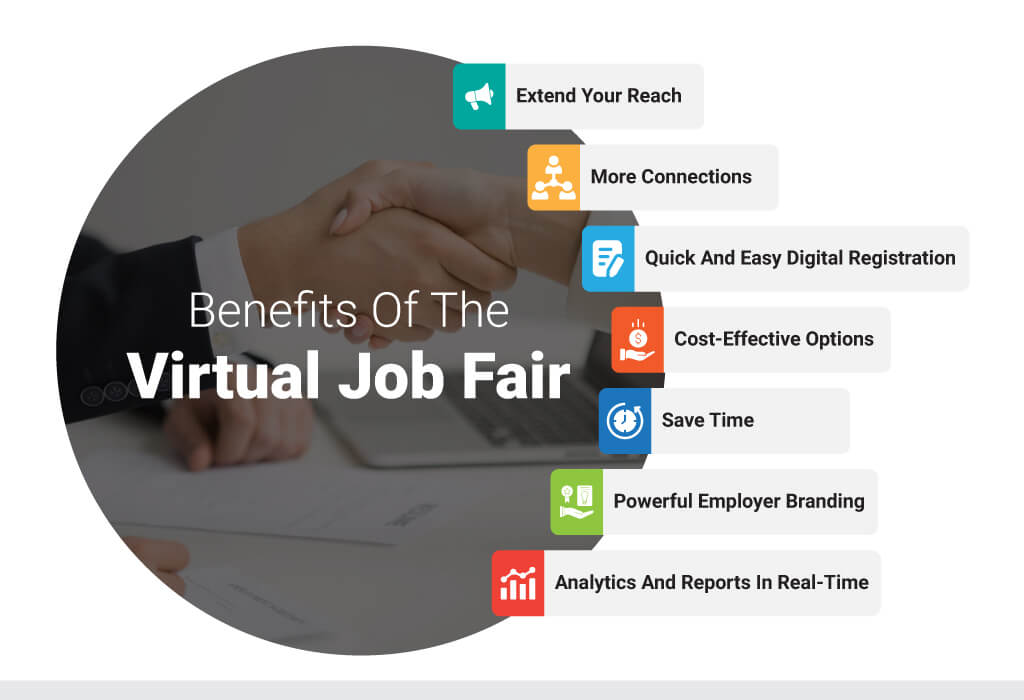 #1 Extend Your Reach
The significant benefit of the virtual job fair is that it can help you extend your audience reach. While applicants who reside close to your office are sometimes excluded from in-person career fairs, virtual events do not have this restriction. With only a touch of a button, they enable you to connect with participants anywhere in the world, making it simpler to find the best individuals no matter where they reside. In addition to being more accessible and convenient for job searchers, virtual career fairs are also more likely to have greater participation rates and more hiring possibilities than in-person career fairs.
#2 More Connections
You may hold several one-on-one private chats at a virtual employment fair. You can interact with numerous prospects at once because everything is done online. This makes it simple to connect with more qualified prospects during a virtual career fair than you could possibly hope to interact with at an event where you can only speak to one person at a time. Additionally, virtual job fair platforms like Dreamcast provide a variety of networking possibilities. You may connect with more candidates and build solid relationships.
#3 Quick And Easy Digital Registration
Compared to a physical career fair, signing up for a virtual hiring fair are significantly simpler. By providing all the details participants need to complete the registration form in one form document, digital registration facilitates simple enrollment. This makes it simpler to manage the data you give to sponsors and companies for your virtual job fair. When everything is in one location, everything stays organized and runs without a hitch when your event goes live.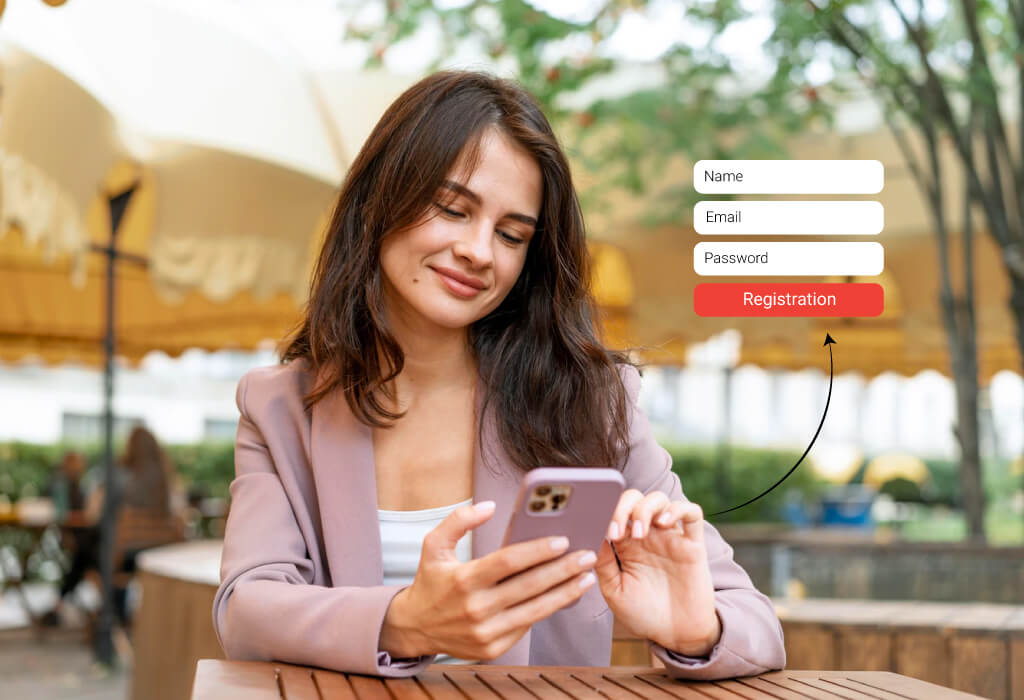 #4 Cost-Effective Options
Virtual career fairs are far less expensive than in-person ones. There are no venue costs, no travel expenses, and significantly fewer staffing needs for virtual events. A virtual employment fair can be held with just one or two recruiters (depending on the number of candidates you expect). Additionally, there are no additional fees for giveaways or refreshments. Event planners may host virtual expos and other online events without spending additional costs with the aid of virtual event platforms like Dreamcast.
#5 Save Time
Virtual job fairs not only attract more attendees, but they also help you recruit the best prospects more quickly. You may pre-screen potential candidates, and if they meet the requirements, an interview can be organized right away. Additionally, you may easily automate the scheduling of interviews by integrating the calendar of your HR staff with a virtual job fair.
#6 Powerful Employer Branding
The appearance, colors, style, and feel of the virtual event mimic branding goals for hosts and exhibitors while offering companies customized booths. High-resolution staff avatars and dedicated tabs for sharing video material, papers, job openings, corporate overviews, and even chat options are available in booths. Exhibitors may leverage their distinctive personalities to their advantage to stand out from other businesses and recruiters by transforming engagement with guests. Organizations may build their own unique virtual booth and market their brand using a virtual job fair platform.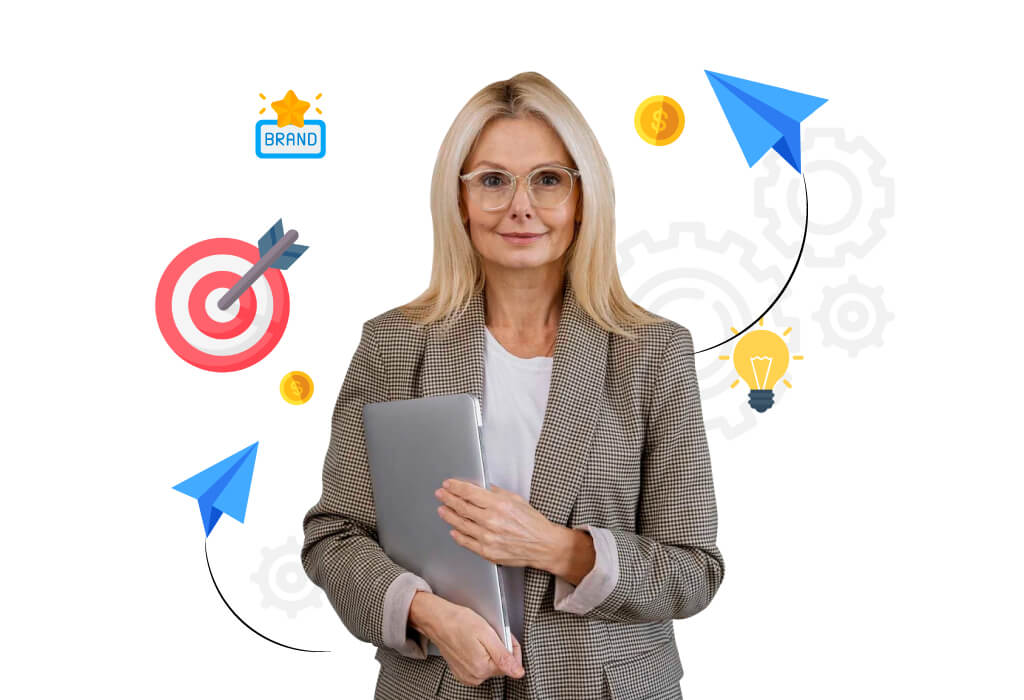 #7 Analytics And Reports In Real-Time
The ability to monitor the efficacy of a virtual job fair through analytics is one of the significant benefits of a virtual job fair over a traditional one. Companies are able to assess the return on investment and overall success to guide future hiring practices by using performance indicators like the number of booth visitors, video views, and webinar attendance.
Final words:-
When preparing for and carrying out their job fair strategy, each host faces particular difficulties. Functionality restrictions may be a barrier that prevents successful recruiting. The benefits of virtual events include stunning branding effects, cost and time savings, engagement, marketing, and interruption-free communication. Virtual events may accommodate a worldwide audience of thousands in an online setting. It is definitely advisable to use a virtual career fair for talent acquisition if you want to achieve exceptional hiring results. Dreamcast may be your one-stop shop for all your virtual hiring fair needs. As a reputable and well-known virtual event service provider, we can assist you in organizing a successful online job fair with fun and interactive elements. So why are you still waiting? Reach out to us right now for further information and details.
FAQs
Who Sponsors Online Job Fairs?
A virtual career fair or other virtual events could be hosted by several different organizations. The institutions that would organize a non-virtual job fair, such as colleges, trade associations, state employment agencies, veterans organizations, etc., frequently host these events.
What Types Of Employment Are Offered At Online Career Fairs?
A virtual career fair could be targeted towards a certain industry, profession, or region, much like physical job fairs are. Virtual job fair participants typically have several openings and positions.
Do I Have To Register For Sessions Prior To The Beginning Of The Online Career Fair?
Yes! Once you have registered for the fair, you should begin signing up for sessions. You may reserve your seat with the employers you wish to meet at a virtual career fair, which is one of the main advantages. Therefore, it's crucial to review the fair program and register as soon as possible for the sessions you choose.
Do I Have To Appear On Camera?
It's not required to have your video on during sessions. Employers can also be reached via voice or chat services. We advise turning on your video for one-on-one meetings so that employers can establish a good connection with you.