A conference is one of the formal events organized annually (or accordingly) and usually takes two or more days. The reason behind successful conferences is well-structured conference event management that monitors all the functions going on. 
So, what exactly happens at a conference? It's a gathering of individuals with similar interests, and basically, it's mostly done for business, academic, organizational, or any other purpose.
However, these are typical events that involve the majority of the experts speaking.
A conference can be considered one of the flagship events that can be the basis of overall growth. In the era of a fast-paced world, these conferences are crucial because they drive new prospects and connections.
Moreover, if any business or organization wants to increase its ROI, generate new leads, or train employees, then organizing a conference can be the ultimate solution. With the increasing trend of conferences, the need for conference management also increases. Let's deep dive into the world of conferences and conference management. Here's the comprehensive guide.
What is the Conference?
As we discussed above, it's a formal event that gathers people with common interests. In a conference, people come together to discuss a particular topic. Conferences are organized for special subjects, which could be related to academics, business, or organizations. Normally, industry experts attend these conferences to discuss the desired purpose. Speakers at the conference are also celebrities or known professionals. The main purpose behind conference management is to exchange information, learn or train, and discuss the desired cause.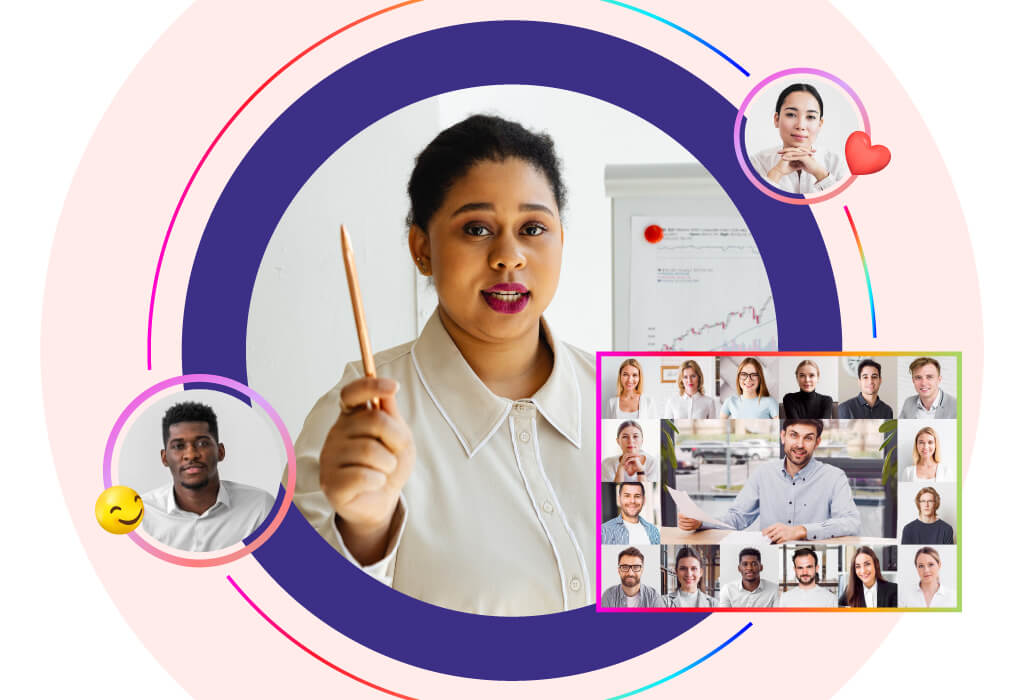 Types Of Conferences
There are so many types of conferences. Here are a few types on the list.
Trade Conferences
A trade conference is a gathering where representatives from various businesses or industries come together to talk about ways to improve trade. Trade conferences can have an international, national, or local focus. Businesspeople, government representatives, and economists are frequently present. A trade conference's main objective is to promote trade and investment by locating opportunities and dismantling obstacles.
Seminar
Seminars are interactive sessions that include two or more expert speakers to make the conversation amazing. A seminar is generally educational or informative in nature. The purpose behind organizing the seminar is to share skills and knowledge, or expertise, with the target audiences. However, a few topics covered in seminars include digital marketing, tips on finance and investment, cybercrime, fraud, real estate, and the stock market. There is no doubt that seminars are highly interactive because they provide the audience with the opportunity to interact.
Workshops
Workshops are informational events conducted by individuals, companies, organizations, universities or schools. Their purpose is to educate or train the target audience. In schools or universities, they are held to teach students about a particular topic. In companies and organizations, workshops are held to train employees. However, if we compare workshops and seminars, workshops are much better because they teach new skills.
Virtual Conference/Webinar
A virtual conference connects all your attendees through breakout rooms, interesting material and inspiring keynote speakers. Using an online conference platform is an easy way to accomplish all of this. Moving a conference online lowers the barrier to entry by removing travel and financial hurdles that might have kept certain attendees from participating. But webinars are also virtual conferences.
Symposium
A symposium is a conference event that usually lasts one day. In a symposium, several experts or professionals have discussions on a common or particular topic.
Besides, above-mentioned types of conferences, there are some additional types that you should explore. Let's take a look at some more types.
Annual General Meeting (AGM)
Convention
Peace Conference
Parliamentary Conference
Conclave
Multilingual Conference
Board Meetings
Press Conference
What is Conference Event Management?
Conference management is the thing that monitors every single aspect of a conference after it begins. The role of conference management is to assist in all the plans and set targets for a successful conference. Management is needed when it comes to monitoring the overall performance and execution of the event and assigning tasks. Therefore, conference event management is a must to measure the whole progress of the event, team members, and related people. Also, it assists in resolving the issues arising between the conferences.
Furthermore, Conference management can be handled internally by a business or by a third-party organization, whose reliability speaks for itself.
Types of Conference Management 
Most event management practices are based on the event owner's resources or preferences. Here are a few types of conference management: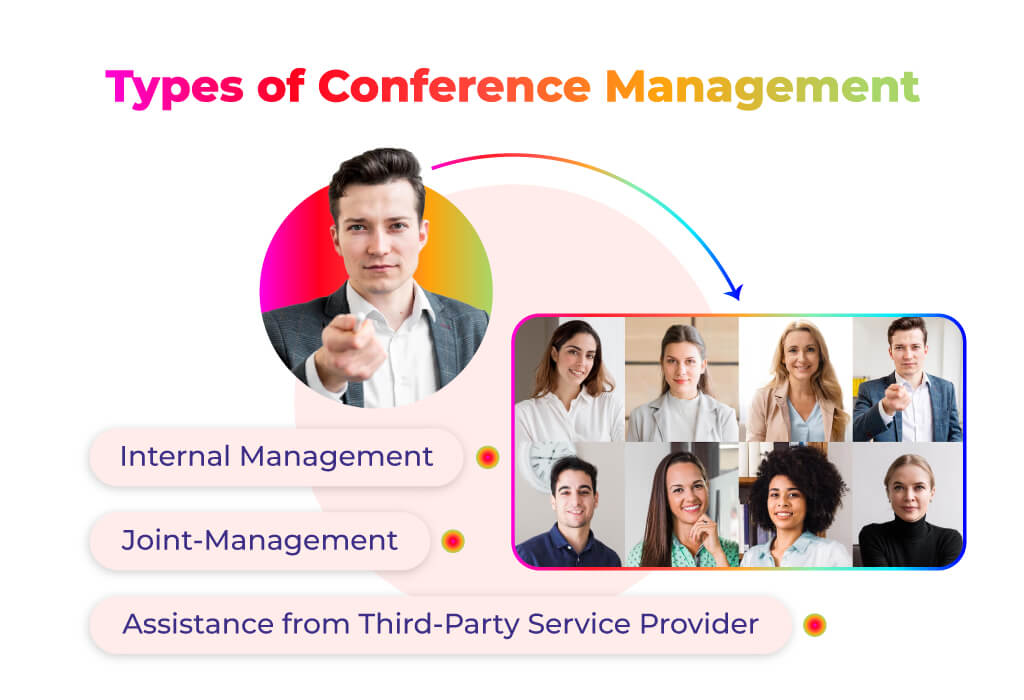 Internal Management
With sufficient resources and personnel, many planners choose to plan and manage their events internally, with little to no assistance from third-party service providers.
Joint-Management
The event's organizers may opt to engage with experts or an agency for the course of the event. The best outcomes come from dividing the work between the two teams based on their individual strengths.
Assistance from Third-Party Service Provider
Some event owners opt to totally entrust a third-party service provider with the duty of organizing the conference in question from start to finish, whether it is an event management, tourism, or public relations business.
Why Should You Prefer Ideal Conference Management Software?
To give power to your conferences and a seamless experience to all the event attendees, along with world-class conferences. Here's what you need to know about reliable conference management software:
Conference Registration Management
Consider a conference management platform that manages and streamlines all the registrations for the desired conference. Offer customized solutions based on the event planner's preferences to maximize the conference experience. 
Physical-Virtual Speaker Connect 
In some cases, when speakers won't be able to join the in-person conference, a virtual connection setup can fix the issue. Therefore, to set up a conference management that supports physical-virtual speaker connections, you need a reliable service provider.
Event Check-in and Badging 
Consider a conference event management platform that provides quick and robust check-in solutions. Also provides services like RFID badges, QR codes for check-in, and Facial recognition for flawless entries.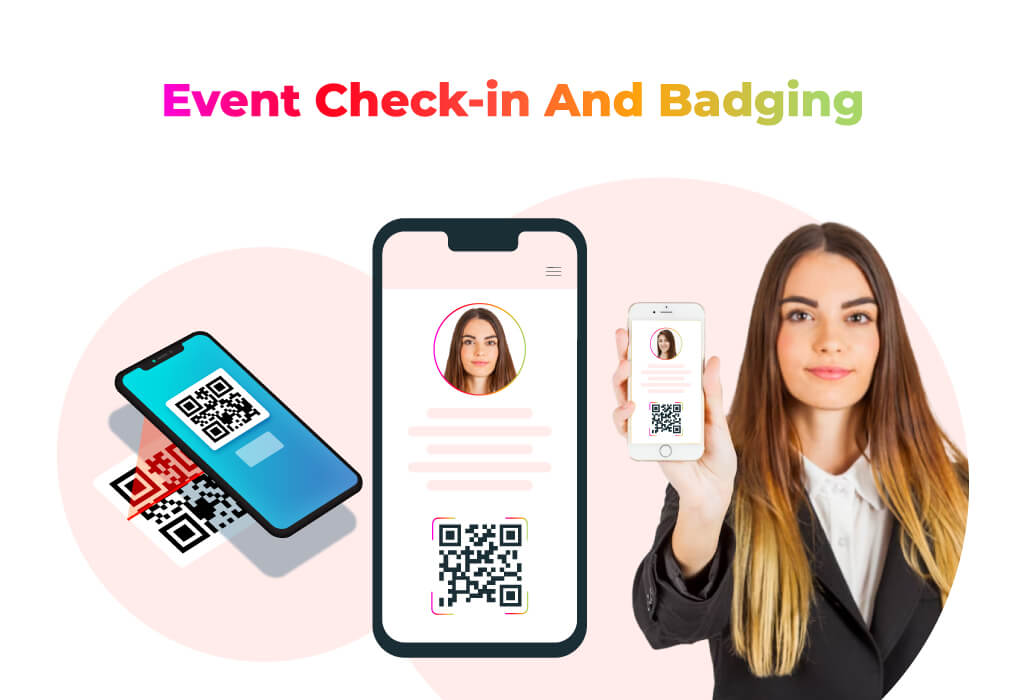 Matchmaking Capabilities For Mobile Event App
In the case of virtual conferences, people couldn't find fellow participants with similar interests. Therefore, an ideal conference event planner can assist with your matchmaking capabilities. With customized solutions for mobile event apps, you can easily create break-out rooms for conferences. This will benefit the attendees in terms of time savings. 
Lead Management 
To manage the leads at a conference, you need proper lead management. It's necessary to have tools that help in gathering and following up with leads. Consider a service provider with an extremely good CRM system. This will also help in tracking the event's ROI and monitoring the impact of the conference.
Session Attendance Tracking
Utilize event badge scanning or RFID technology to track attendees' movements during the conference. Moreover, you'll be able to analyze the behavioral patterns and buying signals of attendees.
Social Media Solutions
Without social media Integration, a conference won't reach maximum engagement. Therefore, ideal conference and event management demands an increase in participant engagement through social media sharing options.
Mobile Event Apps
Be it any event, nowadays, every event has its own personalized application. A feature of the mobile event app is needed to keep the attendees occupied through real-time notifications. Also, if there's any delay or change, it assists in informing the attendees via push notifications. A mobile event app provides an opportunity to capture leads, very quickly. 
Data-Driven Analytics
To measure the overall success of the conference and monitor every activity in real-time. Ever thought of monitoring the analytics all by yourself? You can't. And that's the reason why you prefer an ideal conference event planner.  For upcoming events, you need in-depth data and the current demographics of the conference.
Final Thoughts
At the end of this article, we looked at the conference and the event management behind it. With the fast pace of technology, conferences are becoming more and more popular because of the benefits they offer. The benefits range from cost efficiency to the elimination of geographical barriers and much more. To organize the best and smoothest conference, a virtual event management platform is needed. Without a reliable service provider, managing things would be a tedious task.
If you are looking for a platform that offers personalized conference and event management solutions, choose Dreamcast. We partner with you for all types of event solutions and have more than 12+ years of experience delivering world-class events. Book your free conference demo with us and discover us.
Frequently Asked Questions
How Can You Effectively Market Your Conference in the Digital Age?
You can effectively market your conference in the digital age by leveraging effective promotional strategies. For best results, use the power of social media to market the conference. Social media integration targets the audience you are seeking to reach.
What Data Analytics Should You Focus on for Post-Conference Evaluation?
It's very important to consider and look after the data analysis after any event. Data analytics like session attendance rate, attendance rate of attendees, number of feedbacks, and reviews need to be considered at the end of the process.
How can you ensure smooth registration and check-in processes at conferences?
For a smooth registration and check-in process at a conference, you need to opt for event technology. RFID badges, QR codes for check-in, Facial recognition, and many more services are available in event technology.
What are the key components of conference event planning?
The key components of conference event planning include a well-structured and systematic planning process. After the planning, for smooth execution of the event, you need an ideal conference event planner to handle and monitor the whole event.
In-Person, Hybrid, Virtual
Create an Extraordinary Event Experience
Across All Event Formats