When it comes to promotions and marketing, why should the travel industry stay behind? It also needs to reach a global audience and tell everyone what they have for them.
Even Dubai hosts over 300 sustainable tourism webinars across international markets to boost the city's global appeal as a must-visit destination. They have launched numerous campaigns such as #TillWeMeetAgain, #WeWillSeeYouSoon, #ReadyWhenYouAre, and more.
Hence, every industry has to understand the value of webinar marketing to enhance its effect. The sustainable tourism webinars can get a lot.
Want to know how? Are you also operating in the travel industry? Do you want to find out some new ways of winning customers? Are you willing to use state-of-the-art tools and reach out to customers with digital marketing?
If you are searching for answers to these questions, then this blog can help you. So without further ado, let's get started with travel webinars and their importance.
Digitalization of the Travel Business Sector!
Everyone is available online and busy exploring everything they can online. Digitalization has revolutionized how one thinks and has ever thought about anything. That's why it is the right time for the travel and tourism industry to go online with promotions and conduct online events. Hosting a sustainable tourism webinar can transform the complete experience for you and your audience.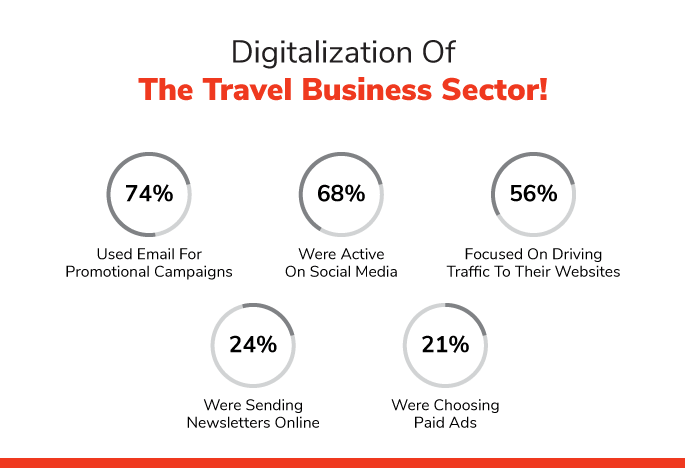 In 2017, Travel Weekly conducted a survey and found that US travel agents follow the below approach to attract new clients.
74% used email for promotional campaigns
68% were active on social media
56% focused on driving traffic to their websites.
24% Were sending newsletters online
21% Were choosing paid ads
So, conducting online events like webinars in the travel industry will not be a big deal for your audience. It can get a lot of profit without hassle. You can use webinar marketing for tourists planning holiday trips and city promotional strategies.
9 Uses of Webinars in the Travel Industry!
You can make excellent benefits from your webinar with the best webinar vendors. Here are some uses of webinars in the travel and tourism industry that can change your complete impression.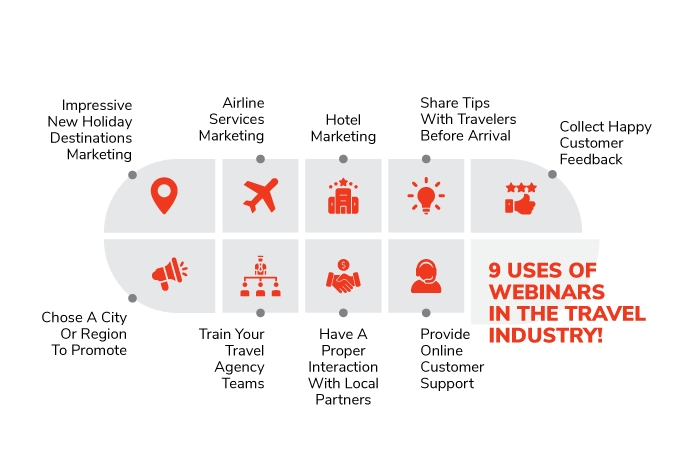 1. Impressive New Holiday Destinations Marketing
You can share with your audience what they can have at a holiday destination. So, lure users with attractive site information, images, short clips, and more in your webinar. You can show them what you can create with an incredible holiday destination. In such a way, you can create a buzz about your destination where families, couples, friend groups, and others spend the best time.
2. Airline Services Marketing
In the webinar, you can share the airline price as well as the services your users can get throughout the journey. Share how they can get an affordable service solution from the Airline businesses. It can make a more impressive impression on your audience. Also, your webinar attendees can resolve all their doubts in real-time.
3. Hotel Marketing
You can share different types of hotels your audience can get at the destination. So, offer them a wide range of hotels in the webinar with various photos and videos. You can create a better relationship and connection with your audience.
4. Share Tips with Travelers Before Arrival
You can host a webinar sharing tips with your travelers who are all set to start their journey. Convey all the types of clothes they should carry, the climate at the destination, the hours it will take to reach, and the complete journey guide. This way, you can prepare your group; even before arriving at the destination.
5. Collect Happy Customer Feedback
It is essential to take follow-ups from your previous travelers. You can change, update, and add or eliminate numerous things based on how your attendees felt in the last tour. So, you can host a webinar where you can take feedback from your attendees. Also, you can use the happy customer feedback to display on your website, during the webinar, and a lot more.
6. Chose a City or Region to Promote
The webinar makes it easy to promote two or more cities and regions. Furthermore, you can create different sessions based on the interest of your attendees as well as your upcoming tour. People will find it more fascinating, including the entire city or region in your discussion.
7. Train Your Travel Agency Teams
You may have a great tour and travel agency with several people. The webinar can help you train and instruct your employees on how they have to behave and handle different situations with travelers. Also, you can have a simple language training webinar in order to teach your employees some common words and phrases in different ways and languages.
8. Have a Proper Interaction with Local Partners
You can conduct a webinar to interact and connect with your local partners. Furthermore, you can have a good chit-chat on different topics, problems your partners face, and various other aspects.
9. Provide Online Customer Support
It is necessary that you offer support to your customers. Hence, you can mentor & keep your representatives ready to receive various calls and reply to chat messages. Provide 24/7 backend support in webinars as well as during the journey.
Attain a Matchless ROI for Your Business.
Pick the Best Webinar Services of the Industry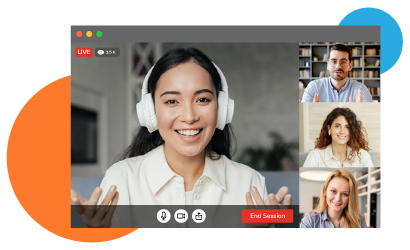 19 Features That Can Help You Make Your Webinar Successful!
You can get exceptional features and functionalities with professional webinar services. Some of them are as follows: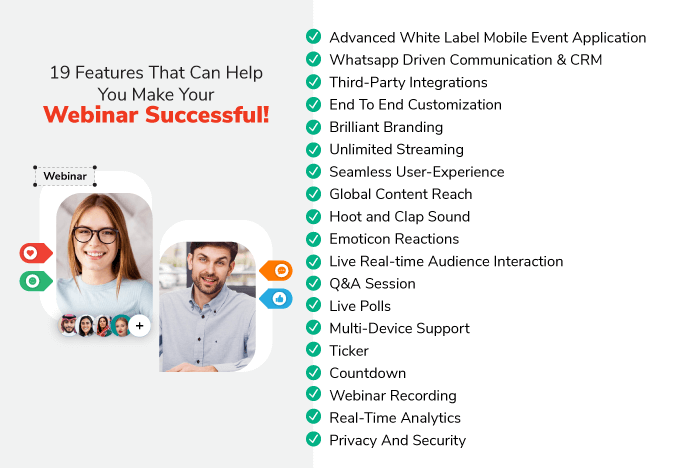 1. Advanced White Label Mobile Event Application
You can create a mobile event application to stay connected with your audience. It can help you customize and design to host as many webinars without hassle as you like based on your requirements. Hence, you can manage your entire event, from registration to logins to feedback. 
2. WhatsApp Driven Communication & CRM
You can create a better connection with your audience using WhatsApp automation. Hence, you can associate with your attendees throughout the process, before, during, and after the webinar.
Send a registration page link in your message.
Trigger automatic WhatsApp messages.
Share a digital agenda with the event audience.
Add Custom-replies for frequently asked questions and save time and effort.
Set up a campaign based on customer attributes and events.
Share Non-transactional messages, such as discounts, offers, alerts, and more.
Elevate campaign performance with rich media, like images, videos, PDFs, etc.
Send interactive message templates like CTAs & Quick Reply buttons.
Get the campaign performance stats that show the number of messages Sent, Delivered, Read, and Replied to.
Conduct live polling over running discussions.
Cater attendee queries with WhatsApp-based customer support.
Collect webinar feedback.
3. Third-Party Integrations
You can incorporate any app or software into your webinar without hassle if you choose the best live webinar service. They will allow you to integrate WhatsApp, Zoom Meeting, BlueJeans, MS Team, Google Meet, Hubspot, Razorpay, PayPal, and many more.
4. End To End Customization
You can deliver life-like experiences to attendees effortlessly with an end-to-end customization feature. Furthermore, you can get custom registrations, designing, branding, color settings, background images, as well as all the features. Hence, you can create a webinar as per your needs.
5. Brilliant Branding
You will get a great space to showcase your and your sponsor's content promoting your brands. Hence, you can lure more and more sponsors for your webinar by providing them enough space to showcase what they have for the audience.
6. Unlimited Streaming
If you pick the right webinar solution, you will not face any time restrictions or limitations. They will offer unlimited streaming for your event so you can stay online for your audience for as long as you want.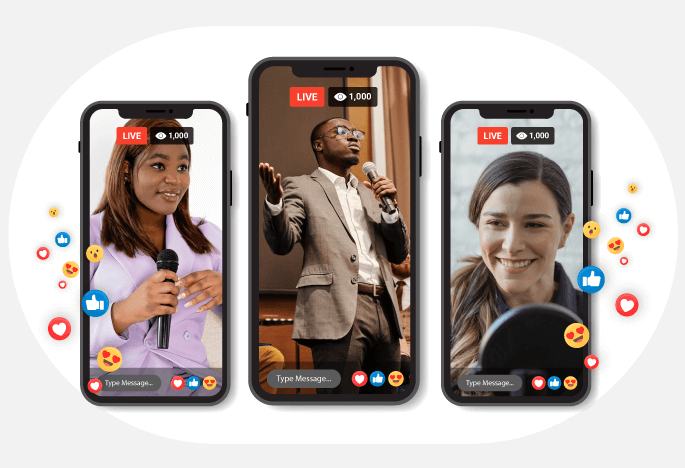 7. Seamless User-Experience
You can create a seamless experience for your audience by providing them an option to sit at their home and enjoy the whole event without hassle. Share the tourism and travel knowledge and compel them to take some action as soon as possible.
8. Global Content Reach
Travel and tourism are about various countries, languages, cities, and traveling far. Hence, you can get the multilingual feature to translate your content in real-time as well as provide captions to your audience so they can understand your speaker's data efficiently.
9. Hoot and Clap Sound
It will be boring to sit and watch the sessions without making any noise. Hence, you can provide the hooting and clapping sounds to your audience to encourage speakers and keep them engaged.
10. Emoticon Reactions
It may be tough to write a comment during a live session, as well as speakers may find it difficult to read. Hence, you can use emoticon reactions to keep the experts motivated.
11. Live Real-time Audience Interaction
You can get a live chat option with the best webinar hosting services making your event more interactive. Also, you can invite the attendees to join the speaker stage and ask various queries or discuss anything directly.
12. Q&A Session
You can engage your audience and resolve all their problems by having a Q&A session. Furthermore, your audience can ask various doubts and troubles from your experts directly and come to you every time they have a problem.
13. Live Polls
Engaging your audience during the live session is a must. Hence, you need to have some elements that can make your event even more engaging for your audience. So, you can have some live polls with the right questions and possible options. Your audience will vote for the one they think is right and learn all the highest-voted options in real-time.
14. Multi-Device Support
It can be hard to reach a global audience with restrictions on devices and browsers. Hence, you can provide multiple device access for your webinar to make your audience use mobiles, laptops, PCs, tablets, iPads, and more.
15. Ticker
You may have a lot of updates, changes, announcements, last-minute notices, and more that you need to share in real-time with your audience. Don't worry! Ticker can help you with it. Hence, you can send push notifications to your attendees that will pop up on the device screen. Also, you can personalize it if you wish!
16. Countdown
You can create a sense of urgency for your audience using the countdown timer. Majorly the landing, registration, and sales pages need to create some hurry for your audience so they will take action. The decreasing countdown will make them register or purchase as fast as possible.
17. Webinar Recording
You will get the recording of your complete webinar with the right solution. Hence, you can create short clips after editing them and adding graphic effects. It will be helpful in promoting the travel and tourism industry on online platforms.
18. Real-Time Analytics
You can get a detailed report of your tourism webinar highlighting your audience's actions. Hence, you can know what your audience liked the most in your event; so you can make more similar decisions for your future events.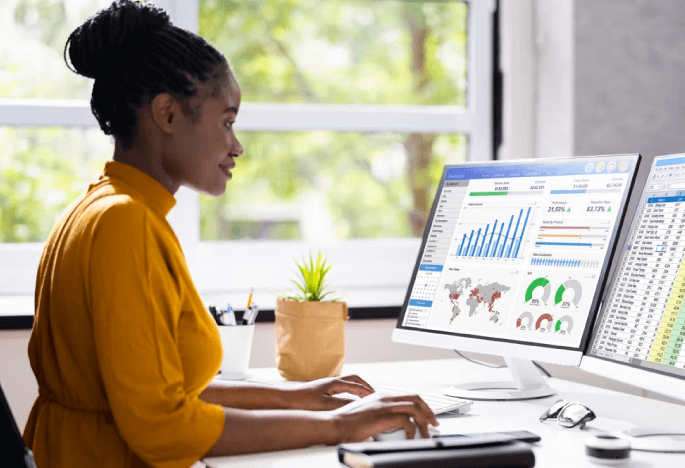 19. Privacy And Security
You can get 100% privacy and security for your user's data. Whatever data they share during the registration will be safe with you.
No More Printed Holiday Brochures, Just a Webinar!
Now, it is your turn to change the mode travelers stay in the travel and tourism industry. You can also choose sustainable tourism webinars to help enhance your industry. Hence, reach Dreamcast and make the complete experience seamless without hassle. We have advanced features and functionalities to help you succeed in your event without hassle.
Attain a Matchless ROI for Your Business.
Pick the Best Webinar Services of the Industry