Unlike other virtual formats of delivering content to the audience, webinars remain one tried and tested method. The reason webinars still remain one of the most proficient and trusted modes is the advantage and great results they drive to the organizing companies. But what actually is a virtual webinar? Why are they considered so efficient? Let us find out in this webinar guide.
What Exactly is a Webinar?
One can define webinars as virtual events where it is broadcasted to a specific audience on their laptops, computers or mobile devices. Organizations use webinar platforms to host webinars through the Internet. Webinars are also known as web seminars, or sometimes as webcasts. In a webinar, the host, speaker, or presenter can use different tools such as screen sharing to share PowerPoint presentations, web pages, videos, or other kinds of content with the audience. These tools of the webinar services not only make it easier for the organizers to share content with the audience but also enhance the overall learning experience of the attendees.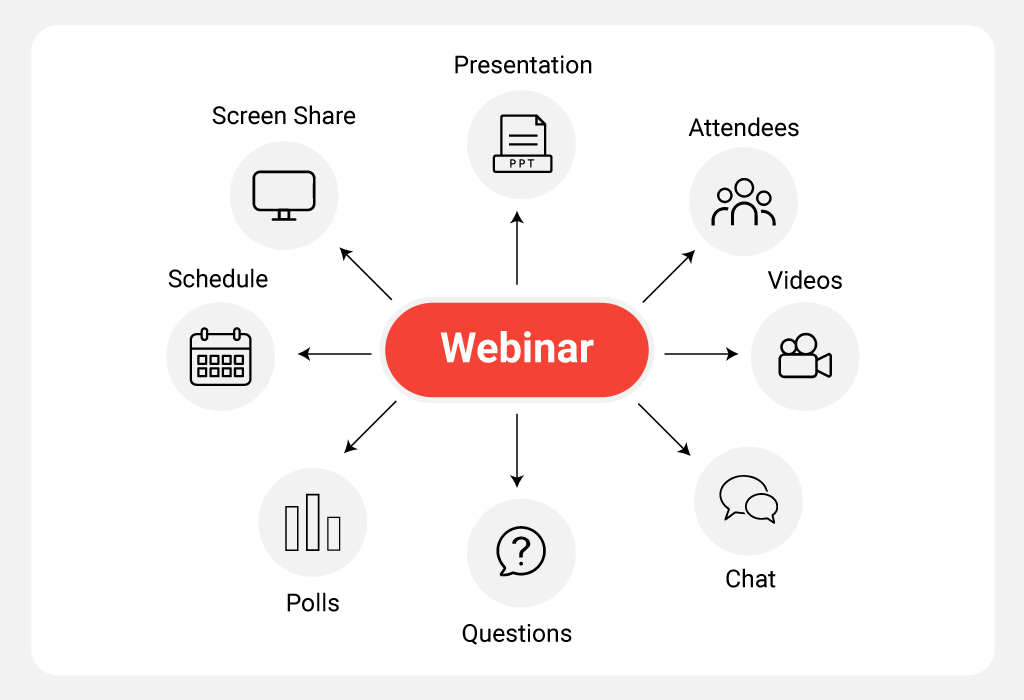 Technically speaking, a webinar consists of two components: audio and video. The hosts share the video component of the webinar through webinar services, whereas the audio component is shared through the audience's speakers. What makes the webinars one of the most popular choices among the organizations is the features they come with. Webinars allow the organizers to interact with the attendees, as well as the audience to interact with their fellow attendees. This is the reason, as many as 95% of marketers and organizers believe that incorporating webinars in their daily planning and strategies can help in the growth of their business.
Several webinar services come with live chat and other engagement tools that enable the organizers to give their virtual events closer to real life.
What is the Difference Between a Seminar and Webinar?
One can define seminars simply as the meetings held among a specific community where information is exchanged. However, experts define webinars as the seminars conducted through webinar services using the internet. Webinars are usually live presentations, lectures, or even a workshop where the participants join them from the comfort of their homes. These participants interact with each other and the speakers through tools such as live chats, group discussions, and even audio and video chats. Where seminars are held physically, webinars make use of webinar services.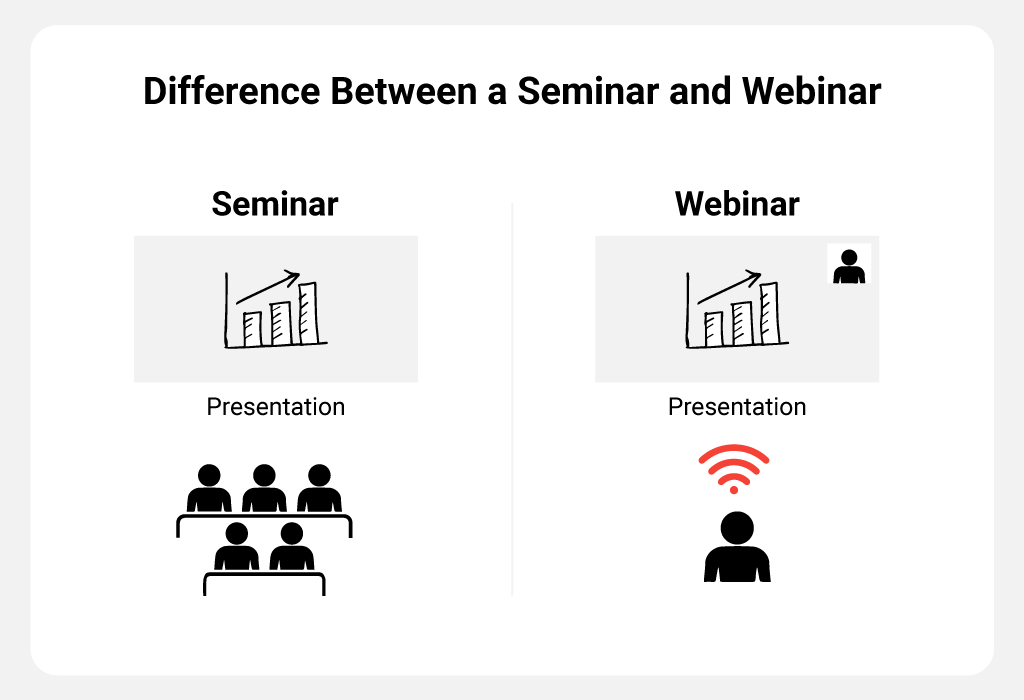 What is the Purpose of Hosting a Webinar?
Right from expanding the reach of their brand to generating more leads or expanding the audience's base, businesses and organizations host webinars to fulfill several reasons. Some of them are:
Introducing Your New Product or Service:
You can host a webinar to introduce a new product or service to your target market. Since it is not feasible for the attendees and the clients to join you physically every time you launch a new product or service, webinars come as a great alternative to all the physical launch events. Apart from introducing your product, a webinar will enable you to educate your audience about your services and solve their queries instantly.
Set up Yourself as Experts:
Since webinars are intended to educate the audience on any subject, they allow you to present yourself as an expert. Though there are several attendees who would be a part of the webinar to interact with people from different industries, others would turn up to listen to your say on the subject. Registrants turning up for a free webinar shows they trust you with the information you are delivering through your webinars.
Engage with the Audience:
As mentioned, most organizations prefer live webinars over other formats. Ever wondered why? It is because webinars allow the organizers to interact with the attendees and attendees to interact with the hosts and their fellow speakers. Live webinars come with tools such as live chat, live Q&A sessions, live polls, and other audience engagement tools. Apart from it, live webinars are broadcasted at the same time they are being recorded; they come without any editing and refining. The audience sees it as a trust-binding factor between them and the organization.
Generate Leads for Your Brand:
Another prominent reason organizations like to host webinars is to promote their brand and generate leads. Hosting an event means getting new customers onboard and expanding your brand's reach. While planning and promoting your webinar, those interested in your virtual event will go through your website and might end up registering themselves. It means they are interested in what you are saying or offering to them. Therefore, getting more registrations and more people on your website means getting more numbers in your pool of leads.
What are the Benefits of a Webinar?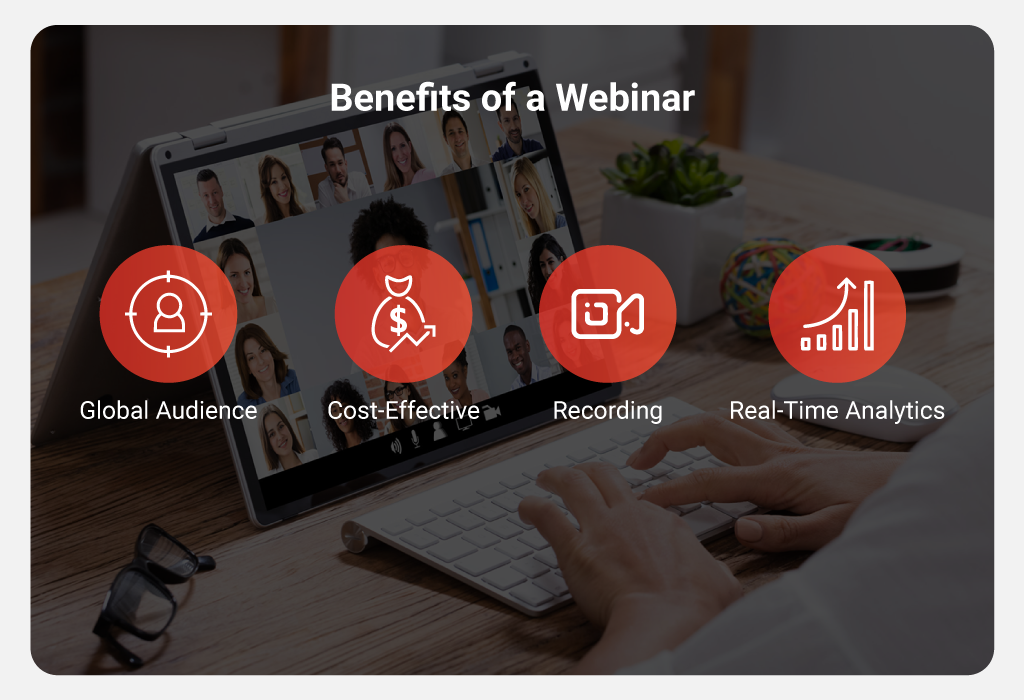 Global Audience:
Since the medium of hosting webinars is the internet, the organizers get an excellent opportunity to connect with a global audience and expand their reach exponentially. Not only this, webinars allow people from all corners of the world to connect with like-minded people.
Cost-Effective:
Like other virtual events, webinars are hosted over webinar platforms. It allows the companies to save money they would have spent on booking venues, accommodation, catering, and logistics. Not only this, even the attendees don't need to spend money on traveling and accommodation. They can attend the virtual event right from the comfort of their own home.
Recording:
Several webinar services come with recording features. With these features, the organizers get to record the entire session and make it available to the audience who missed out on the session.
Real-Time Analytics:
In addition, some webinar services come with real-time analytics, which allows the organizers to get an insight into the attendees' activities during the webinar. This feature helps them analyze the efficacy of their strategies and measure the success of their webinars.
Does a Webinar Have to be Live?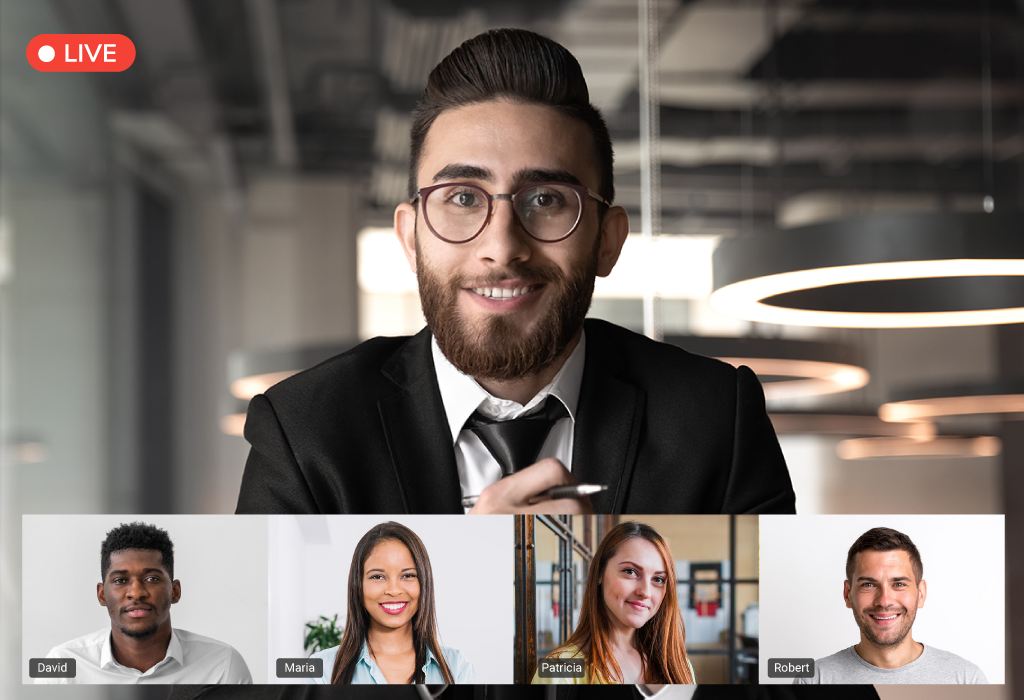 Experts suggest out of all the formats, the live webinars are the most effective. However, the organizers don't need to conduct webinars in real-time. Though several organizations and businesses prefer to host live webinars and then record them. It allows them to increase the reach of their content and expand brand awareness. The recorded webinar sessions are made available to the audience which is altogether a different format of webinars- On-demand webinars. Along with this, many businesses prefer to go with another format of webinars. They record their sessions and upload them on the internet for the audience to watch them. Unlike live webinars, such webinars don't have live audiences.
How to Host a Webinar?
Here is a step-by-step guide that we have put together to help you host a webinar seamlessly: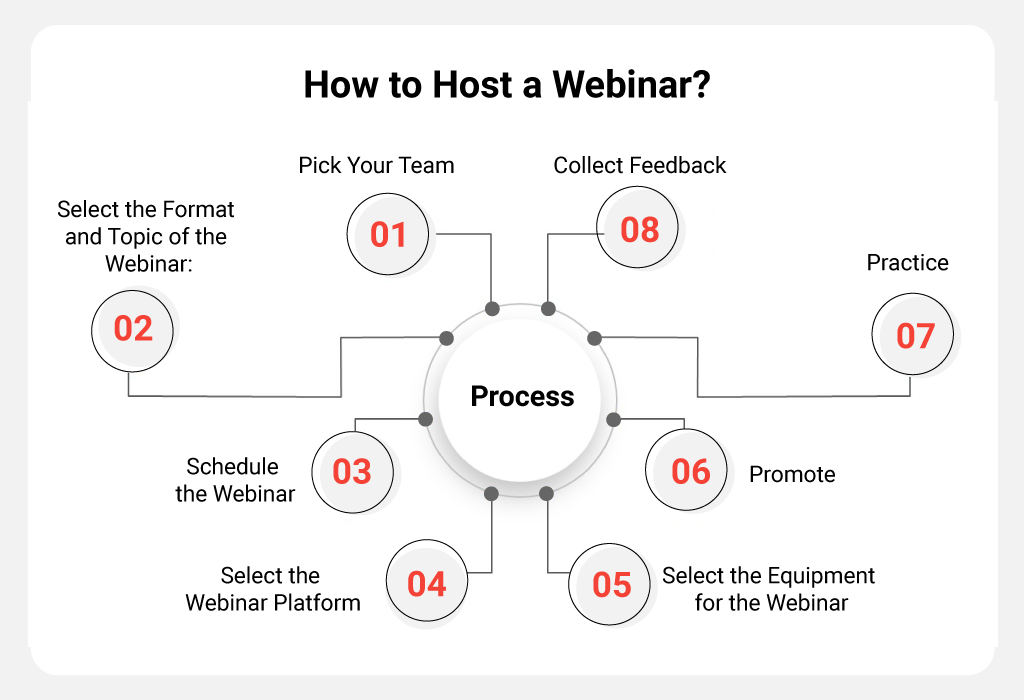 Step 1: Pick Your Team:
What does it take to host a successful webinar? A team of experts. If you plan to host a webinar, start by picking your team of experts. However, while doing the same, ensure you keep all the roles and responsibilities in mind. Having a set of reliable and efficient professionals in your team will make your job easier and make the entire process seamless.
Step 2: Select the Format and Topic of the Webinar:
Now that you have a team of professionals; pick a format you would like to conduct the event in. Also, don't forget to pick a trending topic you would want to conduct your webinar on. There are several formats to choose from. While selecting the format, keep your event objective in mind. A few kinds of webinars are:
Single Speaker: As the name says, single-speaker webinars have one expert or speaker who interacts with the audience and solves their queries. This format is best suited for a small audience.
Q&A Sessions: Another popular format, Q&A sessions are where the audience asks questions from the speaker directly.
Interview: In these types of webinars, the moderator asks questions from the guests or panelists.
Panel Discussions: In these types of webinars, several experts come together to have discussions around a certain topic.
Do You Know?
Around 71% of the attendees consider the webinar's topic as the primary reason to attend a webinar. Forbes
Step 3: Schedule the Webinar:
Many organizers tend to overlook the importance of picking the right date and time for their webinars. The wrong date and time might affect the attendance rates of your webinars, affecting the success of the webinar. Hence, when it comes to this factor, pay extra attention to various time zones and holidays or events that fall on the date you pick for your webinar.
Step 4: Select the Webinar Platform:
While you select the webinar platform, keep a few factors in mind. Make sure it is easy to access. Also, the number of attendees that the live webinar service can accommodate is something you should not overlook. Not only this, as an organizer, you should also keep in mind the audience engagement tools, networking options, security, and other such factors.
Step 5: Select the Equipment for the Webinar:
After selecting the webinar service, select the equipment for your online webinar. Though virtual events are less demanding, there are still a few pieces of equipment one should use to ensure the A1 quality of the webinar. Here are a few of them:
A Laptop/ Computer/ Mobile Phone
Microphone
Tripod
Lighting
Standalone Webcam
Step 6: Promote:
Now that you have planned the event, you should start with the promotions of your webinar. There are various strategies that you can use for efficient marketing. A few of them are email marketing, social media marketing, paid media advertising, and many more.
Step 7: Practice:
No matter how efficient you have become at hosting webinars, it is always suggested to conduct a practice session a few times before the main webinar. It will help you get an understanding of the webinar service.
Step 8: Collect Feedback:
Once the webinar gets over, don't forget to collect feedback from your attendees. It won't only help you analyze the event from your audience's perspective but also connect you with your audience.
Top Online Webinar Platforms:
Apart from planning and promoting, another crucial thing you need for hosting your webinar is an efficient webinar service provider. Here are some of the best webinar companies known for hosting the best webinars in the industry.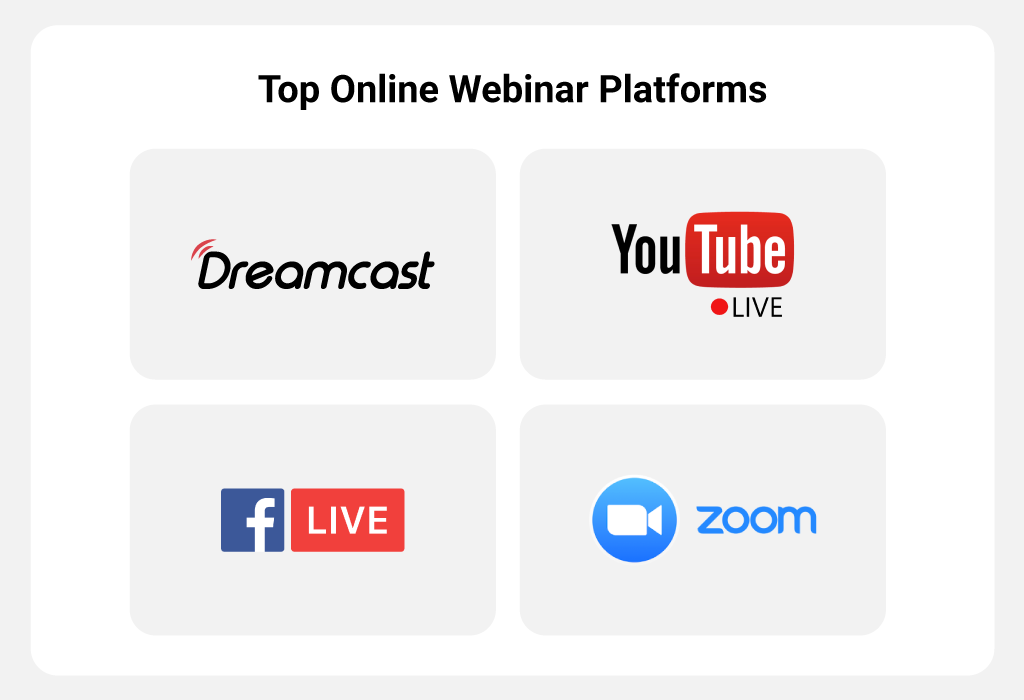 Dreamcast:
The first name that comes to mind when we talk about the best webinar companies is Dreamcast. This live webinar service provider comes with several captivating tools that make the hosting of webinars a very seamless experience for the organizers. This platform allows you to conduct unlimited streaming, making it one of the most picked live streaming services for large-scale brands and audiences. It comes with tools such as reactions, real-time analytics, tickers, and many more. Dreamcast is a highly secure and encrypted platform, making it a reliable and trustworthy webinar service.
YouTube Live/ Facebook Live:
When you talk about the best online webinar service providers, you cannot miss out on webinar services such as YouTube Live and Facebook Live. These prominent platforms help you host webinars for free; hence, they are the first choice of small businesses. If you are planning to host a simple and informative webinar, you should definitely get your hands on either of these names. One of the best features of these platforms is they come without any audience size restrictions and are browser-based solutions. Apart from it, you can host longer-duration webinars on any of these live webinar services.
Zoom:
Another popular live webinar service that can help you host unforgettable webinar live video streaming is Zoom. It is one of the most trusted names when we talk about virtual meetings. Zoom lets you host free webinar sessions for 100 participants, making it one of the most sought-after webinar companies for small businesses and individuals. This webinar service has been designed keeping the audience's convenience in mind, where the audience doesn't need to have an account on Zoom to attend the webinar. In addition, this webinar platform lets you integrate with webinar platforms like Facebook and YouTube, increasing the reach of your webinar.
How to Promote a Webinar?
Promoting the webinar is as crucial as planning and creating it. The success rate of your webinar literally depends on how you promote your webinar. Data shows that around 15% of the audience registers for the webinar before the webinar itself, and 33% of the audience waits for the event day itself. Hence, prompting and reminding the audience about the webinar becomes significant.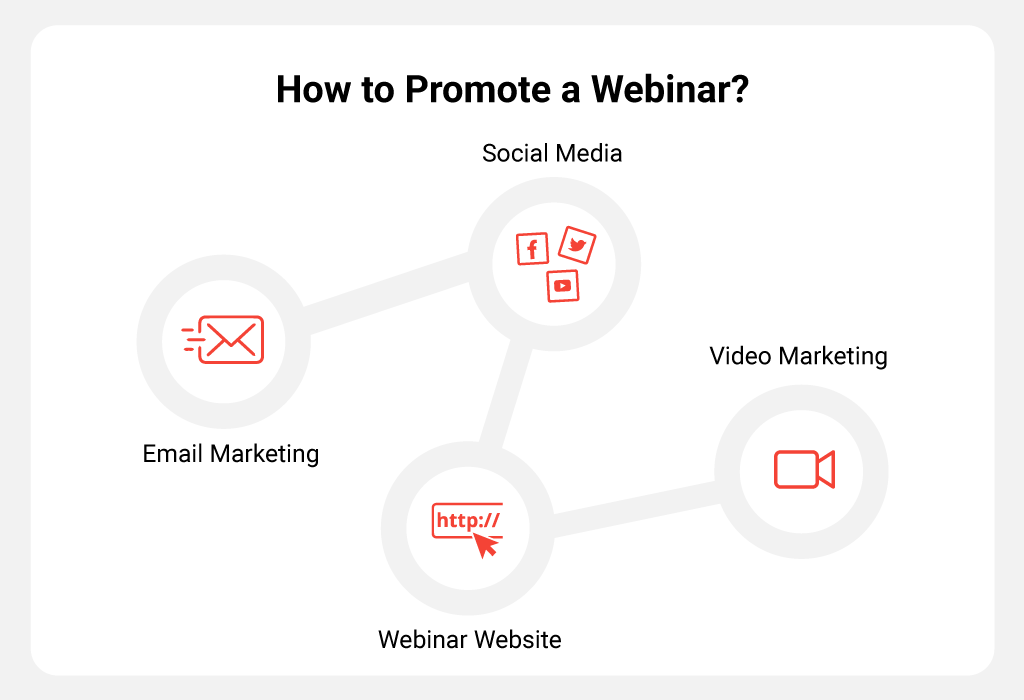 Marketers reveal that even if you promote your webinar, you can expect only a quarter of the audience to show up for the event. But that's okay, just by registering for the event, you have gained a lead. You can later use their mails for reaching out to them for future events, or you could also send them the snippets from the webinar after it gets over.
According to statistics, the webinars that have proven to be the most successful have started their promotions 15 days prior to the event. Hence, keep this point in mind while you start with your webinar promotions. Talking about it, here are some of the most effective marketing media you can use to promote your webinar.
Email Marketing:
Marketers across the globe consider Email marketing as the most effective marketing tool. Curate a database of your potential attendees and send promotional emails on their mail. As the event date approaches, you can resend emails to those accounts. What you can also do is you can keep sending reminder emails. However, while doing so, make sure you don't end up overdoing it; it might leave a bad impression, and the other person will block your email id.
Social Media:
One of the most prominent forms of communication in today's times, social media channels can be of great use when it comes to the promotion of your upcoming virtual webinar. Make efficient use of the fact that almost every other person today has their social media accounts and spends a considerable amount of time scrolling through Instagram, Facebook, and other social media platforms.
The moment you decide on your webinar's name and theme, create a social media page solely dedicated to your upcoming webinar. Share a sneak peek of your virtual event; update the audience with the latest happenings and announcements. You can host social media contests and giveaways, especially for your social media audience. It will help you attract more audiences to your brand and the webinar.
Webinar Website:
Your virtual event website would probably be the first authentication source your audience will come across. Make sure it impresses them. Design your website in a detailed yet eye-appealing way. Ideally, your website should answer all the questions your audience has regarding your webinar. Generally, webinars are hosted either to generate more revenue or expand your audience base. In both cases, your website is the best place for the audience to know your event in detail.
You should design your website in a way that compels your audience to think that your webinar is something that they shouldn't miss out on, and they end up registering for the same. Also, keep the typography and other factors in mind. Keep it minimalistic yet gripping.
Video Marketing
Videos are considered one of the most effective tools to improve your click-through and engagement rates, leading to generating more registrations for your webinar. You can curate videos and incorporate them with your registration or landing pages. Another way is to include the videos in your promotional emails. Keep the length of the videos short, and try including all the relevant information in them. You can also share the highlights of the previous webinars hosted by your organization.
Common Challenges Faced by Webinar Organizers:
There is no denying that webinars have innumerable benefits, but that doesn't mean we ignore the challenges they possess.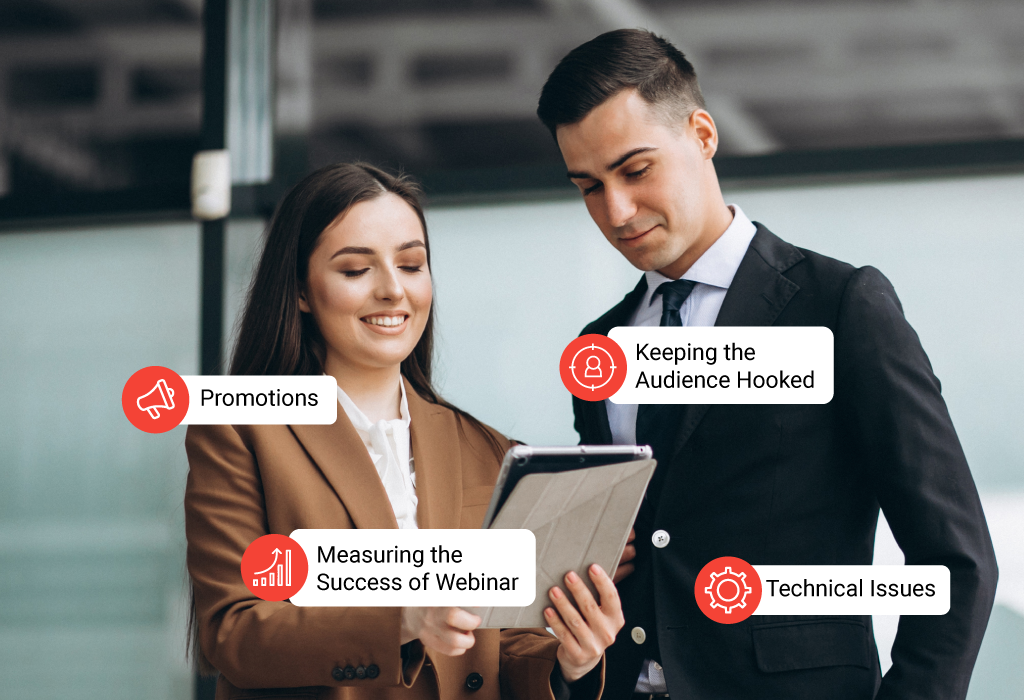 Here, we have listed some of the most common challenges organizations face while hosting webinars.
Technical Issues:
Technical glitches are the most common issues that the organizers face during hosting webinars. Organizers will agree that hosting webinars and technical issues go hand in hand. The most common issues that they face are related to internet connectivity, audio-visual errors, and even challenges faced by the attendees while accessing the webinar service.
However, with every problem comes a solution. To make your webinar a seamless flow, what you can do is check your technicalities before getting started with the webinar. Hosting a rehearsal session can save you from facing all the challenges on the day of your webinar.
Promotions:
There is a famous saying that goes like this," If a tree falls in a forest, and no one is around to hear, does it make noise?" The same goes for your webinar. If your webinar didn't have an audience, did you even host a webinar? No, right! Your preparation won't matter if you didn't have any audience at your webinar. It is safe to say that the promotional strategy you follow for your webinar decides the success of your webinar. A slight error can cost you your entire event. Hence, when it comes to the marketing of your webinar, use every effective strategy you can for your webinar.
Keeping the Audience Hooked:
Another most common challenge that the organizers face during the webinars is to keep the audience engaged throughout the webinar. Humans have a short attention span, and if you fail to keep the attendees hooked to their screens, they will quit midway. Hence, hosts need to understand that making people register for your webinar is not the only thing that decides the success rate of the webinar. You need to ensure a uniform audience engagement rate is maintained throughout the event. For this, you can get your hands on an expert webinar platform that comes with audience engagement tools. These tools will keep your audience engaged during the event and the audience engagement rates intact.
Measuring the Success of Webinar:
Talking of the next challenge that the organizers face when they host webinars is calculating the event's success. While it's been less challenging to decide if the event is a success in the case of physical events; the same with virtual events, on the other hand, is difficult. To solve this, you can refer to Key Performance Indicators (KPIs). These KPIs will help you analyze your entire event, and you can conclude if you can call your webinar success or not.
We hope you have found answers to all your webinar-related questions in this blog. To host the best live webinars, join hands with us. Book a demo session with Dreamcast today, and host the webinar of your choice.
Frequently Asked Questions:
Are Webinars Safe?
The safety of a webinar totally depends on the webinar service that the hosts have chosen to conduct a webinar. Hence, it is always advisable to pick an expert and encrypted webinar platform.
How Long Should a Webinar Last?
An ideal webinar should last a maximum of an hour; a 60-minute window gives the organizers enough time to showcase their content and is enough to achieve their objectives. Along with this, it all depends on the objective that the organizers want to achieve through the webinar.
What Makes a Great Webinar?
An effective and successful webinar has:
Higher Audience Engagement Rates 
Efficient Networking Solutions
Live Interaction Tools
Informative Content
Are Webinars Worth it?
Webinars are not only a great marketing tool, they are also an effective tool to boost sales. Along with it, webinars help the organizations to improve communication and interaction with their audience. Businesses depend on webinars to attract more audience, increase revenue, promote their products and services, etc.