Are you searching for a hassle-free way to organize your organization's yearly meeting with shareholders and directors? If your answer is yes, look no further! Hosting an AGM online could be the ideal solution for your organization.
Annual General Meetings (AGMs) are vital events for companies and organizations because they offer a platform for key decisions to be made, financial reports to be presented, and stakeholders to be informed. However, the traditional method of hosting AGMs in person can be time-consuming, expensive, and inconvenient, especially for those who are not able to attend in person.
Fortunately, technological developments and online platforms have made it possible to conduct online AGM Meetings offering a more practical and accessible option. This article will discuss the advantages of having AGMs online and introduce you to Webinar Plus, an online AGM platform that makes it simple and practical to host AGMs online. Read on to learn how Webinar Plus can transform the way you conduct your meetings
What is AGM (Annual General Meeting)?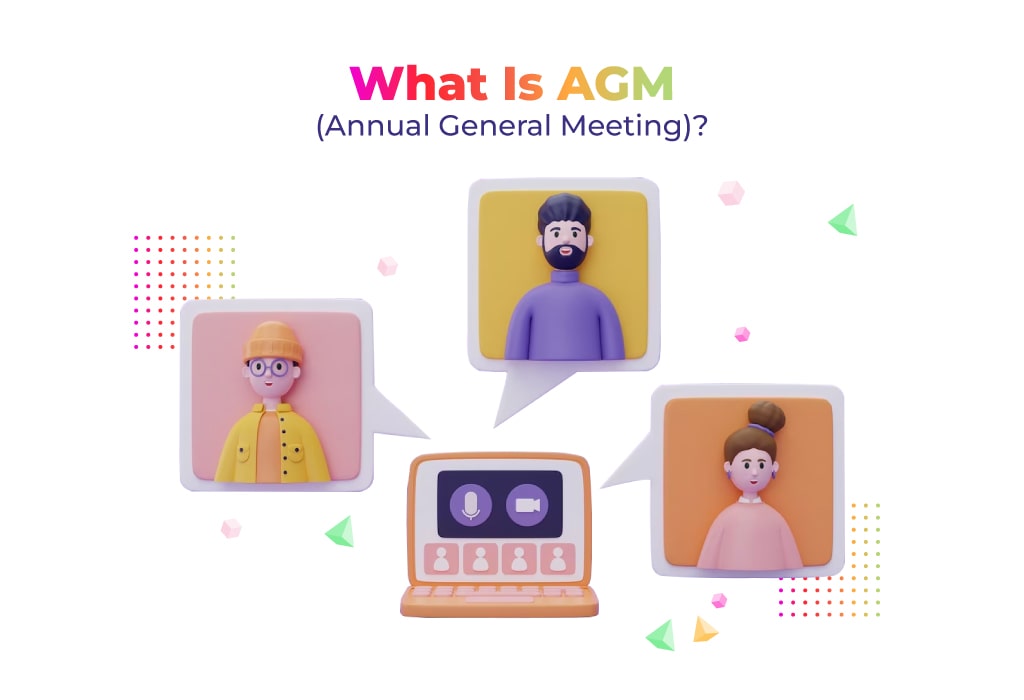 According to The Companies Act (2013), a company or organization must hold an Annual General Meeting (AGM) every year to discuss and review the results of the previous year, approve the financial statements, and elect or re-elect board members.
"When many small things are combined, they can accomplish great things." – Vincent Van Gogh
Annual General Meetings (AGMs) are gatherings that allow shareholders and the board of directors to meet together, talk about the company's development, and make crucial decisions that could affect the organization's future. The AGM offers shareholders an opportunity to express their concerns and ask questions in a transparent and accountable setting.
"In simple words, an annual general meeting offers a platform to discuss business matters and address resolutions."
For a number of factors, businesses are moving towards conducting their annual general meetings (AGMs) online. First, hosting AGM online provides greater reach, allowing more people to take part in the gathering regardless of where they are. This is especially important for organizations with a geographically dispersed membership base. Second, they can save businesses time and money by being more economical and effective than in-person gatherings. Virtual AGMs do not require the use of a real location, transport costs, or catering. The gathering is more productive because they also allow for real-time voting and Q&A sessions.
Overall, these advantages make online AGMs an attractive alternative to traditional in-person meetings, which is why more organizations are adopting them.
What Are The Benefits Of Moving Your AGM Online?
With the help of a virtual AGM platform, moving your annual general meeting online can provide a number of advantages that can enhance shareholder and stakeholder engagement, participation, and transparency. Some common benefits of online AGM are given below
1) Accessibility
Hosting your AGM online has a number of benefits, including the ability to reach shareholders and stakeholders who might not be able to attend in person owing to distance or other circumstances. The meeting's participation and engagement may rise as a result. Anyone with an internet connection can access online AGMs, enabling participants to link in remotely from diverse locations around the world.
2) Cost savings
Hosting meetings with an online AGM platform can assist in lowering the expenses related to traditional in-person meetings. This covers the cost of renting the venue, catering charges, travel and lodging costs, as well as additional costs like printing and mailing materials. Organizations can save a lot of money by eliminating the necessity for a physical location and lowering other logistical expenses.
3) Efficiency
Due to the lack of logistical duties like setting up a physical venue, planning travel, and distributing materials, online AGMs webinars can be more effective than in-person meetings. This may make it possible for the meeting to be performed in less time, which might be advantageous for participants with hectic schedules.
4) Enhanced involvement
Interactive tools available in online AGMs webinars can increase attendees' participation and engagement. For instance, attendees can take part in real-time voting, polls, and live Q&A sessions which can make them feel more involved in the decision-making process.
5) Improved transparency
By enabling shareholders and stakeholders to access information and take part in conversations online, online AGMs webinars can provide better transparency. The corporation and its stockholders may feel more trusted and accountable as a result of this. Information can be made accessible to all participants by being recorded and made available for later viewing.
6) Increased data security
Enhanced security protections for sensitive data can be provided by online AGM platforms, including two-factor authentication and encryption. This can assist to ensure that sensitive data is kept safe and protected against unauthorized access. Online AGM solutions may also offer a safe and regulated setting for voting, lowering the possibility of fraud.
How To Take Your Agm Online With Webinar Plus
Webinar Plus is a powerful platform for hosting Annual General Meetings (AGMs) online. Regardless of where your participants are located, you can effortlessly and securely hold your AGM using Webinar Plus. It offers a variety of interactive elements that might assist you in maintaining participant interest throughout the meeting. For instance, you may encourage guests to interact and ask questions by using tools like polls, Q&A, and chat.
A crucial component of Webinar Plus that might be useful at an AGM is custom branding. You can change your AGM registration page and webinar interface to coordinate with your brand and business identity. This might make your meeting appear more polished and professional. In this case, Webinar Plus might be an ideal alternative for you if you want to host your AGM online.
Host your AGM with Webinar Plus
With our online AGM platform, taking your AGM online only requires a few simple steps.
Step 1: Make an account on the Webinar Plus. You'll get access to all the resources you need to host your online AGM thanks to this.
Step 2: Set the time and date for your AGM and create an agenda. Make sure to allow enough time for voting or Q&A sessions.
Step 3: Create your webinar on Webinar Plus once you've decided on the agenda and the date. This entails setting up the required integrations, customizing your webinar settings, and establishing a registration page for your webinar.
Step 4: Through email or communication channels, invite your shareholders or members to sign up for the webinar. Include all relevant details, such as the time, date, and registration link.
Step 5: Start the webinar by logging into your Webinar Plus account on the day of the AGM. Be careful to stick to your agenda and keep the meeting in the right direction. Engage guests by using webinar platform features like chat, polls, and Q&A.
Step 6: Follow up with attendees after the AGM to thank them for coming and to offer any updates or next steps that are required.
Best Webinar Plus' Features To Ensure The Memorable Online Agm Experience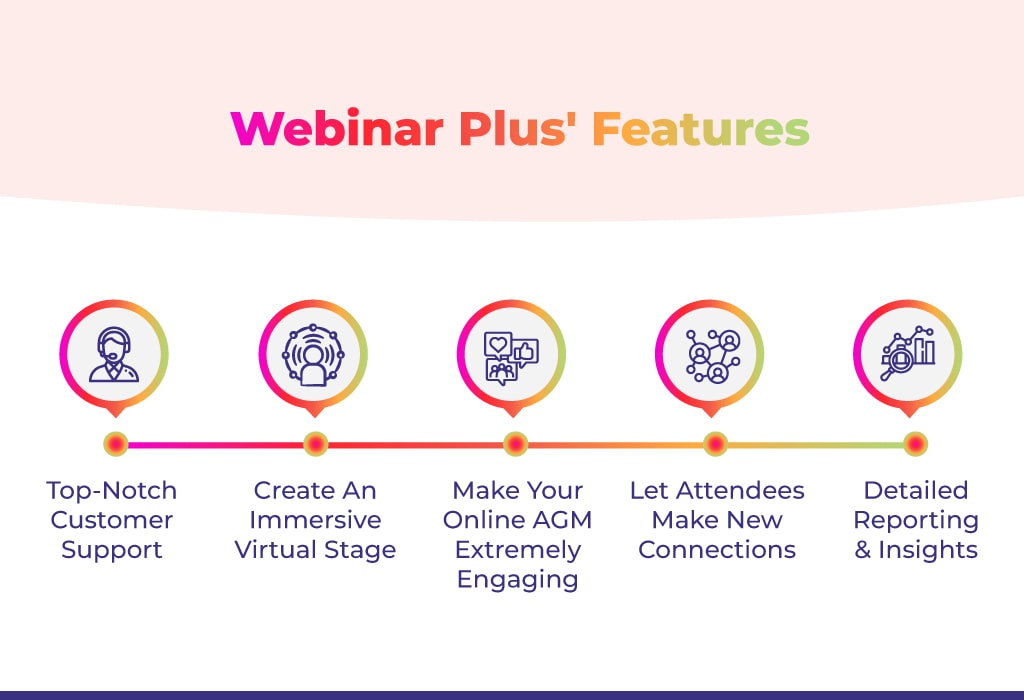 Top-notch Customer Support:
Throughout the AGM, attendees may have questions or have technological difficulties. It is crucial to have a support team on hand to assist them in resolving any problems as soon as possible. Optimal support options from Webinar Plus include live chat, phone, email, and various support channels with qualified staff on hand around the clock.
Using this, participants can receive on-demand technical assistance during the AGM without leaving the online annual general meeting platform. Attendees who are encountering technological problems can benefit greatly from tech chat since it makes it simple and quick for them to receive help without having to use a different support system.
Notifications support is another important feature of the online AGM platform. With this feature, attendees can receive notifications about upcoming events or changes to the AGM schedule.
An introduction guide video is a great way to greet participants with the AGM and give them an overview of how the webinar Plus functions. Attendees who may not be acquainted with the online AGM platform's features and functionality or who are new to online meetings may find this to be particularly beneficial.
Real-time assistance is yet another essential component of Webcast Plus. Attendees can now interact with the support team in real-time. Real-time support can take many different forms, such as live chat or phone support.
Create an Immersive Virtual Stage:
The virtual stage should be designed in a way that captures the attendees' attention and makes them feel like they're part of an actual event. With the aid of Webinar Plus, you can add images, graphics, and videos to your online event to make it more appealing and distinctive.
Using 3D designs can make the virtual event more visually appealing and create a sense of depth and immersion. These designs can be applied to a variety of event components, including the virtual stage, booth layouts, and product displays.
A welcoming environment for guests can be accomplished by creating a virtual lobby. It can also act as a primary hub for important data. For example, schedules, event highlights, and resources. With the help of Webinar Plus, organizers can customize the lobby to match the event theme.
The online event should be simple to explore and locate the information attendees need. Even those who are not tech-savvy can easily use Webinar Plus due to its simple structure and intuitive navigation. The online AGM platform's straightforward labeling of the various parts can also make it easier for participants to locate what they're looking for.
Using dynamic banners can help capture the attendees' attention and promote key features or activities of the event. In order to highlight keynote speakers, upcoming sessions, or special offers, you can use banners.
Make Your Online AGM Extremely Engaging:
A number of engaging tools from Webinar Plus are available to make your online AGM more interactive and interesting for participants.
With the help of customized photo booths from Webinar Plus, guests can take photos with unique frames and designs that capture the event's theme. These pictures are simple to post on social media, which raises awareness of the event and promotes participation.
Interactive Tools (Live polls, surveys, and Q&A sessions)
You can use live polls to ask attendees questions about the AGM. For instance, their thoughts on a specific subject or their degree of involvement. On the other hand, surveys help to get opinions on the whole event experience, such as the quality of presentations or the simplicity of the online AGM platform's interface. Q&A sessions encourage interaction and involvement by allowing attendees to pose questions to speakers or panelists.
Let Attendees Make New Connections:
With the aid of Webinar Plus, you can incorporate various networking features into your online AGM, increasing the likelihood that participants will develop meaningful relationships and broaden their networks within their respective industries. This could improve involvement and attendance at upcoming events and make the whole thing more enjoyable.
Webinar Plus provides AI matching tools that let users meet people who have similar interests or objectives. Using attendee profiles, this tool can make suggestions for pairings based on things like area, sector, and work. This can help attendees make valuable connections and expand their network within their industry.
This feature enables guests to exchange digital business cards that contain their contact details. By scanning a QR code or putting their information into a digital form, attendees can quickly exchange contact information with one another.
Virtual Networking Tables
Branded networking tables give attendees a place to meet one another in a more relaxed environment. In addition, these tables can be organized by topic or interest, allowing attendees to join tables that align with their specific interests.
Detailed Reporting & Insights: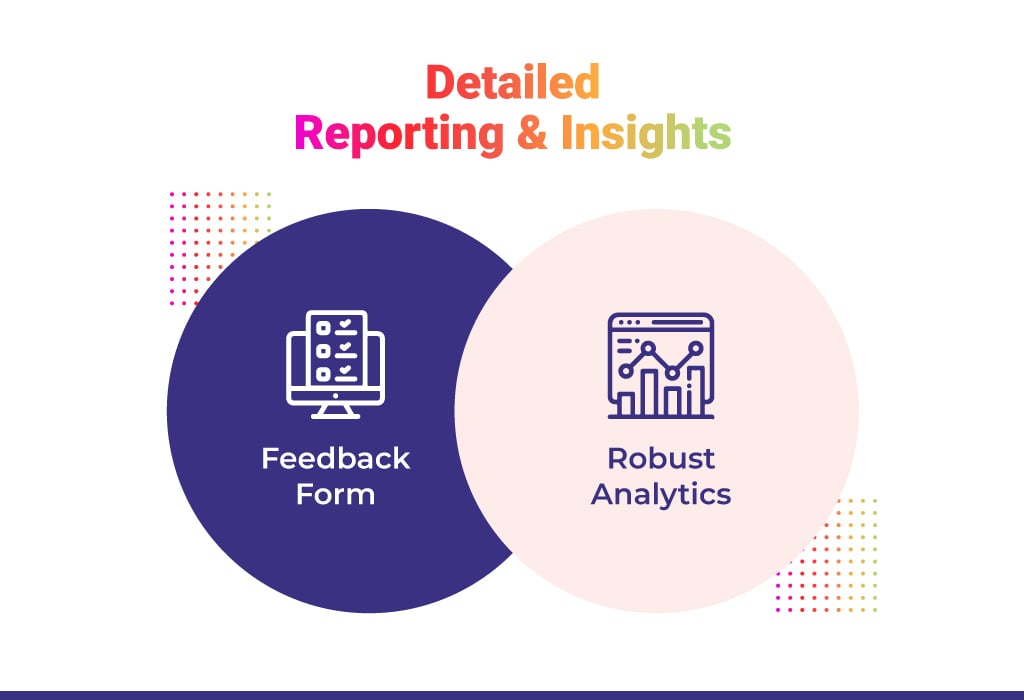 the online AGM platform offer the detailed report and statistics. It helps to enhance the overall event experience, pinpoint problem areas, and make data-driven choices for subsequent events.
The online AGM platform provides a feedback form that can be customized to gather feedback on specific aspects of the AGM. After the event, attendees can be asked to complete a feedback questionnaire. It may ask them about the event's substance, the quality of the presentations, and their platform experience.
Webinar Plus offers robust analytics. It helps to monitor participant involvement and behavior over the course of the event. These analytics may include information about how many people attended and how long they stayed involved.
Webinar Plus- One-Stop Shop For All Your Agm Needs
Webinar Plus is a comprehensive platform that offers a one-stop solution for all your AGM (Annual General Meeting) requirements. Our Online AGM platform has you covered whether you need to plan and host your AGM, or keep tabs on your business's success. One of the key benefits of using Webinar Plus for your AGM is that it is an all-in-one platform. To handle your AGM procedure, you don't need to use a variety of programs or services. Instead, everything you require is available in one place. This can save you time, cut expenses, and simplify AGM management.
Even if you are completely new to AGM management, Webinar Plus is simple to use and explore. The online AGM platform offers a user-friendly interface, intuitive design, and helpful customer support to ensure that you get the most out of the platform.
In conclusion, Webinar Plus is the ideal option for anyone searching for a complete and reliable tool to handle their AGM procedure. Webinar Plus can assist you in streamlining the management of your AGM and ensuring a good result, whether you are a stockholder, a company clerk, or a shareholder. Why then wait? Become a Webinar Plus member today to enjoy hassle-free AGM management!