In the fast-moving world of social media and digital transformation going continuously another big American giant Meta has launched 'Threads'. This new social platform is getting spread widely as an alternative to Twitter and a subsidiary of Instagram. To talk a bit more precisely about Threads there are many uses of it from expanding your social networking to increasing the visibility of your thoughts. Many industries can get benefitted and especially brands that host events. As they can take advantage of threads for events like promoting, spreading awareness, and building a sense of community.
The facts and figures of the threads are quite impressive. As the report suggests that it has reached over 5 million sign-ups in its first four hours. Making it an effective social channel to take into account. We all have heard or might be signed in to Threads but are not sure about its many aspects and especially how to promote events on threads. So, here we are.
In this blog, we are going to explore the many possibilities, tips, and tricks. Also, cover all the necessary information that can potentially help you engage attendees, spark conversations, and create unforgettable experiences. But let's start with the basics;
What are Threads and Threads for Events?
Threads is a social networking platform and specifically an application launched on July 5, 2023. It currently has a mobile version of it like for iOS and Android devices. Also, it is more closely associated with Instagram, and as the officials of Instagram's parent company Meta said it's an "Instagram's text-based conversation app". Here on threads, you can share text, images, and videos based content. Additionally, you can interact with other users' posts via likes, reposts, and replies.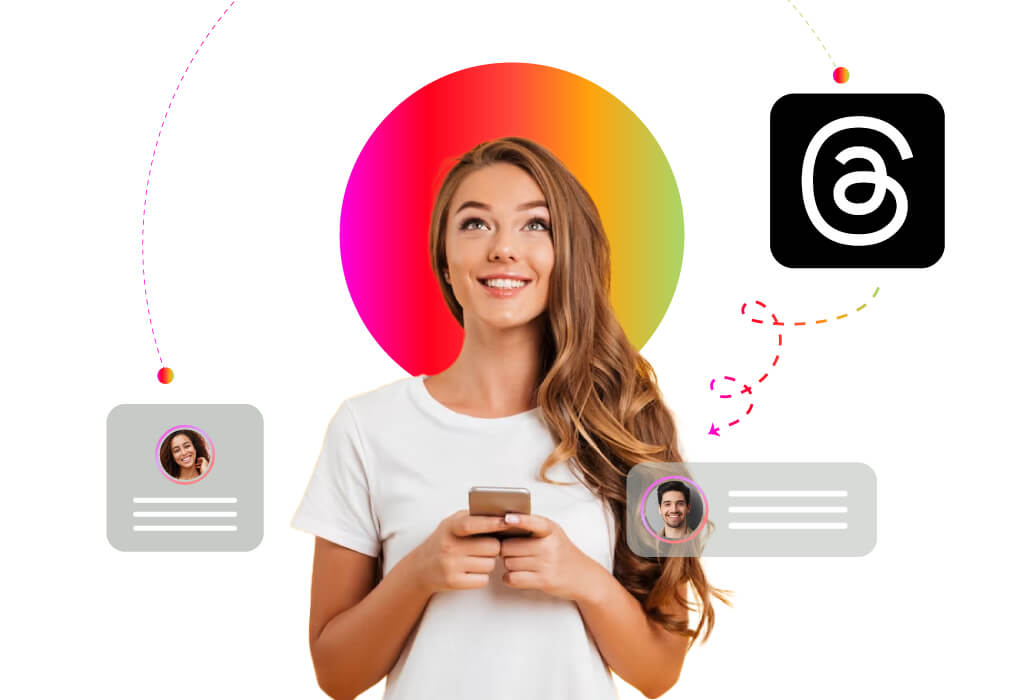 To be very specific, what are threads for events? Then the root answer is associated with the promotional and event engagement on threads. Like any other social networking site, it can be used to promote events and increase brand visibility. Also, to foster conversation and increase engagement.
Now coming to the potential of Threads for events, its uses, and how it boosts your event productively and drives registrations. So, let's get started;
Threads For Events: Promote, Engage Attendees & Increase Networking
Thread is a text-based interaction social networking site Where you can open to an audience for any kind of meaningful conversation. By sharing valuable insights about the event, and exchanging thoughts you can foster communication. Here's how you can leverage Threads' potential:
Foster Meaningful Conversations and Immerse Attendees
Ignite Discussions: Start sharing your insights on diverse topics to initiate the conversation. For example, share global trends or simply ask the user to share their perspective on that.
Amplify Event Promotions: Just like you promote events on social media, in the same way, utilize the Threads. For example, if you are hosting a music concert you can create a thread revealing the artists. By this, the interested audience can showcase their excitement via replies, like, and other means.
Post Interactive Q&A: Facilitate event engagement on threads by question and answer sessions to help any business know the audience better. By hosting Q&A sessions on Threads and getting real-time responses.
Boost Attendee Participation
The real-time communication capabilities between you and your attendees are helpful in sharing any updates about your events. Also, the Q&As and posts can be useful in showcasing the details of the event and encouraging others to share their perspective.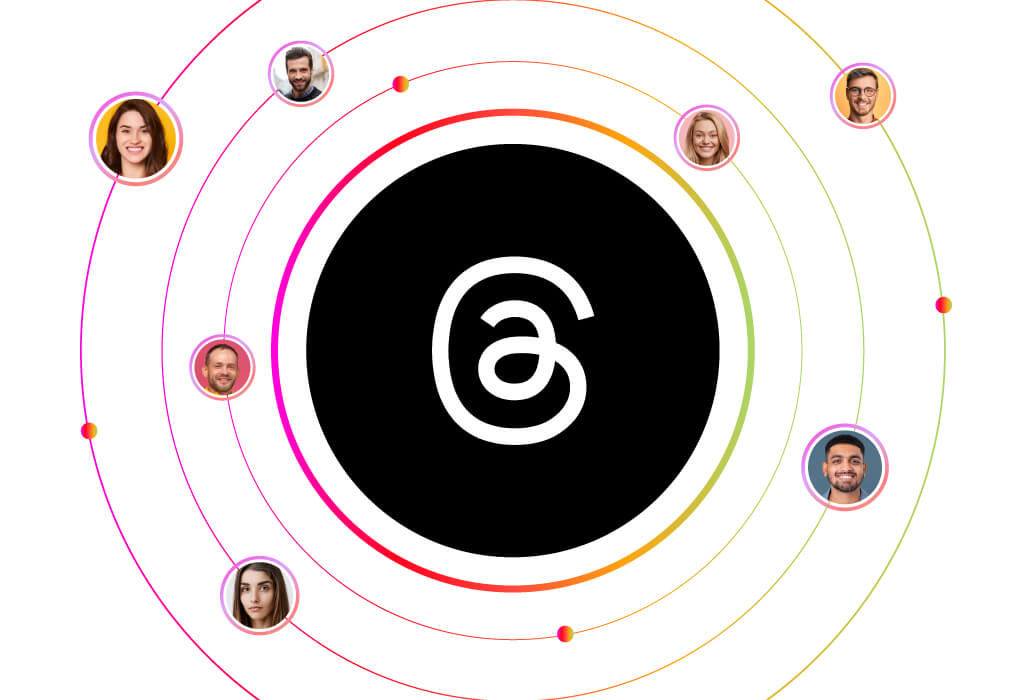 Networking Power of Threads
By taking active participation revolving around the then event's theme and industry niche. A community can be created, helping it in the longer term. Elevate your marketing efforts by focusing on the industry discussions. Also, engage with the industry professionals to improve the networking experience and establish valuable connections.
Unleash Post-Event Engagement
Take added advantage of threads for events to share memories, insights, and feedback after the event. Post or create dedicated threads for sharing the event highlights, the iconic moments, and all other crucial moments as well as fun activities. Additionally, ask for crucial feedback for future improvements.
Captivating Storytelling with Threads
Storytelling is the oldest yet the most powerful social media marketing for events to engage and attract new people. Leveraging threads for events to showcase enticing visuals of events, fun activities, and a vibrant event atmosphere to generate excitement among attendees. After the event, create post-event recaps to keep the buzz alive and spark interest for future events.
Hope you understand all the crucial usage of threads for events and a way to enhance event engagement on threads. Let's explore all other basic questions to give you a broader perspective.
Are Instagram's Threads Safe to Use?
To be very precious, yes, it is quite safe to use just like Instagram. Just like Instagram it also has Community Guidelines on content and interactions. These guidelines clearly state that users must be at least older than 13 years or 16 years (or 18 in some countries). Depending upon the country's rules and regulations it also adheres to strict guidelines. As a part of the guideline, it is advisable that parents should keep active monitoring even though the account is private.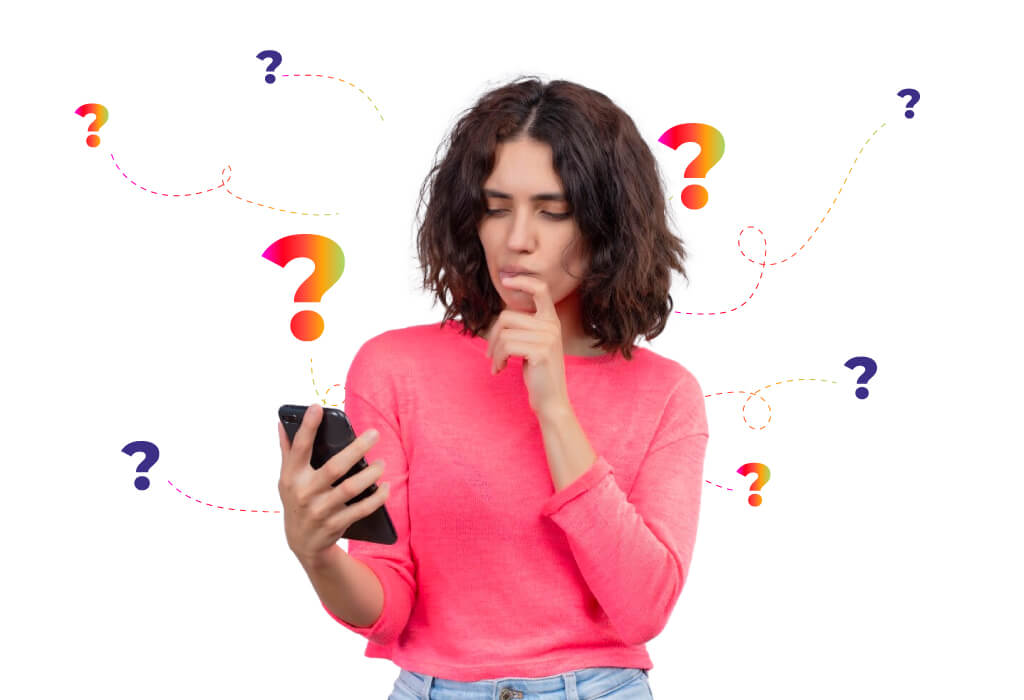 Additionally, the user has the option to filter their settings and take full control of how they want to interact. Also, they can block and unblock unwanted accounts. Thus, we can say that safety remains the most important aspect of Threads. These safety protocols are valuable from the perspective of using threads for events.
Can You Search for New Profiles & Hashtags?
Currently, threads do not support any searching functionality. The user cannot search for the profile and #hashtags or even any topics but a search tool to look up other users. To follow any new account the user can follow when any new profile is presented in the search results only. As said earlier Instagram and Threads are co-related and no new account is needed means that you migrate all your following and followers directly into it.
Pro tip* Follow any person on Instagram and you automatically add them to the Thread's following list.
Which Brands Have Debut on Threads?
Top companies like Calvin Klein, Kith, Allbirds, Shein, and Uniqlo have activated their accounts on Threads. Additionally, the global fashion brand Nike has signed up. Many huge brands are still researching and looking for more things to clear in the near future before they make their appearance on this new networking site.
Does Threads Support Ads Like Instagram?
Well, it is predicted that the ad feature for brands and businesses will be going to be available. But for now, the developers are first looking to scale this. This is also one of the major reasons why global brands haven't made their appearance yet. However, you use it to promote events on threads.
Note* In the initial stage of Instagram (when launched) there was no advertising feature. Now, this is the biggest earning source for Meta. So, this might be a potent strategy for the Threads too.
Does Thread Track its Users?
Threads is a product of Meta and just like its previous policies, it has been made for Facebook and Instagram. This is compliant that it tracks the users on various factors and collects a wealth of data. This data is further used to improve the user experience and overall the platform. The sensitive data includes;
Camera Usage
Photos
Financial Details
Health and Fitness Information
Location Data
Email Address
Phone Number
IP Information
Device Specifications
Browsing and Search History
Home Address
Device Signals (Bluetooth, Nearby Wi-Fi Access Points, Cell Towers)
All the tracking and collecting of such sensitive data of the user is valuable to this tech giant in many ways. Later they can use this data to showcase personalized ads, targeted marketing, and others. This heightened level of data collection has prompted concerns from EU officials, who prioritize data privacy. This is because the Threads are not available in whole European Union countries.
What Can You Post on Threads?
There are many limitations and restrictions on the Threads to post. Firstly it's a text-based networking app that empowers users to post a maximum of 500 characters (triple the limit of Twitter). Also, the user can include links, photos, and videos (not more than five minutes). This is why it can be used to promote events on threads.
How do Threads Work?
Just like its direct rival Twitter, it works the same with a bit of dis-similarities. Firstly you need an Instagram account to sign-up for Threads. Besides that simply download from Apple or Play Store fill in the details and log in.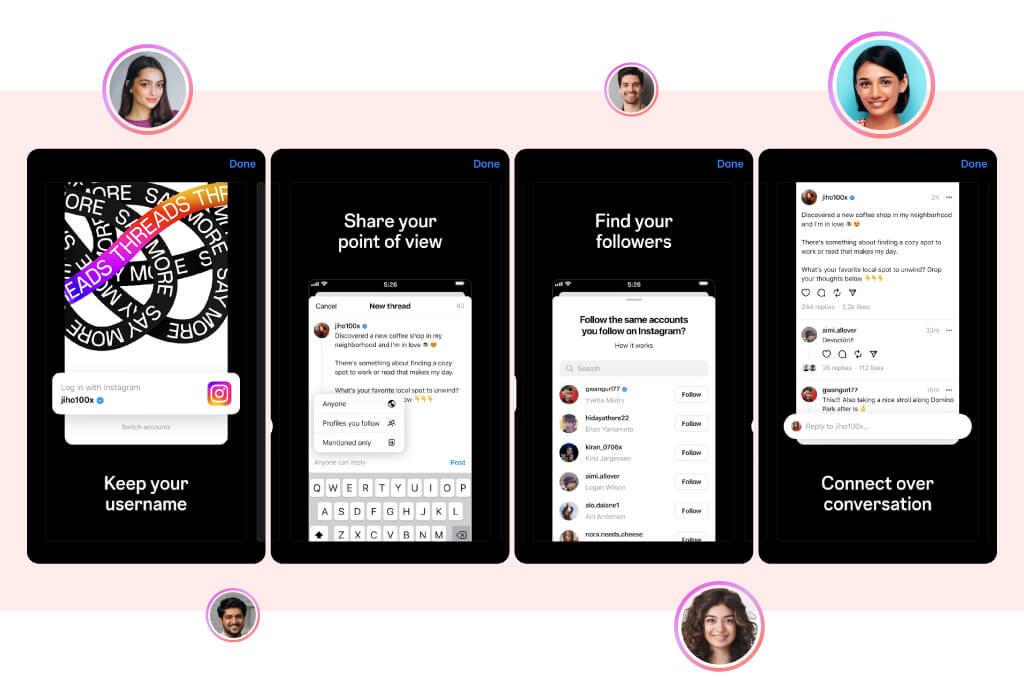 When you are logged into the Threads app it will ask if you like to follow the same accounts that you follow on Instagram. Depending upon your choice you can move forward where it shows you some popular profiles based on your interests. Congrats you are active on Threads, and now you can check out your feeds (a mix of posts and profiles). By liking, replying, reposting, or quoting the posts you can start the interaction.
Will The Threads Replace Twitter?
Well, it is a big debate and time will reveal what will happen. But for now, Twitter has a huge audience base and Thread is new to business. So far it's been a success and probably surpasses Twitter because of the new CEO, policies, and paid profile.
Hope you enjoy reading the blog and get a wider perspective of how and why to use threads for events. Just like the way you promote events on Instagram, you can leverage it the same way but in a different style. Thank you for reading.
In-Person, Hybrid, Virtual
Create an Extraordinary Event Experience
Across All Event Formats