We all have witnessed how technology has evolved with time. With the rapidly growing world and technological advancement, we are entering a parallel digital world. A decade ago our communications channels or events were just bounded by in-person only. But now the metaverse for events has changed everything, opening doors to many unbound possibilities on completely another level.
Metaverse technology is creating a seamless digital experience while other inventions like speedy internet and artificial intelligence have significantly contributed too. In the past few years, events have transformed themselves and created new versions like virtual and hybrid. All thanks to metaverse for events.
Here in this blog, we are going to unleash the many aspects of this technology while covering metaverse event ideas and examples, ideas to host, and benefits. But before moving to the core things, first, take some time to learn about its basics.
What is Metaverse for Events?
Metaverse for events is basically the use of AR (Augmented Reality) & VR (Virtual Reality) in order to create a dynamic as well as interactive experience for event attendees. Not just that but for now the term metaverse for events can be described as a technology that is helpful in creating a virtual space or environment in real time where users can interact with each other as well as digital objects.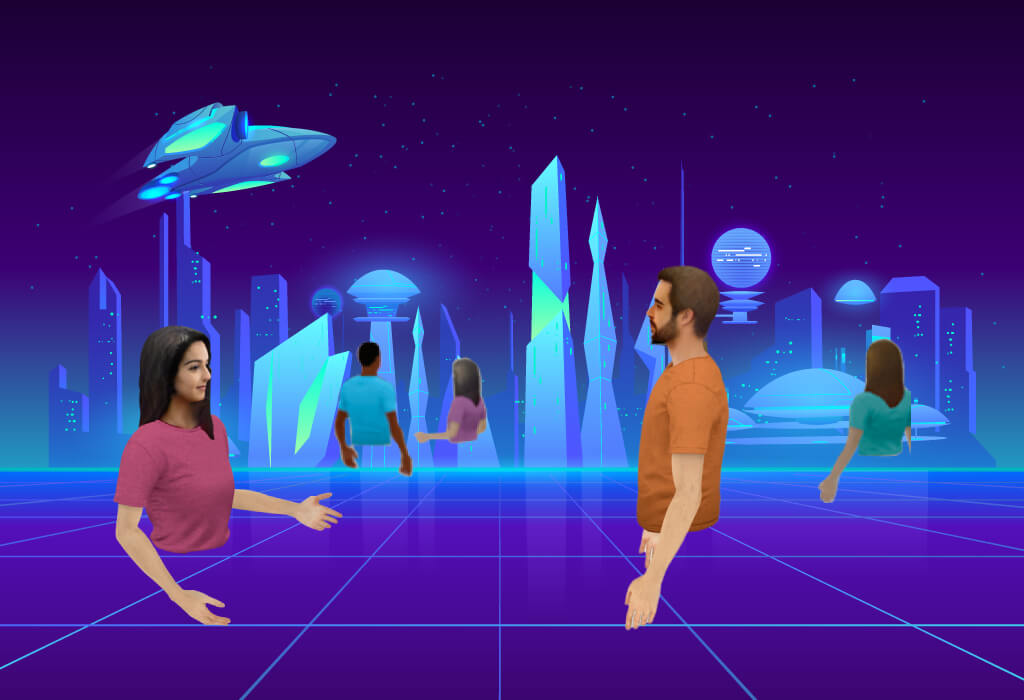 "In simple terms metaverse technology for events is something that alters the way we think about how events are used to host. As this technology is meant to create a virtual space where attendees can interact similarly the way they do in the on-ground events but in virtual settings. Making it more inclusive and accessible for all. anyone from anywhere can join, interact and participate in the event now."
Furthermore, metaverse can be used to host all types of events like trade shows, concerts, conferences, and other gatherings. In order to engage with other attendees, join presentations and sessions, or even visit virtual booths or exhibits. The participants can make avatars that represent themselves and travel through a virtual environment using these avatars. All these combined sorts of applications make the metaverse a booming technology to invest in and utilize especially for events. So now let's move towards some other aspects in context with events enriched with metaverse;
In-Person, Hybrid, Virtual
Create an Extraordinary Event Experience
Across All Event Formats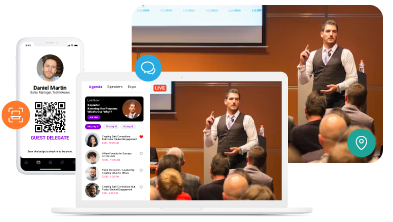 Metaverse Event Types in 2023
Virtual events in the metaverse are a distinct type of gathering that delivers the novelty of technology to what's currently available. Almost any traditional occasion can be turned into a virtual celebration.
Virtual events are something we all have now started liking to emerge due to their ease. However, the combination of both physical and virtual leads to hybrid events which are now the new emerging trends. However, there are enormous ways to introduce it in an in-person event with an array of metaverse event ideas. For now, let's skip that and talk about them later.
So, here are the top metaverse event types for all the categories;
1. Metaverse Music Concerts/Festivals & Entertainment Events
The entertainment event industry is one of the biggest in the market for any corporate event. As there are many events that happen across the globe around the year. Not all of us can possibly attend every event or sometimes possibly not even a live concert due to time, demographic, pricing, and other issues. So, what's the option then? Yes, you thought it was the right Metaverse for the events industry.
If the event host made it a hybrid and with using immersive metaverse technology uses. No doubt the participants can make their avatars and can participate from the comfort of their homes using intent and laptop smartphones. just like the physical events the attendee can interact, laugh, sing, dance, move from one location to another, and a lot more. This approach not just helps the host to attract more participants but ensures increased sales figures.
In-Person, Hybrid, Virtual
Create an Extraordinary Event Experience
Across All Event Formats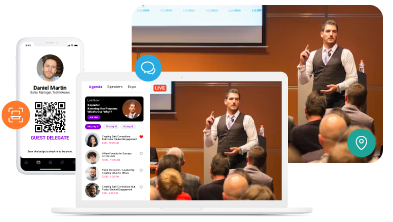 No matter your type, metaverse for events is extremely well-diversified technology. Early in the stage but surely the early stage is still leveling up the event experience for all.
2. Metaverse Gaming or eSports Events
We all love video games, eSports, and now PUBG or Call of Duty to a number of games available in the market. The gaming industry nowadays becomes a US$365.60bn market. Every year there are many tournaments and events organized. But now with metaverse technology, it has now evolved. Instead of just simply streaming the games live over social media sites like Facebook, Youtube or Instagram. you can now even play in real-time in virtual space.
Metaverse for events gives a sense of freedom to create your own avatar and set up yourself and compete with other gamers like in a real game. Making it a high-earning industry and a fruitful earning possibility. With VR and AR, you can actually play, watch games and experience the real world of video games.
3. Metaverse Expos, Trade Shows, and Fairs
Trade shows and expos are a vast term and potentially cover many items and things. No matter what, be it property, automobile, technology, food or anything else. With metaverse, there are a lot of possibilities a host can do. Some of them are mentioned below;
Custom 3D design
Networking opportunities with interactive live chats, polls, Q&As and others.
Live product demonstration and online shopping options.
Gamification for keeping attendees engaged
Branded virtual booths, live streaming, and 3D floor plans.
With such interactive and 3D-enriched virtual environments and online events, you can reach a wider audience and attract them to participate. This can be the best approach in 2023 to drive potential leads and build strong ROI.
In-Person, Hybrid, Virtual
Create an Extraordinary Event Experience
Across All Event Formats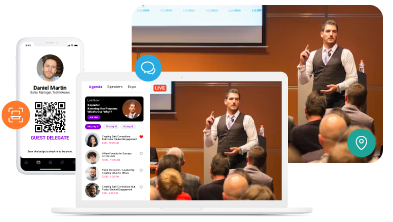 4. Metaverse Convocation and Award Ceremonies
Host, interact, celebrate, and enhance networking with metaverse events examples effortlessly. Convocations or better to say graduation ceremonies and award shows are the kind of event examples which is known for the day of celebration and happiness. With metaverse event ideas and interactive features, you can host immersive formal or informal yet real scenario events.
The Ultimate Metaverse Event Platform Features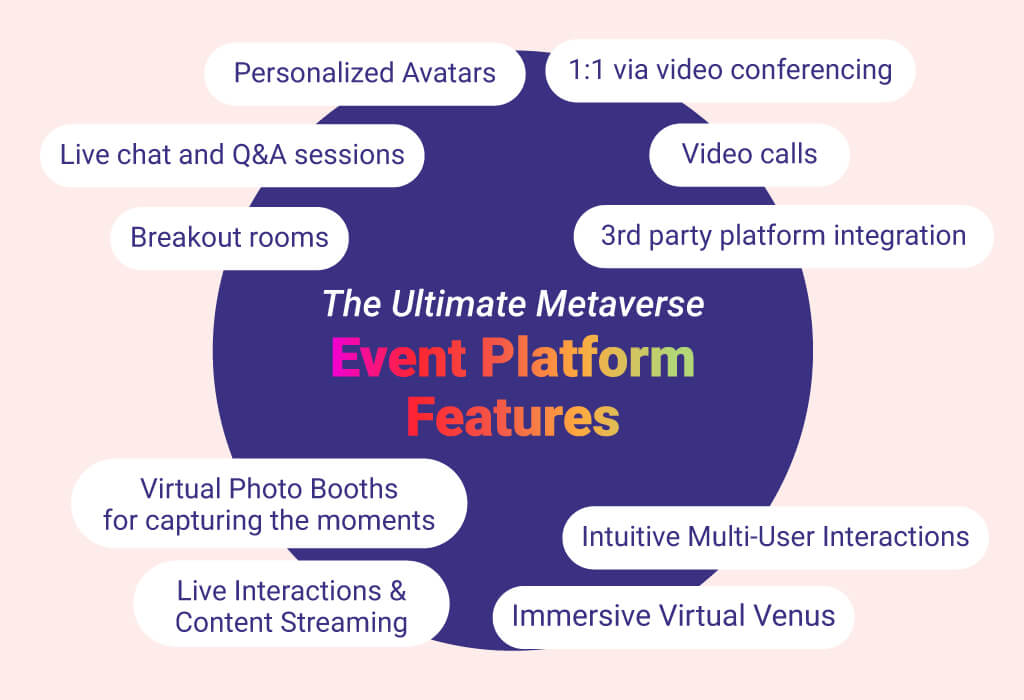 Personalized avatars
1:1 via video conferencing
Live chat and Q&A sessions
Video calls
Breakout rooms
Virtual Photo Booths for capturing the moments
3rd party platform integration
Live Interactions & Content Streaming
Intuitive Multi-User Interactions
Immersive Virtual Venus
To host grand graduation ceremonies and awards the organizer needs to look for a big space to conduct the event. However, hosting the event with metaverse technology can be helpful in hosting events of any scale and let everyone accommodate easily.
5. Metaverse Corporate Recruiting and Job Fairs
A corporate recruiting event is the finest metaverse event example. As this lets the human resource attract candidates from around the globe and take the interviews from different job locations as per requirement. Additionally, corporations can also provide training and workshops leveraging the powerful metaverse technology.
Many hiring companies can even come together to host one definite event on a scale to save cost while hiring talented candidates from all continents. By making the customisable 3D exhibit and using a non-complex metaverse platform the corporates can have a real-time immersive recruitment process. Additionally, with intuitive multi-user interactions, they can also conduct group discussions and talent acquisition rounds.
In-Person, Hybrid, Virtual
Create an Extraordinary Event Experience
Across All Event Formats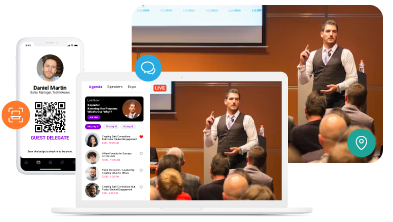 6. Metaverse Product Launch Event
Thousands of products every year are launched by diversified brands. However not every brand can't afford to host an in-person product launch event or even if they do so attracting attendees is a big hustle. With metaverse for event marketing ideas, the imagination is limitless. You can do, make or customize aligning with your brand and product event themes and capitalize the event.
By leveraging metaverse events with all its features, businesses can showcase live product demos and can even choose to automate them. Additionally, you can invite guests, and influencers or even display testimonials, run tutorials, live interaction, and a lot more. There are many metaverse events examples who have tried this way of launching. From Puma to Facebook and Apple do conduct such events. So, why not you as a brand? Wanted to know how this can help your business. Book Your Free Demo Now with Dreamcast to learn more.
In-Person, Hybrid, Virtual
Create an Extraordinary Event Experience
Across All Event Formats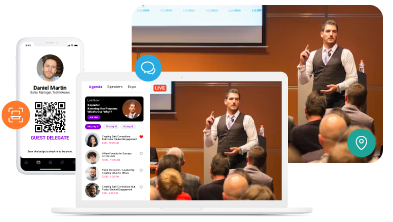 Unrevealed More Metaverse Event Ideas
Okay, we have till now talked about metaverse event examples and their types. But the metaverse for events is not bounded with the above-mentioned 6 types. Any kind of event can be hosted using metaverse technology. With its interactive features and avatar-based elements. Any event can be made just like it's happening in real life, which of course is a benefit of its technology. So, here are the top 10 metaverse event examples that can be hosted.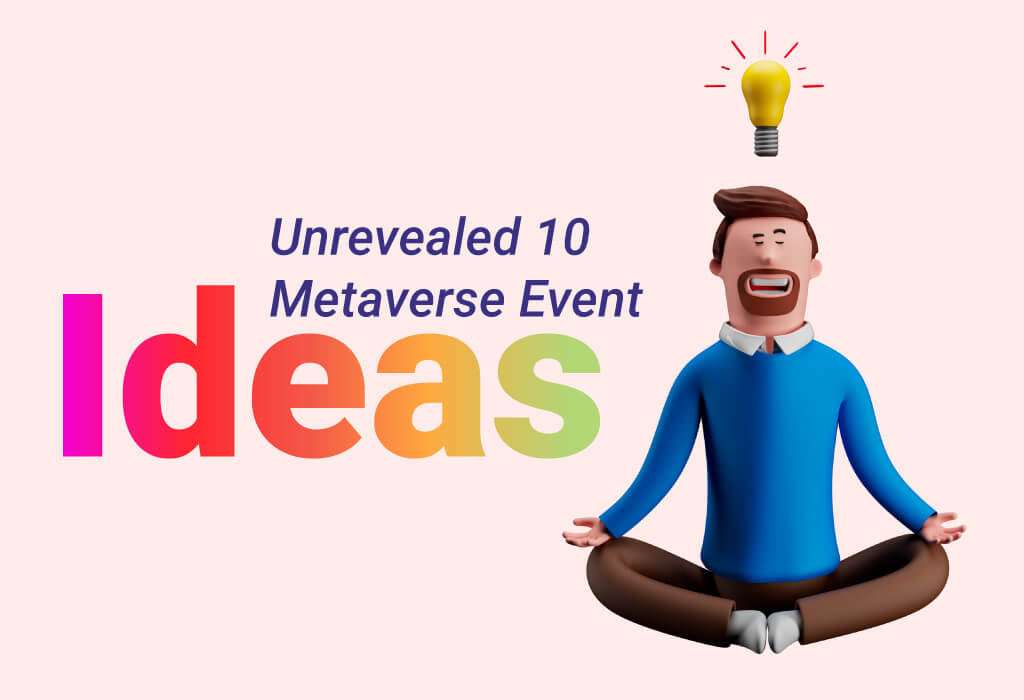 Metaverse Fashion Show
Online Art Gallery
Virtual Tour
Virtual Event
Comedy & funny Shows
Cooking Class or Master Chef
Metaverse Enriched Travel Show
Virtual Concert
Virtual Movie Night
A Book Launch Event
These above-mentioned event examples are some of the best ideas which an organizer can look forward to. These are the most engaging and interactive types of events, and hosting them in the metaverse can bring more fun and interaction with an enhanced experience.
Multiple types of events can be hosted in the metaverse above-mentioned are the top types of event ideas to host using the metaverse. Now let's move further to how you can plan and leverage metaverse event ideas to host successfully.
Ideas to Plan and Host a Successful Metaverse Event
You have experienced running a successful event, and now you want to expand your audience by giving them a lifelike experience. Launching a virtual event in the metaverse is a great way to build an audience. In order to do that successfully, here are some of the greatest metaverse event ideas that you can leverage.
Choosing a suitable service: If you are aiming to host a metaverse event on a large scale, the service should be capable enough that can accommodate the attendees. And depending on the tools that are available, develop a strategy that can grab their attention.
Provide marketing opportunities: Create a metaverse environment for your event with suitable branding and marketing. But you should not forget about your presenters, sponsors, partners, etc. You need to make sure to advertise everyone's participation easily.
Accentuate interactions: By registering to the platform, the user should be able to immerse themselves in a 3D space. That is customized according to the event's needs, with multiple rooms and activities. This is a great plan and metaverse event idea that provides enhanced interaction by creating an online event very similar to an offline one.
Powerful customer support: By providing enhanced support to the attendees, you can add great value to your Metaverse event. Since technology is new and exciting, most of them can face difficulties. Given them, competent support by chat or integrating AI can make you look more professional.
These ideas to plan metaverse events can be of great help that can lead to hosting them successfully. By giving the attendees an enhanced experience of making a virtual event more lifelike with a touch of modern technology. You can create a great impression on them and it can increase your brand value.
And now that you have known some great ideas that how you can create and host successful metaverse events. You need to know some incompatible benefits of metaverse events that can be achieved using this technology.
Benefits of Using Metaverse for Events
It is not necessary that the new is the better version of the old. Just because something came recently and is new doesn't mean that it can be better than everything that came before. However, the metaverse can add some great value that can support and stand as a solution that can be worth investing in. Below-mentioned are the most lucrative advantages of using metaverse for events.
More Captivating and Exciting
VR has been around for more than half a decade and still not has captivated its 'wow factor'. Though, users are more excited to use it and any event hosted through it in the form of the metaverse. It can certainly create more hype and buzz and make the audience eager to attend, making it a great benefit of metaverse events.
Reusable
Making an event in the metaverse can be used as long as you need it, with many versatile ranges of its uses. With the help of a comprehensive solution provider, you can create a platform that can be kept online or as long as the software and hardware stay active. Its functionalities can be changed for its reuse, making it a compatible event.
Giving Next-Gen Tech Events
The metaverse is often heard or mentioned in relevance with cryptos. Blockchains, NFTs, and other hot new technologies. Event organizers can also make their platform future-proof with next-gen technologies. To attract investors and sponsors with these new solutions like making a purchase in a metaverse event with cryptos or saving important dates on blockchain.
Easy Customizations with no Restrictions
One of the significant benefits of metaverse events that is gives no restrictions on making the environment for the event. Unlike in-person events that are restricted to a certain area, metaverse platforms have no restrictions on area and number of attendees. With seating space without limitations, features, and interaction, the platform can be very diverse. As long as it can handle the development, anyone can come up with a list of features, functionalities, and content. Giving more room for customization and making them shine to host an augmented event.
Up To You
In a true sense, the metaverse event ideas are a wonderful way to host any event type. With such a large array of benefits and interactive features, there is no need to give it a second thought to host your next event using such technology. If you wanted to know more about how your next event can be hosted virtually and with great networking and interactivity. Contact us now.
Frequently Asked Questions (FAQs)
How to make a metaverse-enabled event more interactive?
To make a metaverse-enabled event more interactive, there is a definite need to incorporate features like;
● Polls live chats and Q&As
● Gamification
● Virtual networking opportunities
● Live performances or demonstrations
How do I join an event in the metaverse?
To enter the vent just like physically you need to have access. By logging in you can enter and join the event in the virtual space while interacting with other attendees.
How much does it cost to host an event in the metaverse?
It completely varies depending upon many factors such as; the platform you choose, event size, its complexity, and features you wanted to leverage.
How do you create events in the metaverse?
There are many event tech companies that can help you create events in the metaverse. However, with a basic understanding of the platform, you're using, as well as any tools or software needed to create and customize virtual environments.
In-Person, Hybrid, Virtual
Create an Extraordinary Event Experience
Across All Event Formats