Recently, the demand for virtual events has skyrocketed more than ever before. Over the past few months, a paradigm shift in the event patterns from offline to online has been recorded. With the outrage of the global pandemic still lurking in many nations, the demand for virtual events and virtual event platforms has accelerated to precipitous heights.
Today, virtual events have become mainstream to host any kind of event right from interactive sessions by experts to hosting virtual exhibitions, virtual trade shows to virtual career fairs. Virtual events can be enjoyed right from the comfort of your own home while maintaining health safety in recent times. However, connecting with attendees virtually is the best option when face-to-face gatherings are prohibited. Additionally, virtual events offer their own sets of benefits that are just not possible to achieve with live physical events.
In this blog post, we will illuminate light on the top benefits of attending a virtual event. If you are planning to miss out on one, hold on. Here we have discussed some advantages of attending a virtual event that might change your mind. So, without wasting any further time let's dig in and explore the top 5 benefits of attending digital events. Let's get started!
Eliminate Barriers And Offer Flexibility
While hosting a live physical event many traditional barriers come into place such as geographical constraints or venue capacity. One can not make it to the event either due to time restrictions or location barriers. Whereas some miss out on being present at an event venue due to limited capacity.
Virtual events overcome all these obstacles and facilitate attendees to be a part of the event right from their convenience. It offers opportunities to attendees around the world to join the event right from their remote locations via any browser and device supported by an internet connection. The flexibility offered by virtual events saves a lot of time and effort invested in traveling. However, it results in delivering immersive experiences to attendees at scale. 
Cost-Effective Option That Offers Value
Virtual events are a perfect option that saves large sums of money. The cost involved in traveling, booking accommodation, food, and drinks, and so on with physical events, gets completely eliminated with virtual events. With virtual events, you only have to pay a registration fee just like physical events. The cost involved with in-person events gets completely resolved thus making virtual events a cost-effective option.
In-Person, Hybrid, Virtual
Create an Extraordinary Event Experience
Across All Event Formats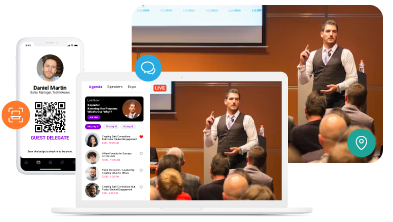 However, virtual events offer much more than physical events. You can not catch out the missed glimpse of an event with physical events. But, with virtual events catching up with missed parts of the event is possible. You can catch up with the missed sessions on-demand once the event concludes thus getting more value from the event.
An Opportunity To Connect And Network With Industry Experts
Virtual events involve keynote speeches and discussions led by global industry professionals. These events offer you an opportunity to connect and network with industry experts in real-time and have discussions on the most trending topics.
Virtual events facilitate you to schedule a meeting with them even before or after the event, to have relevant discussions. Additionally, you can opt to exchange virtual business cards to connect in the near future or foster meaningful connections.
Attendees can be part of brainstorming sessions and share their valuable opinions via live polls or Q&A organised during the event. Absolutely, not possible with physical event format.
Additionally, an experience shared by experts during virtual events gives an insight into how to tackle a current situation and what tactics other organisations are adopting to stay ahead in the race.
Become A Part Of A Global Virtual Event
Virtual events hold a diverse range of attendees around the world along with a diverse set of most promising and prominent speakers.  
As virtual events do not have any constraint of space limitation and geographical restrictions, they can be accessed by a diverse set of attendees seamlessly. Attending a virtual event opens a gateway to have real-time interaction with global industry experts and connect with other participants seamlessly. However, with lower ticket prices virtual events experience maximised registration from participants around the globe.
Excellent Networking Opportunities
Networking is a significant aspect of any event. It is one of the prime reasons that can make or break the event. Networking plays an important role in ensuring event success. Virtual events offer brilliant networking opportunities to connect and network with other participants, hosts, and speakers in real-time. A well enough reason to attend the virtual event without missing out on it!
In-Person, Hybrid, Virtual
Create an Extraordinary Event Experience
Across All Event Formats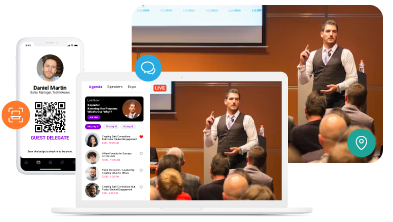 With physical events, navigating a crowd of thousands and having interactions with both representatives is just not possible always. Either sometimes long queues await or a person may feel hesitant while asking their queries face-to-face.
Online events offer enormous networking opportunities that make it easy for you to connect and network right from your home. Right from offering 1:1 and group live audio/video chats, virtual networking round tables, B2B meeting scheduler, AI matchmaking, and many more, virtual event platforms offer many such networking features for seamless networking.
Wrapping It Up
Attending a virtual event comes with many more benefits than mentioned above. Virtual events offer an opportunity to connect with global brands and expert professionals and have free-flowing discussions with them in real-time. Grab the opportunity to share knowledge, discuss the latest innovations, and network with global attendees right from your comfort. Hope the above mentioned information helps you out and make up your mind to attend the upcoming virtual event and reap maximum benefits out of it.
If you are looking for comprehensive solutions for your virtual hybrid event launch, Dreamcast offers endless possibilities. Enquire now!
In-Person, Hybrid, Virtual
Create an Extraordinary Event Experience
Across All Event Formats