Hosting an annual event is a matter of pride, excitement, and joy for an organization. Annual day functions are all about celebrating achievements, milestones, and most importantly, getting off the work mode for a while; and they are something everyone looks forward to. However, for the last two years, the concept of celebrating in-person fests has taken a halt, and virtual celebrations have become the new normal.
This blog consists of everything you need to know about virtual annual day functions. Have a look!
What is the significance of hosting a virtual annual day celebration at work?
Deepen Bonds with Clients
Celebrating annual functions and other such events is an excellent way of enhancing bonds that the company shares with its clients. They allow all the employees to get their clients aboard on a single platform and celebrate their achievements. Be it the completion of a project, or delivery of a paycheck, get on the floor with your clients and have a fun-filled celebration.
Morale Boosting of the Employees
The objective of annual day celebrations at the workplace is to conclude the year on a lighter note and appreciate the employees for their achievements and commitments throughout the year. These activities boost the morale of the employees and also allow them to take a break from work for a while. Also, getting appreciated at the workplace helps the employees to improve their performance.
Employees Stay Motivated
People getting appreciated for their work motivates other employees to work harder. It increases their chances of getting recognized in the future. Not only this, since such celebrations at work give the employees a break from the regular schedule, employees get the chance of refreshing their minds and performing better.
Team Building
The objective behind hosting annual celebrations is to celebrate accomplishments and milestones in the previous year. However, celebrating another annual day is an achievement in itself. These events allow the organizations to bring all their employees and stakeholders on the same platform. Employees can connect with their fellow employees from different departments and get to know them beyond their work. Connecting with others from the workplace helps them strengthen bonds and improve their performance.
In-Person, Hybrid, Virtual
Create an Extraordinary Event Experience
Across All Event Formats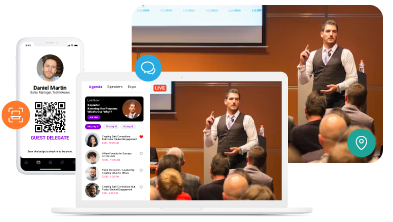 What are some ideas to make the virtual annual function more engaging?
Theme
You know what's an effortless way to get the party vibes flowing? Simply set a theme! It will give your celebrations a unique and collective look. Get the layout of your virtual event platform designed according to your theme. Also, get dressed up according to the theme idea. Though it might require your attendees to put in extra effort, trust us, you all will love the final output. Along with this, ditch the common boring themes for a while. Rather than going for ideas like Hollywood or favorite superheroes, think out of the box and go for something unique this time. Apart from dressing up, you can design your invites and send gifts according to the theme.
Pre-event activities
This online annual day celebration idea is a unique way to boost audience engagement at your event. Pre-event activities will help you increase the hype of your celebrations. Who says your annual day celebrations need to be one-day celebrations? You can stretch it to 2-3 days, depending on the availability of working days. Distribute the activities according to the schedule. You can host some contests, a yoga camp, and finally conclude the event with a virtual award ceremony, followed by a cocktail party. It won't only make your celebration more engaging but also give your employees enough time to chill and relax with their co-workers. Also, you can drop in exciting teasers and social media posts from previous celebrations to create the hype for your event, assuring maximum attendees' participation. 
Fun activities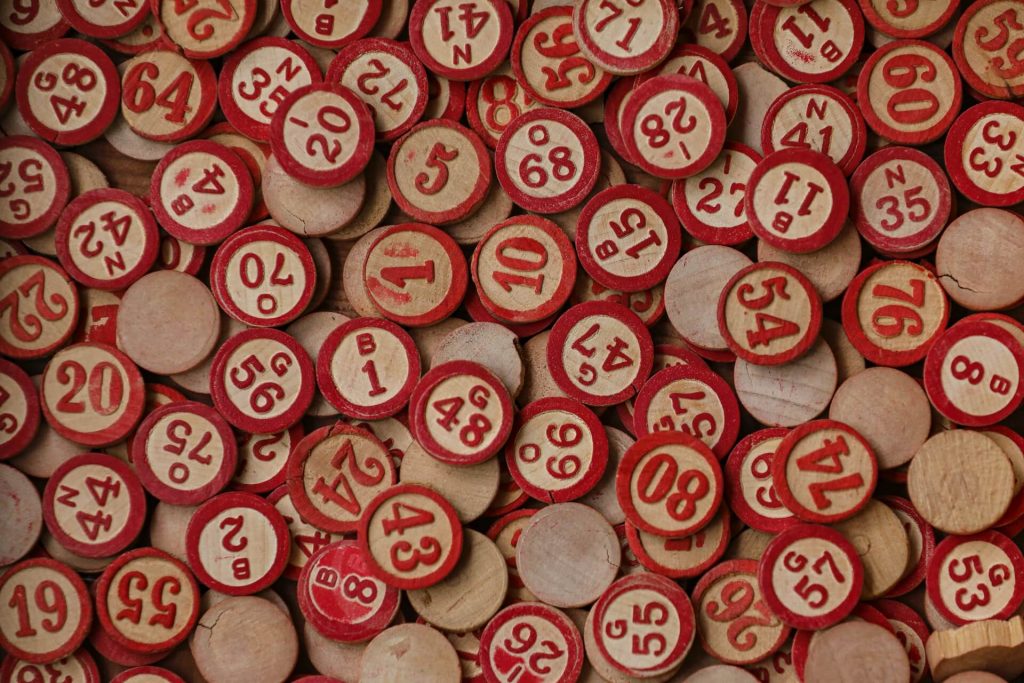 Include creative and fun ideas in your online annual function to ensure the attendees remember the event for the times to come. Audience engagement activities won't only make your celebrations fun, but even attendees won't find it difficult to attend longer-duration virtual events. Here are a few ideas that will make your annual function a memorable event-
Photo Booths- We know you like to click nice pictures and post them on your social media; so do your employees. Include the photo booth feature that will allow your attendees to click Instagrammable photos and make ever-lasting memories. There are efficient Annual Day Broadcast platforms that will provide you with this feature. Make use of various filters, and how about creating your filter exclusively for your attendees?
Talent Shows: How about hosting a talent show for your employees? I mean, what better than getting to know the other side of your employees? It is an excellent idea to share talents, get applauded, share giggles, and of course, build team spirit. Keep the stage open for everyone and pick up random participants to make it more lively and fun. You can host a karaoke show, dance show, skit competition, or keep it simple by not deciding any theme.
Cocktail Party: Raise a toast to your accomplishments of the passing year with your employees at your online annual day celebrations. To make it more exciting, invite a bartender who will guide you to make cocktails and enjoy the event to the fullest.
Music Party: Ever heard of any celebrations without music? No, right! Groove to some party hits with your office peers and make the most of your annual day celebrations.
Games: How about playing some virtual games with your colleagues? Here are some ideas that will help you add excitement and thrill to your celebrations.
Trivia: One idea is to go with the regular trivia questions, asking about geography or history, and the other is creating trivia questions about your company and fellow employees. Which one would you choose?
Selfie Competition: We love clicking selfies, and we know you do too. Host a selfie competition where the participants would click and upload their selfies on social media. The picture with the maximum likes would be the winner; simple.
Bingo: You can either create your bingo based on your workplace or use any of the templates available online.
Scavenger Hunt: Who says you cannot host a virtual scavenger hunt? Make a list of the items that are available inside the homes of your participants only.
In-Person, Hybrid, Virtual
Create an Extraordinary Event Experience
Across All Event Formats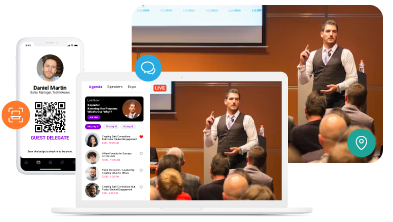 How to host a virtual annual function at work?
Here's a step by step guide that will help you host a memorable virtual annual day function-
Time
Start with deciding a suitable time for your company's annual day celebrations. While doing so, there are several factors that you should keep in mind. If yours is an MNC, picking the appropriate time and date becomes crucial. Along with these factors, make sure your celebrations don't crash with other important holidays, as your employees might have already planned their day.
Tech tools
After picking the correct date and time, it's time to look for the best Online Annual Day Celebration platform. Due to the availability of several options, it is common for the organizers to get confused. However, you can avoid the state of dilemma by looking for a particular set of features in a service provider.
a few features you should look for in a virtual event platform are-
All in one solution- How would you like it- managing several platforms at a given time or finding the perfect alternative that provides you a solution for all your problems? Look for a platform that comes with all the required features that would make your annual day live streaming an efficient affair.
Easy to use- Always remember, the easier the navigation, the better the event. Not all your employees would be tech geeks and wouldn't be able to crack codes of a not-so-easily accessible platform. To ensure all your attendees join the event conveniently, make sure the platform is easy to use.
Security- You wouldn't want to get your company's confidential data to get leaked. Not even in your worst nightmares! It won't happen if the platform you choose is secure from online threats.
Audience Networking Tools- The objective behind hosting such festivals and functions is to allow the employees to connect. Keep it in mind and get your hands on a platform that provides audience engagement tools that make it easier for the attendees to interact.
Budget- It goes without saying that look for an event solution that fits your budget. Do we need to elaborate more on this point?
Invites
Of course, you can always invite your attendees over a meeting link, but what if you make a few efforts and give it a personal touch? It will make your attendees feel special and get into the celebration mode. Ditch the formal and ordinary meeting link for some time and get a bit creative. Design an attractive poster and yes, keep the theme in mind! If you're planning on including a surprise element, drop hints with the invite. Along with this, you can also attach a meeting agenda with the invite, stating all the rules and guidelines for the annual day celebrations.
Reminders
Though it doesn't generally happen, stay on the safe side drop-in reminders to ensure your attendees don't forget about your virtual annual day celebrations. Infuse some creativity in the reminders and make them exciting.
Stick to the event schedule
Though it might get difficult for some organizers to hold back from discussing work at informal events, it is crucial to do so. Hence, it is advisable to create a flow of the event and stick to it at any cost.
Keep an eye on the clock
Know that virtual events come with several advantages; they come with limitations also. One is the shorter attention span of the attendees. Attending virtual events is challenging for various reasons, such as 'zoom fatigue.' Being a part of virtual events for longer hours leaves people drained of energy. Ensure your attendees have a great time at the event, set particular timings, and stick to it.
Feedback
After the event, send out feedback forms to your attendees and ask how they liked the event. Ask for the review of your attendees, and drop suggestions that will help you come with better editions of the event.
We hope this blog has helped you get a clear idea of what online annual day celebration is all about. If you have any questions, get in touch with Dreamcast and host an unforgettable virtual event!
In-Person, Hybrid, Virtual
Create an Extraordinary Event Experience
Across All Event Formats