In today's modernized workplace, you are more likely to organize virtual meetings with a global audience. Everyone across the world is shifting to virtual venues to host significant conferences and meetings. However, understanding the most effective ways to ensure your meeting's success has become the prime need of the hour. Wondering how to make a virtual meeting more efficient, interactive, and productive? Worry not! We have got your back with all notable tips to assure your virtual meeting's success & effectiveness.
Before moving ahead to explore the best practices for a virtual meet-up, let's comprehend its vital essence.
What is a Virtual Meeting?
In the simplest of terms, a virtual meeting is a formal gathering that takes place over a virtual meeting platform, with all the global participants attending it virtually. An online meeting helps in team building, lead generating, connecting with prospects, having significant discussions, and ensuring that all the employees of an organization are on the same page. Certainly, a virtually held meeting renders you with countless features to ensure smooth interaction, communication, and information sharing. 
Let's move further and explore some of the most proven ways to ensure the effectiveness of an online meeting.
In-Person, Hybrid, Virtual
Create an Extraordinary Event Experience
Across All Event Formats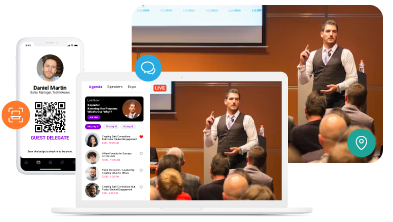 10 Expert Tips to Organize a Productive Virtual Meeting
#1 Predefine Your Goal
Determining your goals, purposes, and aims behind organizing a virtual meeting is very important to ensure its efficiency. Therefore, make sure that you set clear aims. This step will not only help you with strategy but also deliver a smooth virtual event. Before moving ahead with the further process, ask yourself the following questions to define your meeting goals:
Why do you want to organize the meeting?
Who is your target audience?
How many speakers do you wish to involve in the event?
Do you need to bring sponsors or exhibitors on board?
Which virtual event platform features are needed to be incorporated?
What type of content format do you need in the online meeting?
How will your participants benefit from this event?
What do you wish to achieve from this virtual meeting?
#2 Choose the Right Date & Time
Shifting to a virtual meeting solution means attaining a global reach. But, this advantage comes with the challenge of choosing the right timing that suits your global audience. Hence, make sure you decide on a suitable time to host your meeting. This point also covers the fact that you need to choose the right day as well. It's vital to assure that there's no notable meeting for the same target audience on the same day, as this might divide your participants.
#3 Create an Efficient Agenda
A report by The Balance Careers suggests that you can reduce meeting time by 80% by following a structured agenda. Planning a time-effective agenda has great importance when you wish to ensure a successful virtual meeting. The fact that the attention span of your virtual attendees largely differs from physical events also determines the efficacy of your event. Therefore, ensure that your meeting sessions are not too lengthy and include mini-breaks in between.
Most importantly, the agenda of your virtual meet-up should be valuable for your attendees.
#4 Choose the Most Suitable Virtual Meeting Software
Opting for a suitable virtual event software is one of the best tips for effective virtual meetings. An advanced virtual meeting solution is well-equipped with top-notch features to meet all your online meeting goals. Virtual meet-ups can include confidential content where the data has to be safe. Therefore, don't forget to ensure that the virtual meeting platform you opt for guarantees security. All in all, choose the most suitable virtual venue for your event based on all your requirements.
In-Person, Hybrid, Virtual
Create an Extraordinary Event Experience
Across All Event Formats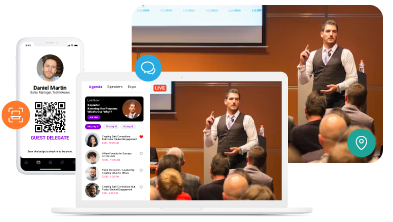 #5 Create Efficient Content
Content holds unmatched importance, especially when you are hosting a virtual conference or meeting. You need to ensure that the content you include in the meeting is well-planned, strategized, structured and presented. From audio & video quality to the branded backdrops & presentations, everything should be created with an audience-based approach. 
#6 Send Out Meeting Invites With Requisite Documents
One of the most vital tips for effective virtual meetings is to share all the requisite information and details with your target audience at the right time. In addition, informing your attendees about the meeting agenda and session details beforehand will help you keep them updated. Also, ensure that you attach all the essential content files your attendees might need during the meeting.
#7 Make Your Virtual Meeting More Interactive
A prime virtual event platform provides you with countless interactive features that can efficiently enhance your online meet-up. By using these elements, you can not only keep your participants engaged but also add more value to your meeting. The more interactive elements you add to the event, the more your participant's event experience elevates. Dreamcast renders its users with unparalleled innovative interactive tools like:
Live polls and contests
1:1 interaction
Chat rooms
Live audio/video/text chat
Group discussions
Reactions through emoticons
Live Q&A sessions
And the list goes on.
#8 Make Your Virtual Meeting More Engaging
Engagement is a very significant aspect of any virtual event, be it a virtual conference, a virtual fair, a virtual expo, or a virtual meeting. According to Markletic, 49% of marketers say that audience engagement is the biggest contributing factor to having a successful event.
However, there are numerous ways you can intensify the engagement at your virtual meet-up. Mentioned below are some of the top engagement tools rendered by Dreamcast:
Gamification
Live Event Polling
Social Wall
Photo Booth
Signature Wall
Virtual Escape Room
Push Notifications
Networking Tools
Breakout Rooms
And a lot more.
#9 Include Excellent Networking Opportunities
Networking is one major reason why attendees feel enticed to attend any event or meeting. To host an efficient online meeting, make sure you incorporate excellent networking opportunities. It will not only enhance the engagement prospects at your meet-up but also maximize its reach. The virtual meeting venue provided by Dreamcast has all the innovative features that can help you make the most out of your meeting. Explore some of them below:
Virtual Networking Lounges
Virtual Networking Tables
AI Matchmaking
Advanced Search Filters
B2B Meeting Scheduler
And many more.
#10 Share Meeting Summary With Your Attendees
Sharing the meeting summary with all your participants can be a productive activity to maximize the life of your online meeting. It will also update your attendees about all important aspects of the event that they might have overlooked. So last but not least, send out the summary of your meeting to all the attendees; and magnify the presence of your virtual meeting efficiently.
According to a report, video conferencing will be a $13.8 billion market by 2023. Clearly, the world is moving towards the modern way of holding meetings to maximize productivity. And in such a case, virtual meetings are an advanced version of organizing effective meetings over the web with custom conferencing halls & engagement-driven platforms.
Looking for a one-stop solution to ensure your virtual meeting's effectiveness? Dreamcast has got you covered with top-notch online meeting features and tools! Book a demo now.
In-Person, Hybrid, Virtual
Create an Extraordinary Event Experience
Across All Event Formats