In the rapidly growing digital era, we all have witnessed how technology has taken every aspect of our lives. It's not of any surprise that event management has also moved online. Event organizers and businesses for years are looking for new ways to make the event registration and ticketing process smoother and more efficient. One such effective way in today's age is to leverage the power of WhatsApp for event registration and ticketing.
Here today in this blog we are going to explore all the important aspects of how you can use WhatsApp for your event ticketing and registration needs. Additionally, we will discuss its important factors.
What is WhatsApp For Event Registration And Ticketing?
Event registration and ticketing are one of the features of Whatsapp automation that simplify such processes. Incorporating Whatsapp for RSVP management or event planning means sending automated messages, collecting attendee information, issuing digital tickets, and communicating with attendees in real-time.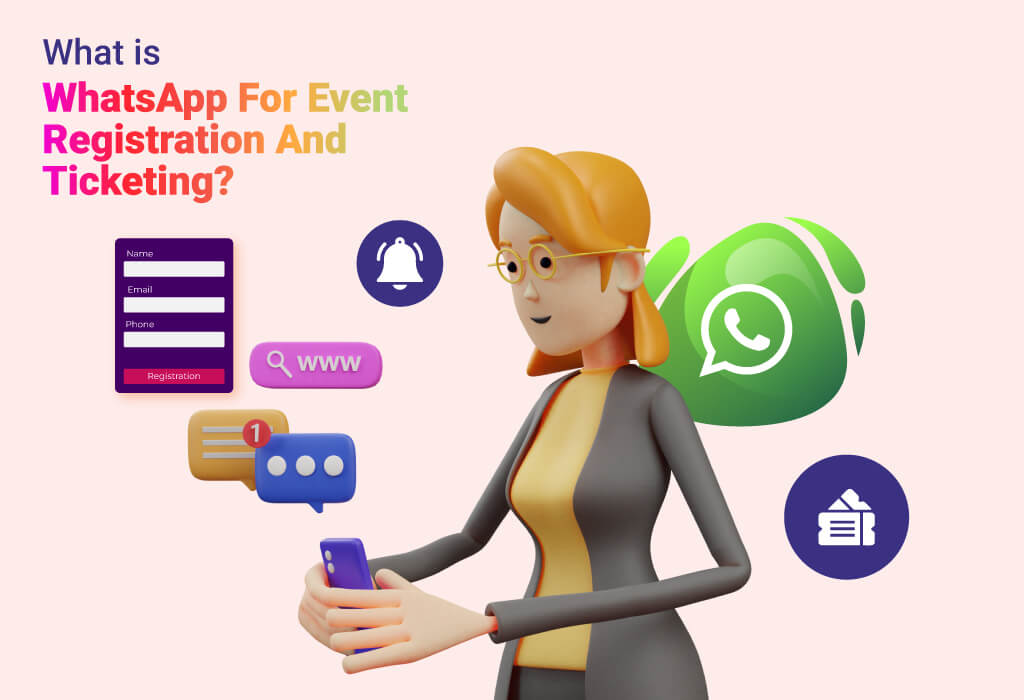 In simple terms, we can say Whatsapp for event registration and ticketing is an innovative approach for organizers to streamline their event planning and management. It not just saves time and effort but also eases down many hustles and provides an enhanced experience and boosts attendance rates. However, there are many other reasons to use it. Let's see next what are;
Why Use WhatsApp for Event Ticketing and Registration?
We all use Whatsapp in our daily lives to be connected with our family and friends or with certain community groups. It seems like Whatsapp is now an integral part of all our lives. So, how about using it for your event registration and ticketing? It's fast, easy, and offers an array of reasons. Also, Whatsapp has over 2 billion active users making it a familiar application for most of the event attendees.
The 5 Ultimate Reasons to Use Whatsapp for Event Registration and Ticketing
Well, there are numerous reasons to use WhatsApp, but the below five are considered the most suitable that will convenience its versatility.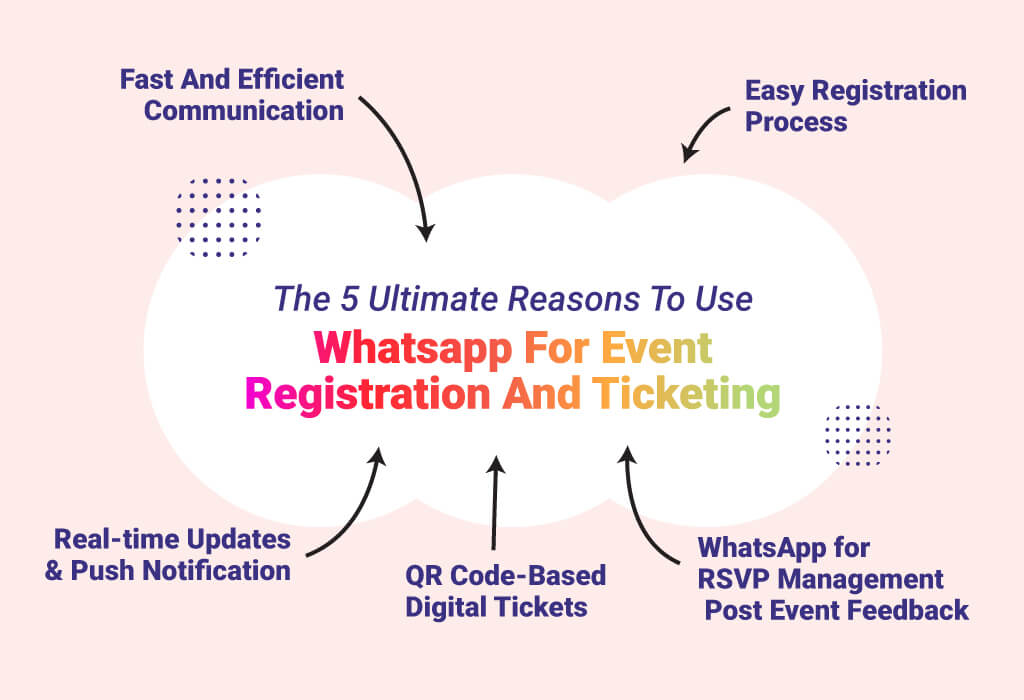 Fast and Efficient Communication
Whatsapp offers fast, real-time communication with attendees where you can resolve any of their queries, provide necessary information about the event and a lot more. Additionally, by integrating the WhatsApp chatbots you can automate your communication as well as feed frequently asked questions.
Easy Registration Process
As most event attendees or people are familiar with the application. So, it will be quite easier for them to register and receive their tickets while saving time and effort. It is believed that easy registration increases attract more attendees.
Real-time Updates & Push Notification
This is considerably the best functionality WhatsApp offers. Real-time updates and push notifications about the event schedule, venues, or any other details and last moment changes. This overall fosters communication and eliminates any situation of doubt before, during, and after the event.
QR Code-based Digital Tickets
With Whatsapp automation for event ticketing and registrations, you can create and send QR code-based digital tickets to your attendees. This approach eliminates the need for physical tickets and smooths the check-in process. Additionally, eliminating the printing of paper tickets also contributed to a greener environment.
WhatsApp for RSVP Management & Post Event Feedback
It is always a tedious task to collect feedback or send reminders. However, WhatsApp for RSVP management can be helpful to manage all these tasks. You can now automate sending reminders, follow-ups to your attendees, and even post-event feedback.
Now you have got an idea of why to use WhatsApp for event ticketing and registrations. Let's look at some of the top benefits it offers;
Top 10 Benefits of WhatsApp Automation for Event Ticketing and Registration
Here are the top 10 benefits that anyone can leverage by incorporating WhatsApp automation in their event planning and execution.
Efficient and optimized ticketing process
Less effort and administrative responsibilities for event organizers
Improved accuracy and dependability of attendee information
Real-time communication with attendees via WhatsApp
Cost-effective alternative to traditional ticketing systems
Convenient and easy registration for participants
Personalized chatbots for engaging registration experience
An easy registration process leads to increased participation
Third-party integration for more functionality
Post-event feedback and interactivity possibility
Well, you have read all the reasons, benefits and other aspects of it. However, before you incorporate WhatsApp for event ticketing and registrations, you should start looking for the essential features you require based on the problems or needs. So, here in the next section let's look at some of the essential features you need to enhance your event dynamics.
WhatsApp-Driven Smart Solutions for Your Next Event
There is a wide range of solutions that resolve different problem statements of the event. Additionally, in order to cater to different requirements, you need to incorporate them. For a better understanding consider a chat application which can be used in a variety of ways like; marketing, e-commerce, sending live locations, product to personal details, and many others. How you use that chat application is in your hands.
So, in the same context here are some of the critical features and functionality you should look for. But before that always determine your needs and set your goals. So that you don't end up wasting your money.
Key Features of WhatsApp Automation
Event Registration (Paid / Unpaid
RSVP Management
Event Ticketing
Push Notification & Broadcast
Database Marketing
Live Audience Engagement
Post Event Feedback
Digital Event Help Desk
User Journey Automation
E-commerce
Whatsapp For In-Person Event Registration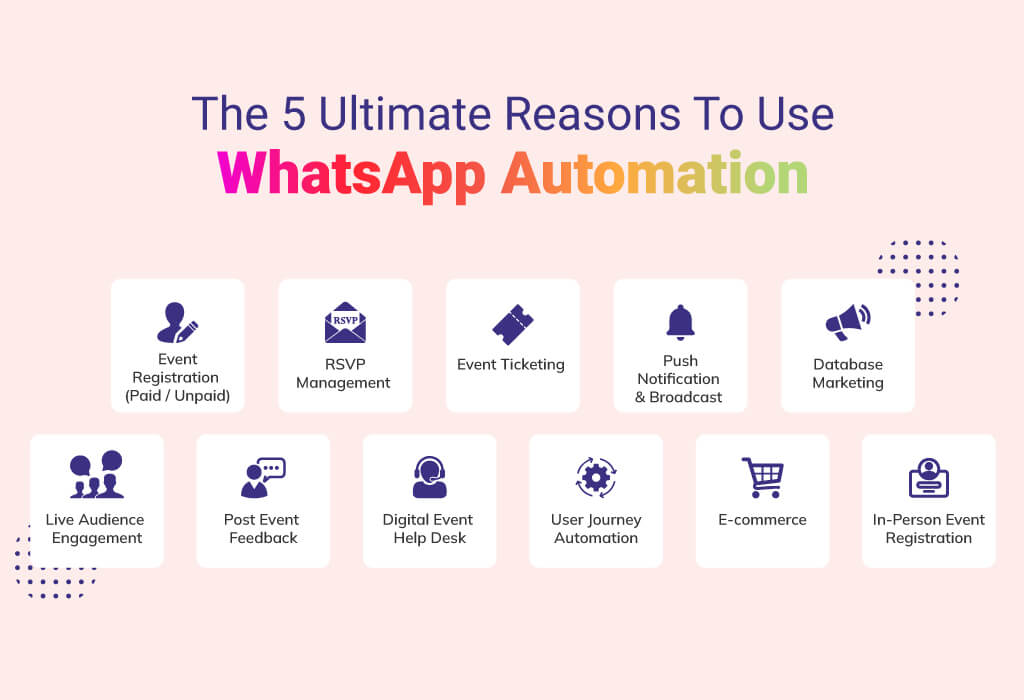 The above-mentioned are some of the crucial features and functionality we at Dreamcast offer. To learn more about its actual use cases and how it works. Follow the link; WhatsApp Automation
Up To You
Undoubtedly, Whatsapp for event registration and ticketing is one of the best solutions every event organizer should need to look for. For easy, accessible and time-saving registrations. It is necessary to introduce such technology. Additionally, it also reduces the human efforts and manual registration and ticketing process that takes a lot of time and workforce. 
If you are also looking forward to streamlining your registration and event ticketing process. Look forwards to Dreamcast's WhatsApp Automation solutions where every integration is done to resolve your goals and objectives. To know more or have any queries Book Your Free Demo Now.
In-Person, Hybrid, Virtual
Create an Extraordinary Event Experience
Across All Event Formats