With a consistently evolving events industry, Hybrid Events have become the new go-to choice for global organizations & event organizers. While many event planning experts have successfully pivoted to the hybrid or blended event format, many are still trying to get a hold of the fast-paced shifts of the industry. However, to help you successfully plan & execute a hybrid event, we have curated some of the most beneficial Hybrid Event Solutions that can help you amplify the success prospects of your event.
5 Must-Include Smart Hybrid Event Solutions to Ensure a Smooth Event Experience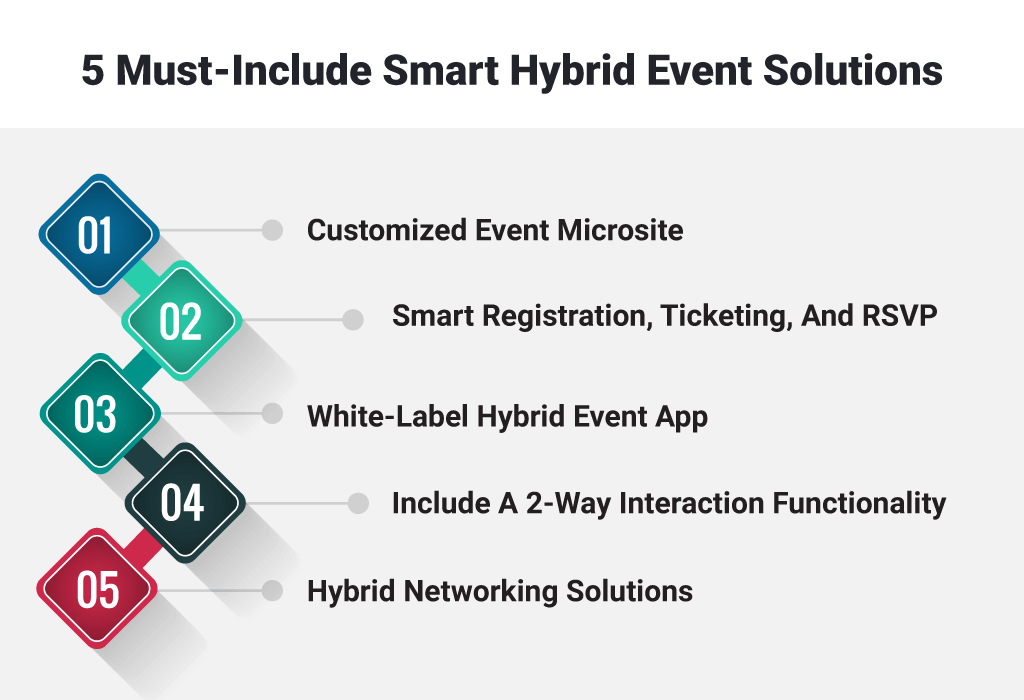 1) Customized Event Microsite
Create a customized microsite for your hybrid event. From your hybrid event planning to event marketing, an event microsite benefits you in various ways. Be it your in-person attendees or the While adding the event details on your official website is also an option, setting up a complete microsite for the event is always a better option. It is so because a custom landing page or event microsite helps you bring your event to the spotlight. In addition, it also helps you maximize your event marketing & promotional opportunities as there is more space to cover more content around the event. Here are a few features that your custom event microsite can be enriched with: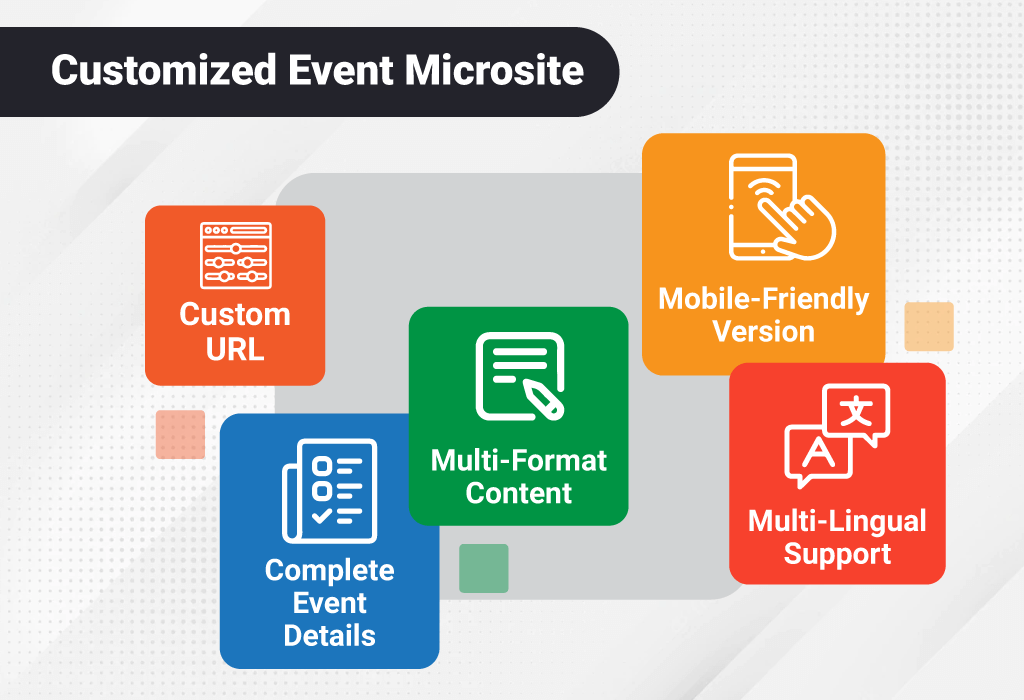 Custom URL: Create a specified URL for your event as per your preference
Complete Event Details: Provide all the necessary details of the event with no space limitation
Multi-Format Content: From images & videos to gifs & documents, provide multi-format engaging content
Mobile-Friendly Version: Help your users with a seamless mobile-friendly navigation
Multi-Lingual Support: Make the content & information available to global audiences by enabling multi-lingual support
2) Smart, Ticketing, and RSVP
Eliminate the hassle of driving registrations through multiple formats by using smart digital registration solutions. The process of registration, ticketing, and RSVP has always been a task while organizing in-person events. However, with excellent digital solutions, the processes have been made super easy & seamless. Therefore, get in touch with the leading smart hybrid event solution provider that helps you ensure seamless registration, ticketing, and RSVP management. Explore some of the most beneficial digital solutions to simplify your event experience: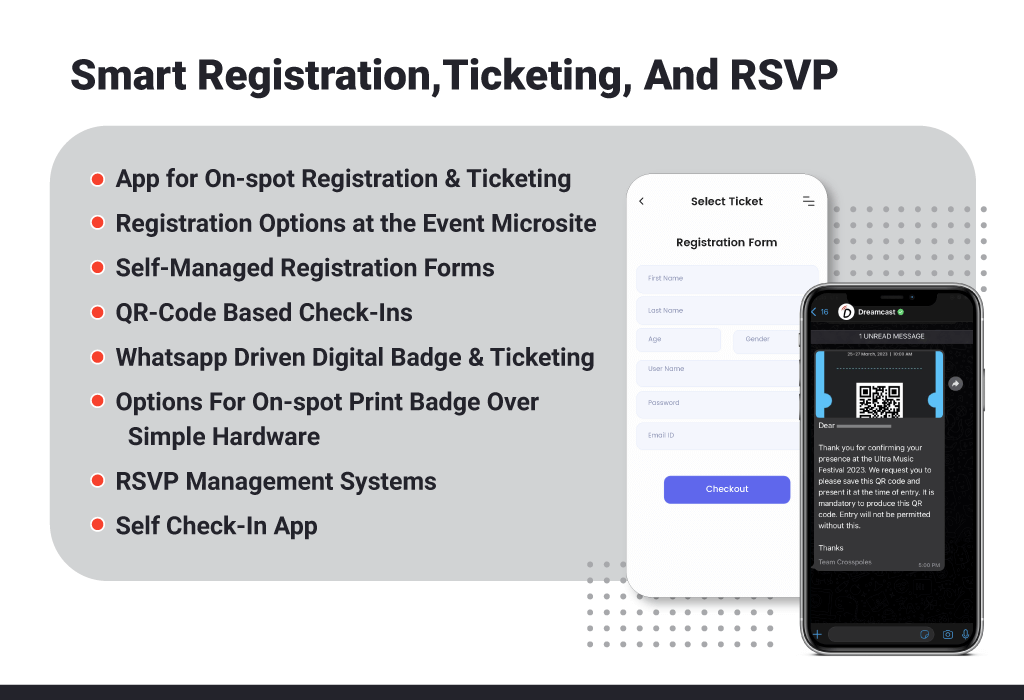 App for On-spot Registration & Ticketing
Registration Options at the Event Microsite
Self-Managed Registration Forms
QR-Code Based Check-Ins
Whatsapp Driven Digital Badge & Ticketing
Options For On-spot Print Badge Over Simple Hardware
RSVP Management Systems
Self Check-In App
3) White-Label Hybrid Event App
Create a white-labeled Hybrid Event App and provide your event participants with complete event details, information, content, and functionalities. A completely customized event app can enhance the experience of your hybrid event to a great level in various ways. From event attendees & speakers to exhibitors & sponsors, an event app provides maximum value & reach to all event participants. While attendees get easy access to all the event activities & elements like content & networking, sponsors get to promote themselves in an additional space. Similarly, an exhibitor is also provided with countless advantageous functionalities like a separately specified exhibitor portal on the app. In addition, hybrid event management becomes exceptionally easy with a hybrid event app.
4) Include a 2-Way Interaction Functionality
It's time to take a step further from the regular interactive functionalities at your hybrid events! Provide your virtual & in-person event attendees & speakers with a chance to interact with each other during the live event sessions. Creating a perfect sync between both the event formats, the 2-way interaction functionality is the best way to enable the attendees to interact with speakers. This aspect is also completely managed by the backend to ensure that there is no disruption or trouble during the live event.
Read More About 2-Way Interaction Functionality
5) Hybrid Networking Solutions
Networking is one of the most significant aspects of any event. As events shifted to the virtual format, networking became the most frictionless aspect of the events, enabling users to have improved networking opportunities. However, as we move back to hybrid & in-person events, networking again seems like a task for all the event participants. So to combat the challenge of networking at hybrid events, get in touch with a leading hybrid event platform that provides you with excellent industry-first digital functionalities. Mentioned below are some of the best & must-have hybrid networking solutions: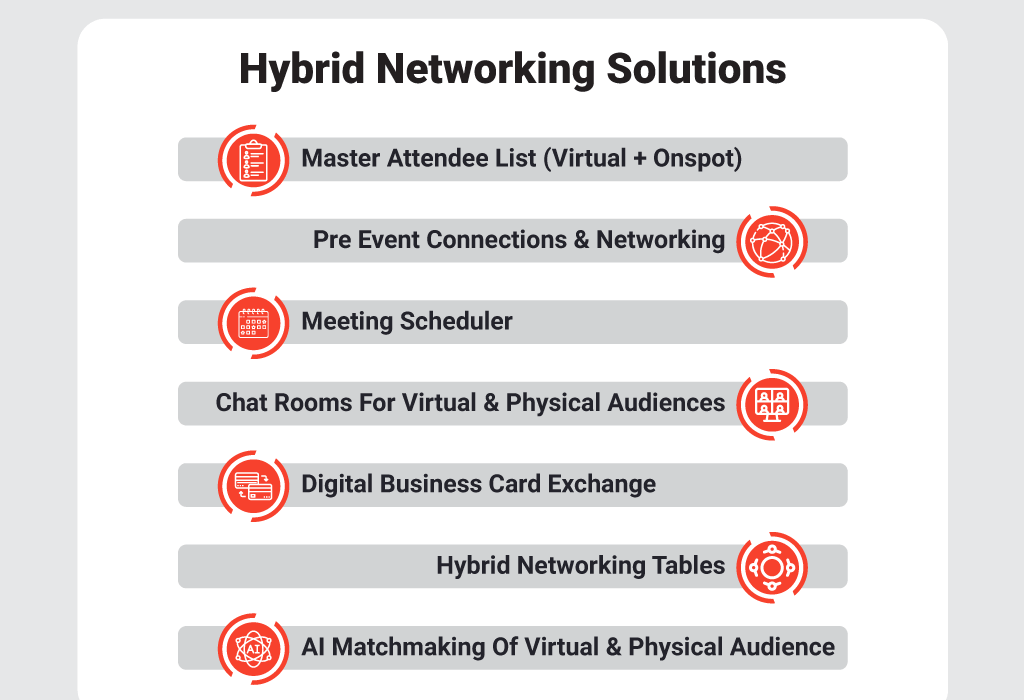 Master Attendee List (Virtual + Onspot): An integrated list of online & in-person event attendees, enabling all the event participants to explore, connect, and interact with other attendees from both event formats.
Pre Event Connections & Networking: A functional web-based platform that enables your event participants to begin building valuable connections & networking prior to the event.
Meeting Scheduler: Help your on-spot & online attendees to schedule meetings with other event participants & speakers based on their available calendar slots.
Chat Rooms For Virtual & Physical Audiences: Elevate your hybrid event's networking experience by setting up on-ground hybrid networking chat rooms, enabling the users to have disturbance-free 1:1 multi-format interactions.
Digital Business Card Exchange: Make networking easier than ever by including a digital business card exchange feature, driven by unique QR-Codes.
Hybrid Networking Tables: Like the virtual event platform, provide a hybrid networking table aspect at the on-ground event that keeps the hybrid networking going.
AI Matchmaking Of Virtual & Physical Audience: With the virtual shift of events, the world witnessed the benefits of AI matchmaking functionality. It's time to take the functionality hybrid! The digital tools enable users to network with the most relevant attendees, irrespective of their event formats.
As the world has come to reopen and organize in-person events, event organizers can never overlook the efficacy of virtual events. Hence, the best way to ensure a successful event execution is to add a virtual extension to your in-person events. The era of hybrid or blended events is right around the corner and it's vital to make the best out of it. Make use of these excellent hybrid event solutions and organize a highly productive blended event!
In-Person, Hybrid, Virtual
Create an Extraordinary Event Experience
Across All Event Formats