We all are in a digital world and means of communication have seen rapid development in the past decade. Nowadays, there are a variety of tools and gadgets available leading in simplify the modes of communication while increasing dependability. From professional workers to educators, it's important to know about the differences between video conferencing vs web conferencing. As the corporate world has already adopted effective hybrid and remote working modes. And to cope with productivity the same as working from an office is crucial. Knowing the keynote difference between web conferencing versus video conferencing and the key aspects of these two online modes of communication is quite preferable.
Here in this blog, we are going to talk about these two modes of video communication and how effectively it is helping the remote and hybrid working model styles. While precisely specifying the video conferencing solutions and what it actually means as well as how they vary from one another. Let's get started;
The Basics of Video Conferencing Solutions
Video conferencing solutions are a crucial tool for all businesses and corporate houses, to provide a substantial communication mode for internal and external purposes. To communicate with remote clients and within the team, it is important to have such solutions for top-notch conferencing and meetings. As it is pretty hard to have physical meetings every time and to meet people on a regular basis. So both web conferencing and video conferencing are important to utilize to have a good interaction. As intersection and thoughtful meetings are crucial in the business and in building relationships and sealing deals. Video conferencing offers a seamless interaction with high-quality audio and video and brings an in-person experience to your digital meeting space. So now let's understand web-video conference meetings both one by one;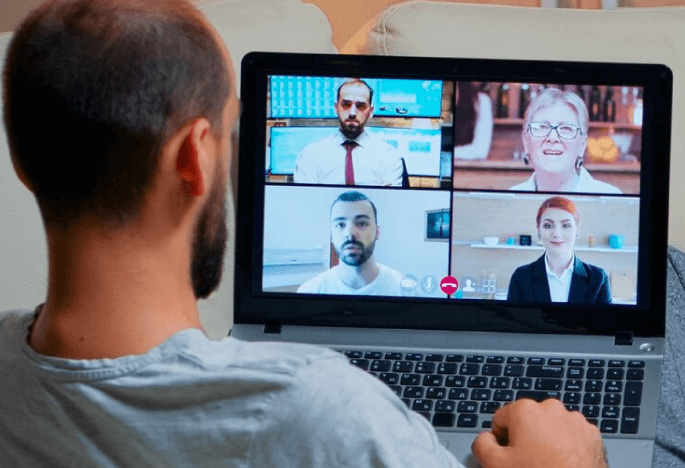 What is Video Conferencing?
Video conferencing is similar to a meeting where at least two or more participants engage themselves from distinct locations. In general, they need to use tools or gadgets like computers, an internet connection, a video conferencing platform, or software that connects them via audio and video. Video conferencing is not just limited to meetings with the team but can be used for various other factors like client interaction, and a job interview. Additionally, it can be used in any other format you think there is a need for meetings and people are at a different location. Here, we have concluded some of the best uses of video conferencing;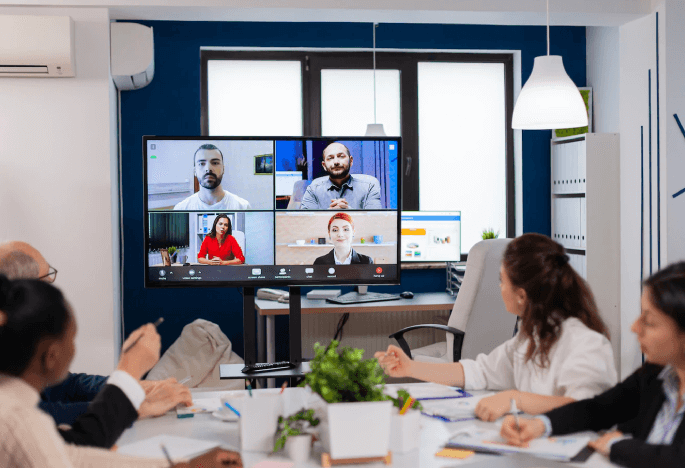 The Best Use of Video Conferencing Solutions
As discussed above there are an array of uses but to make sure you understand completely, we are diving deep into them. Let's start with the first one;
Team Meetings
You might be tired of joining meetings over your phone or simply over a laptop while having some corporate team meetings. But that is not what we are actually talking about, as one camera setup will not be able to capture the whole conference room. And thus making this approach quite unproductive for corporations.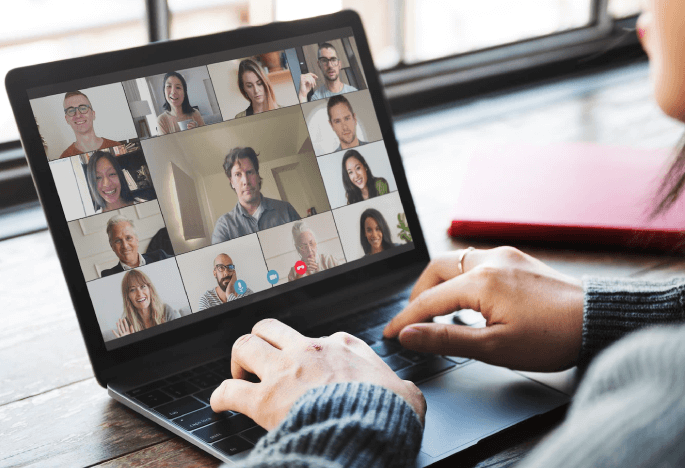 Video conferencing solutions for business and corporate meetings considered 360-degree, video conferencing devices with multiple,  high-quality microphones for an interactive high-resolution video and audio for the end user is what makes a seamless digital meeting. To escape from a misunderstanding from such poor audio and video, it is always preferable such a video conferencing solution. As your remote attendees also deserve the same experience.
Webinars
Webinars are crucial for businesses to generate leads and for training purposes. As there are many important events that you host via webinars, you can't expect any mistakes. And to make a high-quality audio-visual output you need to look for an interactive video conferencing solution. Besides the fact via video conferencing solution, you will be able to conduct a seamless webinar session and present your presentations to make your leads into the sales funnel.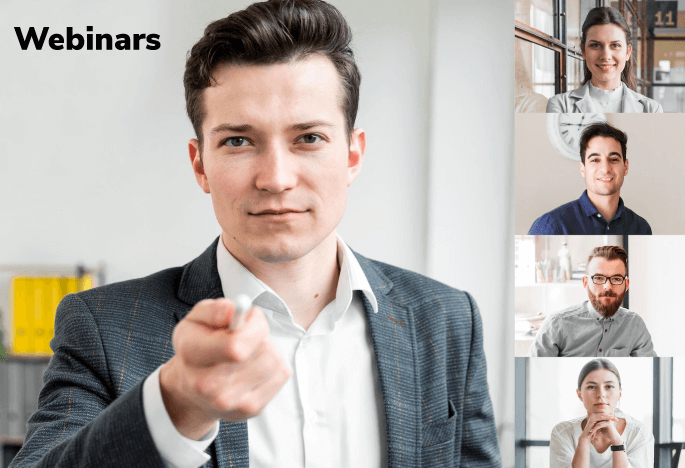 Product Demos
The ultimate goal of your business is to increase sales and product demos are very necessary for them. Is it possible to go to all your clients or sales team to teach about your products physically? Not possible, so what about creating a product demo session using a video conferencing solution? As this is the best aspect of it you can create product demos, but only rely on top-notch technology and advanced equipment. The right video conferencing solution with Dreamcast is all that you need to be equipped with. Do you want to know more? Get in touch with us.
Job Interviews
Every business or corporation takes so many interviews to recruit new talent and fill vacancies around their offices. So, how practical is the approach to calling a bunch of candidates from different cities for just an interview? Let's improvise your approach by adding a touch of video conferencing into it. Now you can take interviews through video conferencing and can shortlist your potential candidate. There is no need to take any face-to-face interviews at all. Additionally, it offers you the same insight as in-person interviews.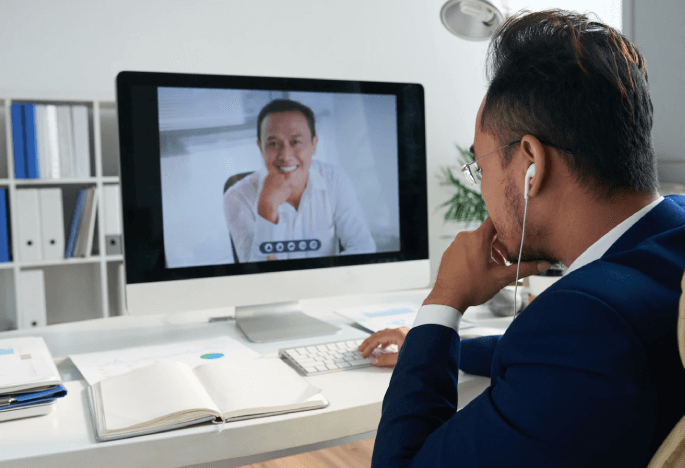 There is nothing impossible with video conferencing solutions if you just want to organize an interview or a meeting remotely. And there is nothing that can replace such technology. But this is not the end as we are moving towards our second versus that web conferencing. So, let's take a deep breath and understand how effectively it can help you with your business.
Some of the top features of video conferencing solutions are as follows;
High-Definition Video
Integrated Audio feature
Active Talk Indicator
Screen Sharing
Meeting Recording
Chat Features (private and group both)
These features are not limited to the following as with end-to-end customisation you can be able to choose and integrate many other features too. We are going to talk about all these features in detail in the other section further.
What is Web Conferencing?
As the name itself emits it's a real working model that is the web. Simply sharing thoughts, information or ideas via your computer (using the internet) via an application directly over the web in real-time can be considered web-conferencing. Web conferencing is a bigger term and involves a lot of offerings for interactive sessions. For instance; you would be able to host or conduct various types of sessions ranging from a huge webinar, to live classes or presentations. Live or recorded too. All thus making web-conferencing a one-in-all solution for collaborative meetings, sessions, and everything that involves ideas, thought, and information-sharing activities. Additionally, here it includes text, audio, and video-integrated communication, all in common.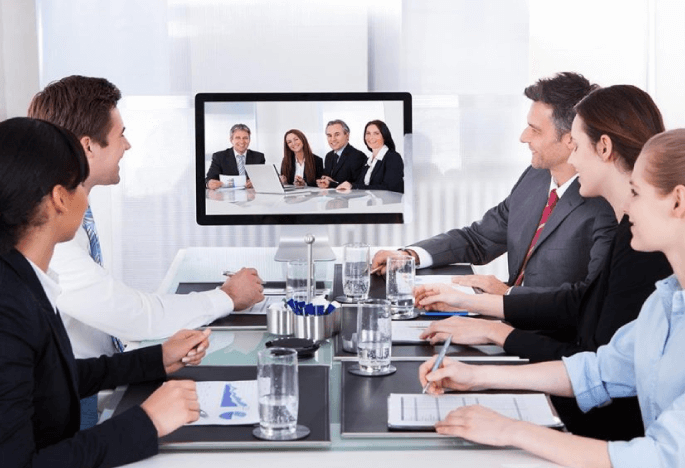 The Best Use of Web Conferencing Platform
Web conferencing is thoughtfully not bound to be only utilized for businesses and corporations only, but the reach extended towards educational institutes too. Web-conferencing is an opportunity for every sector and industry to integrate it and enhance the way of communication and connect people in real-time yet in a remote setting. In-person meetings and on-ground events commonly have lots of geographical limitations but the web-conferencing platform has seen breaking all those boundaries in many ways. Firstly it works over the internet and over the web so anyone from anywhere can make them connect with each other and share or showcase presentations and attend meetings respectively.
Traveling to different locations for meetings costs a lot and adds to the overall cost of the company. But what if you eliminate the in-person meetings and replace them with more unique and cost-effective solutions? You always have the option of choosing in-between physical meetings and one that saves your cost with lots of other benefits associated with it. It is foolish advice if we say, in-person meetings are not necessary but prioritizing when and with whom to do them can be the best approach. Meaning eliminating the none important segment and making use of virtual meetings more.
Deeping into the difference that these two terms have. The video-conferencing is limited to meetings with a group of people or one-on-one calls. Whereas web-conferencing as a broad term covers lots of objectives under one roof. As it is ideal for big lectures, to conduct classes, virtual meetings, and huge interactive sessions like collaborative meetings from industry experts to the whole employees. or something relevant to its boundaries.
When to use Web Conferencing Platform
It's hard to come up with a definite answer. But as per the requirements and needs of the business or corporates, it can work for lots of formats (regarding communication models). Some of the top uses can be listed as;
Holding meetings (internally and externally)
Helpful in real-time presentation and document sharing
Huge training Sessions
Large Webinars
Live Classes
Same as above we talked about all these formats being similar. The only difference lies in that web conferencing is one of the best ways to connect to a universal audience as it does not require any specific hardware or software. As said earlier it works over the web portal and any device having an internet connection can access hosted web-conferencing sessions or meetings.
For web conferencing, you require a big set-up comparatively but it hosts a big format of conversation sessions. So, it is obvious that it requires bigger settings. Additionally, it offers a lot of other features which you might not get in video conferencing. Some of the most useful are listed below;
Features of Web Conferencing Platform
There are many capabilities that a web-conferencing setting has in terms of features it offers to make it a lot more interactive and come up with more useful sessions.
Voice over Internet Protocol (VoIP)
It is the best feature that enables a real-time audio connection with the host and attendee (user, client or anyone). Here the audio call can be done using a computer, laptop or even a smartphone with a microphone, earphone or even with just the help of in-built speakers too.
Fast Streaming of Videos and Live
It is way too fast than we could say, simply making it a very low-latency way of communicating and sharing or delivering multimedia files including videos, infographics, photos and others.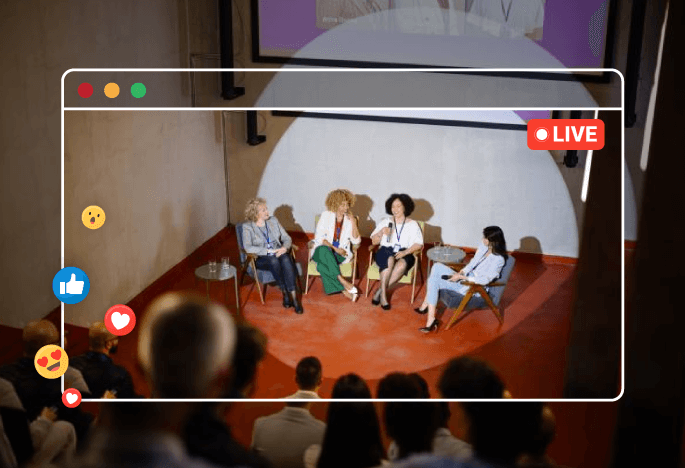 Present Your Slideshow Presentations
While meetings give you the ability to showcase your presentation (making it more interactive and value-added features for a seamless understanding or product demo to clients or in team meetings). The web-conferencing platforms let you share your presentation with images and even help you with a pointer mouse to make it a seamless experience and avoid miscommunication.
Record Your Meetings and Sessions
What's better if you can record your sessions and showcase to them those who have missed them for future reference too. Web conferences can be recorded and saved for later.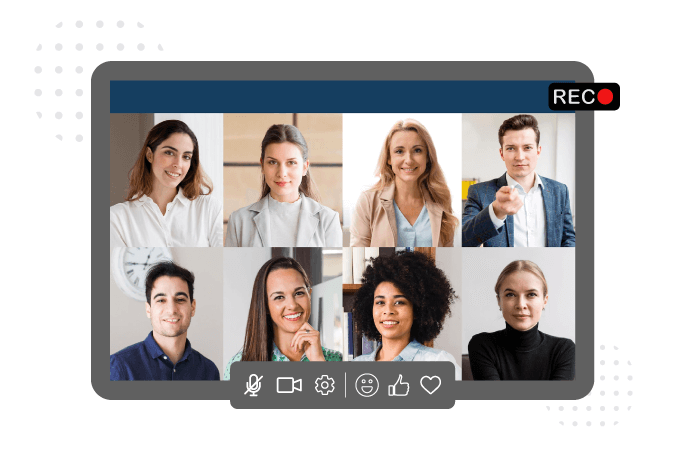 Whiteboards
A whiteboard makes the virtual conference into an in-person meeting where anyone can edit or write over the shared board or highlight the meeting's points or whatever that means in meetings.
Text chat and Q&A
There is no big away side to sending a text or having your queries to be addressed. Here you are able to send messages to participants and even to the host to get answered.
Polls and Surveys
This is something that I bet you can't be able to do in a physical conference room easily (due to the time and effort it takes). But with web-conferencing, it is quite easier to conduct surveys and polls including multiple choice answers. And in real time you will be able to get your answers to the polls and decide what to choose.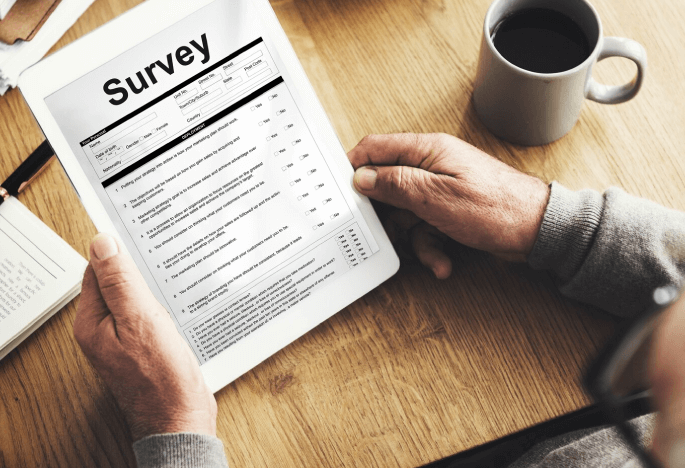 Sharing
The whole concept and technology of web conferencing is all about sharing from your desktop screen to enable the attendees or participants to do that.
Keynote
There is no win or disregard to both the technology as both are quite similar and offer the same sort of extra or fewer features and benefits. Depending upon the requirement and use you can choose one or both the technology in your business to enhance communication. If you are looking for these two solutions feel free to get in touch to get the best feature possible. And the freedom to customize the interface in terms of adding backgrounds, confetti, logo, or any other features. Dreamcast is all set to help you with conferencing and other event tech solutions. Don't wait for too long to book your free demo now.
Host an Engaging LIVE Stream
Connect with the Industry's Most Experienced
Live Streaming Service Providers.