There's no denying the fact that AI matchmaking has become a building block for ultimate success, especially for entrepreneurs and small-scale businesses. In the fast-paced world of business, digital networking has done wonders. However, traditional methods of doing networking events often include chance encounters, pointless conversations, and minimal time to connect with potential individuals.
We know that small business owners desire consequential interactions, new opportunities and of course relevant connections for elevation. And that's where AI matchmaking for events comes into the game.
Small business networking events have been completely revolutionized by the introduction of Artificial Intelligence(AI) matchmaking. It uses advanced algorithms and data-driven insights to foster customized and meaningful connections between the audiences.
Remember the days of exchanging business cards? Well, those days are gone. With AI being in trend, it empowers the audience to engage in the networking chain with potential individuals, collaborators and other industry professionals.
In this blog, we are going to delve into the amazing impact of AI matchmaking on elevating small-scale business networking events. Also, we will explore how AI matchmaking for events gives a new perspective to entrepreneurs and small business owners, and how it is maximizing the opportunities for building networks along with elevating the overall experience of the event. So without any further ado, let's start.
The Role of AI Matchmaking in Networking Events
As we know, in-person events are again thriving, but now they are tech-driven with a lot of advancement. With increasing networking events, the use of event management platforms has also increased. As a result, tonnes of data is generated from different events. This is where the need for AI technology comes in, to handle the data with unique algorithms. AI matchmaking for networking events offers many benefits and the best of them is — Time savior.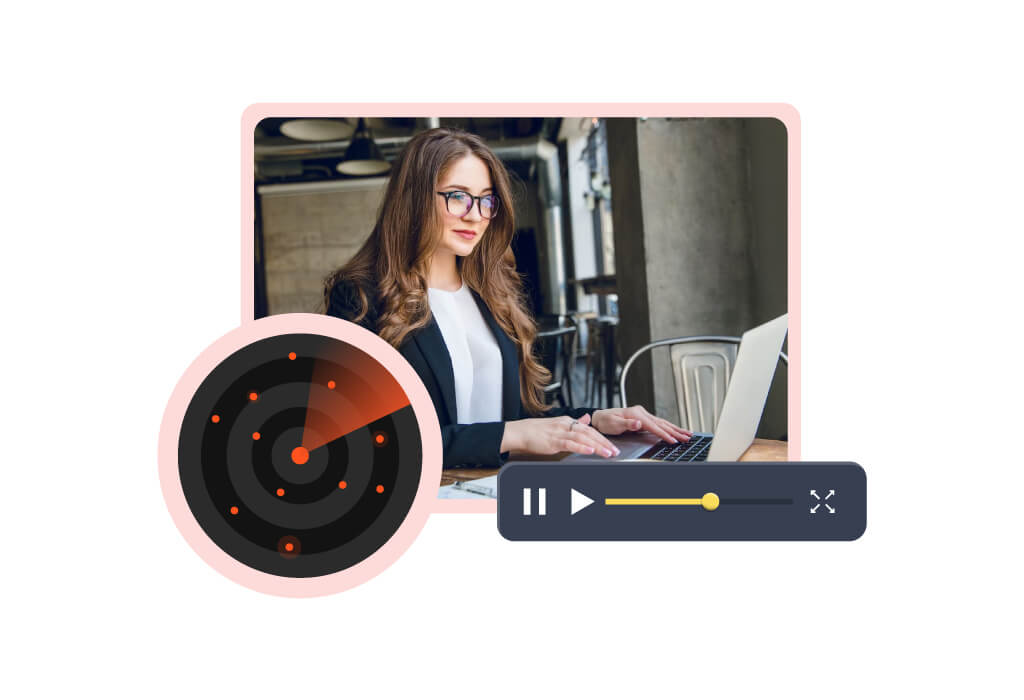 Let's understand the role of AI through a networking event at the B2B exhibition.
Without AI matchmaking
In large events like exhibitions, the participants have to go through a long process of searching and listing out the main exhibitors. Attendees have to find out the profiles in the exhibitions who match their similar tastes. Also, they have to shortlist a lot of people to make connections or to meet after the event.
With AI matchmaking
By using AI matchmaking for events like exhibitions, you are able to gather and process all the data of every participant. It identifies the best suitable matches within seconds and evaluates the choices. However, if available options are not relevant then it keeps searching for the matches with relevance until the best alternative is found.
The organizers may concentrate on other areas of their event, cut expenses, and increase ROI all thanks to the time savings gained. AI networking events also facilitate relationships between people to objects and use algorithms for recommending pertinent items and information. AI matchmaking helps cut through the clutter and connect with information and goods that are truly helpful. By doing so, the attendees may conduct their study more quickly and more effectively.
Benefits of AI Networking For Events
Here are the numerous benefits of AI in small business networking events. So without wasting precious time, embark on a journey to understand the numerous benefits of AI matchmaking.
Allows You To Make Personalized Connections
One of the benefits of AI matchmaking for networking events is that you can create your own personal connections. AI matching scan/analyze each and every participant's profile and preferences to create personalized suggestions for potential connections. All this process ensures that every participant gets a partner with whom they share similar interests, professionalism, and goals. There's no chance of having any second thoughts in choosing AI for networking events because it fosters more sensible and meaningful connections.
Nifty Networking With Time-Saving
Who likes interruptions in between conversations? Earlier traditional methods of networking at events used to cost a fortune. It used to consume so much time and can still lead to random encounters in between. However, with the introduction of AI matchmaking continues to provide a streamlined process for networking events which allows attendees to make the best use of their time. It allows participants to connect with fellow participants who are likely to be a valuable contact.
Enriched Experience For Participants
Whenever an event ends the question arises, How was the experience? Well, AI matchmaking for events is the answer. It enhances the overall experience of participants by making networking events more personalized and full of relevant information/content. It uplifts the whole performance of network events by making events more interactive, engaging and enjoyable along with a valuable experience.
More And More Opportunities
One of the great benefits of AI matchmaking for events is that you can experience a lot of opportunities in networking event activities. AI matchmaking easily identifies the potential connections for the attendees that they might not discover on their own. You might want to know about the kind of opportunities that AI provides. AI matching offers new networking ideas which include partnerships with potential individuals, and collaborations with well-known companies and persons. Also, this opens up opportunities for business growth along with a broader reach to the public.
Upgraded Event ROI
There's no successful event without any event ROI. It has been proven that AI matchmaking increases the likelihood of attending an event by facilitating targeted and relevant connections. Thus increasing the chances that attendees will achieve their event goals, and therefore resulting in a higher rate of return on investment(ROI).
Gives You The Chance To Measure All Data-Driven Insights
Undoubtedly data insights are one of the crucial parts of an event. AI assists with complete data-driven analytics. In order to improve the quality of future events, to better understand attendee preferences, and to optimize the optimal event planning process event organizers are able to gather valuable data by utilizing AI matchmaking.
Enhanced Attendee Engagement
No doubt that attendees are one of the major components of any event. Similarly, engagement can be considered as another key metric of the event. AI matchmaking provides personalized and tailored content that keeps participants engaged throughout the whole event. This increases the attendance rate along with more engaging interactions.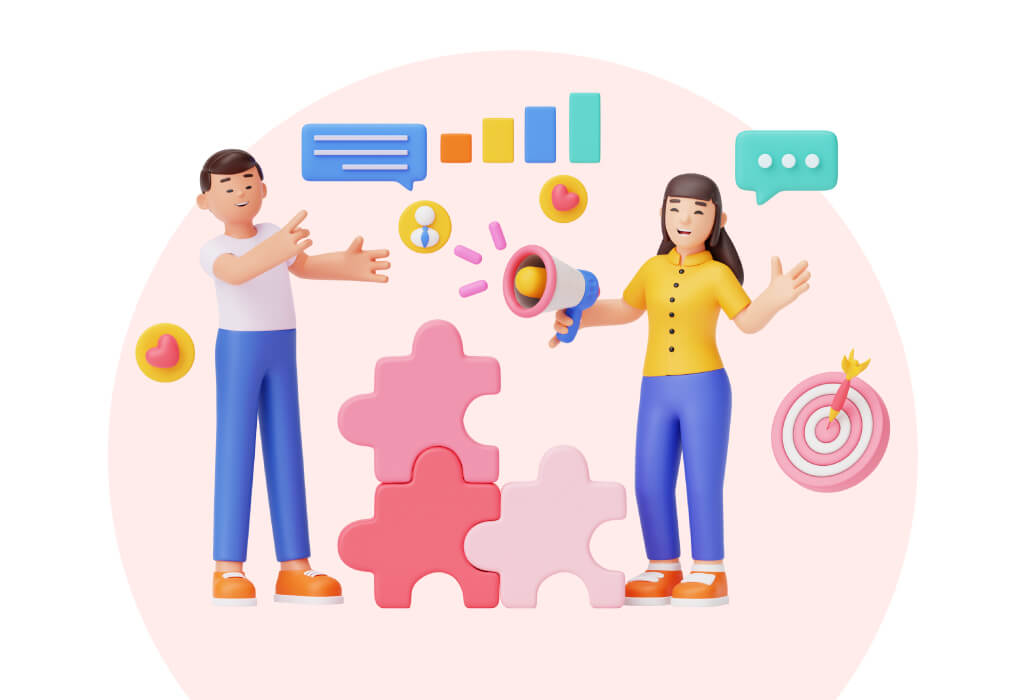 Networking After Networking Events
Who likes to invest precious time and make connections just for an event? Obviously, no one. With AI matchmaking for networking events, you can easily extend the impact even beyond your event. In the case of small business networking events, AI matchmaking allows attendees to continue networking and collaborating with well-known companies or individuals while facilitating connections and communication.
Diversity And Inclusion
Another benefit of AI matchmaking for events is that it contributes to a more varied and inclusive event atmosphere. It allows attendees from all backgrounds and sectors to interact with one another. As a result, it breaks down the conventional networking boundaries in an event.
Accessibility And Adaptability With Virtual Events
As we already know, this is a fast-paced world and ever-evolving with new business trends each day. So, in the era of virtual events, AI matchmaking for events has become one of the crucial components. It provides opportunities for attendees to navigate the virtual world while making meaningful and relevant connections regardless of their physical appearance.
And that's how AI matchmaking for events assists in providing numerous significant benefits. It has completely transformed the ways of networking among the attendees. As this technology continues to advance, AI matchmaking will continue to offer new small business networking event ideas while playing a pivotal role in shaping the overall event experience.
Take Your Event Networking To The Next Level
Want to take your small business networking events to the next level? Confused and thinking about how to do AI networking? Don't worry we've got you covered. Networking events are about building potential relationships and taking action on the spot.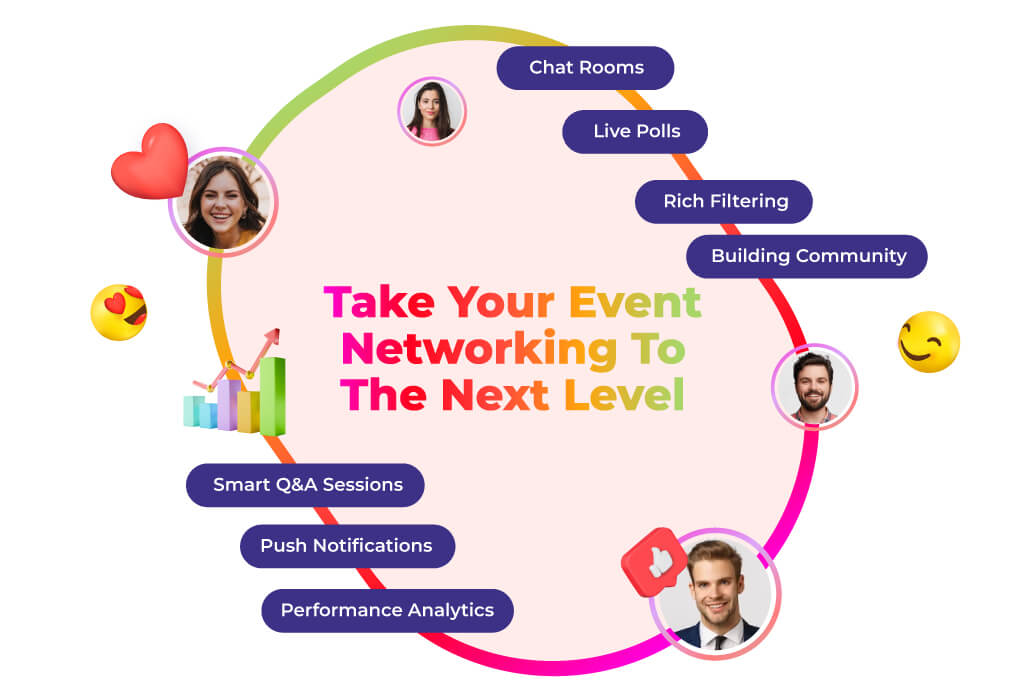 But at the end of the day, it's not an easy task, if you want to promote your product or small business through networking. You need to rely on a reliable platform that can provide you with a wide range of functionalities. Consider a platform with advanced features and event matchmaking capabilities with an intuitive interface.
Here's a list of a few features you can consider while choosing the right platform for networking events:
Chat Rooms: To categorize interest-based chats for virtual and physical attendees.
Live Polls: Foster communication among attendees through live polls and surveys.
Rich Filtering: Provide customizable filtering options based on multi-diverse criteria and factors.
Building Community: For building a community with matchmaking capabilities while expanding your social & professional circle through a customised mobile event app.
Smart Q&A Sessions: Facilitate a seamless conversation between speakers and attendees without any hassle.
Push Notifications: Send matchmaking notifications on a mobile app or via emails. This helps with a boost in event networking among exhibitors, speakers and attendees.
Performance Analytics: Track and monitor the performance of networking events.
Also, you can count on Dreamcast for assistance in hosting different networking events like
Professional Conferences And Work Summit
Educational And Career Fairs
Speed Networking
Workshops
Alumni Networking Groups
Happy Hour Network Meetups
Industry Speaking And Seminars
With Dreamcast, you can explore many more different types of events such as corporate, webinars, conferences, product launches, and other personalized private events. Book your free demo with Dreamcast, and we assure you that by choosing us, you can take your business opportunities to new heights.
Final Words
As the need for AI-powered matching grows, event platforms will look for methods to incorporate it into their systems. As a consequence, events will be better, matching criteria will be more rigorous, and networking chances with event participants will be expanded with more event registrations. The future of AI matching is bright, and event organisers must think about how their platforms use AI to assist meeting attendees. Therefore, incorporate AI matchmaking into your networking events and set the standards high. Hope you learned something about AI matchmaking. Thank you for reading!
Frequently Asked Questions
Why AI matchmaking is the future of online events?
AI matchmaking is the future of online events because of emerging trends in the event industry. It's proven to be one of the best introductions in the event industry as it saves a lot of time and fortune. Also, it empowers the audience to interact with fellow people of the same interests and build potential networks
What is the concept of networking events?
The concept behind networking events is very simple. It offers opportunities for growth in business along with potential interactions with the right people. Networking events are events where you can meet like-minded people, and get to know them, help them or in return take help from them.
Why do Small business events need AI matchmaking?
Small business events need AI matchmaking because without AI networking technology it would consume a lot of time and money. Also, AI matchmaking will help small businesses in terms of network efficiency, optimizing event ROI, fostering meaningful relationships, and increasing engagement along with enhancing the attendee experiences.
Is my data safe with AI matchmaking?
Yes. Every data is safe and secured with AI matchmaking. It uses unique algorithms to identify preferred matches for meaningful connections.
Can I customize my matchmaking preferences?
Yes, you can easily customize matchmaking preferences through AI matchmaking platforms. You can ensure that you are connected with relevant & suitable preferences during the networking events. Also, by customizing matchmaking preferences you can tailor specific interests and requirements.
In-Person, Hybrid, Virtual
Create an Extraordinary Event Experience
Across All Event Formats