Do you also need clarity on the difference between fairs, exhibitions, expos, and trade shows? In this article, we will find out the difference between fairs, exhibitions, expos, and expositions by comparing events.
Do you also feel that all these events sound the same? In general, fairs, exhibitions, and expos mean the same thing, but with a little difference between them.
Trade shows, exhibitions, and fairs are events that serve the purpose of networking opportunities and lead-generation hacks for businesses and organizations. In earlier times, these events had their own meaning, but with the changing times, the definition has changed according to the current era. We will go over each of the terms, explain how they differ, and provide examples of the various categories in which different events can be placed.
Difference Between Trade Shows, Fairs, Expos and Exhibitions
Here are the basic definitions and differences between the events. Let's discuss: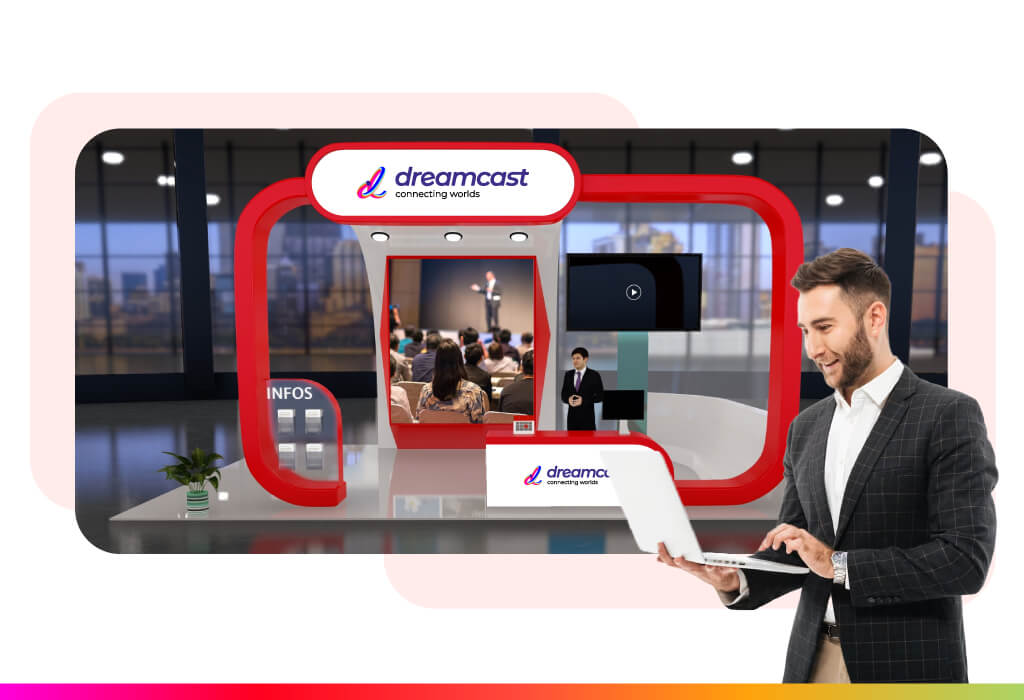 Trade Shows
Trade shows are occasions where companies and professionals from the industry come together to display their goods, services, and innovations. They are frequently sector-specific and provide a forum for companies to interact with potential customers, partners, and investors. A common feature of trade shows is a booth or display where vendors can showcase their goods and services to potential customers and visitors.
Expo
Expos, which are short for "expositions," are sizable occasions that may focus on a variety of subjects, industries, or themes. The Expos can cover a wider range of topics, while trade shows and trade fairs are frequently industry-specific. It may include exhibits, educational sessions, and entertainment, broadening their range of topics.
Trade Fairs
The fundamental concept of both trade fairs and trade shows is similar. They are planned gatherings where companies and professionals from a particular industry or sector meet to exhibit, network, and learn about the market. Europe and other parts of the world tend to use the term "trade fair" more frequently.
Exhibitions
The term "exhibitions" refers to planned displays of objects, goods, or creative creations. Trade shows, art exhibitions, museum displays, and other events are all included under the term, which does not only apply to business events. Exhibitions in the business world frequently centre on showcasing goods, services, or innovations to a particular audience.
In summary, trade shows and exhibitions are similar and are often used interchangeably to refer to industry-specific business events. Expos are broader events that can address a variety of topics. Exhibitions, also known as trade shows, can include various types of exhibits, including art exhibits or trade show exhibits. However, the basic idea of showcasing, networking, and connecting with an audience remains the same regardless of region or industry. The terminology used may change.
Event Tech Solutions to Manage Trade Shows, Expos, Trade Fairs and Exhibitions
Here are a few tips and tricks that can help you plan, manage, and execute large events. So let's take a look at them.
Microsite
Microsites are one of the best solutions for simplifying event problems. With a dedicated website for your event, you can offer many benefits to your attendees. A personalized microsite can be one of the best modern tools, as it increases registration and engagement for the event. In addition, creating a microsite can help improve your event's branding, be content-driven, and increase your audience's reach.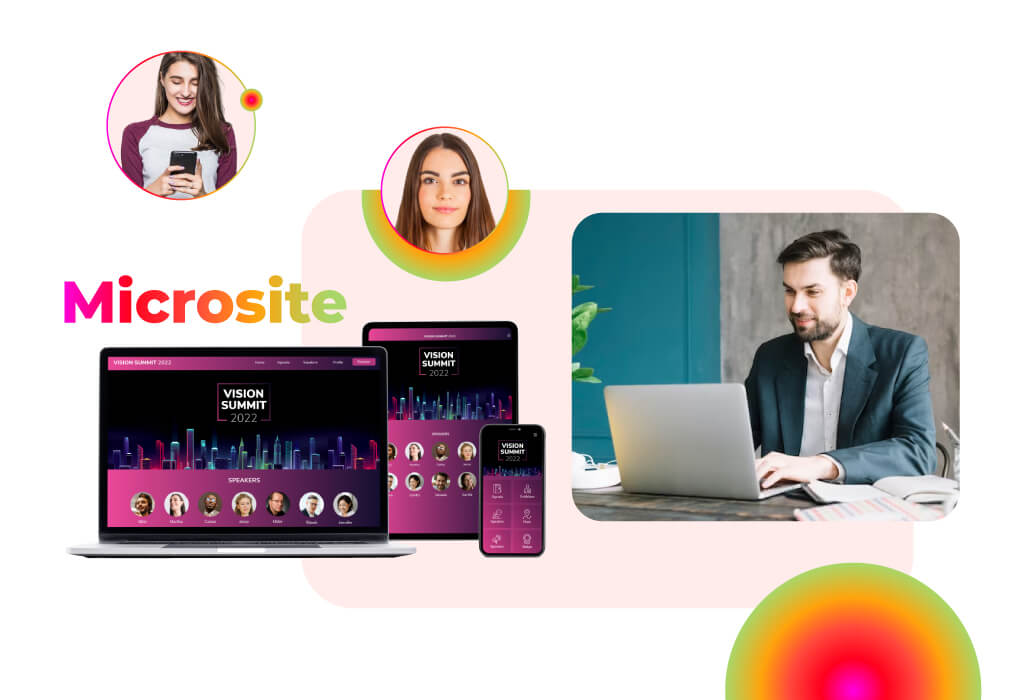 RFID Badges
Integrating RFID technology into trade shows, exhibitions, career fairs, and trade shows can be a game changer. RFID badges can save a lot of time and energy for – attendees and event staff, as well as for the entire management team. With RFID scanners, attendees just need to hold their badges over the RFID scanner at the entrance, and they can check in without long waits. RFID badges are only suitable for those large events where a maximum number of attendees are present. Therefore, RFID badges are a must for events to avoid long queues, enable fast check-in, and provide other facilities
Gamification
With changing scenarios, event organizers and planners are looking for different strategies and ideas to make their events stand out. To keep attendees engaged and captivated for a long time, event planners use tactics and many engagement tools. Event gamification is one such modern tool that you can use for your event. Gamification at trade fairs, expos, and exhibitions can offer a number of benefits, such as real-time analytics, brand awareness, and improved attendee engagement. Moreover, gamification helps make events memorable.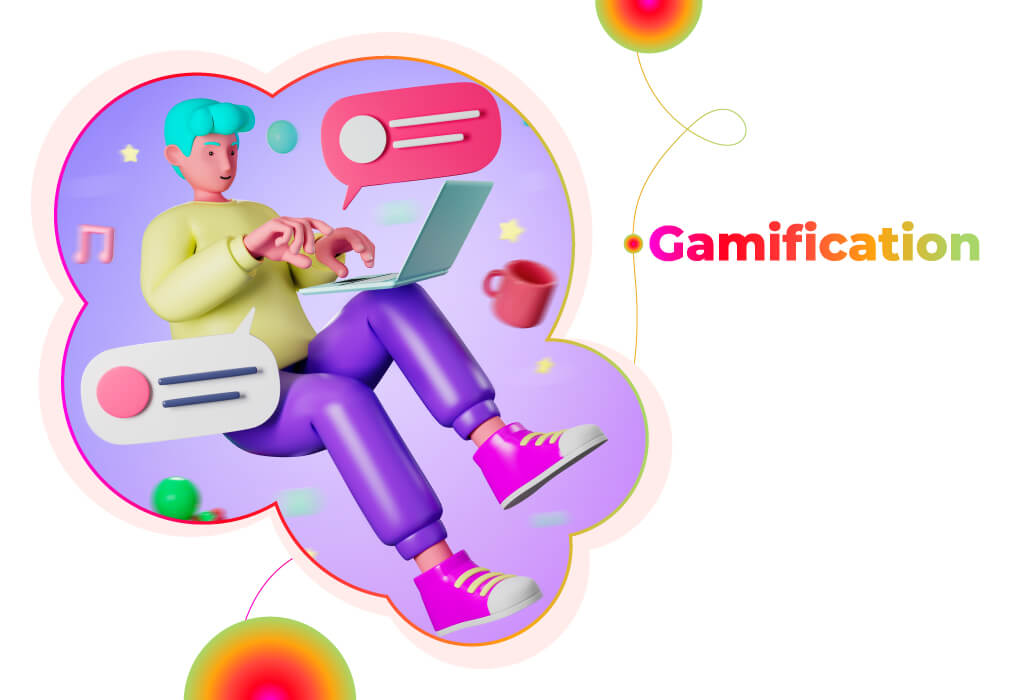 Live Streaming
How about a live broadcast of your event to an audience globally? Live streaming is getting popular with the trend of events. Consider having your event streamed live on a virtual fair platform to reach the maximum number of people. What if, for some reason, your attendee misses the opportunity to be a part of an event? In that case, live streaming is one of the best solutions. They can be part of your event virtually. Therefore, Live streaming can be the modern solution to modern problems. Also, make sure that the type of event you are hosting needs live streaming to be done or not. Additionally, if you are hosting an event in a hybrid setting, the live streaming is the best option to consider. 
Contactless Check-in
Gone are the days of standing at the ticket counter and waiting in long lines at check-in. With RFID technology, QR codes for check-in, facial recognition, event badges, and other biometric devices, the check-in process has become much easier today. Contactless and cashless payment solutions are becoming more popular because of their advantages. With cashless check-in, your attendees no longer have to misplace their items or risk having them stolen. Contactless check-in makes the admission process simple and fast. As a result, your attendees become a part of the event. Therefore, consider these two features to make your event an exceptional experience.
3D Wayfinder App
As the name suggests, a 3D wayfinder app is one of the modern tools that you must consider for your trade fairs, expos, exhibitions, and trade shows. It's a feature built into a mobile event app that's completely designed for floor mapping and navigation. It helps attendees with directions to the venue and the event space. 
Why is it called a 3D wayfinder? Because it offers users an interactive 3D map of the whole event platform. Integrating 3D Wayfinder technology can assist the participants in locating the exhibitor booths, conference rooms, waiting rooms, and other important areas of the event. There is no denying that 3D Wayfinder apps offer numerous advantages, such as quick and easy deployment, real-time blue dot positioning, location-based push notifications for users, and many more.
Social Media Walls
Social media walls can be another way to enhance your event. You can showcase your social media posts and profile on the social media walls. You can also invite attendees to the contest and ask them to share it on their social media handles. While asking the participants, you can mention your event hashtag and brand name. This way, participants can use the hashtag in posts, tweets, stories, threads, or a narrative. Don't forget to display social media updates shared by attendees on the social wall. This will also encourage other participants to do the same.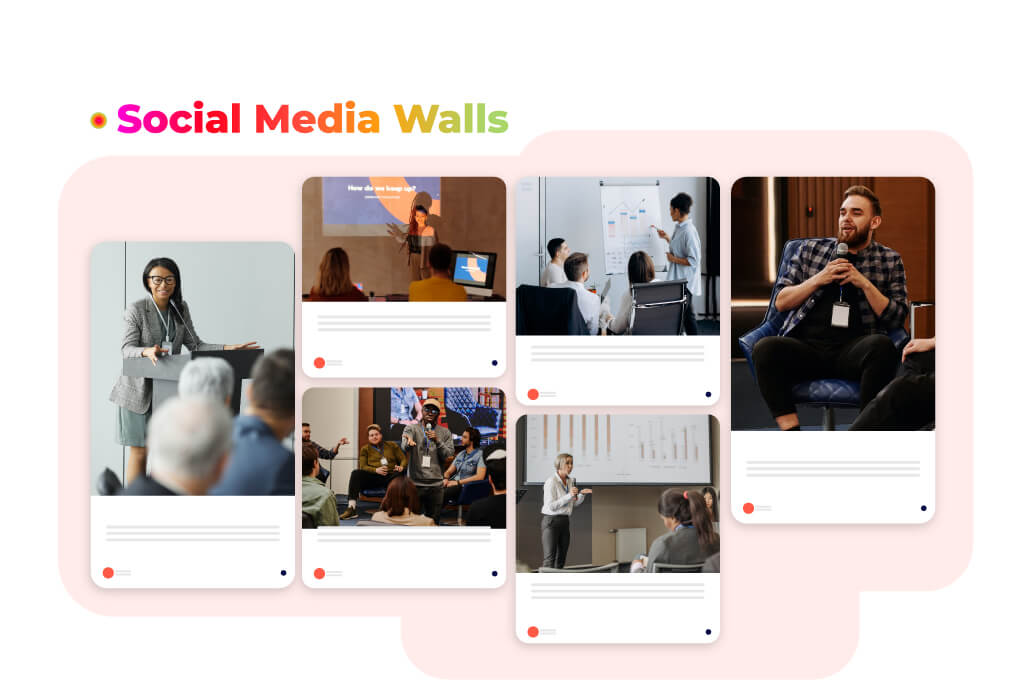 If you're planning exhibitions, expos, trade shows, or trade fairs and need modern solutions to enhance the overall performance of the event. Consider Dreamcast your partner in the process. Book your free and personalized demo for virtual and hybrid events. 
End Note!
The distinction between an exhibition, an expo, a trade show, and a trade fair is less important today than it used to be. Since all of these terms are generally used without specification, there is no legal obligation to define them. You must first focus on the main objectives that must be achieved during the event. Regardless of whether the event is B2B, B2C, or combined, defining the target audience is crucial, as different types of events have different requirements for attendees. Finally, to improve the overall experience, consider the tips and modern tools mentioned above.
Frequently Asked Questions
How is an Exhibition Different from a Trade Show?
In contrast to trade shows, which are primarily focused on showcasing goods and services relevant to a specific industry, exhibitions typically concentrate on displaying items of artistic, cultural, or historical significance.
What's the Main Objective of a Trade Fair?
As a platform for promoting products, meeting potential buyers, suppliers, and partners, and staying informed on industry trends, trade fairs serve the main purpose of bringing businesses together.
What is the impact of these events on business growth?
Trade shows, exhibitions, expos, and trade fairs provide networking opportunities, brand exposure, lead generation, and information on industry trends that all help businesses expand.
Are There Differences in Attendees for These Events?
Typically, trade show attendees are professionals in a particular industry seeking new business partnerships. Expos can attract enthusiastic enthusiasts who are eager to explore various fields, whereas exhibitions may attract a broader audience interested in arts and culture.
What are the differences between the global and local economies influenced by these events?
Expos and exhibitions attract tourism and cultural exchanges, therefore benefiting both local and global economies, while trade shows and trade fairs boost local economies through increased business activity.