Have you ever imagined what is behind the scenes of movie-making or how the seamless transitions in News channels occur? All of these are made possible by the enchanting green screen or chroma setup. And now, witness its wonders in the event tech industry, bringing on-ground events to virtual audiences. The green screen in events is considerably the best in technology that has revolutionized the virtual event landscape. If you are thinking about how then not to worry. Here in this blog, we are going to deep dive into its best uses. Also, I will discover how a green screen photo booth can enhance the overall engagement and discover the wonders of green screen technology. So, without any further ado let's get started;
What is a Green Screen in Events?
You might have seen videos or physically witnessed that most newsroom studios to film shooting sets use green curtains or screens. This green screen allows the production to show different locations and sequences by editing via software. Also, many Hollywood to Bollywood films are shot in green rooms. And later added VFX to showcase any kind of background. In the event dynamics, this green screen of chroma setup is used to create a virtual environment for all your remote audience.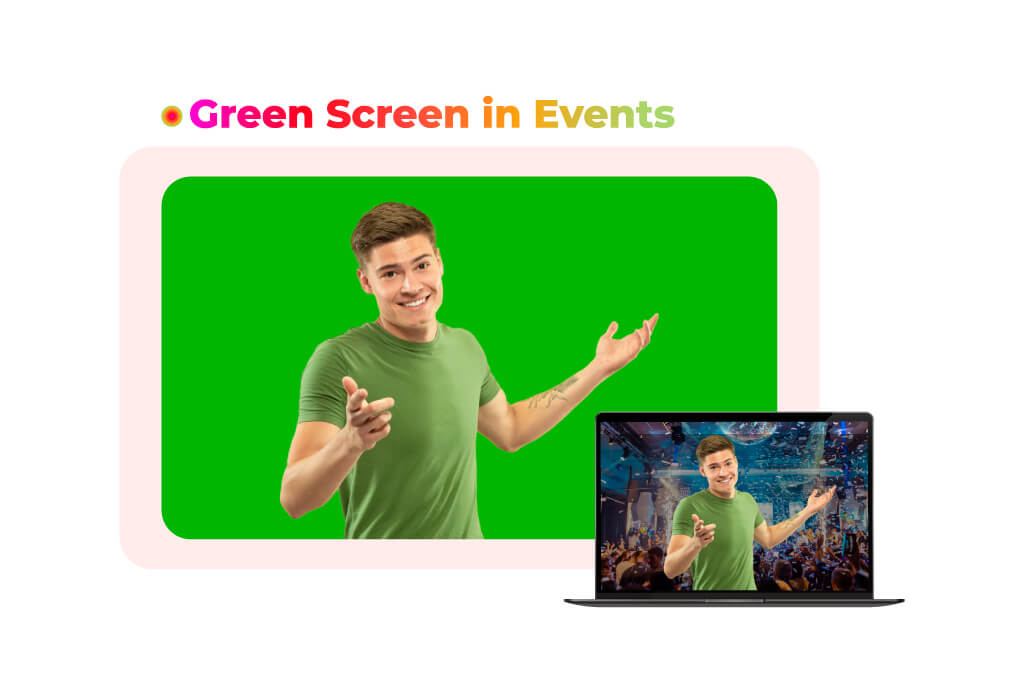 "In general the green screen in events lets the host replace the background with different backgrounds, images, or videos. This lets it transform the odd-looking event into an immersive and captivating experience."
No matter even if you are planning to host a corporate conference for a fun-filled party, the green screen technology will help you leave a long-lasting impression on you. If you are thinking why only green color then here are your answers. Because it mixes with any background and even shadows. Also, it is easiest on the eyes, that is why in the operation theaters (hospitals) the surgeons also wear green clothes. 
The Topmost Benefits & Uses of Green Screens in Events!
Green screens for events give many advantages and have significant uses. At first, it offers a wide range of creativity to do with event environments as well as engagement purposes. Here are some of the best ways you can utilize the green screen for events;
Virtual Backgrounds
If you are planning to host an event with any specific theme from Disney (cartoons) to any corporation, it is possible. The event tech suite teams will let you do this with the utilization of green screen technology. The attendees can appear as they are from different geographical locations as well as give an element of fun and creativity.
Interactive Photo Booths
In the in-person event, the green screen in event technology lets attendees capture their clicks in real-time. The attendees can click their photos in many digital backgrounds, making their photos exciting and more personalized. The photos clicked can be sent to their emails or WhatsApp and further encourage attendees to post them on their social media. Ultimately this addition of a green screen photo booth will potentially increase the event and brand awareness. Also, for the attendees, these clicks will work as a souvenir and in creating a long-lasting impact.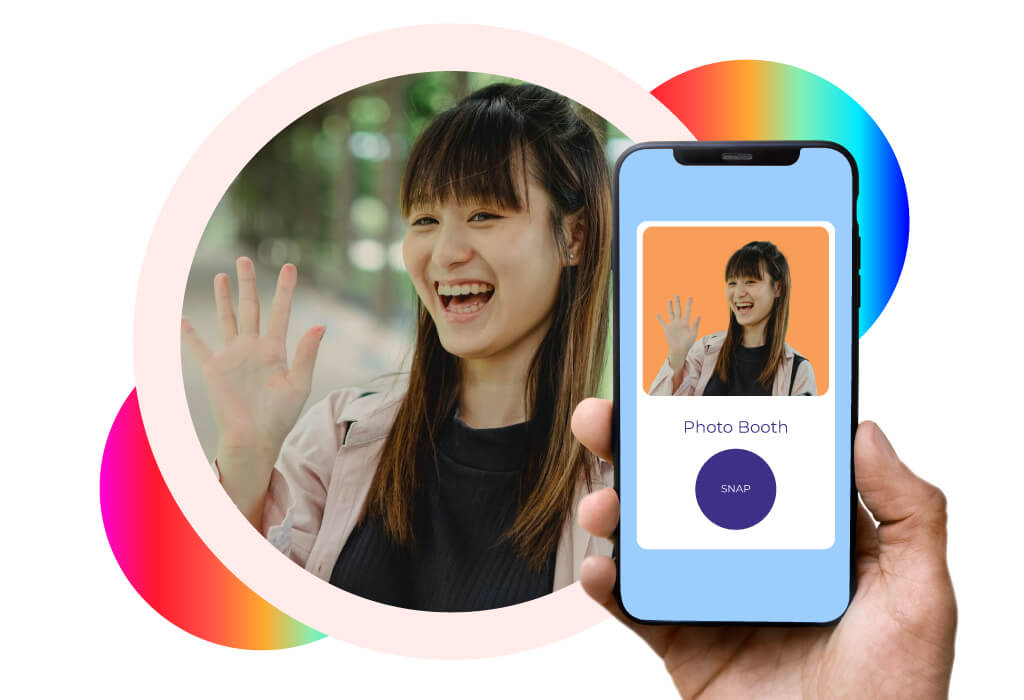 Live Visual Effects
In the online or virtual event, it lets you enhance your presentations, performances, and speeches with real-time visual effects using green screens technology. The host or the speakers can be placed in front of dynamic graphics, animations, or video content to emphasize their message.
Product Launches
The green screen stands can be the most useful for events like the product launch. As this will let you showcase the variety of product features and benefits in imaginative and visually appealing ways.
Awards Ceremonies
In the online awards ceremonies, the green screen technology can be used to display the reels, winner announcements, and acceptance speeches with visually appealing backdrops.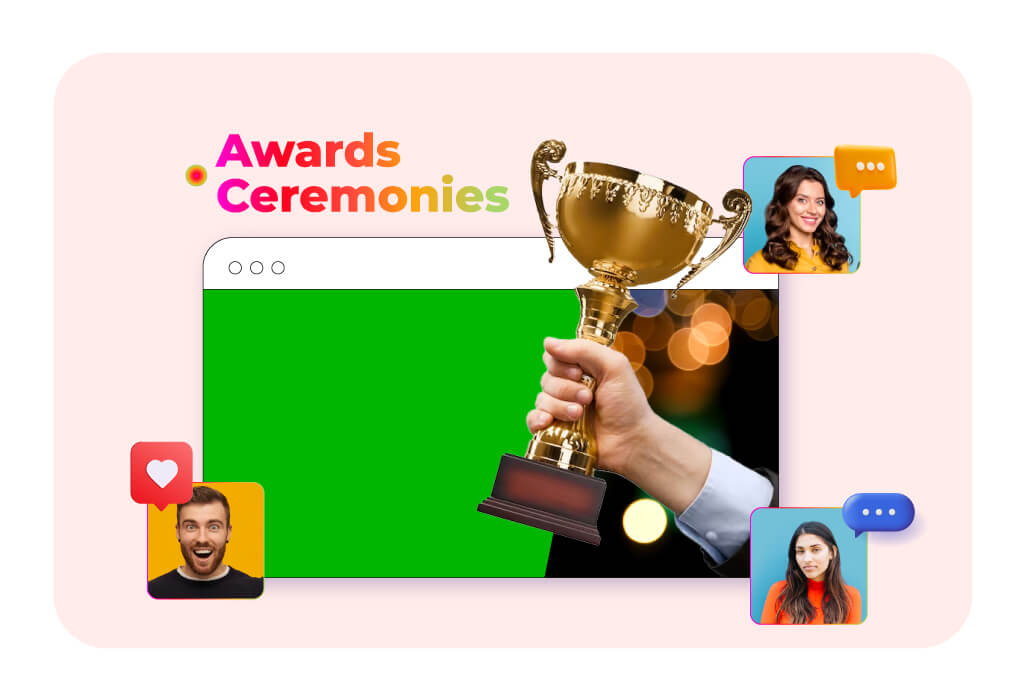 Celebrity Encounters
When you incorporate the green screen photo booth you can give the attendees a chance to encounter their favorite celebrities or fictional characters. This addition will provide a fun and exciting way for participants. 
Beyond Expectations: Green Screen Magic Unleashed at Events
There are many other uses of the green screen in event technology as all of them can not be described in a single blog. So, here are the other uses of it; 
Remote guest speakers' integration.
With the video or visual playing in the background educational workshops can be enhanced.
The theme-based environment is especially effective for themed parties, galas, and corporate events.
Display live social media feeds or user-generated content on green screens (social media wall for events) to encourage engagement and interaction.
Dynamic stage design that quickly changes backgrounds, themes, or branding elements between different segments of the event.
360-degree immersive experience.
With the addition of event gamification tools and the background of the game. The experience can be enriched.
Green screens for charity fundraiser events to show how donations are making an impact in the background.
Improved sponsorship opportunities, as you can show sponsors' ads in the background.
By creatively utilizing green screens for events, you can elevate the overall experience of your event, engage attendees, and leave a lasting impression.
Tips and Tricks for a Remarkable Green Screen Experience at Events
All the above-mentioned benefits can be leveraged if the green screen stand and the green screen photo booth are placed right. Below are a few tips and tricks to ease your efforts.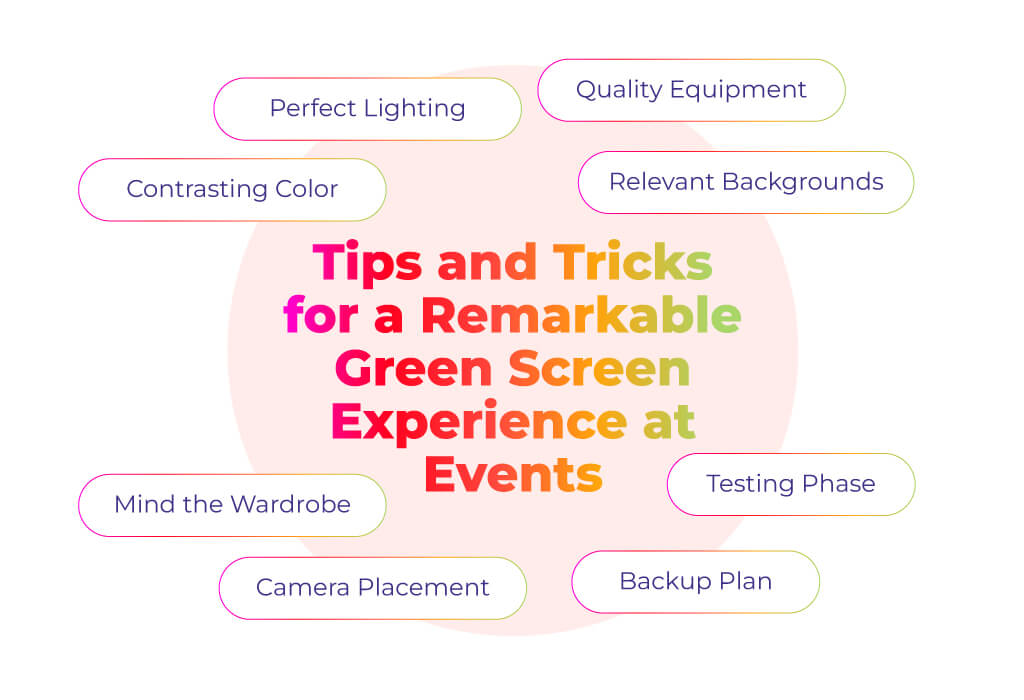 Perfect Lighting: Make sure that the lighting of the environment is bright and avoid shadows as much as you can to have a seamless experience.
Contrasting Color: Choose a dark green screen stand to spread high contrast that well with the subject to easy background removal.
Mind the Wardrobe: Learn the attendees or speakers to wear green clothing and accessories to prevent accidental removals.
Camera Placement: Ensure the right set-up of the camera to maintain constant subject-screen distance for realistic proportions.
Quality Equipment: Always use a high-quality camera and professional editing software for perfect color correction. It is advisable to hire a professional team for this setup.
Relevant Backgrounds: Opt for the backgrounds that best fits with your event theme or branding.
Testing Phase: Run test shots before the event to fine-tune settings and achieve desired results.
Backup Plan: Always have an alternative setup in case of technical glitches.
The Wonders of Green Screen Technology in 2023
Green screen technology has shown immense wonders for virtual event platforms and live streaming service providers. By utilizing the many varieties of themed backgrounds and props, there are multi-diverse event types that can be hosted. With the easy incorporation of colors, logos, and messages in the background, the branding can be enhanced. So, what are other wonders that green screen technology offers? Well, just like Marvel movies your event can embrace the world of science fiction and fantasy and opt for such themes. 
If you are willing to add such things; to your event and want to literally showcase the travel of the world, adventurous background, or historical time travel. Furthermore, a background that showcases your events happening in a professional environment cost-effectively. Then it is best to look for a professional event tech solution that can help you do all these. Like we at Dreamcast can offer you to host an event. Where you can shoot in a studio in real-time or even by using a green screen in-person events you can convert its setting to hybrid events. 

We offer all kinds of integrations, green screen, (chroma and studio set-up), live streaming services, hybrid event platforms, and many others. With us, you can host a seamless event that is going to create a lasting impression. If you are comprehending how these green screens in events can help you at your actual event. To learn more, Book a free demo.
In-Person, Hybrid, Virtual
Create an Extraordinary Event Experience
Across All Event Formats