Nowadays, 65% of people across the globe prefer messaging over email and phone. That's why event organizers use SMS and Whatsapp for marketing, increasing engagement, and sharing important information with the audience. However, in the last 4 to 5 years, Whatsapp has achieved more authenticity with business profile creation and easy promotion.
Still, many people search to differentiate between SMS VS WhatsApp. So, here is a complete blog sharing several advantages and differences between SMS and WhatsApp. Without any further ado, let's get started.
What is SMS Marketing?
SMS is simply a text-based communication and marketing option for businesses. You can add links to your messages to divert your audience. However, you can not use media or other options. Hence, here is a complete list of benefits you can get with SMS marketing for your event.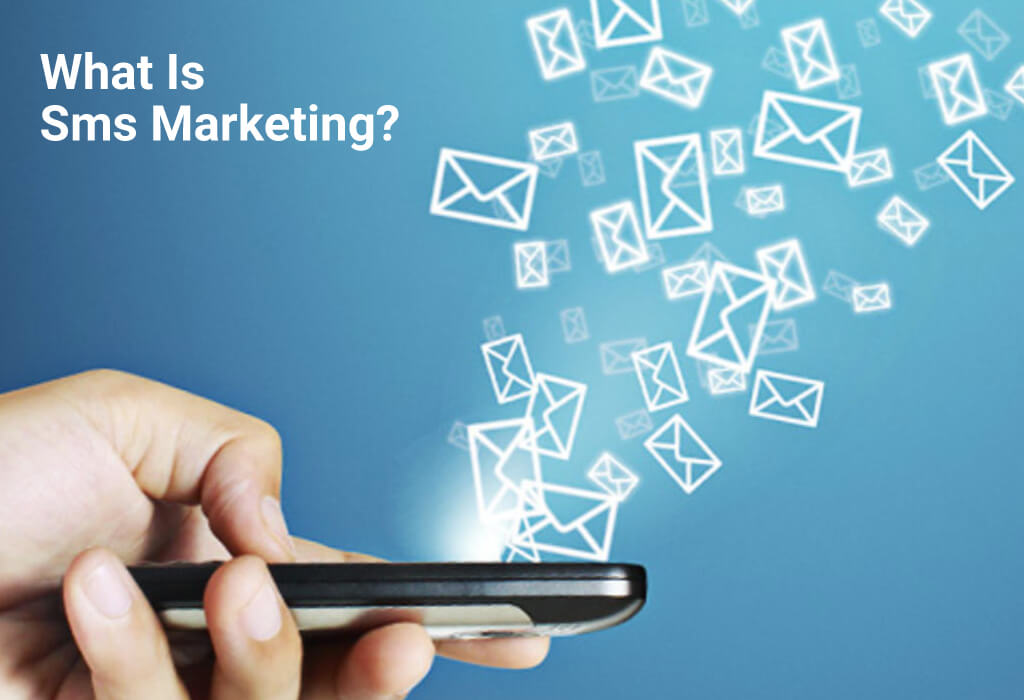 6 Advantages of SMS Marketing
6 Ways you can make the most of SMS marketing for your events are as follows: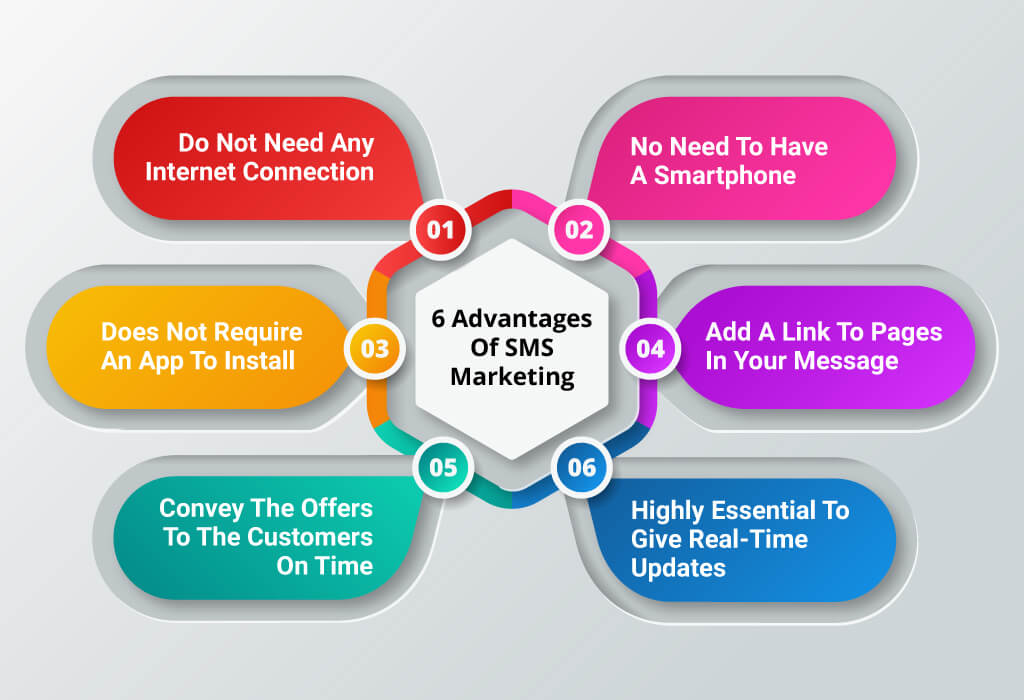 1. Do Not Need Any Internet Connection
Sending messages is seamless with SMS. If your attendees are at a location where they can not find the internet or have a wifi connection, you will be able to reach them via SMS. You do not have to wait for anything. The SMS does not require any internet access. It completely works on the cellular network. Hence, you will need a wireless plan and a wireless carrier to send one to anyone.
2. No Need to Have a Smartphone
Everyone can send SMS to anyone, whether they have a smartphone or a cell phone. You can get calling and texting features on all types of mobile devices. Hence, you can reach your audience without interruption using any SMS pack.
3. Does Not Require An App to Install
Sending or receiving an SMS does not require downloading any app or software. You can simply send an SMS to anyone without hassle. They just need a working network connection for a more immersive experience.
4. Add a Link to Pages in Your Message
If you want to pivot your audience to a different page or a website, SMS provides an option to add a link to your messages. Hence, you can add a link, and your audience can click on that provided link to explore various registration pages, offers, sales pages, websites, and others. Furthermore, you can divert your audience easily by adding an integration to your message.
5. Convey the Offers to the Customers on Time
SMS is beneficial for e-commerce as you can share various messages throughout the event, making them know where they can reach to buy all the displayed products. Hence, you can lure your audience by sending them all the ongoing or personalized offers for them via SMS.
6. Highly Essential To Give Real-Time Updates
You can keep your event attendees updated about all the sessions of your event. Send them real-time messages to let them know what they can expect in the future sessions of the event. Hence, you can utilize the SMS feature for easy interaction with your audience.
What is WhatsApp Marketing?
WhatsApp has introduced entirely new features and functionalities for businesses. It can help you connect your brands with their customers. You can find WhatsApp Automation immensely successful in achieving your global attendees' attention and keeping them engaged with your brand.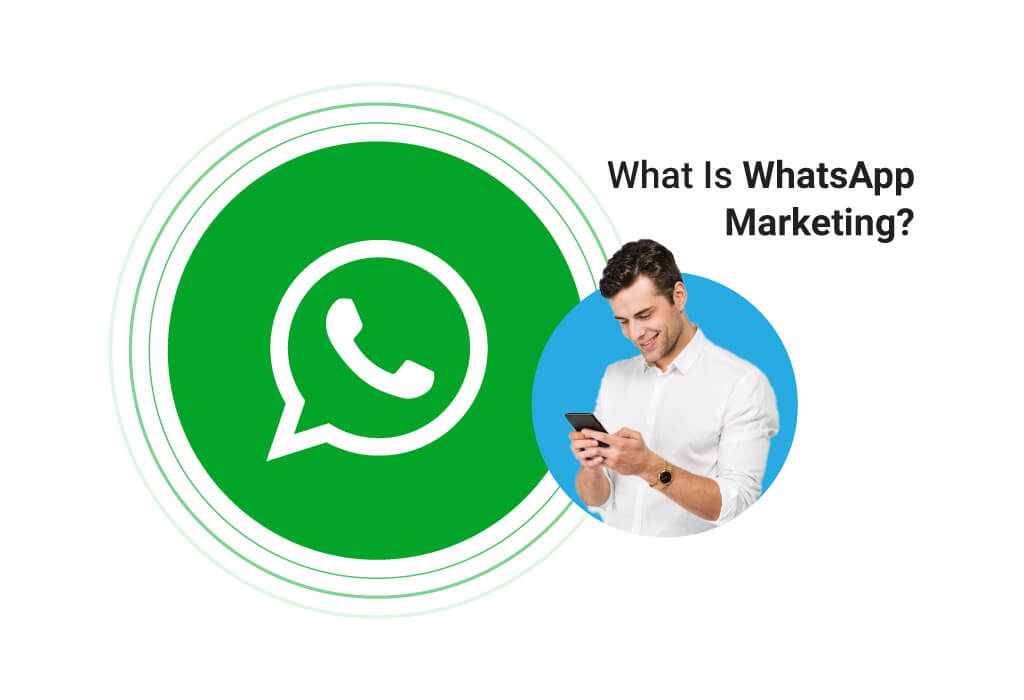 We have already discussed the advantages of SMS marketing. Now, let's discover the top benefits of WhatsApp automation and marketing.
8 Advantages of WhatsApp Marketing
8 Ways you can make the most of WhatsApp Automation and Marketing for your events are as follows: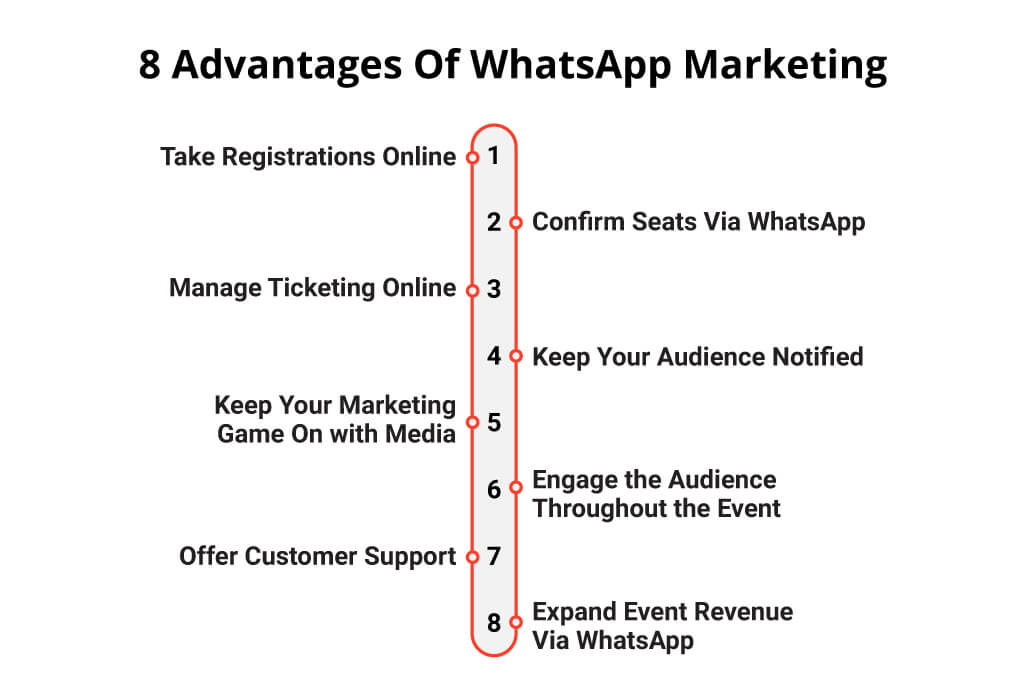 1. Take Registrations Online
You can utilize this app to take online registration of your audience whether you conduct an online or offline event. The WhatsApp event registrations can help you get more registration as users can simply click on the link and fill out the form to register.
2. Confirm Seats Via WhatsApp
You can send WhatsApp updates for Events such as RSVP. Hence, all your attendees can confirm their presence in advance at the event. They can finalize a seat for themselves and their friends.
3. Manage Ticketing Online
You can make the most of the WhatsApp event updates by sending the tickets online. Hence, the audience will receive a digital ticket on the app, which they can show at the time of entry to the event. You can scan the M-badge and give them entry. Also, you can create a printed badge for all the visitors.
4. Keep Your Audience Notified
You can share event updates on WhatsApp without hassle, even during the live event. Send them push notifications and notify them about all the upcoming events, updates, changes, last-minute announcements, and other essential information. Also, you can use automated messages for FAQs to save time and effort. Additionally, you can provide quick service to your attendees.
5. Keep Your Marketing Game On with Media
You can start your event marketing with WhatsApp. Send your audience twisted and compelling messages elevating rich media, such as images, videos, PDFs, etc., and interactive message templates like CTAs & Quick Reply buttons.
6. Engage the Audience Throughout the Event
Let your audience ask questions directly to the event moderator via WhatsApp.
Run live polls during the live sessions.
Get feedback as soon as the event ends.
7. Offer Customer Support
You can manage 1000s of customer conversations with ease via WhatsApp event management Business APIs. Offer customer support via the app to all the event attendees.
8. Expand Event Revenue Via WhatsApp
Take your sales online with the official event WhatsApp number.
Solve customer queries on time by assigning chats for better customer service.
A Quick SMS vs WhatsApp Key Differences Chart!
| | | |
| --- | --- | --- |
| Feature | WhatsApp | SMS |
| Accessibility | Need Internet Connection | Need a working sim card and mobile phone |
| End-to-End Encryption | Data privacy and security | Unsafe to share sensitive information |
| Message Format | Rich media capabilities | Short text only |
| Character Limits | No | 160- Characters |
| Create a Business Profile | Credible profiles | No |
| Monitor Receipt Performance | Yes | No |
| Check Active Status | Yes | No |
| Automatic Messages | Yes | No |
The Final Word
Almost everyone across the globe uses WhatsApp instead of SMS or any other messaging mode. Hence, you can get more event ease if you choose WhatsApp for marketing and management of your business events. It has more elements to keep your audience engaged throughout the event, even in an onsite event. And Dreamcast can help you by providing complete WhatsApp Automation. You can get various features and functionalities to keep your audience engaged and updated and even help them increase their sales. So, what are you waiting for? Get a FREE DEMO with DREAMCAST today!
In-Person, Hybrid, Virtual
Create an Extraordinary Event Experience
Across All Event Formats