It's time to pivot to the most effective communication channel and take the execution of your event a notch higher. WhatsApp Automation and Bots are the latest outstanding innovation that is all set to enhance the event experiences, amplifying the success prospects of events like never before.
With time, various global brands & organizations have opted for the feature of WhatsApp Automation & Communication to have more direct interaction with their consumers. Not just this, but WhatsApp Automation is also a great tool to ensure highly successful marketing & promotional aspects of any business. So, why not use the excellence & advantage of this functionality in the sphere of events!
We are here with the set of best curated and the smartest WhatsApp Automation & API solutions that can level up your event execution & maximize the ROI. Go on and explore the possibilities!
Whatsapp Driven Tech Solutions to Simplify Your Event's Execution
Use WhatsApp for Event Tickets & Registration
Use the power of digital by taking your event ticketing and registration process online through WhatsApp.
Event Registrations (Paid / Unpaid)
Use Whatsapp for event registration and make the whole process highly seamless & effective! Using a digital communication platform will not only simplify the process of registration through QR-Codes & M-Badge availability but also help you go completely paperless. In addition, you can provide quick customer support throughout the process over Whatsapp.
RSVP Management
Eliminate the factor of uncertainty by shifting & simplifying the RSVP management system to Whatsapp. Now invite attendees with an easy QR-based digital invite and also collect confirmation over the same. The excellency of the functionality doesn't end here, as you can also add the invites and manage the guest list right over the phone without any hassle.
Event Ticketing
Create and share non-transferable, completely customized, QR-based digital event tickets with the registrants over WhatsApp. During an in-person event, users can simply show their QR-based tickets to enter the event. WhatsApp-based event ticketing also enables the event organizers to complete live statistics of this event aspect.
In-Person, Hybrid, Virtual
Create an Extraordinary Event Experience
Across All Event Formats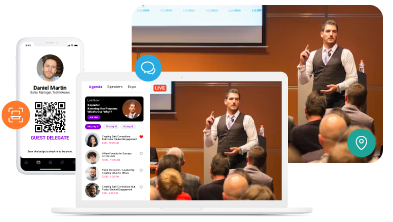 Boost User Engagement Through WhatsApp-Based Functionalities
Enuring audience engagement during the event is very important as it is one of the key success-defining elements of any event. While virtual event platforms provide users with various engaging features & functionalities, the way back to in-person events can become a challenge in terms of engagement. Therefore, amplify the success prospect of your online or on-ground event by adding some excellent WhatsApp-enabled functionalities.
Push Notification & Broadcast
Push notifications and broadcasts can keep your event audience engaged in the event by notifying them of event-related updates. Hence, use push notification functionalities to welcome & attend to your guests. With the help of an automated WhatsApp chat, the entire attendee journey can also be tracked through different touch points during the entire WhatsApp chat.
Using this functionality can essentially help you save time and effort as everything happens automatically. In addition, you can also manage multiple conversations efficiently.
Database Marketing
Boost your sales using the excellent WhatsApp-driven database marketing prior to the event. Set up campaigns that are enriched with multi-format media elements that efficiently drive engagement. Not just this, but the campaigns or the messages can also be interactive, including quick reply buttons & CTAs. And as you know, nothing engages audiences better than interactive features. Like other WhatsApp solutions for events, this aspect is also trackable as the entire campaign can be monitored through the backend.
Live Audience Engagement
Elevate attendee engagement during the events by shifting the interactive aspects of the event to the smart WhatsApp-driven communication. Share the event agenda with your attendees over WhatsApp and enable them to react to chat-based polls on the same during real-time sessions. You can also use this functionality to collect feedback from your attendees for each session. Using this tool, you can excellently enhance the engagement & interaction at your in-person event.
Use WhatsApp to Amplify the User-Experience
Another aspect that determines the efficacy of your event is the kind of user experience you were able to provide to the attendees. So, move ahead from the regular way of creating an enthralling user experience and use WhatsApp to relish new possibilities.
E-Commerce Capabilities
Integrate a live shopping experience at your in-person event through WhatsApp. You can now sell your event merchandise seamlessly through the direct-to-client format. E-Commerce through WhatsApp is a great way to expand your event's revenue system as the users get to interact with a representative one-on-one. Also, as every aspect is managed through an automated system, you don't have to create a human resource-based system to manage your customer's FAQs. Additionally, you can also keep all your chats and contacts well-organized using smart labels, cards, private notes, and tags. Doing this will essentially help you access & manage these aspects with ease.
User-Journey Automation
Elevate the experience of your audience by keeping in touch with them throughout their user journey with the help of automated communication. Using WhatsApp Automation, you can efficiently create a better user connection & ease up their experience by transforming the conversations as per requirements.
Enable Seamless Feedback Collection
Gathering relevant feedback from your event attendees is a very essential aspect of any event. It not only helps you analyze the efficacy of your event but also makes your audience feel valued. However, making your audience share their feedback can become a tedious process as people tend to prefer a quick solution instead of a time-consuming one. Therefore, bring the element to WhatsApp and gather quick feedback from the masses in a super-simple way.
Provide End-to-End User Support through the Digital Event Help Desk
Be completely available to solve all user queries and doubts at once over WhatsApp. Using this functionality, you can easily handle more than 1000 users at once using WhatsApp Business APIs. Providing end-to-end user support will not only help you ensure a seamless event execution but also win your user's trust. It's time to level up the execution of your events with the excellence of the world's most effective & preferred platform of communication. Integrate the WhatsApp Event-Tech Solutions and elevate the success prospects of your event to a whole new level!
In-Person, Hybrid, Virtual
Create an Extraordinary Event Experience
Across All Event Formats