Educational webinars are gaining exponential popularity as the demand for online courses increases, helping educators, teachers, and instructors leverage video content to reach wider students.
Many institutes and teachers are hosting education webinars for different purposes – helping academic businesses to promote courses or using them as a medium to facilitate e-learning. No matter what the goal is, they keep the feel of face-to-face conversations while creating one-to-one communication channels. According to research, The conversion rate of educational webinars is 30.79% as of 2023.
Through this blog, we will take you through the know-how to use educational webinars and the best tips to host educational webinars.
What are Educational Webinars?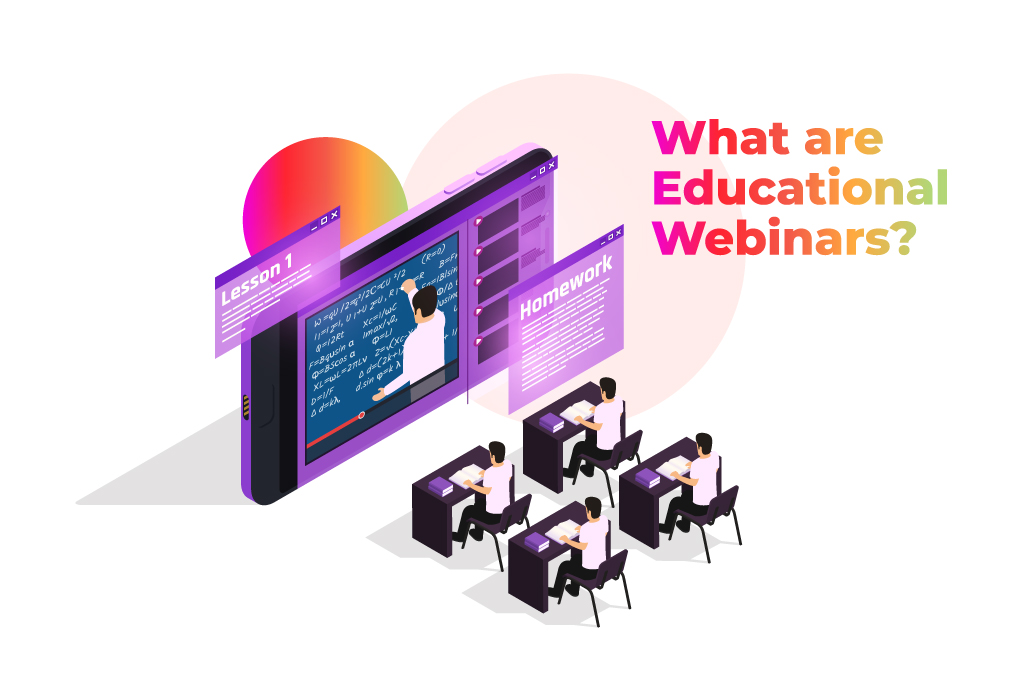 As you might have guessed from the name itself, educational webinars or EdTech webinars
revolve around a niche: education. Hence, they are hosted to educate the audience and cover topics related to education.
They are popular under different names, such as "e-learning webinars" or "learning webinars."
Popular across several industries, one can host educational webinars when the intent is to educate the audience, share information, and impart knowledge, irrespective of the subject. The best feature about eLearning webinars, or educational webinars, as we call them, is that they can either be live or pre-recorded.
As previously stated, educational webinars can be hosted regardless of industry. It means that even if you wish to educate students or a corporate audience, EdTech webinars can fulfill the purpose for you. They are as valuable and impactful as webinars for the corporate or any other sector.
Top 6 Reasons to Host Webinars for Education?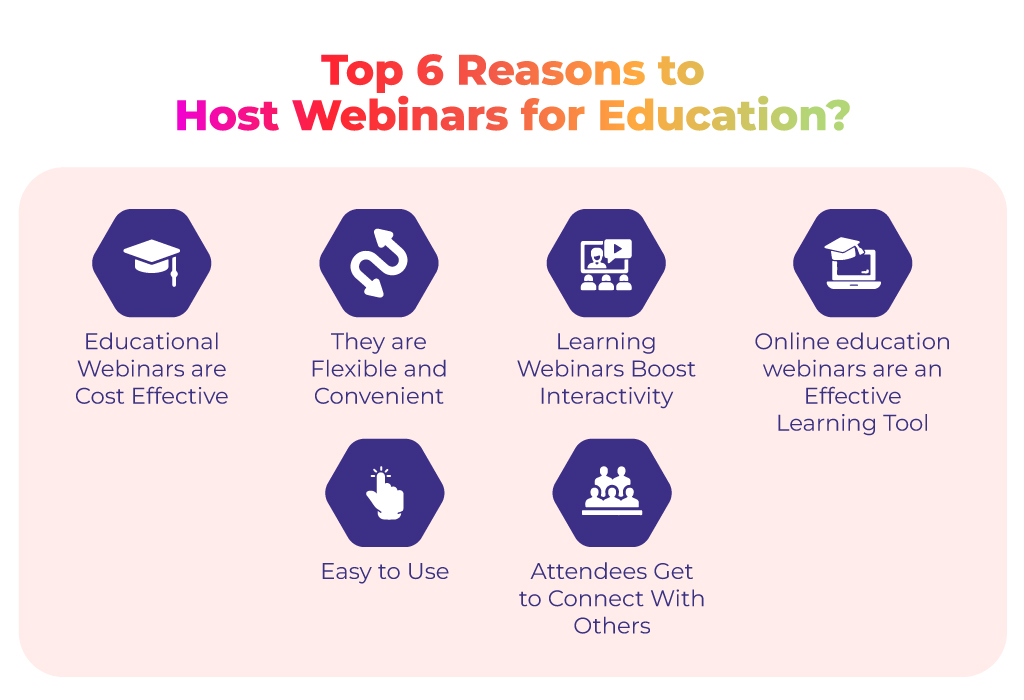 Apart from the fact that webinars can reach thousands of people at once, there are many other advantages that come with educational webinar series. Let us have a look at what those advantages are:
1. Educational Webinars are Cost Effective:
Most institutes and teachers host educational webinars over in-person events because webinars are very cost-effective for all the parties involved. With webinars, neither do the attendees need to worry about travel and accommodation nor do the organizers have to spend huge sums of money, unlike physical events. EdTech Webinars are one of the most considerate methods of online teaching.
2. They are Flexible and Convenient:
EdTech Webinars are flexible and give the organizers a complete sense of freedom. With several education webinar platforms, such as Webinar Plus, you can either host a webinar in real time or pre-record it and deliver it to the attendees later. Not only this, but you can attend webinars right from the comfort of your home. How cool is that?
3. Learning Webinars Boost Interactivity:
Speaking of the next advantage, learning webinars or education technology webinars encourage attendees to interact with each other. There are several webinar platforms for education that come with audience engagement tools. With these online meeting platforms, the attendees can have group interactions as well as one-on-one interactions.
4. Online education webinars are an Effective Learning Tool:
Time and again, it has been proven that online educational webinars are considered one of the most effective learning tools. In comparison with in-person learning methods, one can see that online learning methods, including webinars, are more effective. Not only this, but webinars for students have a positive impact when it comes to the learning process and retention of information.
5. Easy to Use:
The next advantage that comes with webinars for students is that they are easy to plan, execute, and manage. Webinar platform for teachers such as Webinar Plus have an easy-to-access interface, which makes it convenient and less hectic for organizers to host educational webinars. Apart from it, this webinar software can be accessed from any device and browser.
6. Attendees Get to Connect With Others:
Webinars provide attendees with many opportunities to connect with others present in the webinar and expand their personal network. Webinar platform for online education offers different tools and webinar features such as networking tables, breakout rooms, and AI Matchmaking that let attendees connect one-on-one with others, interact, and share their contacts.
How to Use Webinars for Education?
Planning and hosting webinars for education is not full of complications; however, what's better than using some tactics and making an impact on the audience? Here we are sharing some of the best and most impactful ways you can use webinars for education:
1. Expert Sessions
As a brand, you'd always want your audience to know about your brand in depth. What's the best way to do the same? You'd probably think of hosting a product demo session. As disappointing as it might sound, product demos are not compelling enough to draw the audience's attention.
If you wish to reach out to a larger audience, we recommend you host an expert session. It would attract more audiences and add value to your brand.
2. Q&A Learning Webinars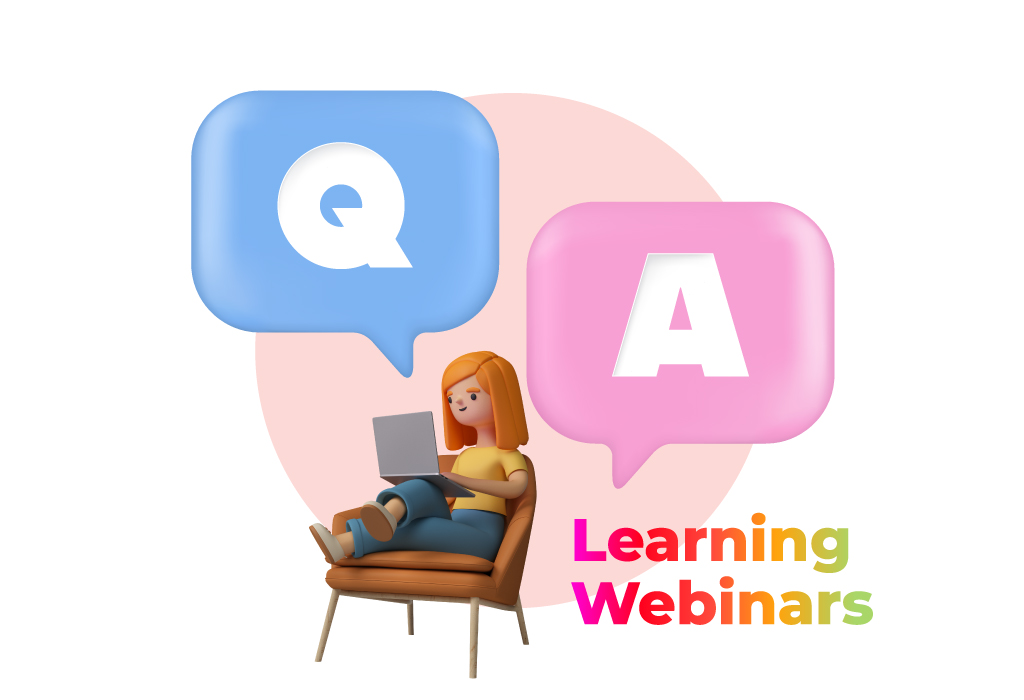 These webinars are the most popular types of EdTech webinars and are attended by large audiences. They allow attendees to get their queries answered by the experts themselves. Not only this, they provide them with opportunities to make connections and expand their networks. In addition, they allow the organizers to showcase their expertise and establish themselves as a valuable brand in the market. If you want to increase audience engagement, you can host education webinar series with Q&A sessions.
3. Training Sessions
Needless to say, they are counted as one of the most popular kinds of EdTech Webinars. Be it about providing product training to employees or hosting regular educational sessions for students, one can host online training sessions easily. However, there are a few points that one needs to consider while hosting training sessions. For example, the subject of the webinar should interest the audience; also, don't overcomplicate the webinar.
Did You Know that training webinars are the second-best type of educational webinar in terms of lead conversion rates of 44.79%
4. Case Study Webinars
Why not educate your audience with stories? After all, stories have always been considered a great way to educate people. You can host these webinars on education technology where you can share your stories, challenges, failures, and more. To make them more valuable, you can add some facts and figures to the case studies. In fact, you can also have some of your clients and companies on board to share their stories as well.
4 Tips to Keep in Mind While Hosting Webinars for Education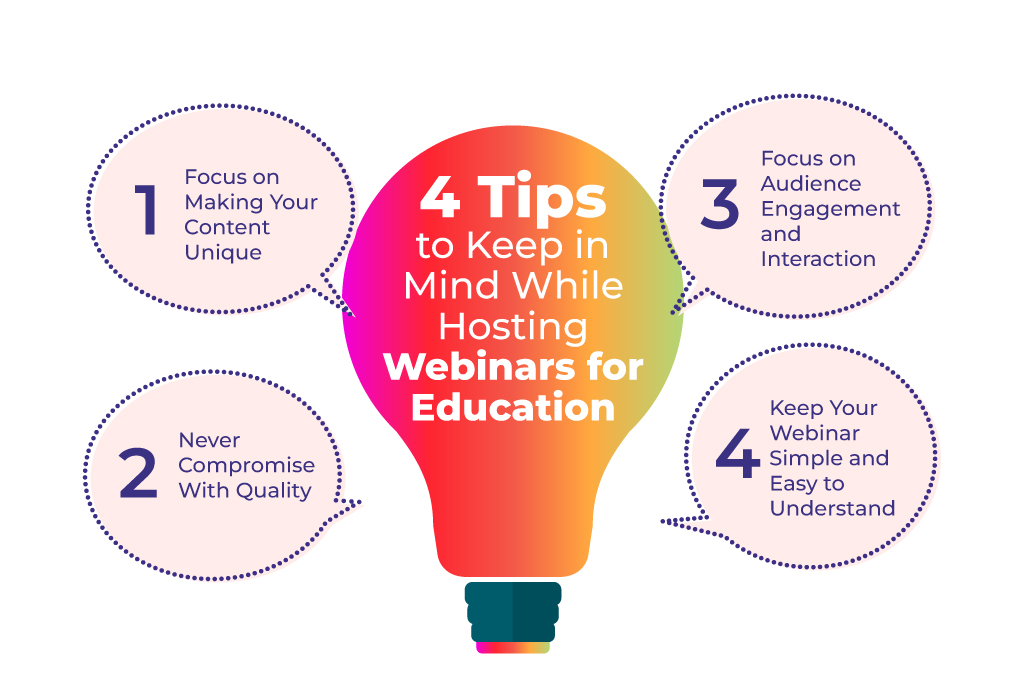 There is no doubt that webinars for online teaching have become excessively popular in the past few years. Owing to the advantages and convenience they come with, every other organization is hosting webinars.
Therefore, it becomes essential to ensure that your webinars stand out. You can ensure that by simply following the tips we are sharing here.
Tip 1: Focus on Making Your Content Unique
As we said, learning webinars have become exceedingly popular. Now that this is the case, what do you think would make the audience attend your webinar? As an organizer, you need to make sure that the content you deliver is different from what the others are delivering.
For that, you need to have a clear understanding of your target audience and the kind of content they find interesting. Not only this but thanks to educational webinar hosting platforms like Webinar Plus, you can add a personal touch to the content and your webinar to make it look more appealing.
Tip 2: Never Compromise With Quality
Always prefer quality over quantity in every case. Be it the webinar platform you choose or the content you deliver, make sure you prefer the former. When it comes to the content, include slide shows, videos, and graphics to enrich it. And when it comes to educational webinar hosting platforms, choose the one with the highest audio and video quality.
Tip 3: Focus on Audience Engagement and Interaction
The next thing you should keep in mind is that audience engagement and interaction are the keys to a successful webinar. Focus on delivering an immersive experience to your attendees by encouraging attendees to use tools such as live chat, live polls, etc. 78% of online webinars include Q&A sessions. So it is important to choose an educational webinar hosting platform that includes different audience engagement tools.  
Tip 4: Keep Your Webinar Simple and Easy to Understand
Nobody likes complications. So when selecting an educational webinar hosting platform, go with one that has an easy-to-use interface. Also, when it comes to the content of the webinar, choose a simple and easy-to-understand subject. In addition, you can use several simple techniques to make the webinar more engaging and immersive.
If you are going to host EdTech webinars , you need to keep these metrics in your mind. It will help you to host interactive, engaging, and successful EdTech webinars.
Final Word
It was not so long ago that education webinars came into existence and rose to prominence. While some might consider them tough nuts to crack, others find them fruitful and advantageous. Do you know what makes these experiences different? The strategy and webinar platform for educational seminars.
Choosing an efficient webinar platform for education is as necessary as planning it. educational webinar hosting platforms like Webinar Plus enable users to deliver their experiences in the most seamless and hassle-free manner. Along with it, organizers get to manage their webinars all by themselves. If you wish to conduct a successful educational webinar and create an everlasting experience for your audience, subscribe to Webinar Plus now. You get the first month for free.
FAQs
Q.1 How do educational webinars work?
Often, learning management systems or educational webinar hosting platforms are used to host educational webinars. Anyone can sign up for the webinar and log in at the appointed time. The presenter shares their screen, presents slides, and delivers content while participants can ask questions, participate in polls, or engage in chat discussions.
Q.2 Can I ask questions during an educational webinar?
Absolutely, the majority of educational webinars promote user participation with tools like Q&A sections, chat rooms, and interactive polls. The issue being discussed is open to questions from the audience, and presenters or moderators usually respond to them throughout the session.
Q.3 Can I access educational webinars after the live session?
Many educational webinar hosting platforms provide access to the recorded session after it concludes. If a person was unable to attend the live event, they can study the material, go over key topics again, or catch up. However, the availability of recorded webinars depends on the hosting platform and the organizer's policies.
Q.4 What features should I look for in an educational webinar platform?
It's crucial to consider the following features when selecting an educational webinar platform:
Screen sharing,
Live video streaming
Chat and messaging options
Q&A sessions
Interactive polls
Participant engagement tools
Analytics, and reporting
Recording and playback options
Integration with other tools (like learning management systems)
And scalability to handle a large number of attendees
Q.5 Can I get technical support for educational webinar platforms?
The majority of educational webinar platforms such as Webinar Plus provide technical assistance via phone, email, and live chat. Moreover, they could include documentation, tutorials, and knowledge bases to help consumers solve common problems.