Webinars for ecommerce act as an excellent demand-generation tool when executed in the right way. In fact, it is one of the fastest-growing methods for brands to connect directly with their customers and generate leads from them. For the organizers, whether it's the matter of establishing brand credibility or educating your customers about your product, webinars do the job for you.
In this guide, we'll walk you through what ecommerce is and the role of webinars in boosting product sales for brands and services. Additionally, we'll also look at some of the effective strategies and benefits that can be helpful for your upcoming webinar sessions. So, let's get started!
Webinar's Importance In ecommerce
In the current scenario, every industry is using webinars for different purposes such as employee training, thought leadership, and others. Right from hosting a panel discussion session to product demonstrations, webinars have traveled a long distance in delivering successful events across the world. Let's discuss the role of these online video presentations in boosting ecommerce product sales. As per recent reports, e-commerce revenue is expected to cross 1.3 trillion dollars by 2025.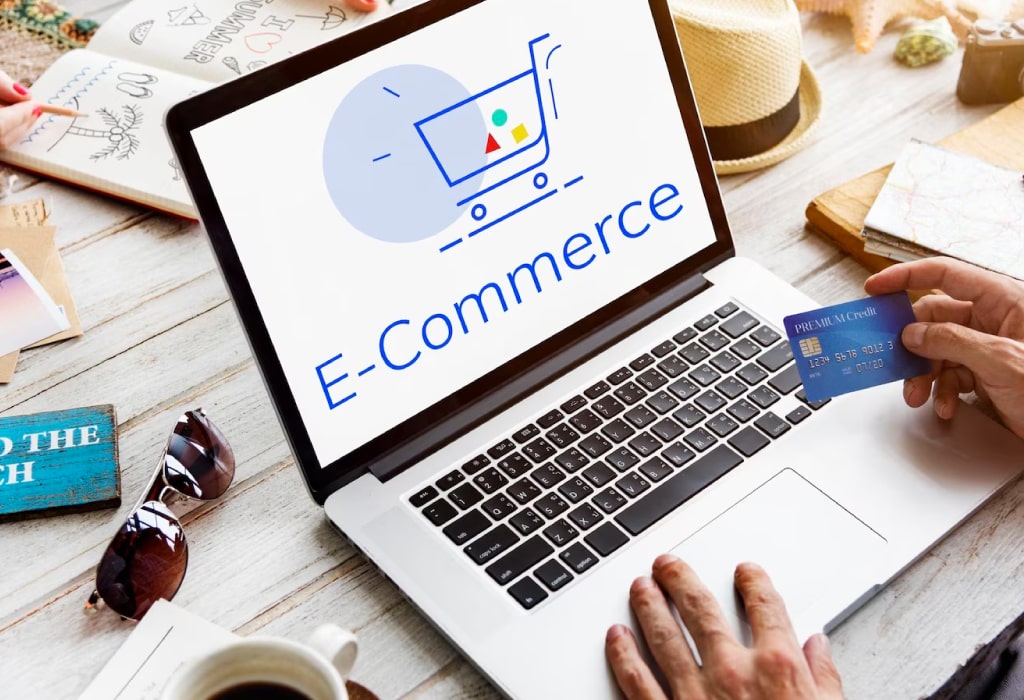 What is Ecommerce?
Basically, " ecommerce" means "electronic commerce". It is the buying and selling process of products and services over the internet. With all sorts of transactions happening online, ecommerce is allowing businesses and consumers to interact and exchange products or services without any physical contact. As per Forbes, more than 20.3% of retail purchases are expected to take place online in 2023.
How does an Ecommerce Webinar work?
Webinars are online presentations that involve the sharing of information in the form of ppts, visuals, texts, and other multiple formats. They are quite convenient and easy to set up for businesses. Webinars give opportunities to the companies to demonstrate their product live to the attendees.  It is the best way to showcase features and benefits of the product to engage the audiences and learn more about them.  Webinars also have the ability to reach a large audience which can help  companies having a global consumer base.
Did you know
"As per the economic times report, live ecommerce is gradually becoming the next megatrend in shaping the future of the ecommerce industry."
Looking at the past, the global webinar market is expected to reach more than 800 million by 2023, from merely a bracket of 253 million in 2015. Here are a few reasons why:
Webinars (in this case, ecommerce webinars) are a great way for businesses to educate their leads on new products, features, trends, and so on, while also earning their trust and loyalty.
Webinars provide flexibility to the product or services. They can be recorded and made available on-demand, allowing attendees to watch the content at their convenience.
When it comes to the costing part, webinars are a cost-effective choice as there's no headache of transportation, providing accommodation, or other hidden expenses.
With the right webinar platform, you can directly increase the chances of making new customers, which will eventually lead to high conversion rates.
Everything You Need to Know About ecommerce Webinars
ecommerce webinars are basically online events that are hosted by companies or industry experts for the purpose of educating, informing, and engaging their target audience. Broadly, some of the most popular use cases of this category include live or pre-recorded sessions and discussions, which cover a wide range of topics related to ecommerce.
Significance
These types of webinar sessions offer valuable insights and information about things happening around the world. Additionally, you get industry experts to answer all your questions and resolve queries. With the shift towards the online world, it's mandatory to stay up to date with the current trends and best practices. Webinars for ecommerce do the job for you in terms of gaining new ideas and effective strategies for business growth.
Most of the ecommerce webinar sessions are hosted by software providers, ecommerce platforms, industry associations, and marketing agencies. To attend the session, all you have to do is click on the registration link. After the successful registration, you'll get the confirmation details along with details to join the session.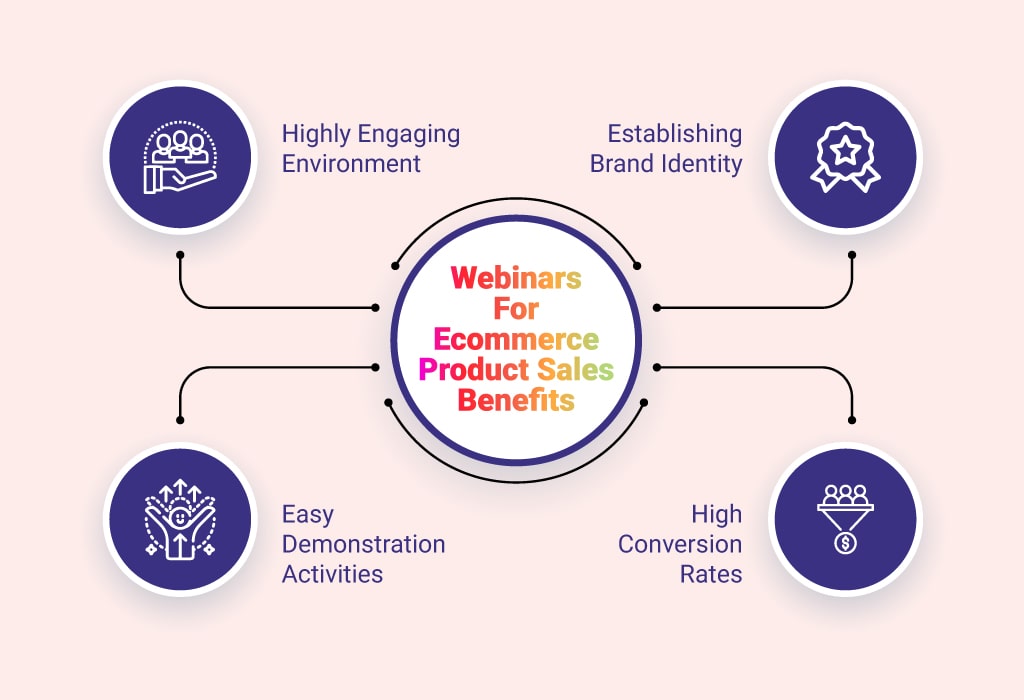 Webinars for ecommerce Product Sales: Benefits
There are several benefits to using webinars for ecommerce sales. Some of the key benefits are:
Highly engaging environment
When it comes to engagement, webinars for ecommerce win the race by a long margin. With a strong introduction, thought-provoking questions, providing value, giving your full energy you can grab their attention. For ensuring active participation by the attendees, webinar platforms include features like surveys, live polling, Q&A sessions, and many others.
Establishing brand identity
It helps increase your brand's visibility at the global level. By utilizing the power of social media, email marketing, and other channels, you can reach a wide range of audiences and introduce your brand to new customers. Additionally, when it comes to existing leads, ecommerce webinars can strengthen them by providing information regarding feature updates and showing commitment to their future success.
Easy demonstration activities
With the help of webinars, you can showcase what you've got to your customers and make them feel more confident about your product or service. It is very important to satisfy customers with your services and illustrate in detail everything about the product. With webinars, customers can have a thorough understanding of key features, pricing, and working. This gives them an overview before making the final purchase.
High Conversion Rates
It is very difficult to build the trust of the audience. Webinars in ecommerce product sales provide valuable information in a very interactive way that is easily consumable for most customers. Because of this reason, studies have shown that over time, conversion rates of webinars have risen to 20%.
Additionally, you get a chance to represent yourself as an expert in your field by talking about the topics they find interesting and showing them your command on any specific topic or subject. In fact, most of the audience clicks on your webinar registration page because there's a thought in their mind about just the right expertise they need. With the help of their personal data, such as phone numbers, email addresses, etc., you can easily generate new potential customers.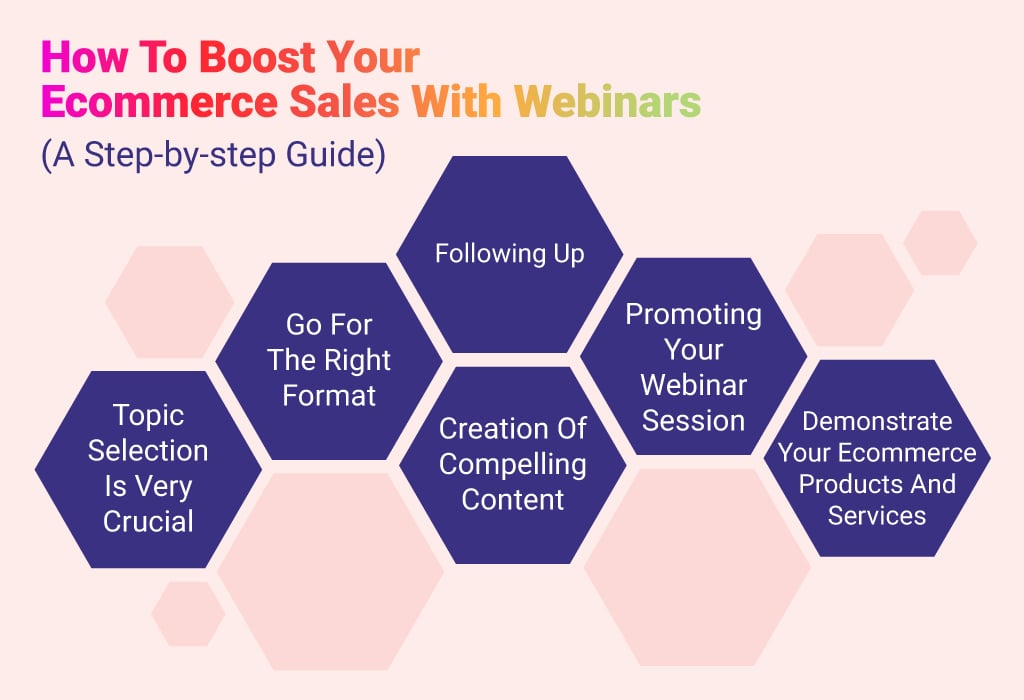 How to Boost Your ecommerce Sales with Webinars (a Step-by-Step Guide)
It requires careful planning and execution to deliver a successful session. Here are some helpful hints for your event.
Topic selection is very crucial.
The topic is the most basic yet crucial aspect on which your session depends. Try to choose a topic that exactly matches the pain points of your target audience. It ultimately sets the tone for the entire event and also determines the level of engagement from the target audience.
Go For The Right Format
The selection of the preferred format depends on the audience and event requirements. There are many choices available, like live or pre-recorded. However, it is strongly recommended to go for an ecommerce webinar that includes live polling, chats, breakout rooms, and other interactive elements.
Creation of compelling content
Content is king in most successful webinar sessions. It is very important to make your content delivery smoother for your event attendees. For this purpose, you can go for adding slides, infographics, bar charts, and pictorial graphs to your presentation. For better audience engagement, try to break your content into small segments and allow time for questioning and feedback.
Promoting Your Webinar Session
The major role of promotions is to make your service popular among random audiences across the world. The best way to promote online is through the use of social media. Some effective ways to promote your event are:
You can easily go for creating innovative session hashtags and publishing them on your official Instagram.
Posting short teaser videos, making Facebook mentions, and running paid ads also work to make your session widely appealing.
You can also rely on SEO marketing to rank your website page at the top of Google search results. Additionally, this will increase traffic to your event.
Demonstrate Your ecommerce Products and Services
Demonstrating your product or service is a critical part of the sales process, as it helps potential leads understand the value you're offering. An effective demonstration involves –
Use high-quality visuals as they are easily consumable and very effective for your potential customers.
By the creation of interactive demo videos, you can show customers how to use your product or provide a free trial period for ease of convenience for them.
Product descriptions should be clear and concise. Additionally, it should also provide all the relevant information about the product.
Lastly, offering free trials or demos can be an effective way to allow your customers to experience the product themselves.
Following Up
After the event follow-ups are very good for brand growth and development. It is possible to develop connections with attendees by following up. This can be accomplished by offering extra materials, responding to inquiries, or merely expressing gratitude for their attendance.
With this, let's move forward to our next section which comprises some crucial elements of an ecommerce Webinar Platform.
Elements of an ecommerce Webinar Platform
Here are some of the must have elements of which should provide you much more access for a healthy interaction with your target audience. Let's explore each one of them in detail –
Payment Processing System
Ecommerce webinars are worthy if your audience makes a purchase towards the end of the session. For smoothness in the payment process, your platform should be integrated with popular payment gateways like Paypal, Stripe or Paytm.
On-demand Playback
Live ecommerce Webinars are undoubtedly the favorite choice for most of the audience to engage with their speakers and gain in-depth information about any product or service before making a final purchase. But, wait what if there's a time zone issue or some sort of circumstances which make your viewers busy at work ?
Yes, with on-demand sessions, you can easily pre record the session to make it available for those audiences who wish to view the content afterwards.
User Privacy & Data Security
Ecommerce webinars contain a lot of confidential information of the users. By successfully registering for the event, information like mailing address, name, phone number and other things shared with the service providers. With platforms like Webinar Plus, you get safe and secure password protection and compliance with privacy regulations like GDPR and CCPA.
Automated email Reminders
It is very important to track your attendees before and after the event as well. With automated email reminders you can increase your attendance rate during the live event. Additionally, with hosting webinars for ecommerce, you can easily create a sales funnel for making your attendee purchase your product or service after successfully delivering the desired information.
Powerful Analytics
Analytics does play a crucial role in tracking and measuring your event performance. For identifying loopholes, modifications and giving importance to audience feedback, tracking your analytics is very important. Ecommerce webinars are made for giving important information about any product or service which makes your customers comfortable before making a final purchase.
Tools for Making Everlasting Experience
Live eCommerce webinar platforms comprises lots of impressive tools and features which makes your session highly engaging. With customizable landing pages for attendee registration, unlimited lobby customization options, live chat and polling etc., you can surely deliver the content "the way you want"!!
Effective Strategies for Hosting an ecommerce Webinar
It requires more than just creating the content for an amazing webinar session.
Clearly define the objective
Determine your ecommerce webinar's precise purpose. Having a defined aim can help you structure the content and produce a focused webinar, whether it's to educate attendees about a new product, show its features, or share industry insights.
Focus On The Engagement Part
Engagement during the webinar ensures active participation by the event attendees. It ultimately results in generating new potential leads from your session, which is valuable for brands' growth. There are many engagement strategies you can opt for. You can try by giving discount vouchers & coupons to the winners of a short quiz or something during the live session. Additionally, you can also play mini-games which help your attendees to come forward and speak.
Utilizing interactive tools
Things like surveys and polling are very effective at creating a sense of community among all of your event attendees. It has the dual advantage of gathering valuable feedback and insights from them.
Showcase practical examples and success stories
Real-life examples and success stories that show the benefits of your ecommerce solutions or strategy should be presented. This helps participants gain credibility and trust by demonstrating how others have experienced great results utilizing your products.
Provide actionable insights and tip
Provide participants with real and actionable information that they can apply to their own ecommerce enterprises. Share best practices, tactics, and specific recommendations that might benefit their online store management, sales, or customer experience.
Keep an Eye on Your Attendees
Following up takes a lot of time and effort for the event sponsors. With ecommerce webinar platforms like Webinar Plus and others, you can easily send reminder emails for inviting your event attendees. Additionally, post-event follow-ups build your brand's credibility in front of your target audience.
Resources for after the webinar
Participants should be given post-webinar resources such as a recording of the webinar, presentation slides, and other materials pertinent to the topic. This allows participants to go over the information again, share it with others, and reaffirm the value of their attendance.
Track your results
In order to measure the success of your webinar session, you need to analyze elements like attendee count, lead conversion rate, and audience engagement. Additionally, you can use this data to make improvements in your future ecommerce webinars and refine your ecommerce sales strategy.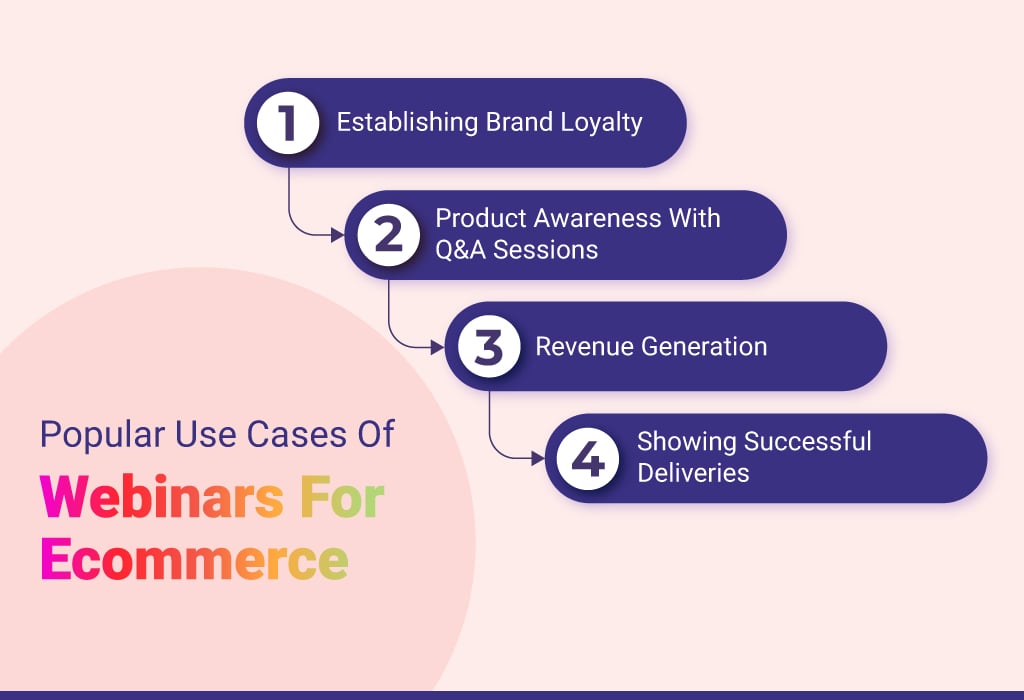 Popular Use Cases of Webinars for ecommerce
Webinars can do a lot more than just sell your product online. Here are some out-of-the-box mentions that can help you decide the direction of your session.
Establishing brand loyalty
Webinars can establish trust more effectively than any of their competitors. Furthermore, most businesses are not taking advantage of ecommerce webinars, which give them a chance to stand out and achieve the best results. Webinars Benefit eCommerce Sites by presenting products and highlighting their unique selling points. Furthermore, they are most effective when combined with exclusive discounts and promotional offers.
Product Awareness With Q&A Sessions
As most of the online audience is sharp enough to differentiate between right and wrong, webinars are the best way to educate them. If you're successful in delivering the correct information as per their requirements, your chances of hitting the "buy" button increase by a huge margin.
Revenue Generation
This can be done in two ways. Firstly, you can upsell existing customers whenever any new offer arises. Secondly, you can do email marketing with recorded messages to keep updating your customers about the feature releases and much more. Webinars for ecommerce offer numerous ways to increase your event ROI, which is linked with an increase in revenue generation. The best method to produce quality leads, according to 73% of B2B marketers and sales leaders, is through webinars.
Showing successful deliveries
After all, you have to sell your product at the end of the day!
You can go about showing off your past success stories to your clients. This will instill in them a sense of trustworthiness in your products or services. However, try to go only for your happy customers and not the ones who do not go well. It will impact negatively. Webinars in e-commerce product Sales is very useful in creating a sense of urgency around a product by highlighting limited period offers, exclusive discounts or other incentives.
Unlocking the Hidden Potential
Selling your product online is not an easy task. It requires a lot of effort, strategies and a perfect sales funnel to make your attendee your valuable customer. With ecommerce webinars, you can target their pain points, provide solutions or an alternative which makes them feel confident about your product or service. One thing is for sure, if you follow perfect marketing strategy, choose the best webinar platform. Additionally, create a great informative content, nobody is going to stop you from becoming "Jack of all Trades"
Key Takeaways
There are many ways in which you can implement effective strategies for webinars to sell eCommerce products. It is important to keep in mind that online shopping is not everything. The consumers love their brand and the products associated with it. ecommerce is just saving them the time of walking into the retail shop before making a final purchase.
Hosting webinar sessions can help you get important information, like the tastes of your customers, personal information, and feedback, most importantly.
FAQ
What Is The Main Purpose Of A Webinar?
In simple terms, (ecommerce webinars) provide an opportunity for the attendees to learn and grow with industry experts in a cost-effective way. While most marketers use webinars as a demand generation tool, they can also be used for a variety of other purposes, such as education, discussion, and others.
What is an online webinar?
An online webinar is typically a live session that is held over the internet. Audiences can join from anywhere with their respective devices. A webcast is something different from a webinar, in which no downloading is required and it can be joined from any web browser.
Is a webinar a video call?
Video conferences have lots of similarities with webinars in that they happen in real-time online and are informative too. The major difference between both of these is that video conferences are not very interactive.
What to do in a webinar?
A normal webinar consists of speakers or small groups of speakers delivering a presentation to a large audience that actively participates in your session by submitting questions, responding to polls, and others.