With the ongoing popularity of virtual events, the key industry events have been transformed from traditional ways to digital formats. AGMs (annual general meetings), that is known as the crucial events for any industry, are being organised virtually. It enabled a diversified group of stakeholders around the world to be a part of the AGM right from their comfort.
The pandemic has undeniably accelerated the transition of live physical events to virtual ones. The percentage of virtual events around the world has experienced an exponential hike last year. No matter what happens once the world recovers completely from the halt of the pandemic, but one thing is for sure, digital ways of hosting events aren't going anywhere anytime soon.
The distribution of vaccinations, this year has bought a hope to normalise a pedestal and move back to times we were once in. But, being a part of a large gathering will still remain skeptical for some time to ensure health safety. Here, hybrid events pave their way and are gaining tremendous popularity around the globe.
As things started settling down, many organisations decided to go with hybrid AGM in the coming years. It is a sure-shot way to enhance diversified reach, multiply attendance yet replicating the essence of traditional AGMs. If you are new to the panorama of the hybrid world and have never hosted a hybrid AGM before, don't worry you have landed at the right place. After thorough research, we have accumulated this article with the top 10 tips to host a successful hybrid AGM. So, without wasting any further time have a look at the top 10 must-read tips to host a successful hybrid AGM.
What is a Hybrid AGM?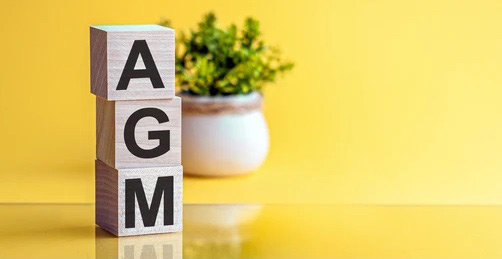 A mix of in-person attendees and virtual attendees during an ongoing AGM is known as hybrid AGM.
Annual General meetings are an essential part of any organisation that is organised annually every year. It involves a discussion between the director of the company and the interested shareholders to have discussions on the overall performance of the organisation for the year. The future goals, plans, and strategies are being discussed during the AGM by taking the valuable insights of the diversified stakeholders.
Hybrid AGMs are organised at a physical venue paired with a virtual component. It enables in-person as well as virtual attendees to come under the same frame and have discussions. With the outstretched virtual component, remote stakeholders can join the meeting right from their comfort without any geographical restrictions.
10 Best Tips to Host a Successful Hybrid AGM
1. Look Out for a Stable Internet Connection
Buffering or pixelated video content along with a buzzing sound is enjoyed by none. It narrows down the seamless and immersive experience by creating a lot of disruption. To host a successful hybrid AGM, having a strong and reliable internet connection is a must. As a large part of attendees during a Hybrid AGM has been partaking virtually right from their remote locations, having a stable internet connection becomes even more crucial.
Having a strong internet connection with an expedited networking speed and high bandwidth helps in running your hybrid AGM smoothly. It helps in holding a diversified group of stakeholders effortlessly. Imagine attending a meeting that keeps on breaking in mid or you have to bear with the buzzing sound every now and then, didn't sound exciting right? The same goes for hybrid AGMs. It becomes even more important to keep the internet connectivity and stability in the topmost checklist to ensure a seamless transition of hybrid annual general meetings and deliver seamless immersive experiences to remote stakeholders.
2. Select the Right Event Tech
Leveraging the right virtual hybrid event platform is the key component for the seamless delivery of a hybrid AGM. Look for a comprehensive hybrid AGM platform that offers the most ebullient features to host your hybrid AGM. A platform that can engage your virtual attendees just like physical ones, is the best bet. While making a final choice, check out the engaging and interactive features that the platform offers. It helps in facilitating free-flowing conversations between stakeholders and most important company leaders.
Q&A sessions, live polls, spin the wheel, business card exchange, B2B meeting scheduler, virtual networking tables are some of the most promising features that upscale the virtual attendee experience during a hybrid AGM.
3. Facilitate your shareholders to interact freely
Networking is not difficult for the participants who are attending a hybrid AGM on-site. Offer enormous opportunities for networking for virtual participants as they are not surrounded by other attendees and are attending an AGM via screen remotely. Allow them to have real-time interactions with other participants and share their thoughts just like physical attendees. Virtual networking tables, B2B meeting scheduler, AI-matchmaking, 2-way conferencing apart from Live chats and video chats are some of the most exciting networking opportunities one can offer to virtual attendees to have seamless communications and foster meaningful relationships.
4. Make your shareholders aware of the event format
Once you plan to host a hybrid AGM, it becomes essential to notify your shareholders/stakeholders about the change in an event format. Send a notice to all level shareholders and ask them who are willing to join the AGM in-person and who would like to join it virtually from remote locations. The notice can be sent via email and must consist of the most relevant information of the hybrid AGM such as date, time, duration, and a link for virtual attendees to attend a hybrid AGM.
5. Push step-by-step instruction manual via email
Push an e-mail to all level stakeholders who are interested in joining the AGM virtually consisting of a step-by-step instruction manual. Not all stakeholders are tech-savvy and are not much familiar with the virtual aspects. A step-by-step video guide will help virtual participants of hybrid AGM to log in to the meeting effortlessly and navigate various aspects of the meeting. Additionally, a video guide will help them to navigate various aspects of the event and make it easy for them to access the meeting from remote locations.
6. Keep your AGMs private
Once you plan to go hybrid with your AGM, security becomes the major concern as the virtual component is attached to it. A large segment of stakeholders will participate in the AGM virtually. Whereas the risk of data breaching and loss prevails in the mind of the organisers. As AGMs involve an exchange of confidential company information and future strategies, it is always advisable to keep your virtual settings private. Only shareholders with the link to attend an AGM can access it virtually. Furthermore, it helps in restricting unauthorized third parties or conference bombing.
7. Prepare a Hybrid AGM Script
When you are planning a script for hybrid AGM, you are not just creating a script for one set of attendees, but two. As hybrid AGM enables attendees to attend an event in-person as well as virtually, creating a script keeping in mind both sets becomes important.
As in-person attendees are surrounded by other attendees, long talks and speeches are not a matter of concern. But, for virtual attendees sticking on the screen for long hours to hear an elongated speech looks monotonous and tiring. The experience is not that stimulating, resulting in the dropping of many stakeholders amid the AGM. To keep both the set of attendees intact with the hybrid annual general meetings, ensure your speeches are not elongated. Incorporate breaks amid sessions and integrate live polls, Q&A, games, contests amid the hybrid AGMs to keep attendees interested in the event throughout.
8. Ensure everyone is dressed proffesionaly
Be camera-ready for your company's hybrid AGM. Even if you are planning to attend an AGM virtually, dressing professionally is a must for an important meeting. Additionally, even ask your director partners and company representatives to do the same whether they are attending an AGM in-person or virtually.
9. Conduct a Rehearsal Beforehand
Before the actual date of your hybrid annual general meetings, do as many rehearsals as possible. During rehearsals figure out where you went wrong and fix it prior to the event. Check out all the technical equipment used during hybrid AGM rehearsals like microphones, cameras, and so on. If you will miss this crucial step while hosting a hybrid AGM, it results in having irreparable consequences.
With thoughtful planning and repeated rehearsals, you can simply run a successful hybrid AGM with ease. Ask important stakeholders and the board of directors to join the meeting 30 minutes early on the actual date of hybrid AGM to ensure the audio and video quality of the live webcast of hybrid AGM.
10. Have a Backup Plan in Hand
Always keep a plan B ready in hand to ensure a successful hybrid AGM. Unexpected technical hiccups at the last minute can make the event fall flat on the face. Having a backup plan in place ensures that your hybrid annual general meetings runs smoothly. Make it a point to let your attendees know about plan B beforehand. Record the most relevant speeches, to ensure the smooth running of a hybrid AGM even if a technical glitch interrupts.
Final Word
A well-planned and executed hybrid AGM helps in enhancing attendance by enabling a diversified group of stakeholders to be a part of the AGM virtually. As there is no barrier of geographical restrictions or space limitations with hybrid AGM, various other things need to be in check. In this article, we have amalgamated the top 10 tips to host a hybrid AGM successfully. If you have not yet stepped into the hybrid world, now is the time to start planning your Hybrid AGM.
If you are looking for comprehensive solutions for your virtual hybrid events, Dreamcast offers endless possibilities. Enquire now!
In-Person, Hybrid, Virtual
Create an Extraordinary Event Experience
Across All Event Formats